Key Free Agent pickup:
Leonard Davis is done.  Colombo is done.   And Gurode is serviceable... at best. We need a lineman in free agency and I know just the guy to do it:
No not Zach Galifianakis.  That is Logan Mankins.  Disgruntled soon-to-be former employee of the New England patriots and pro bowl guard.  He can play practically every position on the o-line, and would make a great upgrade over Davis.
Now on to the draft:
My goal here was to draft quality over quantity.  Maybe I could have traded down for a slew of picks, but I think we all learned from previous drafts if you just throw a bunch of crap against the wall (hello '09 draft), then you are going to get just that: crap.
1. CB Prince Amukamara Corn Husker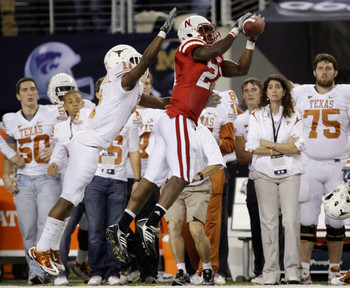 Probably one of the best CB prospects to come out in the last decade.  Prince possesses all the attributes necessary to make a great NFL CB, comparable to Revis.  He may not be as physically talented as Patrick Peterson, but he is more of a sure bet.
2. OT Gabe Carimi Badger
Carimi comes from a program that recently produced one of the more dominant left tackles in the NFL, Joe Thomas.  Carimi has what it takes to be an all right left tackle, but where he will really become dominant is on the right side.  He has great size, and is very reminiscent of a healthy Marc Colombo in his prime.  Marcus Cannon is also an option here.
2b. DE/DT Jared Crick Corn Husker (trade up with 3rd + 4th)
With Suh out of the lineup Crick has been receiving much more attention from opposing lineman, and thus his production is down somewhat from last year.  Nevertheless, he is still putting up good numbers.  Crick has great length and would make an ideal 3-4 end.  Another possibility would be JJ Watt, who is a very similar player.  However both are juniors, so they may not even come out.
5. ILB Casey Mathews Duck
Comes from great bloodlines and has very good instincts.  Doesn't have elite athletic ability, but is a hard worker and a leader.
6a. SS/FS Chris Prosinski Cowboy
Team leader with great intangibles.  He is an extremely productive tackler, recording 123 tackles last year and is on pace to exceed 100 tackles again this year.  He has also flashed ball hawk instincts at times.  Right now he is flying under the radar, but with a strong showing at his all star game and combine he could move up the draft boards.
6b. ILB Mario Harvey Thundering Herd (crayton trade)
With Brooking on his last leg and Jason Williams kicked to the curb, I have a feeling that we could see two ILB's taken on draft day.  Harvey is built like a tree trunk and dominant in the run game.  And for the third consecutive season he has amassed over 100 tackles (on pace for 137 this year).
(It has come to my attention that we don't have a 7th round pick, so let's pretend we traded Roy Williams for a 7th)
7. C Brandon Fusco Slippery Rock
A division II prospect who dominates poorer competition, and excels in the run game.  His technique is raw, but he has good size and a frame to add even more weight.  With a year or two to develop his game, he has the potential to become a starting center.