I've been pretty ticked off while coming here. Its just a whole bunch of people wanting us to lose. It includes me because the draft pick will help in the future. So heres a laugh I hope. Made by Jeterian 2, me.
If you don't get it watch here. http://www.youtube.com/watch?v=cdtejCR413c
This is in the eyes of Jerry Jones.
What should I do?
Jerry : Should I admit that I have made mistakes?
Should I remind you that I have done this before?
Should I give you a history lesson?
I traded away Herschel Walker for a ton of the Minnesota Vikings draft picks. It led to skillful drafts added fullback Daryl Johnston and center Mark Stepnoski in 1989, running back Emmitt Smith in 1990, defensive tackle Russell Maryland and offensive tackleErick Williams in 1991, and safety Darren Woodson in 1992. The triplets and Jimmy AND I led us to 3 Super Bowl Victories.
Should I tell you how much fun we had?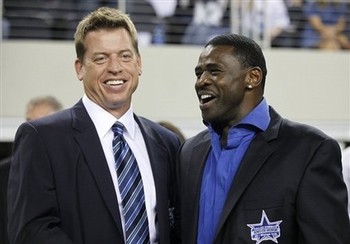 Should I really believe I ruined my legacy?
?
What should I do?
What should I do?
Should I have my general manager position removed?
Ouch!
Wanna see my shiny new Stadium?
Should I just sell oil? (YES)
Or should I tell you I AM NOT A ROLE MODEL.
Hi Wade
*wink*
Should I accept my role as a villain?
*whispers* Maybe I should just disappear.
JERRY BLAH BLAH BLAH WE NEED AN OFFENSIVE LINE MAN BLAH BLAH BLAH NOT A WIDE RECEIVER

BLAH BLAH BLAH 
Should I stop listening to my front office? They're myself.
Should I act?
Should I draft who you want me to draft?
nah