Me and 32 other fans at MockingtheDraft, a sister SBnation site,  participated in a 7 round mock with trades.  Here are the results:
TRADES:
 - The Titans trade the 16th pick to the Bucs for their 2nd, 3rd, 4th, and 7th round picks
- The Falcons trade the 19th and 179 pick to the eagles for the 24th and 87th pick.
- The Colts Trade 31st and 94th picks to the Ravens for 25th and 152nd picks.
- The Cardinals Trade there 26th pick to the Raiders, The raiders get the Cards 2nd and 4th.
- The Bills send the 41 pick to the Dolphins for the 43pick and a 6th rounder.
- Atlanta trades #83 and #87 in the 3rd round and its 4th round pick for the Rams 3rd and 4th.
- The Titans trade pick #98 for Miami's #12 and a 7th rounder
- The Jags trade there 4th round pick for Panthers 4th and 7th
1) St. Louis Rams - Ndamukong Suh (DT, Nebraska) - I haven't bought into the Bradford bandwagon yet.  Suh just makes good sense.  It's boring but that speaks to the solidarity of this choice.  We're not ready to protect our QB yet.  I may go QB in this draft but only for a back-up, and I severely doubt that.
2) Detroit Lions - Russell Okung (OT, Oklahoma State) - The Lions have OL needs, namely at LG. This past year LT Jeff Backus did perform better as he was free from nagging injuries and the Martz scheme. But a replacement for the 34 year old Backus has been called for by Lions fans for years. Russell Okung showed up at the combine/his proday with 36" arms and performed very well in drills, strength tests, athletic tests. He solidified himself as a top 5 pick. Gerald McCoy would be an excellent pick here too, I chose him in the previous mock. McCoy had a solid showing at the combine, but his limited bench press reps and casual nature didn't help him. Is he taking it seriously enough? In addition, the Lions added DT Corey Williams, whom I strongly believe will have an impact. So DT need has diminished. The Lions choose the top blindside protector for their young franchise qb.
3) Tampa Bay Buccaneers - Gerald McCoy (DT, Oklahoma) - The Bucs desperately need a Defensive Tackle to improve their terrible run defence. Gerald Mccoy fits great into Raheem Morris' Tampa 2 scheme. He will be a starter right away and will be a starter for years to come. He was the best player available and the Bucs biggest need.
4) Washington Redskins - Bryan Bulaga (OT, Iowa) - With LT Russell Okung off the board, the choice was between drafting FS Eric Berry or QB Sam Bradford, trading down, or reaching a bit for Bulaga.  Although Berry would fill a need at FS, the Redskins can either find a FS later in the draft, or (gasp!), find a way to properly utilize the 5 safeties on the roster.  The need for offensive line help, especially at LT, is far greater than the need for a QB given Jason Campbell's presence, so I reached slightly for grab Bulaga, the 2nd-best LT in the draft in my view.  Bulaga is a legitimate top-10 talent with ideal height, great talent, youth (20, soon 21 years old), and great intelligence. Bulaga is also a better fit for the ZBS Shanahan is sure to install than someone like Anthony Davis, making him the pick here.
5) Kansas City Chiefs - Eric Berry (S, Tennessee) - With Bulaga, Okung, and Suh all gone i had to pick BPA without reaching. Eric Berry is possibly the most talented player in the draft and fits a big need for the Chiefs. He steps in immediately and improves a struggling safety position. Should make Brandon Carr and Jarrod Page look much better
6) Seattle Seahawks - Jimmy Clausen (QB, Notre Dame) - This pick was made before the Charlie Whitehurst trade (or should I say fiasco?) Clausen has worked well in a pro style offense with a shoddy offensive line. He has also played injured and while some question his character, Pete Carroll recruited him hard for the better part of a decade. If this were after the Whitehurst deal, I think I would trade back at a deep discount since I can't see paying a 3rd string QB $5 million per year, and most of the prospects the Seahawks want are still there at 15 (where the prospects are much cheaper too). Also with two QBs on board at this point, the possibility stands that a QB will fall to 14.
7) Cleveland Browns - Joe Haden (CB, Florida) - The Browns pass rusher was pretty good, but the coverage was so bad as to completely ruin the pass D. Haden is a great young corner to improve the secondary play. He didn't run well at the combine, but that's unimportant to a guy that didn't have any speed issues in college.
8) Oakland Raiders -  Trent Williams (OT, Oklahoma) - No secret the Raiders need lots of help along the offensive line.With Bulaga off the board and Bruce Campbell's bust potential a little too high for me to want to spend a top 10 pick on him, Williams was the natural choice. He has experience at both left and right tackle, so he can push Mario Henderson for blindside protector while at the same time be perfectly capable of being the kind of big, physical run blocker the Raiders need on the right side. He's athletic and has a lot of experience. He's a total package, in short.
9) Buffalo Bills - Sam Bradford (QB, Oklahoma) - Buffalo has passed on the chance to get a franchise QB so many times since Jim Kelly that I've lost count. Every single QB since then has either been a reach, (JP Losman) a wily veteran (Drew Bledsoe) or a later round choice that the Bills hoped would be the exception to the rule (Trent Edwards). Bradford is in some peoples eyes the best QB in this draft, and when he fell to 9 I was pretty much obligated to take him. He's got a great arm, great intangibles, and if he can learn to play under center quickly and efficiently I think the kid is going to be an NFL star. Besides, how often does a guy who was supposed to go 1st overall fall into your lap at the 9th pick?
10) Jacksonville Jaguars - C.J. Spiller (RB, Clemson) - It came down to Cj Spiller or Rolando Mcclain, who've I've cooled down on even though i'd love to get him. CJ Spiller is a possibilty because the league is becoming a 2 RB league and besides MJD, we don't have much firepower that's suited to our run you through scheme. Dez Bryant is not a viable pick because of character and positional issues. Jags would be scared away from the WR position because of past experiences and the lack of passing in our offense. We'll go BAP and that's why Spiller was the selection.
11) Denver Broncos - Dan Williams (NT, Tennessee) -  Although the Broncos made a lot of moves in FA to address short-comings along the defensive line, they cannot count on older free agents forever.  By drafting Williams, they hopefully find a long-term solution for one of the most important positions on any 3-4 defense.  It doesn't hurt that Williams will get to learn the ropes from Jamaal Williams, one of the better players at the position for the last decade.  The pick also frees up Ronald Fields and Justin Bannan to play at their more natural DE positions, where the undersized Broncos were exposed as the 2009 season wore on.
12) Miami Dolphins - Earl Thomas (S, Texas) - With Berry, Haden, Spiller, and Dan Williams all off the board before my pick, I was left with two options, trade back in the round to add a few extra picks and take and rush linebacker, or take the best player available that fills one of our 4 greatest needs (NT, OLB, FS, WR). I could not find a trade partner so I went with the latter. Earl Thomas not only fills one of our biggest needs, but he was also the best player left on my board. He should be able to start immediately in our secondary and be a huge (much needed) playmaker for the Fins for years to come.
13) San Francisco 49ers - Brandon Graham (DE/OLB, Michigan)
14) Seattle Seahawks - Derrick Morgan (DE, Georgia Tech) - Morgan is now a need since Pete Carroll / Schneider traded away Darryl Tapp, a young and disruptive DE. Morgan is pretty much the consensus best DE in a deep D-Line draft, and is also a good 4-3 fit (perhaps the reason he fell here). While LT is a pressing need, if your team is as bad as the Seahawks, you take the BPA.
15) New York Giants - Rolando McClain (ILB, Alabama) - Best player available + one of team's needs...what more can you ask for. McClain for some reason is falling in drafts, and that plays right into the Giants hands. He's the best LB in the draft and is athletic and smart enough to be the Mike backer in the Giants scheme...whatever it may be. Big Bad Insane McClain would bring back memories of Pepper Johnson and Harry Carson...but I'll settle for Mike Barrow.
16) Tampa Bay Buccaneers (From Tenn) - Dez Bryant, (WR, Oklahoma State) - Traded up into this spot for a guy who i see as one of the top 10 talents. He was the BPA and the moment and he was the Bucs biggest need. He is able to stretch the field and make all of the tough catches. Freeman passing to Dez Bryant and Winslow can be lethal. He is the reciever with the best tools to be a #1 wideout.  His 08 numbers 87 receptions for 1480 yards and 19 touchdowns.
17) San Francisco 49ers - Mike Iupati (OG, Idaho)
18) Pittsburgh Steelers - Sean Weatherspoon (LB, Missouri) - With most of the players I wanted already gone, I went with Talkative LB to replace Farrior and too be the trash talker we've missed since JP left. Even with the recent signing of Foote this is still a good pick which can allow Timmons to move to outside and backup Wood and Harrison.
19) Philadelphia Eagles (from ATL) - Jason Pierre-Paul (DE/OLB, South Florida) - With two of their top three targets already off the board the Eagles decided to trade up five spots to make sure they can get South Florida's Jason Pierre-Paul. The raw but extremely athletic Pierre-Paul finally gives the Eagles a Defensive End to compliment Trent Cole that they have been looking for a while. Pierre-Paul might start the season behind Juqua Parker but should take over the starting Left Defensive End spot by the end of the season.
20) Houston Texans - Taylor Mays (S, USC) - Eugene Wilson was placed on injured reserve in the middle of the season. He has also missed 29 games in the last four years. The Texans need a big physical safety to stop Chris Johnson, MJD, and Peyton Manning twice a year.
21) Cincinnati Bengals - Brian Price (DT, UCLA) - When Domata Peko went down to injury at the end of the year, our run defence collasped, which showed our huge need for d-line depth exactley what Price provides.
22) New England Patriots - Sergio Kindle (DE/OLB,  Texas) - The Patriots' pass rush ranged from mediocre to abysmal last season.  The addition of Sergio Kindle would give the defense a more deserving boost.  His performance in the BCS game rose his stock, but the kicker in this pick is his experience in the 3-4 in Texas, both at the DE and the OLB positions.  However, I would project him as an OLB in the pros.
23) Green Bay Packers - Anthony Davis (OT, Rugters) - Packers fans rejoice as one of the top 3 OTs manages to fall to #23. Davis has had weight concerns but was looking relatively trim at the combine. Davis has LT size and tools, pass blocking and run blocking very well. Aaron Rodgers will not be so throughly beaten up with Davis in the fold.
24) Atlanta Falcons (from PHI) - Everson Griffen (DE, USC) - After spending all morning trying to trade down with teams, I finally found a taker in the Eagles, the "points" worked out perfectly, and I was able to get an extra 3rd round pick. After signing CB Dunta Robinson, our biggest holes are pass rushing DE and OLB.  With fan favorites Brandon Graham and Sean Weatherspoon already off the board before my original pick, I trade down giving up DE Jean Pierre-Paul to the Eagles, before chosing Griffin over Dunlap. FYI I tried to trade #24 to the Colts for (another 3rd round pick) who traded up to #25 instead ( I left out one letter on their email, and it was returned with one min on the clock)
25) Indianapolis Colts - Charles Brown (OT, USC) - The Colts gave up few sacks last year, but Peyton was pressured much more often than you would like, forcing short passes, incompetions or turnovers. A top tier pass blocker like Charles Brown at LT will give the Colts already excellent passing offense a boost, and kicking one of the current tackles inside to guard will help the Colts terrible run blocking.
26) Oakland Raiders (from cardinals) - Maurkice Pouncey (C/G, Flordia) - When I saw the Cards offering their 1st rounder for a reasonable price, I jumped all over it with this precisely in mind. Pouncey is another guy the Raiders are in desperate need of. I think even as a rookie, he'd be an upgrade over either Cooper Carlisle at right guard or Samson Satele at center. He's an intelligent, good character guy who's not afraid to lead. Those kinds of men are all too rare in the Raider locker room.
27) Dallas Cowboys - Jared Odrick (DE/DT, Penn State) - I took Golden Tate the last two drafts so I thought I'd try something different this time by taking Jared Odrick.  Odrick is athletic and has prototypical size for a 3-4 DE, but more importantly he has a great motor.  This is why I like Odrick so much, because he'll never take a play off.  It should be noted though at the present time there are no holes at DE for the Cowboys.  However, Marcus Spear was tendered and it doesn't look like the Cowboys have any intention of keeping him beyond this year.  Plus Odrick can get penetration, and can play all three downs unlike Spears.
28) San Diego Chargers - Ryan Matthews (RB, Fresno State) - In hindsight, this pick may have needed to be a NT since the Chargers didn't get a shot at one in the 2nd round. However, the Chargers have a big hole at RB and Matthews was my top RB after Spiller. He fits what the Chargers will want him to do as long as he can hold onto the ball with his upright running style. Hopefully, the offensive upgrade of actually having a running game will substitute for upgrading the defense with something better than a rotation at NT.
29) New York Jets - Devin McCourty (CB, Rutgers)
30) Minnesota Vikings - Jermaine Gresham ( TE, Oklahoma) An elite player falls to the Vikings in the first round, and the Vikings draft him. While the Vikings already have one excellent pass receiving tight end, adding a second one will enhance the potency of the offense.Anytime the Vikings can add a 6'6 tight end with hands of glue and the ability to get open and get yards after the catch, we will take him. He isn't just another pass option, however. The talent of Jermaine Gresham has led some to draw comparisons to Hall of Famer Kellen Winslow, Sr.With his knee injury now fully healed, the humble Jermaine Gresham will add youth and athleticism to the Vikings at the tight end position. AsCBS Sports wrote today, "No tight end at or more than 260 pounds was faster, quicker or more explosive leaping in any drill than Gresham was at the combine." Finally, no tight end is complete without blocking ability. Here Gresham needs to hone his skill. Gresham has shown effort in blocking and can improve his technique to become a complete tight end. 
31) Baltimore Ravens (From Colts)- Kyle Wilson (CB, Boise State) - Wilson fits a huge need for the Ravens. With starting CB's Fabian Washington and Lardarius Webb coming back from season ending knee injuries, depth will be crucial for this team. For the last two seasons, the Ravens have gone into the playoffs extremely slim at the CB position and Wilson should add great depth here. A physical player who excels at press coverage. Would fight for the #2 CB spot between 2 other plays.
32) New Orleans Saints - Carlos Dunlap (DE, Flordia) - We felt we needed to add depth on the D-line especially after the release of Charles Grant, Carlos Dunlap is a player we feel could have been a top 10 pick under different circumstances and feel he has tremendous upside we view him in the Mold of a Mario Williams / Julius Peppers type player. We are full aware of the character concerns that caused him to drop and feel the risk reward is great enough to make this selection.
2ND ROUND
33. St. Louis Rams - Bruce Campbell (OT, Maryland) - It seems like it should be more difficult to get good players after drafting from the same pool of players over and over against the same guys but this is just getting easier.  We got Griffen with our second pick the first time.  The second time it was JPP.  Now they've moved up and Campbell has dropped?  For what? A good showing at the combine?  We need the second bookend tackle to start long term across from Smith.  Campbell is still a top O-line prospect worthy of a top half of the first round pick.  I don't understand how he's dropped since the combine but I'll take him.  We needed this to avoid skipping the franchise QB next year.  And don't even think about telling me one won't be available.  By the way Kudos to General Pug for standing in and taking heat for this pick, thanks man.
34. Detroit Lions - Jahvid Best (RB, Cal) - The Lions need to address the defense, but drafts rarely fall as you'd like so I went with explosive Jahvid Best in the 2nd. He was tremendous at the combine in drills and was the fastest back there. The Lions are looking for a game breaker at RB. A back who can join Nate Burleson and capitalize on the attention paid to Calvin Johnson and take pressure off Matthew Stafford. Even before Kevin Smith's serious knee injury questions about him arose. Maurice Morris is a solid back, but there is a reason he's a lifelong #2. Best shows good vision, instincts, patience, and cutback ability when running it downhill but time will tell if he can be effective running it between the tackles. Teams have gotten smarter with how to play the Reggie Bushes, Jamaal Charles, Percy Harvins - whether that's in the slot, as 3rd down back, I-formation 1st down, split wide, wildcat - whatever. Jahvid Best's elusiveness and ability to hit the edge and take it the distance set him apart. He's a player that can bring NFL fans to the edge of their seats. His injury history is only a minor concern. The concussion was a freak play.
35. Tennessee Titans (from bucs) - Jerry Hughes (DE, TCU) I picked Jerry Hughes because i think he is a dynamic pass rusher and will help fill the void left by KVB.
36. Kansas City Chiefs - Golden Tate (WR, Notre Dame) - With Jerry Hughes and Maurkice Pouncey off the board i again went BPA in a position of need. Tate can play the slot and return kicks for us. I did not want to reach for Cody and didn't feel any other players were worthy to be picked this high.
37. Washington Redskins - Brandon Spikes (ILB, Flordia) - One of the greatest areas of need for the Redskins is an ILB, especially with the switch to 3 - 4.  Even in the 4 - 3, the Skins still needed an MLB to take over for London Fletcher when he retires, and, in the 3 - 4, the Skins need more guys to play in the middle.  Spikes is an intelligent player who can play inside 3 - 4 and play the run, rush the passer, and drop back into coverage, and, with him slipping a bit into the 2nd round, he was a pretty easy pick to make.
38. Cleveland Browns - Jonathan Dwyer (RB, Georgia Tech) - Dwyer is a big pounding back to take a complimentary role to the small speedster Jerome Harrison. Dwyer will need work in the passing game coming out of the triple option, but has the tools to block and catch.
39. Arizona Cardinals (from raiders) - Navarro Bowman (LB, Penn State) - I went bowmen to play either weakside ILB possibly a cover LB in situations
40. Seattle Seahawks - Damian Williams (WR, USC) - He's from USC, so Pete Carroll is familiar with him, and with Detroit signing Nate Burleson, WR is a pressing need. I'd personally rather get a LT or a DT, but I wasn't here to make the pick and it looks like all the good LTs are gone by pick 33 (unless you count Saffold or Veldheer, which I believe were overdrafted due to the run at LT). The point is moot anyways since the Seahawks traded this pick for the #60 and Whitehurst. More realistically, we would draft Alualu or Houston with pick 60.
41.  Miami Dolphins (from Bills) - Terrence Cody (NT, Alabama) - I decided to move up a few picks in the 2nd round to secure a NT (I gave up one of our three 6th round picks). Terrence Cody is a beast of a man. He'll clog up the middle of Miami's D and give Dansby, Wake and the rest of our LB's space to make plays. Much needed.
42. Tampa Bay Buccaneers - Chad Jones (S, LSU) - Chad Jones will be the replacement for Sabby Piscitelli. Piscitelli gets moved back to Special Teams and our secondary wont get burned for what seems like every game. Jones has the physical tools to succeed. Bucs have now drafted someone to fill each of their top 3 needs.
43. Buffalo Bills(from dolphins - Roger Saffold (OT, Indiana)  - Roger Saffold: Before I traded my pick to the Dolphins I had two options, either go for broke with Cody and then hope a franchise LT would still be there in the third or give up Cody and go with the LT I knew was already there. Part of what infulenced me was the fact that the Bills seem to be attempting to get new blood at NT via free agency, LT not so much. It seemed strange to me to have to go offense on my first two picks considering the mess that the defense has been thrust into after the 3-4 switch, but for every great QB, you'll find a great lineman keeping him on his feet. Saffold certainly isn't the best lineman available this season, but I'll take a 4 year college LT starter over a lot of the other guys out there. Saffold might need some time to sit out and learn the ropes from the coaching staff, but hey... so will Bradford. 
44. New England Patriots - Corey Wootton (DE, N orthWestern ) - This one happens in the event that the most attractive option on the OL (Saffold) goes before this pick comes up.  Regardless, I don't think the Patriots would be satisfied with just picking one player for their defensive scheme.  This is where Corey Wootton comes in.  Although he played in the 4-3 system in Evanston, he has the frame and ability to play the 3-4 as well.  Wootton brings similarities to Richard Seymour, except taller and slimmer.  The fact that (a) he's one of the most versatile ends in the rookie class and (b) he gives it his all on every play makes him a winning pick for New England.
45 . Denver Broncos - Damaryius Thomas (WR, GT) - While the initial draft plan was to land players for the offensive and defensive lines in the first two rounds,  D. Thomas is too promising to pass up.  Whether Brandon Marshall is traded or not, Denver needs additional play-making talent on offense.  The hope is that the deceptively fast D. Thomas can help stretch the field and make it more difficult for defenses to sit on the short and mid-range routes that the Broncos offense emphasizes. Thomas is also dangerous with the ball in his hands and should be a natural fit in an offense that uses its fair share of quick slants and bubble screens.  Thomas should also free up Eddie Royal to move to the slot role, which seems to be a better match for his talents. 
46. New York Giants - Nate Allen (FS, South Florida) - Giants signed Antrel Rolle, but while Kenny Phillips may start...who exactly knows what he's going to be coming off major surgery and IR last year?? Giants really need to cover their arses after the debacle the position was in 2009. The Giants don't seem to go with a distinct FS or SS..just 2 safeties. Nate Allen is a do it all safety who've very smart...so he could be a quick learner and may start over Phillips, who could backup both spots.
47. New England Patriots - Mardy Gilyard (WR, Cincinnati) - Randy Moss' contract is coming to the near end, Wes Welker will be out of action for a good amount of time, and Julian Edelman, although impressive, is still unproven.  Gilyard brings comparisons to a Desean Jackson-type, and has the highest amount of potential among this year's rookie receiving bunch.  The Patriots could use a playmaker of sorts on a receiving corps that has become questionable looking.
48. Carolina Panthers - Arrelious Benn (WR, Illinois) - With Muhsin Muhammad getting older the Panthers are in desperate need of a big body who can stretch the field opposite Steve Smith, but also be an effective blocker. Simply put, Benn is the best blocking WR in the 2010 draft. Both DeAngelo Williams and Jonathan Stewart like the stretch the edges of the field and aren't afraid of running to the outside, it's here that Benn's ability as a blocking WR shine.
49. San Francisco 49ers - Jared Veldheer (OT, Hillside College)
50 . Kansas City Chiefs - Cam Thomas (NT, North Carolina) - With a desperate need to upgrade the NT and C position this was a tough choice. Cam Thomas has all the potential to be a Great NT and i believe that Crennel will make him just that. Cam will probably compete with Smith for the starting job and hopefully be the starter.
51. Houston Texans -- Chris Cook (CB, Virginia) - With Dunta Robinson gone, corner is the biggest need. At 6-2, 212, Cook ran a 4.43 at the Combine, which means that he's a great player with size and speed to help stop the Colts aerial attack.
52. Pittsburgh Steelers - Morgan Burnett (FS, GT) - After failing to trade up to get Nate Allen, I drafted Burnett to eventually replace Clark. And since he can also play SS next time Troy goes out he can replace Troy and maybe the secondary doesn't fall apart next time
53. New England Patriots - Aaron Hernandez (TE, Flordia) - TE has now become a growing concern for the Patriots, thanks to the departures of Watson (Cleveland) and Baker (Seattle).  Plus, the two TEs they have now have not seen regular season action in their careers.  Hernandez can come in and make an immediate impact as a receiving TE, and can close a hole in that position.
54. Cincinnati Bengals - Mike Johnson (OG, Alabama) - With Bobbie Williams on the wrong side of 30 the Bengals need someone to develop for the future at the RG spot.
55. Philadelphia Eagles - Daryl Washington (OLB, Texas Christian) - Daryl Washington: Washington gives the Eagles a Linebacker that can cover a Tight End or Running Back unlike last year. Washington played MIKE Linebacker at Texas Christian but with Stewart Bradley returning the Eagles will move him to WILL Linebacker. Like Pierre-Paul, Washington might start the season behind Akeem Jordan playing special teams but if the Eagles continue to have problems with Tight Ends and Running Backs he should be starting by the midway point of the season.
56. Green Bay Packers - Patrick Robinson (CB, Florida State) -Another pick with excellent value, Robinson can play receivers aggressive and physical at the line just how the Packers like it.
57. Baltimore Ravens - Rob Gronkowski (TE, Arizona) - Todd Heap Jr, that is what Baltimore would call him. Gronkowski has the attitude and numbers to show he can be successful in this league and also fills a hole for the Ravens. Todd Heap was the only TE used last year, and much of his playing time was used for blocking. LJ Smith had only 2 catches this past season. Gronkowski should be able to see a good amount of playing time in a two TE system and will eventually take over for Heap.
58. Arizona Cardinals - Eric Norwood (OLB, South Carolina) - Eric Norwood as a rush linebacker to get some youth in one of our biggest need areas
59. Dallas Cowboys - Vladimir Ducasse (OT/OG, Massachusetts) - OT/OG Vladimir Ducasse has great size, arm length, power, and feet.  He was also extremely productive and dominated the competition.  Unfortunately for him that competition was Division II players.  Moreover, as a recent immigrant  from Haiti he is not that well developed and has poor technique.  Despite all of this a lot of draftniks like Todd McShay and Scott Wright have him rated as a first day prospect based on his size and potential.  And with his great work ethic and willingness to put in long hours in the film room he should live up to that potential.
60. San Diego Chargers - Kareem Jackson (CB, Alabama) - I love Jackson's man to man coverage skills and on my board he actually was in the top 30, so he looks like a steal here for me. He'll compete with Antoine Cason for the starting cornerback role in 2010. Hopefully he'll develop into a sort of Darrelle Revis light where he shuts down whatever receiver he has in coverage. His lack of physicality will be tested in the NFL, but maybe that's something he can improve on. It hurts not being able to get a NT though.
61. New York Jets - Jordan Shipley (WR, Texas)
62. Minnesota Vikings - Amari Spievey (CB, Iowa) - Amari Spievey is a physical corner who defends against the run. He didn't get thrown at a lot his last year at Iowa because he was dominant in Iowa's Cover-2 defense (the same zone coverage that the Vikings usually run). He has good foot speed. He ran a 4.47 40-yard dash at theCombine, despite having a chest cold. Spievey has good intangibles. A high character guy, he is an aggressive cornerback who tackles explosively, and baits the quarterback for interceptions. Spievey will bring his heart and considerable talents to the Vikings and beef up the secondary. Cornerback is a very important position, and the Vikings have a critical need there. The Vikings suffered injuries at the cornerback position in 2009 and in the playoffs. It is possible that Spievey will see a good amount of playing time in the 2010 campaign. Spievey will make the Vikings' secondary better.
63. Indianapolis Colts - Ricky Sapp (DE, Clemson) - Without a pass rush from the DEs the Colts D falls apart. The Colts suffered late in the season, into the playoffs, when Freeney and/or Mathis were not 100%. The Colts don't have another talented speed rusher to back them up, and their personnel and scheme isn't built for the DTs and LBs to pick up a significant amount of the slack. Ricky Sapp is great value on a player to backup Freeney and Mathis and work his way into the lineup as he develops and Freeney/Mathis age.
64. New Orleans Saints - Tyson Alualu (DT, Cal) - Again we capitalize on drafting a player we feel will help upgrade our D-Line, paired with Sedrick Ellis we feel will improve our interior run defense. Hard worker and no nonsense type player we feel brings an attitude to this defense.We had him as a borderline 1rst rd pick and in fact was almost the pick at 32 so we`re thrilled to get him at 64 overall.
3 ROUND
65. Atlanta  - Brandon Lafell (Wr, LSU) -
66. Detroit - Lamarr Houston (DT, Texas)
67. Tennessee - Perrish Cox (CB, OSU) 
68. Kansas City - J. D. Walton (C, Baylor) 
69. Oakland - Torrell Troup (DT, CENTRAL FLORDIA)
70. Philadelphia (from Seattle) - Donovan Warren (CB, Michigan)
71. Cleveland - Colt McCoy (QB, Texas)
72. Buffalo - Koa Misi (OLB/DE, Utah)
73. Miami - Thaddeus Gibson (OLB, Ohio State) - 
74. Jacksonville - Tim Tebow (QB, Florida) -
75. Chicago - Reshad Jones (SS, Georgia)
76. New York Giants - Linval Joseph (DT, East Carolina)
77. Tennessee - Dakota Watson (OLB, FSU)
78. Carolina - Jamaine Cunningham (DE, Florida) - 
79. San Francisco - Jacoby Ford (WR, Clemson)
80. Denver - Jon Asamoah (G, Illinois)
81. Houston - Geno Atkins (DT, Georgia)
82. Pittsburgh - John Jerry (G, Ole Miss.) 
83. St. Louis - Dexter McCluster ( RB, Ole Miss.)
84. Cincinnati - Anthony McCoy (TE, USC)
85. Browns (from OAK ,from NE) - Kyle Calloway (OT, Iowa)
86. Green Bay - Toby Gerhart  (RB, Standford)
87. St. Louis - Ed Dickson ( TE, Oregon)
88. Arizona (from ravens) - Sean Lee (ILB, Penn state)
89. Arizona - Ciron Black (OT, LSU)
90. Dallas - Major Wright (S, Florida) - Major Wright is a true center fielder who can get turnovers, which is what we have been lacking with Ken Hamlin.  He will have to work on his tackling technique, but Major has the speed, quickness, and hips to become a very good cover safety.
91. San Diego - Eric Decker (WR, Minnesota)
92. Cleveland (from jets) - George Selvie (DE/OLB, South Florida)
93. Minnesota - Jason Fox (OT, Miami) 
94. Ravens - Alex Carrington (DE, Arkansas State)
95. New Orleans - Jason Worilds (OlB/DE, Virginia Tech)
Round 4

96. Atlanta - Matt Tennant (C/G Boston College) -

97. Detroit - Brandon Ghee (CB, Wake Forest)

98. Miami (from Titans) - Jimmy Graham (TE, Miami)

99. Kansas City - Micah Johnson (ILB, Kentucky)

100. Washington - Marshall Newhouse (G, TCU)

101. Seattle - Arthur Jones (DT, Syracuse) - 
102. Cleveland - Javier Arenas (CB, Alabama)

103. Arizona - Dominique Franks (CB, Oklahoma)

104. Buffalo - Boo Robinson (DT, Wake Forest)

105. Panthers (from Jags) - Dennis Pitta (TE, Brigham Young)

106. Chicago - Shawn Lauvao (G, Arizona State)

107. Tennessee (from Miami) - Taylor Price (WR, Ohio)

108. Tennessee - Montario Hardesty (RB, Tennessee)

119. Jags (from panthers) - Pat Angerer (LB, Iowa) 
110. San Francisco - Akwasi Owusu-Ansah (CB, Indiana(PA)

111. Denver - Donald Butler (ILB, Washington)

112. New York Giants - Ben Tate (RB, Auburn)

113. Pittsburgh - Trevard Lindley (CB, kentucky)

114. Rams - Austen Lane (DE, Murray State)

115. Houston - Carlton Mitchell (WR, South Florida)

116. New England - Anthony Dixon (RB, Mississippi state)

117. Cincinnati - Darrel Stuckey (S, Kansas)

118. Philadelphia - Joe McNight (RB, USC)

119. Green Bay - Greg Hardy (DE/OLB, Mississippi)

120. Arizona (from Baltimore) - Tony Pike (QB, Cincinnati)

121. New York Jets (from Arizona) - D'Anthony Smith (DE, La Tech)

122. Dallas - Jerome Murphy (CB, South Florida) - Murphy presented good value here.  He can give us some size at CB that we have lacked since Anthony Henry got traded, and he is great against the run.  Plus our CB depth chart is kind of sketchy.  You have Newman, who is old, Mike Jenkins, Orlando Scandrick, then Alan Ball splits time between safety and corner.  Murphy can provide depth for now and will eventually compete with Scandrick to be Newman's successor.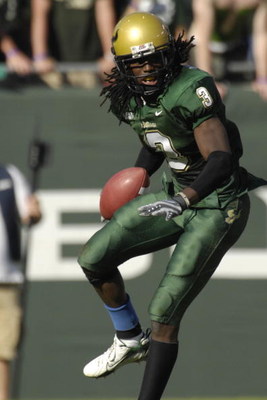 123. San Diego - Selvish Capers (OT, West Virginia)

124. Seattle (from Philadelphia via New York Jets) - Tony Washington (OT,Abilene Christian) -

125. Minnesota - Mitch Petrus (G, Arkansas) -

126. Indianapolis - Rennie Curran (OLB, Georgia)

127. New Orleans - Eric Olsen (C, Notre Dame)
ROUND 5

128. St. Louis - Roddrick Muckleroy (OLB, Texas)
129. Detroit - Andre Roberts (WR, Citadel)
130. Cleveland (from Tampa Bay) - Brandon Deaderick (DE/DT, Alabama)
131. Washington - Myron Lewis (FS, Vanderbilt)
132. Kansas City - T. J. Ward (S, Oregon) 
133. Cleveland - O'Brien Schofield (OLB/DE, Wisconsin)
134. Oakland - Alterraun Verner (CB, UCLA)
135. Seattle - Mike Williams (WR, Syracuse)
136. Buffalo - LeGarrette Blount (RB, Oregon)
137. Chicago -  Kam Chancellor (FS, Virginia Tech)
138. Kansas City (from Miami) - Dezmon Briscoe (WR, Kansas)
139. Jacksonville - Myron Rolle, (SS, FSU)
140. Kansas City - Ed Wang (OT, Virginia Tech)
141. San Francisco 49ers -  Deji Karim (RB, S. Illinois)
142. Cleveland (from Detroit via Denver) - Tony Moeaki (TE, Iowa)
143. New York Giants- AJ Edds (OLB-Iowa)
144. Tennessee - Larry Asante (SS-Nebraska)
145. Atlanta - Jamar Chaney (LB-Mississippi State)
146. Houston - Charles Scott (RB, LSU)
147. Pittsburgh - Vince Oghobasse (DE, Duke)
148. Cincinnati -Jeremy Williams (WR, Tulane)
149. Tampa Bay (from New England) - Brandon Lang (DE, Troy)
150. Green Bay - Mike Neal (DE, Purdue)
151. St. Louis - Dan LeFevour (QB, Central Michigan)
152. Indianapolis (from baltimore)- Garrett Graham (TE, Wisconsin)
153. Baltimore (from Arizona) - Arthur Moats (DE/OLB, James Madison)
154. Oakland (from New England via Denver and Dallas) - Phillip Dillard (ILB, Nebraska)
155. San Diego - Darryl Sharpton (ILB, Miami)
156. Cleveland (from New York Jets) -  Riley Cooper (WR, Florida) 
157. Minnesota - Walter Thurmond (CB, Oregon) -
158. Indianapolis - C.J. Wilson, (DE/DT, East Carolina)
159. New York Jets (from Philadelphia via New Orleans) -  Robert Johnson (FS/CB, Utah)
ROUND 6
160. St. Louis - Willie Young, DE, NC State
161.  Atlanta (from Detroit) - Jevan Snead, (QB, Mississippi) 
162. Tampa Bay - Syd'Quan Thompson (CB, Cal)
163.  Miami (from Kansas City) - Clifton Geathers, DE South Carolina
164.  Buffalo (from Washington) -  Danario Alexander, WR Missouri 
165.  Carolina (from miami via from Oakland) - Armanti Edwards, QB- Appalachian State University
166. Seattle- Zane Beadles, OT/OG from Utah
167. Cleveland - Kurt Coleman S, Ohio State
168. Buffalo - Jeff Owens, DT, Georgia
169. Miami - Dorin Dickerson, FB/TE/WR Pitt
170. Jacksonville - Jeff Byers, OC, USC
171. Chicago - Antonio Brown WR Central Michigan
172. San Francisco -  Freddie Barnes WR, Bowling Green
173. Denver - John Skelton, QB, Fordham
174. New York Giants - Kevin Matthews, C Texas A&M
175. Tennessee - Al Woods DT, LSU
176. Cleveland (from Carolina) - Sam Young OT Notre Dame
177. Houston - Adam Ulatoski OT/OG Texas
178. Pittsburgh - Joe Pawelek ILB Baylor
179. Philidelphia (from Atlanta) - Marcus Easley WR Connecticut
180. New England - A.J. Jefferson CB Fresno State
181. Cincinnati - Jamar Wall, CB, Texas Tech
182. Buffalo (from Philadelphia) - Clay Harbor, FB/TE, Southern Missouri 
183. Green Bay - Terrell Skinner S Maryland
184. Baltimore - Trindon Holliday, WR, LSU
185. Arizona - Joe Thomas, OT, Pittsburgh
186. Dallas - Emanuel Sanders, WR, SMU - Very productive small speedy receiver who can help out in the return game as well.  Think a faster version of Devon Bess, another June Jones WR.
 187. Houston (from San Diego) - Perry Riley, OLB, LSU
188. New York Jets - Cameron Sheffield OLB, Troy 
189. Minnesota - Tyler Sheehan, QB, Bowling Green
190. Philadelphia (from Indianapolis) - Brandon Carter, OG, Texas Tech
191. New Orleans - Joique Bell, RB, Wayne State
ROUND 7
192. St. Louis -Walter McFadden CB Auburn
193. Buffalo (from Detroit) - Sean Canfield, QB, Oregon State
194. Tennessee - Lindsey Witten, DE, UCONN
195. Washington - Jonathan Crompton, QB, Tennessee
196. Tennessee (from Miami via Kansas City) Brandon Banks, WR/KR, K-State
197. Seattle - Harry Coleman, SS, LSU.
198. Detroit (from Cleveland) - James Starks, RB, Buffalo
199. Oakland - Leroy Vann, KR/PR, Florida A&M
200. Buffalo - Reggie Stevens, G, Iowa State
201. Tampa Bay (from Jacksonville) - Kavell Conner, OLB, Clemson
202. Chicago - Daniel Te'o-Nesheim, DE, Washington
203. Miami - Dexter Davis, OLB, ASU
204. Denver - Ted Larsen, C, NC State
205.  New York Giants -Sean Lissmore DT William and Mary
206. Tennessee - Callahan Bright, DT, Shaw CC
207. Jacksonville (from panthers) - George Johnson, DE, Rutgers
208. San Francisco - Vincent Rey, LB, Miss St
210. Pittsburgh - John Conner, FB, Kentucky
211. St. Louis (from Atlanta) - Blair White WR Michigan St
212. Houston - Zac Robinson, QB, Oklahoma State
213. Cincinnati - Andre Dixon, RB, UConn
214. New England - Sergio Render, G, Va Tech
216. Green Bay - Mike Tepper, OT, Cal
216. New England (from Philadelphia) - Jarrett Brown, QB, WVU
217. Tampa Bay (from Baltimore) - Chris Marinelli (OT, Stanford)
218. Arizona - Dough Worthington, DE/DT, OSU
219. Dallas - Hunter Lawrence, K, Texas -  Accurate kicker who has made many big kicks in his career at Texas.
220. San Diego - Matt Nichols (QB, E. Washington)
221. New York Jets - Chris Scott, OT, Tennessee
222. Minnesota - Jay Ross, DT, East Carolina -
223. Indianapolis - Leigh Tiffin, K, Alabama
224. New Orleans - Chris Hawkins, CB, LSU
After the mock we also did undrafted free agency on a first come first serve basis.  Here are the results for the Cowboys:
NT Martin Teveseau UNLV
FB/RB/H-back Charles Clay Tulsa
C Sean Allen East Carolina