It is offseason time, and that means the armchair GM's will be playing Madden with the Cowboys' roster.  Here is my crack at it...
Big FA signings:
OG Logan Mankins Patriot
He is the Blue Chip OL prospect of this FA class who can play multiple positions, but do you want to pay a guard 7 million?  If not then Evan Mathis is a possibility.  He lost his starting job in training camp after he got an ankle injury.  However, last year he was one of the best run blocking guards in the league and is a decent pass protector.
OT Tyson Clabo Falcon
A 29 year old road grading OL.  He would be an upgrade over Colombo in both the run and pass.
Draft:
1. DE/OLB Ryan Kerrigan Boilermaker
This is purely a best player available (BPA) pick.  I think Kerrigan is an elite yet underrated talent, and thus he'll likely be the last elite player available come pick 9.  He may not be the most athletic player, but he has a great motor, is very strong, and is deceptively quick.  Sort of reminds me of Clay Mathews.  He is number 1 in the country for tackles for loss at an eye popping 26.  What is most intriguing about this selection is this is the second time we have dipped into the Boilermaker DE/OLB pool with the last one currently starting opposite of Ware.  The only difference is this one has more size and a much better motor.  It should also be noted that Spencer is in the last year of his rookie contract.
2. DE/DT Muhammad Wilkerson Owl
Junior d-lineman who has terrorized the MAC the last two seasons.  He has great size for a 3-4 DE and is dominant against both the pass and the run.
3a. C/G Jake Kirkpatrick Hornfrog
Kirkpatrick is fairly new to football as he only played one year in high school, but he has good size and is very athletic.
3b. S Deunta Williams Tar Heel (trade up with 5th and 4th)
Tough break for Williams who broke his leg in the Music City Bowl.  He was one of the top safeties in this draft, but will be knocked down a round or two due to his injury.  Luckily for him the Cowboys have shown interest in injured draft prospects in the past.
6. ILB Mario Harvey Thundering Herd
With Brooking on his last leg and Jason Williams kicked to the curb, I have a feeling that we will be in need of depth at the ILB position come draft day.  Harvey is built like a tree trunk and dominant in the run game.  And for the third consecutive season he has amassed over 100 tackles (144 this year).
7. WR Aldrick Robinson Mustang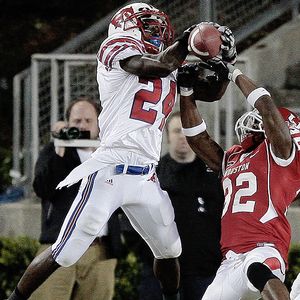 Robinson comes from a long line of productive smallish June Jones receivers like Emanuel Sanders and Davone Bess before him.  As a speedy water bug receiver he'll offer something different to our WR corps, which is mostly comprised of 6'2+ receivers.  In another year he may have gone higher, but this is a good year for receivers.

Edit:  I accidently deleted my post and this is the new one.  That is why all your comments are gone.  I need more coffee...