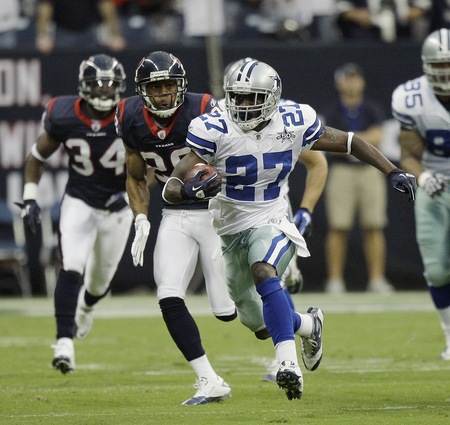 I will be starting a new fresh series for my fan posts here on BTB. In the Don't Forget About series, we will focus on the younger players on the roster that could have a big impact for us in 2011. Lets lead off with one of my pet cats from last season, Akwasi Owusu Ansah.
Akwasi didn't have a great first season for the Dallas Cowboys. He missed most of training camp with a bum shoulder and never got the time he needed in camp. Coming from a small school IUP, Akwasi really could have used that time to get adjusted to the level of play in the NFL. Akwasi was the Cowboys kick returner when he was healthy and he displayed his speed. You could tell that the kid has the burst, he just had questionable decision making. Akwasi will never be a great kickoff returner, but he can be good. See I am not looking for the next kick returner in Akwasi, I am looking for my future safety.
Then Akwasi went down in November with a high ankle sprain that the Cowboys decided would take a significant amount of time to heal. So they eventually put him on injured reserve, thus ending Akwasi's rookie season. I expect big things from our AK27, so lets take a closer look at Akwasi Owusu Ansah.
Akwasi Owusu Ansah
Free Safety
#27
Selected- 4th Round 2010 NFL Draft
College-IUP
Height- 6'0 Weight- 208 Age- 22
Akwasi has the size, 6'0 208 to become a good safety. Akwasi really has good speed as well, he ran one of the best 40 times for the cornerback group in the 2010 NFL Combine. If you watched some highlights of Akwasi in college, it was evident the kid can flat out ball. He is very dangerous with the ball in his hands and will make a play on the ball. Some scouts are worried about his durability. I really love what Akwasi brings to the table. For one thing the kid is very intelligent and was the safety that impressed the Cowboys the most at Valley Ranch. Every year Dallas invites potential draftees to Valley Ranch, for a closer look at that player. Now from what is reported, the Cowboys made each safety breakdown a play on the board, and explain the coverage's and assignments. Akwasi did that better than any other safety the Cowboys brought in. That is really impressive to me, especially coming from a player that went to a smaller school.
Akwasi in my opinion is one of those late bloomers. He was a running back in high school, but really did not come around until his senior season in high school. Still no major college recruited Akwasi, and ended up going to IUP. At IUP he exploded onto the national radar. When you watch him he kind of reminds me of Ed Reed, when you see him flying around the secondary and taking picks to the house. Now I am not saying Akwasi is Ed Reed, but he has Ed Reed qualities. Both are similar size and have a similar style of play. What the Cowboys also liked about Akwasi is his versatility. He can play cornerback and safety, which is something the Cowboys scouting department really likes in players, versatility. If I could describe one simple characteristic that our scouts really like, it would be being versatile.
Akwasi had major buzz coming into the draft, and especially after having one of the best combines for a cornerback. He had a shoulder injury that I think kept most teams from taking Akwasi in the third round last year. We got Akwasi in the fourth round, and I know the Cowboys war room had to be thrilled to get him that late. Me personally I had a 2nd-3rdround grade on Akwasi. I know that teams like the Steelers, Patriots, and Texans were highly interested in Akwasi. What you got to love besides his athletic ability, is his intelligence. When your getting a small school player, it is going to take time for him to develop. So when you get a player that has intelligence, well you have a major advantage in developing that player. I really believed getting Akwasi in the fourth round was one of the steals of the draft, not to mention landing Dez Bryant and Sean Lee earlier. If Akwasi was one hundred percent healthy heading into draft day, we never would have got a chance to select him in the fourth round. He easily could of went in the late second or early third if not for that shoulder injury that held him out most of training camp.
For me the moment I knew when Akwasi could play at the NFL level was the last preseason game versus the Miami Dolphins. With the Dolphins playing the first team offense, Chad Henne dropped back to throw. He throws up a deep ball down the right sideline and Akwasi comes flying in from his safety position, I believe he was playing SS that play, and makes a great interception. With his ability to cover ground like that, I knew right away we had our rangy safety with the ball hawk ability we have been looking for.
Akwasi never really got any reps this season, and his presence was mostly felt on special teams. I think in time, he will become a better kick returner. He has the speed and quickness to become a good returner, its his vision and decision making that needs to improve. In college he could blow by people, but in the NFL everyone is fast. He did bust of a nice 40 yard return, I forget which game it was but he displayed his speed. Personally if he never develops into a kick returner, then that's fine because we have Bryan McCann for that. Where we need Akwasi to have a impact is at the safety position.
Now this is an area that I think the Cowboys are simply confused. I heard reports that the Cowboys liked Akwasi at FS, then I heard reports they liked him at SS. Well they need to make up their mind, teach the kid one position to start with and he can learn the other after getting one position down pat. Don't overload the kid, coming from a smaller school and missing a lot of time in his rookie year is already a big disadvantage. Now I really don't care where Akwasi plays, as long as he gets some serious playing time next season. I could see Akwasi starting at FS easily, because he is twice the player Alan Ball is. Akwasi could easily be the starting SS as well, because Gerald Sensabaugh isn't all that and a bag of chips. Akwasi can project to either safety position, you just got to sit down and make up your mind on what position you want the kid to play.
I believe he can play cornerback too, I see no reason he couldn't succeed at cornerback for the Cowboys. He has size, speed, and ball skills. Akwasi gives us a lot of versatility and that's a great thing to have in the NFL. If you got a player who can play safety and cornerback, then you got one player who can fill multiple spots. You therefore can be more creative with that player in your game plan and packages. I expect a big season from Akwasi Owusu Ansah, and keep your eye on him in training camp. Akwasi will come into OTA's one hundred percent healthy for the first time in his brief NFL career.
Also coming into his second season he is a step ahead from where he was his rookie year. It takes time adjusting from a smaller school to the NFL. Not every small school player makes it and hits it big in the NFL. But ever since I took a look at this kid, I just got a good feeling about him. He has all the tools and physical skill will never be the reason he does not succeed in the NFL. Scouts label his problem as durability and becoming more reliable as a tackler. I really don't read about how Akwasi doesn't have the physical skills to succeed in the NFL, what I do hear is the concerns about his durability. In my opinion I think Akwasi will become a starting safety for the Dallas Cowboys, whether that's this year or next year I think it will happen. Maybe Akwasi will never become a quality player for the Dallas Cowboys, I think he will, but make sure you don't forget about Akwasi Owusu Ansah.
I still believe the Cowboys should sign a safety in free agency and draft one in the upcoming NFL Draft. That way along with Akwasi, you got youth and depth at the safety positions. One thing the Cowboys need to figure out is where they want to play Akwasi. Teach him either the free or strong safety position, do not mess this kid up with trying to overload him with too much because that's how small school kids burn out in the NFL. They try to take on too much and its overwhelming coming from a smaller school. I truly believe that coming into the next training camp, Akwasi could battle for a starting spot on this team. People will overlook him because of coming from a small school and missing basically most of his rookie season, but I will not be one of those people. If Akwasi were on another team right now, who knows how much farther his development would be. At times it seems like we don't like to play rookies right away and nurse them like children. Look I am all about winning and the present is important, but at some time you need to start implementing your younger talent into your lineup. The Patriots are the staple of that theory. They constantly draft at a high level and implement those players into their system. Every player I will feature in this series has the talent to be a highly productive player, they just need the proper coaching and game time to succeed.
Up next: Victor Butler