Free Agency:
So far it looks like the 2012 free agency will be a good one.  If Jerry plays it right, we could really improve our squad.
DE/OLB Mario Williams (option 2: Cliff Avril)
This will give offensive coordinators headaches.  How do you block both Super Mario and Ware?  The question here is whether Houston will franchise tag him.
OG Carl Nicks (option 2: Ben Grubbs)
Tired of second rate d-lines pushing us around?  Nicks is an elite guard and dominant in the run game.  Murray will be licking his chops over this one.
2012 Draft:
1. OG Cordy Glenn Bulldog
Think Leonard Davis with better feet, and you got a pretty good idea of what this guy is capable of.  If Nicks (or Grubbs) fills in the left guard spot, then Glenn could take over the RG spot for Kosier this year or next.  That's close to 700 lbs of beef right there - and with a year of development under Tyron Smith's belt - you got yourself an o-line.
2. CB Jonathan Banks Bulldog
A ballhawking corner who can add some size to our secondary at 6'1.
3. DE/DT Kendall Reyes Huskie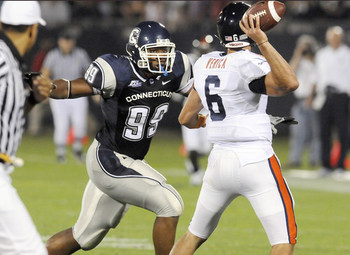 Long time starter along the  defensive line for the Huskies who can generate pressure from the inside and anchor vs. the run.
4. QB Nick Foles Wildcat
It's not hard to fall in love with his size and big accurate arm.  Problem is he lacks mobility and doesn't come from a traditional NFL offense.  He'll take some time to develop as a player because of that, but he is big, smart, and if you protect him his arm will kill you.
Key training camp battle: Center
Phil Costa is going to have his hands full fighting for  his starting job from Kowalski and Nagy who will finally have a full offseason to develop and fill out their bodies.