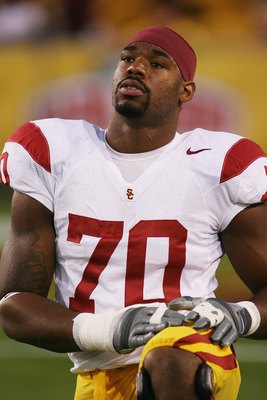 In a recent article put up by Raf over at Cowboys Nation, the word from Wes Bunting is Tyron Smith is over 300 pounds, weighing in at 307. I said a little while back that Smith would be at least 300 by the draft, now it appears he is 307 a week before the NFL Combine. Check out the story over at Cowboy Nation http://www.cowboysnation.com/2011/02/draft-notes-brown-gives-dallas-much.html
Raf brings up a interesting point, if the Cowboys "get cute" with the offensive line again in the draft, than they will miss out on sure things and end up with projects in the later parts of the draft. Now I have promoted taking a right tackle with our 9th pick, and if we stay put at 9 we can take the cream of the crop when it comes to offensive tackles.
You know, I have to agree with Raf here. Why ignore the biggest need on this team again? Some of you out there, appear to be ok with not addressing the offensive line in the first round. I have to say, I don't understand that theory at all. So if we wait until 40th overall to take a offensive lineman, there might not even be a good option for us in the second round.
So we come full circle back to my highest rated offensive lineman in the draft, Tyron Smith. In over ten weeks of time, he has added over 20 pounds to get up to 307. He started the last two years at right tackle for USC, and dominated the competition. When our biggest need happens to be right tackle, why not draft the cream of the crop in Tyron Smith 9th overall? Why even risk trading down from 9th overall, only to miss out on him? We can insert this guy right away at right tackle, and Wes Bunting said he can have a Phil Loadholt type of impact right away. Yes he wont physically blow people over, but he will be a sturdy starter at right tackle right away and stay upright and win his battles.
This is where Wes Bunting again makes valid and logical points to why the Cowboys should draft Tyron Smith. First he mentions how he had Roger Saffold rated higher than Trent Williams, Anthony Davis and Bruce Campbell. If you remember, Saffold was a offensive lineman the Cowboys were interested in and is similar to Tyron Smith due to his weight. Saffold went on to protect Sam Bradford all season and had a better season than Trent Williams did. Also Wes points out what the Ravens did with Michael Oher. They started him at right tackle and eventually moved him over to left tackle. We could do that with Tyron Smith if we wanted to over time.
Wes Bunting makes a great point here as well, remember Jason Smith who went 2nd overall to the Rams? He thinks Tyron Smith is twice the prospect Jason Smith is, and if I can get a #2 pick 9th overall I am doing it. If we had a shot for Jason Smith, I am sure fans would be pursuing him because he went to Baylor. Its time to wake up and smell the coffee guys, we need a right tackle. I don't care we are taking a right tackle 9th overall, because if there was a redraft of the 2009 NFL Draft, Michael Oher would have been selected a lot higher. Right tackle is the biggest need on this team and if we select Tyron Smith we are set for the next ten years and could move him to left tackle if needed.
I predicted he would be around 300 pounds around the draft, now he is 307 before the combine. He is going to have an amazing workout at the combine and he will shoot up the draft board. Not many offensive lineman are that athletic. He consistently reminds me of D'Brickashaw Ferguson from the Jets, there were similar concerns about his weight that year in the draft and he turned out to be a All Pro offensive tackle. When we go to the combine, the Cowboys scouts better be taking a good look at Smith.
If we take Smith 9th overall, we get the best offensive lineman in the draft. I am telling you it might be too risky to pass on Tyron Smith. Now I wanted Prince Amukamara or Brandon Harris because I love them, but I thought we could get a right tackle in the second round. Now Wes is telling me, if we get cute we will miss out and end up with a developmental project again. Even if the Cowboys took a CB or DE, I would be happy with the player I got, but I would be deeply concerned about right tackle. If we answer right tackle with our first pick, we have the rest of the draft to play around with and answer some defensive needs. We can get a quality DE and CB in the 2nd and 3rd round because it's a deep DE and CB draft.
I predicted Tyron Smith would get his weight up, but he has done it earlier than I expected. He could be up to 320 pounds by April and some will be concerned with the rapid weight gain, but this is a 20 year old kid. His frame is built to add on more weight. At 20 years old he is still growing and I urged before he would get bigger and stronger because of that fact. I think its time to bite the bullet and man up here. Lets answer our biggest need on this team and move forward. I would be so happy getting the best offensive tackle in the draft, especially after years of heartbreak when the Cowboys selected mediocre offensive lineman in the draft. Now you would have Doug Free and Tyron Smith, bookends for the next ten years and easily the most athletic set of tackles in the NFL. In a year, we could be discussing that the two could be maybe the BEST pair of tackles in the NFL. I say lets draft Tyron Smith and end the draft discussion. Its time to select a offensive lineman in the first round, lets do this with our 9th overall selection and have the rest of the draft to focus on defense.