Every now and then I am dead wrong about a player. I had pegged JJ Watt as a guy we shouldn't be interested in throughout the past few months. I even said "If we take JJ Watt at 9 I will vomit". Well I was totally wrong about this kid. Usually when I watched Wisconsin play, I was focused in on Gabe Carimi and when the defense came on the field I switched the channel to something else. Well folks, I should have watched JJ Watt play some college football.
Unlike many draft analysts, I can admit where I was wrong. JJ Watt, if you ever read this I apologize sincerely. I was dead wrong about not rating you highly enough in my big board and I was dead wrong about the kind of athlete you are. I thought this kid was a lumberjack who overachieved, he is much more than that. JJ Watt is athletic and is a way better athlete than I originally believed.
JJ Watt is currently Todd McShay's draft pick for us with the 9th overall pick. Fellow ESPN draft guru Mel Kiper has the Cleveland Browns taking Watt with the 6th overall pick. Now I don't see Watt going that high, but I could see him being a option for us with the 9th overall pick. So lets take a closer look at JJ Watt.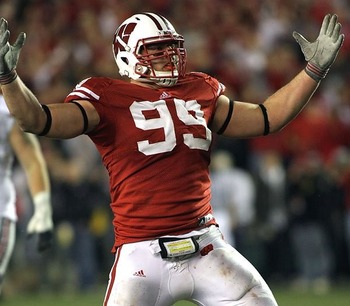 JJ Watt
6'5 290
Wisconsin
Defensive End
34 inch arms 11 1/8 inch hands
4.84 40 yard dash
34 reps bench press
37 inch vertical
10 foot broad jump
6.88 three cone drill
4.21 20 yard shuttle
This dude absolutely had a monster of a combine workout and really pushed himself up the draft board in my eyes and probably a lot of NFL teams. I watched the combine on www.nfl.com. I do not own the NFL Network because my cable provider Time Warner doesn't have a agreement with the NFL, but you can see two cameras providing coverage of the two different groups during their workouts. In my eyes, three players sold themselves at the combine this week. Marcell Dareus, Von Miller and JJ Watt. All three of those talented players showed up and put in work.
Usually I do not like to use the combine as a premier scouting analysis on a certain player, but what I do like about the combine is that I get a feel for how athletic a player is. Now my major question about JJ Watt was exactly that, I know he has a high motor and achieved on the field, but is he a premier athlete? I would say after getting to watch him in action he answered my question.
This might be the deepest defensive line class I have ever seen, now I am only 26 years of age but I have not seen this much depth at the position in a long time. So for Watt to outperform just about every other defensive end out there, that says a lot to me. One guy I had rated over Watt was my guy Cameron Jordan from Cal. I still like Cam Jordan a lot, I still believe he is a top tier guy. Where they might actually differ is pass rushing, Watt might be the better pass rusher and disruptive force we need. So for the record I am still a big Cam Jordan fan and I believe he will be a good NFL player, but JJ Watt is my new man crush.
Lets take a look at his college stats. Watt had 21 tackles for loss, 3 blocked kicks, 62 tackles, 7 sacks, 2 forced fumbles and 2 fumble recoveries during the 2010 season. In 2009 he had 15.5 tackles for loss, 44 tackles, 4.5 sacks and 2 fumble recoveries. So this is a player who produced at a high level. What I found intriguing is that Watt was actually a tight end who transferred from Central Michigan after one season and became a All American player on defense for Wisconsin.
I believe Watt is a late bloomer, a prospect who is only going to get better because of his later start to the position than most of the other prospects in the draft. We are talking about a guy who transferred from one college, red shirted for one season, and walked onto the Wisconsin team and become a starter at defensive end. Not many players in my recent memory have been able to transfer colleges, switch positions, and go on to become one of the nations best at his new position. So what you might be getting in JJ Watt is a 21 year old kid who is still growing and developing his skill set at the defensive end position.
JJ Watt is a relentless pass rusher with a high motor skill set. He has a awesome spin move and also uses a swim move with his long arms that gives offensive lineman fits. Watt is no stranger to double teams, as opponents game planned around him. He can spin off blocks to the outside and inside, thus creating pressure from a variety of angles. Watt is great at using his hands and timing the jump to knock down passes. I cannot remember one of our defensive ends actually doing this at a consistent level. Watt also has a nice bull rush because he is very strong at the point and will use his size to drive you back.
Watt is also great at stopping the run. He has a non stop motor and will pursue you down the field if he has to. He has the strength and size to hold up and make the play on the runner. He has the great ability of flying into the backfield and making stops behind the line of scrimmage, he is a very disruptive player in every aspect of the game. He might have some trouble getting to the outside, he isn't the fastest guy but he is really quick.
Watt is a really good pass rusher and really good in the run game. After taking a better look at Watt I cannot say I see too many flaws in his game. I believe he will succeed in any defense he plays in, whether that's a 4-3 or 3-4, I think he is just too good of a player not to be successful. He might not be the most skilled player in the draft, but he has a motor that doesn't stop. You can give me the kid who has the energy and motor that doesn't stop over the player with more "talent and potential" almost any day of the week. I feel that way in this case particularly because Watt can be taught technique. Sometimes its about getting the right player for your scheme, instead of getting the player with more raw talent. Watt is a player that achieves because he absolutely wants to be the best on the field and gives 110 percent.
See that is why I have questions about Da'Quan Bowers and Nick Fairley. Do they want to be the best, or do they just want a payday and fame? I will not question that they have the ability to become great football players, but I will question their desire and quitting on plays. Players like Watt have this old school look to them. If you look back at the old NFL, a lot of the best players weren't great athletes. They were coached by some of the best coaches of all time and played in some of the best defensive schemes at that time.
I think Watt would be the perfect system player, a guy who you plug in and teach him everything there is to know about playing in a 3-4 defense. If you give Rob Ryan a player like JJ Watt with our first pick, I guarantee Watt will soak up every bit of material you throw at him. Players like Sean Lee for example, they strive to be the best. They are the ones who stay around at Valley Ranch to workout and meet their new defensive coordinator and I get that same vibe from JJ Watt. I want player like this on my team, matter of fact we do not have enough of them, but we are starting to implement that culture with Jason Garrett as head coach. The whole culture of being great and working hard, that's exactly what a player like JJ Watt stands for. His energy would also bring a lot to the defense. There is nothing more than I love about guys with a lot of energy.
Where I would put JJ Watt is at the defensive end spot next to DeMarcus Ware and Jay Ratliff. Watt could be the missing piece to our defensive front that we have been missing. Rob Ryan expects his defensive ends to generate pressure and be disruptive. This is exactly why guys like Marcus Spears and Igor Olshansky will not fit in this scheme. What we need is a guy like JJ Watt or Cameron Jordan, and I believe Rob Ryan will get these type of players for his defense.
Now the only problem I have with taking JJ Watt with the 9th pick is this, what about offensive line? I have Tyron Smith as my #2 prospect for a damn good reason, he is a great offensive tackle prospect and we need a right tackle in the worst way. If the Cowboys had drafted offensive lineman instead of ignoring the position for years, we would not be in this position and not having this conversation, but this is where we are. We cannot afford to ignore the offensive line again, we do not have the depth and youth we should frankly have had by now. Tyron Smith is a instant fix for us at right tackle and would give us athletic bookends for the next ten to twelve years.
With this being a deep defensive end draft like I mentioned earlier, I think the Cowboys could afford to ignore defensive end in the first round and take the cream of the crop offensive lineman with the 9th overall pick. That's just how it shakes out this year. Dallas has a chance to take their choice of the top offensive tackle in the draft, but there will be players like JJ Watt sitting there at #9. It is a really a tough decision for the war room to make this April. I had Watt as my 28th rated player on my top 50 big board, in my next update Watt will move into the top 10. This is a large jump but after the combine and the video research I did on him, he really impressed me.
The 9th overall pick presents a lot of different options for the Cowboys to choose from. I think having options in life is a great thing, especially in football. I still think we need to take Tyron Smith with our pick because our offensive line needs him. If we took JJ Watt I would be very happy and I would understand the decision, but I would be deeply concerned about how we answer right tackle. I also believe the Cowboys could have their shot at Prince Amukamara, and I really like him a lot. Newman is going to be 33 years old and Prince could easily take over for him. Prince might be our answer at safety. I would say OL, S, CB, DL are the needs going into the draft. The Cowboys might go with the best available player, they might go with need, or they might use a strategy of both. Right now I would say we have three solid options, Tyron Smith, Prince Amukamara and JJ Watt. All three are going to be great football players. The decision is up to Jerry Jones and the Cowboys to decide what player is the best fit for us.
This is a very tough decision and either player would be a good decision. Really, it would be very hard for Jerry to fudge this pick up because there are so many good players for us to choose from. JJ Watt just entered himself into the conversation, and he was asked if the Cowboys had talked to him. According to ESPN Dallas, Watt put on a huge smile. So the Cowboys must be interested in JJ Watt, nothing wrong with doing their homework.
Chia's NFL Comparison: Jared Allen
JJ Watt Highlights (via JonathonZenk)
JJ Watt vs. Ohio State (via AloAloysius)