After our disappointing 6-10 2010 season, Jerry is gonna have to be very crafty to compete for a chance to go to Indy next season (cross your fingers that there is a next season). Sure we have talent on our team, we have arguably the best pass rusher in the business in Demarcus Ware, a solid group of receivers/tight ends with studs like Jason Witten, Miles Austin, and Dez Bryant, the most under appreciated player on this team and the best punter in the league Mat Mcbriar, and a quarterback who i believe with the right management and supporting cast can lead us to a super bowl. I am a person who likes to look at the positives, but i do realize that changes need to be made for us to be a legitimate super bowl contender next season. We have holes, some will be filled through the draft but i think there are a couple free agents we could sign who could really help us out next year. Our main positions we need are OL, S, ILB, and DT/DL. Here's a couple of names who aren't being talked about too much but could still play an important role on this team next year.
So first lets look who's out before we look at who's in. Jerry decides to let free agents Alan Ball, Alex Barron, Marcus Spears, Gerald Sensabaugh, Sam Hurd, and Jason Hatcher walk. That means that we resign Doug Free which is a no brainer and should be our top priority this offseason, Kyle Kosier to a small veteran contract, and Stephen Bowen who will replace Spears as our starting defensive end.
Next, who should we cut? Their are the obvious ones, Marion Barber, Marc Colombo, Leonard Davis, Keith Brooking, Igor Olshansky. Then we go to the tougher decisions I've decided to let Roy Williams go as he just has not played up to his contract, if he is willing to sign for less money I would love to bring him back. Terrence Newman has been debated by many as to whether he should stay or be cut. I say we keep him around, unless Prince falls to us we don't have enough cornerback depth to release Newman who can still play at a somewhat high level.
Richie Incognito- Interior Lineman MIA: Incognito can play either guard position and center, that kind of versatility is always helpful for an offensive line. He has had issues with his temper in the past but last year with the dolphins he managed to keep it in check. He played well for Miami last year in a reserve role and a couple of spot starts due to injury. I think he can play that exact role for Dallas and he could come generally cheap. REPLACES LEONARD DAVIS.
Tanard Jackson- Free Safety TB: Jackson ran into some trouble earlier this year when he was suspended indefinitely for his 3rd substance abuse violation. Usually when i would hear that i would immediately stay away from such a player, we dont want another Pacman Jones/Tank Johnson situation, BUT Jackson is the ball hawking type safety this team desperately needs. He had 5 picks in 2009 and 2 pick sixes. He would come very cheap and is a very low risk high reward type player. REPLACING ALAN BALL
Paul Soliai- Nose Tackle MIA: Soliai was a disappointment for his first 3 years in Miami, last year he really shined in his contract year. He was a dominant run stopper and had 2 sacks. He could move right into the starting nose tackle spot and Jay Ratliff would move to his natural position of defensive end. Rat was double teamed all year and had one of his least productive seasons. Soliai would help out with that. He would be a little more expensive then the other 2 free agents i mentioned but I think he would really help out our miserable defense. Changes need to be made and signing Soliai would be a nice step forward. REPLACING MARCUS SPEARS
Le'Ron McClain- Fullback BAL: McClain has made it very clear he wants out of Baltimore. He is not happy with the way he is being utilized in their offense. I think he would fit perfectly in Big D. Once Barber is cut ,and we all know its inevitable, we wont have that bruiser to get the small yardage plays. McClain could step right in and be that guy. Most people thin we should fill that need through the draft but if McClain would come at a reasonable price he would be a great addition to this offense. He is also a better blocker then Gronk, and he can also catch passes out of the backfield if need be. He may be the biggest long shot on this list but I thought he was worth mentioning. REPLACING MARION BARBER
Now that we have our free agent acquisitions we can move onto the draft. Ive been looking forward to April 28th since our embarrassing loss to Green Bay. So now that we have partially filled our needs through free agency, lets look at the draft. We still have big holes to fill at Safety, Right Tackle, Inside Linebacker, Wide Receiver, and Kicker so here we go.
1.9- Robert Quinn DE/OLB UNC- Outside Linebacker or Defensive end might not be our biggest need, but I think Quinn is too good to pass up here especially with Prince Amukamara and Von Miller gone. He can step in and give us an elite pass rusher across from Demarcus Ware. I still think Anthony Spencer has a role on this team I'm just not sure what that role is exactly at this point. OTHER OPTIONS- Cam Jordan, Gabe Camiri, Tyron Smith.
2.40- Ben Ijalana OT Villanova- This guy absolutely dominated the Division 1-AA level and kinda like a guy we drafted last year (AOA), but Ijalana is a lot more polished prospect then AOA and he could start at RT immediately. He will be an immediate upgrade over Davis and will hold down that position for years to come. OTHER OPTIONS- Phil Taylor, Ahmad Black, Marvin Austin
TRADE- DAL trades 71st overall pick and 167th overall pick for CIN 66th overall pick
3.66- Ahmad Black SS Florida: I traded up because I really don't think Black will make it to the 3rd round but im being a little optimistic here. Black is everything we need, sure tackler, ballhawk, and a vocal leader. My proposed safety pair of Jackson and Black is a major upgrade over Ball and Sensi. Black is undersized but so is former defensive player of the year Bob Sanders. His durability is not a problem and he had 13 career interceptions in 4 years as a starter at Florida OTHER OPTIONS- Robert Sands, Marcus Cannon, Jerrell Powe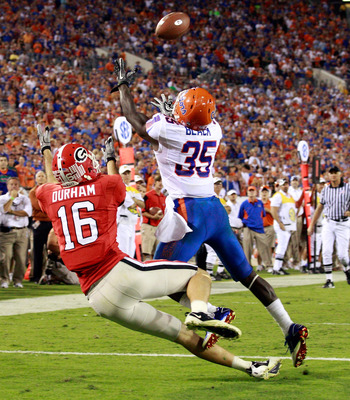 4.109- Casey Matthews ILB Oregon: Everybody seems to be high on this kid and for good reason, ILB depth is a big need for this team with only Bradie James and injury prone Sean Lee as the two reliable ILB's on this roster. He's an extremely hard worker and is a very good tackler. He has good speed and takes good angles in pursuit. OTHER OPTIONS- Ras I Dowling, Danny Watkins
5.171- Jah Reid OT UCF: Reid is just a huge man, hes 6'7 325, he had a very strong showing in the East West Shrine game and that should shoot his stock up. Right now he is projected as a 6th rounder so he might be a little bit of a stretch here but we don't have a 6th rounder so I want to get my guy here in the 5th. OTHER OPTIONS- Pernall Mcphee, Greg Romeus, Niles Paul.
7.202- Alex Henery K Nebraska: I wanted to go receiver here but if Henery's here we have to take him. He is the best kicking prospect to come out in years. Buehler missing an extra point against the Cardinals proved to me that we need a change at kicker. We should still keep Buehler around for kickoffs. OTHER OPTIONS- Ryan Pugh, Lee Ziemba, Dane Sanzenbacher. 
UDFA- Aldrick Robinson WR SMU: Robinson is a speedy little slot receiver who would fit in perfectly. If he doesnt get drafted we need to snatch him up and he should replace Roy Williams.
After all these acquisitions our depth chart should look like this.
QB- Romo, Kitna, McGee
RB- Jones, Choice, Miller
FB- McClain
WR- Austin, Bryant, Ogletree, Robinson, T. Williams
TE- Witten, Bennett, Phillips
LT- Free, Reid
LG- Kosier, Holland
C- Gurode, Costa
RG- Incognito, Holland
RT- Ijalana, Young
RE- Ratliff, Bowen
DT- Solaia, Brent
LE- Quinn, Bowen
OLB- Ware, Butler
ILB- James, Lee, Matthews
OLB- Spencer, Butler
CB- Newman, Jenkins, Scandrick, McCann
FS- Jackson, AOA
SS- Black, Church
K- Henery, Buehler
P- Mcbriar
LS- Laucedeur
The only thing that worries me is the wide receiver depth on this roster so if anyone has any suggestions post in the comments and i can add it in.