What up BTB nation I know it has been a while since I have posted. Really I am drafted out right now and cannot wait for the draft, which is still over a month away. I have done countless articles on the draft and I am basically worn down right now. Also I have a lot of personal issues going on in my life, when it rains it pours. Sorry for the lack of posts and I am trying to get back into my weekly routine here.
Lets start with some draft news. As you all know I am a huge Tyron Smith fan. Basically the rumor is that the Cowboys have requested more game tape than any other NFL team. Tyron Smith is officially coming to Valley Ranch next month when we have our annual draft prospect invite to get a closer look at them. I believe USC is holding their pro day soon, I forget the exact date. That will be a huge day for Smith, if he has a great workout you can black marker him in the top ten of this draft. I believe the Cowboys are really in love with Smith at this moment in time. Jason Garrett is going to have his say in the war room and Garrett understands football. He has been around this team long enough to know what we need and what type of players he needs for his offense to succeed.
Remember in 2009 when Marc Columbo went down and Doug Free played amazing football at right tackle? Our offense was running on all cylinders when we had solid left tackle play from Flozell Adams and Doug Free killing it over on the right side. From what I saw this year, Columbo was the biggest weakness on the offensive line. Now the Cowboys might even consider bringing him back but I wouldn't. The guy is done, thank him for his time here and move along. Basically what I am trying to say is that Tyron Smith is a great fit for what Garrett asks from his tackles. Garrett runs a lot of screens and tosses, he likes his tackles to be agile and athletic. With the ability to get out and block in Garrett's athletic style, Smith would thrive in that role because that's one of his strong suits. The athletic tackle also has to be strong and hold up in pass protection. I believe Smith can do that quite well. I think Tyron Smith is the complete package at just 20 years old and is still growing into a better player. Drafting a right tackle who can also develop into a left tackle is something the Cowboys will look for. 
The Cowboys love versatility. It must be one of the characteristics that they emphasize on in scouting. They love defensive ends that can move inside. They love linebackers who can play multiple spots. They love the hybrid type of corner who can play safety. But they also look for versatility in their offensive lineman. The Cowboys will be looking for a offensive tackle who has experience or potential on the left side and right side. That is why I think the Cowboys are heavily interested in these offensive lineman. They need a guy who can man the right side, but also be that swing guy in case Free goes down. Lets take a look at a few prospects who fit this criteria.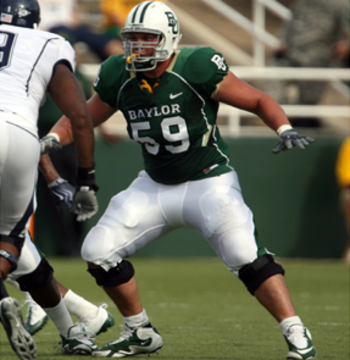 Danny Watkins
Danny Watkins is a player I guarantee the Cowboys are high on. He played LT at Baylor this past season, so he has experience on that side. But he can also play some center, guard and obviously right tackle. Hudson Houck personally attended the Baylor pro day in person to get a closer look at Watkins. I love Watkins myself and the age doesn't bother me. He reminds me of Sebastian Volmer, who was another prospect similar in terms to Watkins. I think this is basically the Cowboys fall back option if they take a cornerback or defensive end with their first pick. I see them maneuvering up from the 40th pick and finding a way to snag Watkins if they draft Prince Amukamara or JJ Watt in the first. Even if the Cowboys took Tyron Smith, I would advocate them selecting Watkins because he would also be a perfect fit at guard for us. The 49ers did this last year in selecting Anthony Davis and Mike Iupati to solidify their offensive line. Watkins offers the Cowboys the versatility they look for in draft prospects.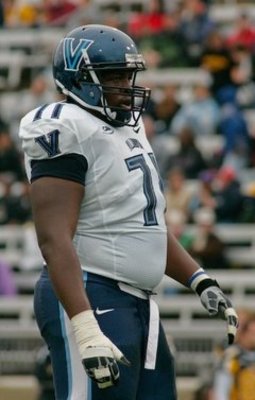 Ben Ijalana
Now from what I hear, the Cowboys have a really good hold on the Pennsylvania area when it comes to scouting. This is always why you see the Cowboys interested in PA products, because they heavily scout that area. I don't have a answer to why that area is scouted so hard, but it does pump out a lot of NFL prospects. This year there are two offensive lineman the Cowboys are involved with. One is Ben Ijalana, a guy who again played left tackle this year but has experience on the other side. He had hernia surgery so that may push him down the draft into the second round and that's a good thing for the Cowboys looking for premium value in the second. Coming from a small school you may have concerns about Ijalana, but I think skill wise he is one of the best tackles in the draft. I think he is similar to Vlad Duccasse from UMASS last year, but I think Ijalana may be the better prospect. If the Cowboys drafted him they again have the versatility they love. You can play him possibly at guard, where his skills translate well. But you can also plug him in at right tackle and use him as your swing tackle to backup Free. He is just another prospect that offers us various opportunities to play him at various spots along the offensive line.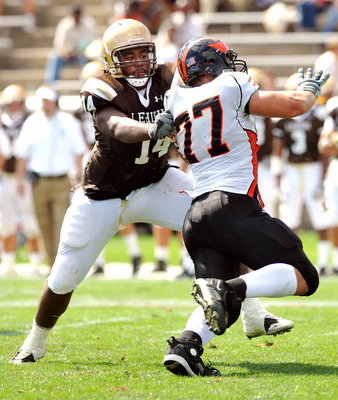 Will Rackley
This is the second PA prospect that the Cowboys are heavily interested in. He has been invited to visit Valley Ranch along with Tyron Smith and DeAndre Holmes as the only official visits listed so far. I think Rackley fit's the Cowboys mold of drafting athletic tackles and moving them to guard. That's just how the Cowboys draft guards, they never really draft pure guards, they draft athletic tackles or centers and move them to guard. Rackley also has tackle experience so he fits into what the Cowboys are trying to do with versatility. He played left tackle but I think he projects out to more of a right tackle. Every scouting report I read is very good and displays the characteristics you look for in good offensive lineman. The issue here is the Cowboys need to decide if he is a guard or tackle. That concerns me because they have not had the best success with hybrid offensive lineman. I think Rackley has all the physical tools to be a starting caliber lineman for us, he is definitely worth a fourth round draft pick.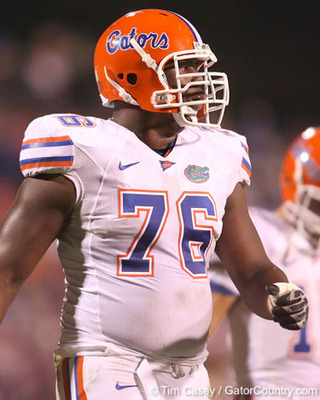 Marcus Gilbert
Reports state that the Cowboys have scouted just about every Florida game this season and the main reason was Marcus Gilbert. Gilbert may be the one tackle I think is under the radar right now. See most teams are looking for a left tackle, which we have in Doug Free. We are looking for a right tackle, which in many ways is the easier position. Gilbert played left tackle for a good Florida team in the SEC, easily the best conference in football. I think Gilbert again like these other guys has all the tools to be a great right tackle. The reason teams are down on him may be that he wasn't a dominate left tackle. Now I when I looked over his tape some games he looked amazing, some games he looked awful. He has some inconsistent game tape but he has tremendous skills and size. All the rumors and reports state that the Cowboys love this guy, and I really like him on the right side. His draft status is up in the air right now, I have seen him anywhere from the second to fourth round. If we pass on a right tackle early on, then we should reach a little bit to take him.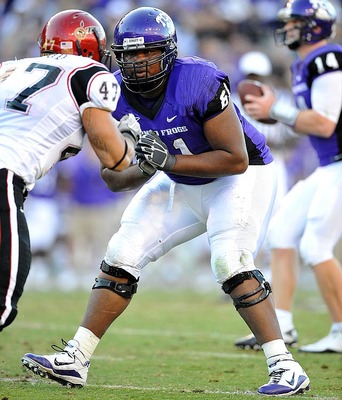 Marcus Cannon
Marcus Cannon might be the most controversial guy on my list. Some feel he is a guard, some feel he is a tackle. Some feel he is garbage, some feel he is a treasure. It all depends on what scout or draft guru you ask. I find it impressive that a guy his size manned the left tackle position for a high ranked team and was actually pretty good. No way is he a left tackle in the NFL, he has way too much trouble with speed rushers. What he can be is either a dominant guard or a starting caliber right tackle. In many ways I see a young Leonard Davis, talented but teams will struggle in what role to play him at. If Cannon goes to the right situation, like Dallas, he will be put into the guard or right tackle position and have the ability to grow into that spot. I have not read anything or heard anything of the Cowboys having interest in him, but again he offers versatility. He has experience on the left and right side, and his skills translate to guard. If we pass on tackle in the first, then this would be a great pick in the second round.
The Cowboys due have some options here, I just think Tyron Smith or Gabe Carimi are the cream of the crop at tackle. The guys above have a lot of talent and could possibly fill our right tackle role. Free agency really would have been a big help for us, but we don't know when it will happen. Right now we have to look to the draft to fill that hole. There is no way in hell that we can roll with Marc Columbo as the starting right tackle, that's a death wish. Sam Young has some talent, I like the kid. But I would be really nervous rolling with him as our starting right tackle and no other option. As the draft gets closer we are starting to get a feel to who the Cowboys are looking at. The official visits are starting to be announced and I think you should take a close look at the names we invite.
Dez Bryant is my favorite player. I absolutely love this kid. I think he has the talent and god given ability to be the best wide receiver in the NFL, that's how strongly I feel about him. He grew up around some of the roughest circumstances one can have as a child. He still rose through everything that was negative around him and made something out of himself. He is in the NFL, and a father. He is young, what 22 or 23? I am young myself, I am 26 so maybe that's why I can relate to Dez more than I can relate to say Jason Witten. Everyone wanted this kid to fail, they wrote him off in the draft as a issue. He is not a criminal, he has never been in trouble like that. What has been around him is crap news stories that sell newspapers and magazines. He is young, he is going to make mistakes. He needs to just chill and stay low for a while. Manage your money better, get a real financial advisor. I am speaking to you right now David Wells, if you love this kid like you say, then help him through this. Don't be a yes man right now, you need to be the father to this young man that you say you are. Sit him down like a man, tell him he needs to chill out with spending money on jewelry, cars or whatever. Is Dez wrong here? I don't know, we don't know the specifics of the situation. Does Dez have one of his boys handle paying creditors and the bills? Is that what David Wells does?
I love this kid, I want to see him succeed. I have witnessed a kid that I saw on you tube years ago, a high school highlight video of this insane talent. I watched him at Oklahoma State and saw him rise to the ranks as the best wide receiver in college football. I saw him lie to the NCAA because he was nervous, not understanding what was right and wrong. I saw him have the wrong cleats on his pro day and watched him slip into the draft. When the Cowboys drafted Dez Bryant, it was the best moment I have had as a Cowboys fan since winning our last Super Bowl vs. the Steelers. I watched a kid on draft night nervous, not knowing how far he would drop. I then saw the pure joy in his heart the moment Jerry Jones called him. I watched him show up to the press conference the next day with this glow. I watched him come out as the first player to camp, signing anything, talking to anyone. I watched him absolutely destroy every cornerback in camp, then I saw him injured and how down he was. He comes back for week one and has a amazing rookie season. I have never been excited about a player like this, he has GOD talent. God gave this kid the talent to become possibly the best wide receiver in football. It was written that Dez would be a Cowboy. It was in his path, 23 years ago, he just had to walk the line to that moment and long become god made Dez a Dallas Cowboy.
Before we judge him, call him the next TO, say he is a thug, please think about what this kid has been through. He is a well spoken, humble young man. He came into this league with all this uncertainty and public backlash. A GM asked him if his mother was a prostitute and sold drugs. He was asked if his dad was a pimp. He has been through a lot. He is young, he will make mistakes. Does he need to chill and fall back a little bit? Yes it might be in the best interest for him. This is my favorite player, I love this guy man. I pray that everything works out for him because he is amazing. He is just a amazing football player with all the skills to become a all time great, not just some guy. I have his back no matter what, he hasn't committed crimes. He isn't Pacman Jones. I am going to show my dude support here.
 This is the Dez I know, a guy who WANTS and LOVES to be a Cowboy.
This has been a ChiaCrack Production POW!
ChiaCrack approves of this fanpost