Over the course of the weekend I was bored and did my usual draft research. In my research I decided to take a closer look at the three players this fan post is centered around. I feel these three prospects meet are criteria entering the draft and would fit into our system pretty well.
What I am looking for over the course of the next few weeks is the bargains later in the draft. We basically all know who the first and second round prospects look like at this point, but I think we should start digging a little deeper into the draft wormhole. Teams who are successful find good players after the first two rounds. Those teams consistently find players with good talent and the ability to fit into their systems, contribute early on in their NFL careers and have the potential to become starting caliber players.
I am looking for the prospects who will fit our aggressive 3-4 defense employed by one of my favorite defensive coaches in the league, Rob Ryan. I believe the Cowboys have a few areas to focus on this draft. I would like us to select Tyron Smith as you all know and that would allow us to focus on our defensive needs with the rest of our draft picks. The Cowboys could also go in the direction of selecting Prince Amukamara and JJ Watt, both great players worthy of the ninth overall selection.
What I decided to look over this weekend was inside linebacker, cornerback and a pass rusher that is a late round pick with upside. I believe each of these players fit the criteria I was looking for and would fit nicely into the Cowboys system.
Quan Sturdivant
ILB
UNC
6'1 241
Most of the draft sites that have a high prestige are grading Sturdivant out fairly high. I see him as a third round pick and would be a wise selection for us in the third round. The Cowboys lack inside linebacker depth and we should start looking at getting younger talent into that position. Sean Lee is one of my favorite players on the team, and if he was in the 2011 NFL Draft he would have been a first round pick. This is a pretty weak class at inside linebacker, I will not sugarcoat that at all because that is not my style. The Cowboys could decide to look at free agency to shore up inside linebacker, and that might be a good idea actually but there is one player who might be a good fit for us, Quan Sturdivant. He has the typical size of the Cowboys inside linebacker and I like his body. He can add more to his frame and bulk up if chooses to, but he has a nice chiseled frame and has good strength.
I was browsing around the internet the other day and I came across a article on www.bleacherreport.com and it detailed Quan Sturdivant. The article mentioned how we need inside linebacker depth, which is what I have been saying for months now. Sturdivant is a member of the ultra talented UNC team that is going to have a lot of players drafted this year. After reading this article I decided to take a closer look at Quan Sturdivant. Check out the article at http://bleacherreport.com/articles/627401-dallas-cowboys-2011-draft-quan-sturdivant-might-be-the-sleeper-rob-ryan-needs.
Sturdivant is a interesting player to look at. Some have him as a outside linebacker in a 4-3 and some have him as a inside linebacker in a 3-4. Personally I think he will be good at either position, he is a pretty good football player and is a good athlete. In our system I see him as a inside linebacker. I learned from the Bleacher Report article that Sturdivant is a former high school quarterback and that translates to playing linebacker because he will have a better understanding of what the quarterback is going to do. This is especially important in pass coverage and making your reads. I think with his coverage ability he would be a good fit at inside linebacker for us.
From what I noticed, he appears to be a smart football player with high football intelligence. He was extremely productive at UNC and led the nation with 122 tackles in 2008. As we all know Bradie James is a tackle machine, I could see Sturdivant as the next Bradie James. A reliable player who will make all the tackles necessary in the 3-4 defense. I noticed a lot of times Sturdivant isn't the prettiest tackler, but he gets the job done. He really reminds me of Bradie James in that aspect being it isn't pretty, but being solid and getting the job done are good enough for me.
Sturdivant wasn't asked to blitz much at UNC, but he has the skills to be a good pass rusher and in time maybe Rob Ryan could coach him up into a better pass rusher, but pass rushing isn't a primary concern of the inside linebacker in our system. You need to have the ability to cover, which Sturdivant can do pretty well. He is good in zone coverage and has a nice burst. I read comparisons to Jonathan Vilma and I wouldn't mind getting a Vilma like player in the third round. He is smooth in coverage, diagnoses plays, gets into the backfield to blow the play up in the run game and is a good tackler. That's exactly what I am asking for from my inside linebacker in this defense.
Sturdivant is a nice athletic linebacker we should take a look at. I think he has the talent to be a starting linebacker in the NFL and he would pair up with Sean Lee nicely when Bradie James decides to hang it up or when we decide to move on. We can most likely get Sturdivant in the third round of the draft and I think that would be a great pick. Getting a starting caliber linebacker would be a good football decision in the war room. It may not be shiny or sexy, but good linebackers win you football games and Sturdivant can do that for us. In a weak class at inside linebacker, I would target Sturdivant in the third round because after that it gets pretty shaky.
Quan Sturdivant vs. Florida State ('09) (via AloAloysius)
Quan Sturdivant vs Tennessee (2010) (via UploadingAMV)
Quan Sturdivant vs Rutgers (2010) (via UploadingAMV)
DE
Fresno State
6'1 248
Chris Carter (not the wide receiver) is a prospect I began taking notice of when he was mentioned by some of my fellow BTB members in the comment section of my fan posts. I will be honest and say I have not seen a Fresno State game this season. I did watch him at the combine and I immediately took notice of him there. He ran a 4.62 40 yard dash, which was the second fastest for a defensive lineman during the combine. He posted a 36 inch vertical and 4.34 short shuttle. After his combine I decided to keep him on my watch list and this weekend I took a closer look at him. His combine numbers match up pretty good compared to Thick's post about the combine numbers and pass rushers.
What I love about Chris Carter is his explosiveness, he really has a nice first step and moves quickly. His acceleration is really good and he uses that to his advantage. He had a team high 11 sacks, 16.5 tackles for loss and 4 forced fumbles in 2010. He can use his bull rush to get pressure on the quarterback, but his spin move is what he uses a lot. I think his burst and acceleration translates well into becoming a outside linebacker. What I look for in potential pass rushers for our system is speed, you need the necessary speed to fly into the backfield. He has long arms and uses that to his advantage. What he does need to work on is against the run. I believe that is something the Cowboys could help him develop at. He also would need to work on dropping into coverage, something you hardly ever do as a defensive end. I see Carter as the typical Cowboys project of moving defensive ends to outside linebackers. Carter has a knack for rushing the passer and I believe that is good enough to draft him in the later rounds and attempt to develop him at outside linebacker. I see Chris Carter as a 4th-5th round pick due to his immense pass rushing skills, whatever team selects him will be getting a talented pass rusher to develop and use early on in passing situations.
I think Chris Carter could be on the Cowboys watch list for a couple of reasons. The Cowboys are always in the market of transforming college defensive ends into 3-4 outside linebackers. This started all the way back to 2005 with DeMarcus Ware. Anthony Spencer, Victor Butler, Brandon Williams and DeMarcus Ware are all college defensive ends that they transformed into outside linebackers. I will say that the Cowboys are finding success in this method. The Cowboys usually look at fast defensive ends who are too small to play defensive end, but are big enough to play outside linebacker and rush the passer standing up. I think Chris Carter is a perfect example of a player the Cowboys might decide to make the conversion with.
When you look on the roster of course you see the man DeMarcus Ware, but you always want to have depth on your team and a 3-4 defense can NEVER have too many pass rushers. Anthony Spencer has been hot and cold. He displayed his talent in the 2009 season, only to derail in 2010. Spencer in all likely hood will be the starting outside linebacker opposite Ware. Victor Butler is a guy I really like and I like his ability to rush the passer. Brandon Williams was a Wade Phillips guy all the way. Wade raved about this kid for the past two years and even played him over Butler last year. I like Brandon Williams but I believe we can upgrade that position with a guy like Chris Carter. Ultimately it comes down to Rob Ryan. Will he feel comfortable with Brandon Williams or will he look to add another pass rusher to replace him in the draft?
Having the ability to use a variety of pass rushers from different angles would be a smart tactic to employ. The Cowboys would then have DeMarcus Ware, Anthony Spencer (if he bounces back), Victor Butler and Chris Carter as their outside pass rushers. I believe having a stable of pass rushers is a key to winning in this league. Rob Ryan does use some crazy packages and we will see some things we never saw Wade Phillips use during his run as head coach. There is nothing wrong with upgrading your pass rush with a late round draft pick.
Chris Carter, DE, Fresno State (2009) (via DACM4N)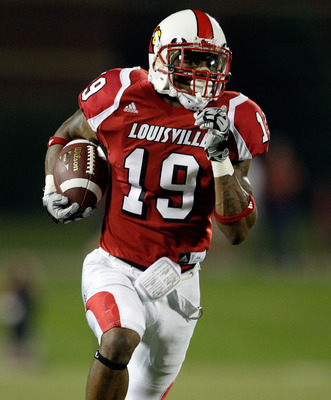 Johnny Patrick
CB
Louisville
5'11 191
This is a cornerback I actually really like. I like his combination of length, size, cover skills and physicality. As of right now he is not in my top 50, but I will be moving him up on the next update. This is a DEEP cornerback class, maybe the best class of corners in the past few years. This is a draft where you can find quality cornerbacks from rounds 1-5 in my opinion. I believe Johnny Patrick would be a good fit for us in the second round, or if he falls to the third. I read over the weekend that the Cowboys showed interest in Patrick and even interviewed him. Those are great signs to me because we are looking at upgrading the cornerback position. With a draft of this quality at cornerback, it would be smart to upgrade and add a young talented cornerback to the roster.
Johnny Patrick ran in the low 4.5 range at the combine and for his size that's a decent time. I actually believe he might be faster than that, because when I watched him play I thought he was more in the 4.4 range. I like his size and length. He is tall and has long arms which he can use in coverage. I love his physicality and I always look for physical cornerbacks for our system. He is good at press coverage and will be physical on the line, but Patrick is also good in zone coverage. With Rob Ryan, we will see more zone coverage and I am looking for corners that are good in press coverage, but also can play zone. Patrick is good at looking into the backfield and reading the quarterback, this is something you need to be good at. If you get caught looking and don't react in time, your going to be in the wrong position and let up a big play.
Patrick had five interceptions last year and was highly productive at Louisville. I believe he has the skill set to be a starting cornerback on the outside, not just a slot guy. In our search for a cornerback this draft, we need to find a guy who has the ability and talent to be a starting cornerback in the NFL. I like a lot of the faster and smaller cornerbacks this draft, but a lot of them are strictly slot cornerbacks. What we are looking for is a cornerback with the talent, size, speed and intelligence to take over for Terence Newman when that time comes. In my opinion that is why I believe Patrick is a good fit for our system. He is a physical cornerback who is willing to come up and tackle. He has great man to man coverage ability and he is pretty good in zone coverage because of his ability to read and react.
Patrick has been moving up the draft boards recently with his impressive combine showing last week. Various teams have already interviewed him, including the Cowboys. I really see a team like the Steelers making a play for a cornerback like Johnny Patrick and maybe even the Giants. I see Patrick as a 2nd-3rd round pick and he could end up in the second round due to his skill set. If we go offensive line in the first, Patrick would make a lot of sense for us in the second round. If we do not choose a offensive lineman with our first pick, than we will in the second round and that would eliminate us taking a cornerback in the second. Patrick could slip to the third round, but I doubt that at this time.
Johnny Patrick vs. Syracuse (2010) (via MARI0clp)
The Cowboys really need a good safety and the safety class happens to be a weak class. I have a few guys in my top 50, but when I do the update I believe I will only have two or three in my top 50. That is why I believe the Cowboys should go out and sign a veteran free safety on the market. Due to the CBA we cannot sign a free agent until the CBA is resolved and that could hurt us in the draft. We could end up having to reach for a third round safety in the second round. That is basically why I believe we should stick to the draft board and take a cornerback. The Cowboys would be better off taking a cornerback like Johnny Patrick instead of reaching for their need of a safety. Reaching on a safety with a third round grade on their board in the second round really isn't a good idea.
I believe these three players fit our needs and would fit into our system. Each one of these players are talented and would be good values in their selected rounds. Adding a inside linebacker with starting potential in the third round is a wise decision in my opinion. Adding a pass rusher with a late round draft pick is another valuable draft pick. Taking a cornerback over a safety in round two could be a very intelligent decision due to the talent factor at cornerback and safety.
Please take a closer look at these guys, if you choose not to then that's also fine by me. This is a deep draft for cornerbacks, defensive lineman, pass rushers, running backs and wide receivers. I would say safety and inside linebacker appear to be the weakest areas of this draft. When you take a closer look at the Cowboys selecting Sean Lee and Akwasi Owusu Ansah, they look like good values now when you compare the talent level of inside linebacker and safety this year. I could easily see Sean Lee being a first round pick and Akwasi Owusu Ansah being a late second to third round pick this year. I am a big Akwasi fan and I believe he has starter potential, but he still has to make the jump from a small school to the NFL level. Regardless, the Cowboys got two very talented players at weak positions in this years class. In hindsight it looks like a wise decision selecting Lee and Akwasi last year.