The draft is inching closer and closer and I cannot wait. When researching potential draft picks for your team you need to dig deeper. Drafts are won and lost in the later rounds. Sure the first and second round picks get all the glory, but it is the players you select deep that fill out the core of your team. In this draft preview special I have five prospects that are going to be gems in the mid to late rounds. The Cowboys have been linked to a few of these guys and I think we should take a closer look at these five prospects. The Cowboys are looking for a running back after the second round, possibly later. Cornerback is also somewhat a priority on the Cowboys draft board. Safety is a weak class so you have to do your homework on the prospects and hopefully find a draft value. Slot wide receiver is also a high priority this draft. The Cowboys have invited plenty of worthy wide receivers. Lets dive into the deep end into the wormhole of mid to late round draft prospects.
Jeremy Kerley
WR/KR
TCU
5'10 189
Jeremy Kerley is a local favorite of many Cowboys fans. He went to school at TCU and was a consistent playmaker for the Horned Frogs. What I really like about this kid is that he has a track background and is versatile. Now throughout my draft related posts I have urged the importance of versatility. This is one area the Cowboys have always looked for in the draft. It offers you the chance to have one player who can fill multiple roles. Jeremy Kerley is a versatile prospect that the Cowboys invited to Valley Ranch for a closer look. Besides being a playmaker at wide receiver, Kerley can run the football as a running back out of the Wildcat and return kicks. We have a dynamite kick returner in Dez Bryant but its not worth losing him to another injury returning kicks. You draft a guy like Jeremy Kerley and insert him as your slot wide receiver who can be your primary return specialist. I put on the tape and I just like the way this kid plays. He has that swagger to him, a little arrogant maybe but I want that in my wide receivers and cornerbacks.
He reminds me of Jeremy Maclin, granted he is not the type of first round material Maclin was. Regardless Kerley reminds me of Jeremy Maclin. Both have a similar build and rely on their speed to make plays, Kerley might be more quick than fast but that's fine. What we need is a reliable slot wide receiver and I think Kerley would be a diamond for us in the fourth round. Hopefully he doesn't go before that because we cannot afford to draft a wide receiver in the third with other pressing needs. I think Kerley would thrive in Dallas, he may have to work on his route running but he is extremely smooth. He is one of those guys who makes it look extremely easy out on the football field. Roy Williams is not a slot wide receiver and Garrett will leave Roy on the bench. You would have Dez and Miles on the outside and Kerley working the slot. I really like Kerley for the Cowboys, I just think he can be the next Patrick Crayton.
Kendall Hunter
RB
Oklahoma State
5'7 200
Kendall Hunter you may be familiar with if you tuned in to watch Dez Bryant when he was at Oklahoma State. This is how I came to know running back Kendall Hunter. He is deemed to small to be a feature back, so here we go again with the size limitations. I have seen comparisons to Maurice Jones Drew when it comes to Kendall Hunter. I actually see Felix Jones when I watch Hunter. He is quick and smooth. Hunter may be the most underrated running back in this years class, and unfortunately for him it's a deep class at running back. This could push him down into our range during the draft. Hunter I think can do it all. He stands at just 5'7 but he is built like a rock. He has the muscular build to take on hits from defensive lineman and linebackers.
On the field he is just a playmaker. He is a dynamic runner who has the speed to take it the house in the open field. I also value his receiving skills and could be a fit on third down situations. I had tuned in to watch my boy Dez Bryant but #24 stands out. You notice his quickness and elusiveness when you watch him play. He was a extremely productive player and had some preseason Heisman talk. I think the Cowboys are looking for more of a short yardage back but Hunter is a playmaker and you can never have too many of these. I just like the way Hunter runs the football. He may not be the power short yardage back were looking for but that doesn't mean we should pass on him if he is on the board.
Mana Silva
S
Hawaii
6'0 206
Mana Silva is a guy really under the radar and considering this is a weak safety class I think you will hear his name on draft day. Hawaii isn't a big time program but they always produce decent talent. Silva ran a 4.43 40 yard dash and had a 40 inch vertical jump on his pro day. That should establish he has the speed needed to play in the NFL. I really couldn't find any tape on him besides four or five interceptions on you tube. From what I read on him he tries to pattern his game after Troy Polamalu and he wears the same number, #43. Silva could be a real option for us in the late rounds of the draft and I have no problem taking a flyer on this kid. He is clearly passionate about the game and has the athletic ability and size to play quality football on the professional level. I think a guy like Silva would fit as a strong safety for our team. I believe he could come in and contribute on special teams right away. He seems like the perfect special teams warrior to have and you could hopefully develop him into something.
I am not saying this guy is a beast or anything like that but what I am saying is that Silva may be a NFL starting player someday. He obviously has the ball skills and everyone that scouts this kid says he is a playmaker in the defense. He was originally recruited to play quarterback for Oregon State but eventually transferred back to his home state of Hawaii and played safety there. If you have the passion like this kid has, I want players like that on my team. It is possible Silva could be a playmaker in the NFL if he is anything like Troy Polamalu. Hey its worth a late round pick to see what he has, at worst he is a special teams ace and a backup safety with upside to be a starter.
Rashad Carmichael
CB
Virginia Tech
5'10 192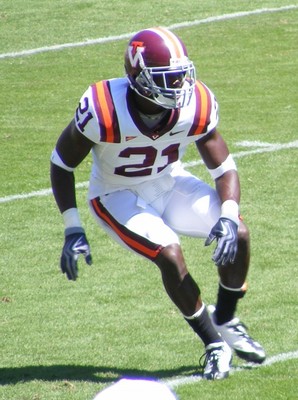 Rashad "Roc" Carmichael is a cornerback that I have been high on the whole draft process. Frank Beamer produces quality cornerbacks at Virginia Tech. I think Roc is one of the most underrated players in the draft. He was a playmaker in college and his athletic ability is off the charts. He ran a 4.5 40 at the combine but at his pro day ran a 4.4. When you watch him on tape you can tell this kid is faster than a 4.5. He is a physical cornerback that has great man to man coverage skills. His ability to trail the wide receiver down the field is one of the best in the draft and that is because of his speed. Roc also generates a lot of turnovers because he takes chances. Being aggressive either gets your burnt or leads to a interception. This kid is a ball hawk as they say around the NFL. He is labeled as a 3rd-4th round pick and I think he could be a steal like Brandon Flowers and our Orlando Scandrick. The Cowboys are in the market for a cornerback this draft. I don't think they are looking to take one in the first or second round unless Brandon Harris or Aaron Williams are somehow available at 40. There is value in the mid rounds at the cornerback position. Roc is the physical cornerback that Rob Ryan would love to have.
He has the ball hawking ability and physical prowess to be a starting caliber NFL cornerback. The Cowboys could work him in the fold as their slot cornerback and use him in a array of packages Ryan employs. If Mike Jenkins doesn't regain his 2009 form we are in big trouble. Add in the fact that Terence Newman is beginning to deteriorate we could be in big trouble if Jenkins and Newman do not play at the high level we have seen from them. With Rashad Carmichael you get a cornerback who has the skills to be a starter in the NFL. Wes Bunting is in love with Curtis Marsh from Utah State. If I had to represent one cornerback like Bunting has with Marsh, it would be Carmichael. I think Carmichael has the skills to be a very good cornerback in the NFL. Speed, coverage skills, physicality and swagger is what Roc possesses and the good cornerbacks in the NFL have these skills. The Cowboys might be looking to add corner depth but I hope they are looking at cornerbacks with the ability to become starters, not just bodies on the depth chart.
Stevan Ridley
RB
LSU
5'11 225
If you were watching a LSU game this season most likely you were watching the electrifying Patrick Peterson. If you paid attention to their offense you would have noticed #34 running the ball. Stevan Ridley finally got his chance to shine after the stable of LSU backs cleared the way for him. LSU produces quality NFL running backs and Ridley may be the next running back from LSU in the NFL. He runs with a physical battering ram style that the Cowboys were familiar with in Marion Barber. His future remains in limbo for now but I don't see him being a part of this team in 2011. What the Cowboys are doing during the draft process is looking at physical running backs that can possibly replace Barber. Stevan Ridley was invited to Valley Ranch for a good reason, this kid is a warrior on the football field. He is mean, he isn't a nice guy on the field. We need physical players like Ridley on the team. Ridley was a team captain for LSU this year and was a force for them at running back. I always admired the players from the SEC because it may be the best conference in football.
Ridley has played against the best competition on the college level and succeeded. Ridley is a 5'11 225 pound running back that is shorter and muscular. He is a compressed runner that is stocky. I love his running style and he may not be the fastest but he has the burst through the line that Marion Barber used to have. He rushed for 1,147 yards and had 15 touchdowns this season for LSU. Those are pretty productive numbers for a running back. 2010 was his first season as the main running back so he has fresh legs and not a lot of wear and tear on his body. I really like Ridley in what appears to be a deep running back class. Ridley would be a great option for us in the 5th-6th round this draft, now that's value. Ridley in time could be the starting running back for us but all we are asking right now is for him to be the short yardage/red zone running back. I would love to add this guy to our team because he is just a warrior out there on the field. He plays with great passion and emotion, I want that on my team.
This has been a ChiaCrack production