Some changes in the top ten
There is a little shakeup in my last updated big board. We are inching closer to the draft and the rumors are floating around everywhere. Because I have zero contacts in the real NFL world everything I hear I have to take with a grain of salt. Some released medical reports could be false in a attempt to drive down a players stock. I have moved up some quarterbacks higher into the rankings after doing more homework on that position in the past week than I have done in the past few months. I attempted to make a general big board of my consensus top 50 without being too Cowboys influenced. As hard as that is, I still managed to make this a Cowboys influenced board because I cannot help myself. The Cowboys are the only team I follow but this board is only 10-15% Cowboys influenced, the rest of the board is my consensus top 50 players.
I wish I was doing this draft stuff last year on the BTB site so I could have shown you the prospects I loved last year. I really hit on a bunch of guys last year and really didn't have any busts that I promoted as good players. Your going to have to take my word that I loved Earl Thomas, Mike Williams, Sam Bradford, Devin McCourty, Dez Bryant, Joe Haden, Bryan Bulaga, Eric Berry, Ndamukong Suh, Mike Iupati, Trent Williams and Maurkice Pouncey. This draft has plenty of talent this year. It may not feature the superstar class of last year but this is a pretty good class this year. This may be the deepest defensive end draft I have seen in a long time. Entering this draft many labeled it a weak offensive tackle draft, but there are some quality tackles in the first three rounds. Cornerback and wide receiver appear to be pretty deep as well. I would say safety and inside linebacker are easily the weakest positions in the draft.
Tyron Smith
Let me start off with one of my personal favorites Tyron Smith. The reports on his knee is somewhat troubling, but that really doesn't bother me. Players have the cleanup meniscus surgery, its not that rare to have that done. What does bother me is the supposed arthritis rumor. Arthritis of the knees is something Marc Colombo should have, not a 20 year old stud. I only dropped Smith down my board to the 5th overall slot and I still feel he is hands down the best offensive tackle in the draft. I was watching his pro day the other day and man this kid is a gorilla. He is a monster physically but is gracefully quick and agile. I think that's a rare combination to see in offensive tackles. With the NFL moving towards a more pass based attacking league I see Smith as the new prototypical offensive tackle. I know the knee concerns may possibly drop him in the draft but whatever team that lands him on draft day will be getting a great player in my book.
The Quarterback shakeup
On my last updated big board I was questioned to why I do not have the quarterbacks rated higher. I simply felt that this is a solid quarterback class actually but with no top tier talents like Matt Ryan, Joe Flacco and Sam Bradford. When I watched Blaine Gabbert I wasn't blown away like I was watching some of the previous top quarterbacks from previous drafts. I like Gabbert's arm, I think he can make all the throws possible. What really bothers me with him is that he comes from a spread offense. A few years back Chase Daniel was a superstar there. Systems can make a role player a superstar. That may not be the case with Gabbert. Physically he is the model quarterback and has a nice strong arm. He is very agile and can be a good quarterback on the run. Where he will have to really improve is taking snaps from under the center. Remember he is coming from a spread offense and the success rate of spread offense quarterbacks in the NFL is not promising. Regardless I think Gabbert is one of the best quarterbacks in the draft and if a team is in need of a quarterback they should take a chance on Gabbert. I have Gabbert ranked in the top 20 now at #17 and that's a fair ranking in my opinion. He could be a little higher on my board but for the last update this is where he stands. You will notice this my 2nd rated quarterback, I think the next guy I am going to talk about is the best in the class.
Jake Locker flies up my board as my #1 QB
Jake Locker entered my big board last week for the first time as the 47th best prospect on my board. Now I have him as my 12th overall prospect. I loved Jake Locker coming into last years draft. I still had Sam Bradford as the #1 QB in the draft but I felt if Locker came out he would have been the 2nd QB of the board. I was not a Jimmy Clausen fan at all and I was wrong about Colt McCoy. That's the one player I said would suck on the NFL level and has proved me wrong so far from last years class. Locker probably made the right decision to return to school for another season in Steve Sarkisian's pro style offense. The reason I did not rank him high earlier is honestly I slept on Jake Locker. I totally forgot about him because I wasn't researching quarterbacks for the draft, I was looking at every other position because the Cowboys don't need a quarterback that high. But after researching every other position to death I decided to do my quarterback homework for the draft the past two weeks. Draft boards change, I am allowed a mulligan here to move Locker into my top 15.
This kid physically is my prototypical quarterback. 6'3 231 now that's a well built quarterback prospect. We all know that Locker is great on the run, put on his tape and that's the first thing that stands out. He was like the west coast Tim Tebow. Locker ran a 4.59 40 yard dash at the combine so he can move. What separates Locker from Tebow is his arm. Locker has maybe the best arm in the draft in my opinion. He has a strong arm that can make all the necessary throws in the NFL, his accuracy is still developing and coming along. That is the one area that Locker needs to improve on and this is why he isn't ranked with Newton and Gabbert on other big boards.
Mel Kiper took a stand last year with Jimmy Clausen, well the quarterback I am taking a stand with this year is Jake Locker. On tape I think he is the most impressive quarterback in the draft besides Cam Newton. When you watch Locker you get that wow this kid has what it takes to be a star. When I watch Gabbert he doesn't wow me on tape, but Locker does. Locker also comes from a pro style system for two years with Steve Sarkisian. Before Locker was running some crazy option offense that would never get him anywhere on the next level. In comes USC's Sarkisian and installs a pro style offense. Locker needs to improve his decision making as well but has displayed some good decision making in college. He knows when to check it down to his second or third option but he doesn't do it quite enough yet. You will see plays where he takes too many steps out of his drop and mess up a timing pattern with his wide receivers. He will try to use his tremendous arm to make these laser throws that end up as interceptions.
Locker reminds me a lot of a young Steve Young, he has the quickness to use his legs to make a play if the throw isn't there. I watched one of my favorite draft shows the other night with Locker and John Gruden. Gruden holds a film session and workout with a bunch of the big time quarterback prospects. When I was watching Locker on the show he impressed me. He was taking the notes and he took the coaching seriously. Wait until I get to Cam Newton and give you my analysis on why I have him ranked so low, he did the exact opposite of what Locker and the other guys did. Locker broke down the plays extremely well. When he was working out with Gruden he displayed the arm I really think is NFL material.
I love Jake Locker, if I needed a quarterback in the draft this would be my guy in the first round. I would take him in the top 15 I swear to god If I was in my war room discussing who we should take and we needed a quarterback this is my guy. Locker was considered to be the number one pick coming into this season. He didn't have a great season at Washington he really didn't. Washington doesn't really have a good offensive line, running back, or a star wide receiver. Whatever Jake Locker accomplished there was off his pure athletic ability or from the great coaching Washington now has. Locker has been flying up the boards and the rumors are beginning to pop up. Its possible the Redskins, Seahawks or Patriots could take him in the first round. When I did the homework and remembered how good of a prospect this kid was I put him as my #1 QB on my big board. I could be dangerously wrong here with Jake Locker, but I love his athleticism, personality, arm and frame. To me he looks like one hell of a quarterback prospect.
Cam Newton is polarizing
I think Cam Newton physically is one of the best players in the draft, the guy is one heck of a athlete for sure. I have a really difficult time attempting to rank him on my big board. I think he does have top ten talent but talent really isn't his problem. He is built like a rock and is a great quarterback on the run. He is extremely accurate and has the arm strength to make all the big time throws. What keeps me from ranking Newton in my top ten is his intangibles. He comes off as a big time diva who is bigger than the team. He has never acted that way but he always won at Auburn. I am waiting to see what happens when things go bad and the confetti isn't falling from the sky. I will not question his ability to make it through adversity, he did that all last season through a major scandal. What I mean is how will Cam handle himself when he is on a horrible team with no offensive line. I also have serious problems with his mental capability to run a complex NFL offense. I don't think Cam is dumb or stupid by any means, but I don't think he has a full grasp on the complexes of a offense. If anyone had the opportunity to tune into the Gruden ESPN special with Newton you will see what I mean. He comes across too cocky and arrogant in my opinion. Now being confident and having swagger is one thing, but Cam overdoses and is borderline diva like. I laughed when I watched him during that show because he almost didn't care about learning anything from Gruden, that's just my opinion. He wasn't as serious as the other quarterbacks on that show from previous episodes, all those other guys were taking some serious notes.
Whoever drafts Cam Newton will be getting a great athlete, what that franchise will have to accomplish is setting him up in the right system. They need to get a support team around this guy day one and make sure he is fully involved with football. That team is going to have to really coach him up and hit the film room. Auburn designed their offense around Cam Newton and had major success. The NFL is a totally different league than college. Everybody is fast and everybody is strong. I want Cam Newton to succeed, I really like him as a football player. He can make all the throws and can really play the game. My problem with him is his attitude and I question if he can be a student of the game. Some players you just see them wanting to be the best, the question for Newton is does he want to be the best? Is he willing to put in the extra work and grind it out? He is a polarizing guy man, I don't know if he will ever be a superstar quarterback in the NFL but I know he has all the physical skills to be great. I could see a Daunte Culpepper or a JaMarcus Russell. Depending on how Newton grows and develops will be key to his NFL success.
So I ranked Cam Newton as my 20th best player in the NFL Draft. I could easily insert him in my top 10-15 players in the draft, he is that good. He is truly a amazing athlete that isn't a question. I could be drastically wrong about Newton, maybe he is everything I think he isn't. But if I was going to invest all that money into Cam Newton I would be very concerned. I think I would much rather take a defensive player in the top 5 and wait until the 2nd round to get my quarterback, but that's just me. I don't make the big bucks to make these decisions and this may be one of the hardest decisions in the draft. I just know when I take a quarterback in the first round I want guys like Sam Bradford and Matt Ryan, I want safer investments like those guys. Newton could be great and lead your team to a Super Bowl or he could be the next JaMarcus Russell and set your franchise back a few years.
I actually like Cam Newton and I hope he has a great NFL career. If he can just tone down the diva attitude I would appreciate him more as a player. The guy definitely has the skill set to be a good NFL quarterback, I just don't know if I would risk the big money on him as a top five pick. I love what he can do on the football field and I think he could be a great quarterback if he gets the right coaching.
Aldon Smith makes a big splash on my board
Aldon Smith is a guy I had previously ranked at 22 and 28 on my previous boards. I now have Aldon Smith as my 10th best player in the draft after I did some homework on him. He could play defensive end in a 4-3 defense and he instantly reminded me of Justin Tuck and Jason Pierre-Paul. I also see him moving to outside linebacker in a 3-4 defense and has some DeMarcus Ware in him. Supposedly the Cowboys believe the same thing and are rumored to love the idea of pairing Ware with Smith. If the Cowboys trade down and Aldon is available I think he will be one of the options the Cowboys discuss. I had him ranked so low previously because of his age, at 21 or 22 years old he is still raw. He only played two years at Missouri and entered the draft as sophomore. He must have red shirted his first year at Missouri. I just really like this kid. I think he is one heck of a athlete at 6'4 265 pounds. He has this long muscular frame similar to Ware's and I really have a man crush on Aldon Smith. I have Aldon ranked ahead of Justin Houston and Robert Quinn now. Houston will not be drafted in the top 20 so I moved him down to a more realistic ranking on my board after being questioned about that also on here. Robert Quinn has some medical concerns and could be a one year wonder. I will not deny Quinn's amazing physical and pass rushing skills. Quinn could easily be a steal this draft or go in the top 10. I just really like Aldon Smith man. His body is carved out of a rock and has these 35 inch arms that he uses in a club and swim move that will really help him out on the next level.
I did my homework and went over the tape again after hearing the Cowboys interest in Aldon Smith. We have other needs no doubt but adding a dominant pass rusher to pair with Ware would be amazing. Aldon could go to a few teams in the draft. The Redskins could pair Orakpo with Smith and that would not be cool for us, that would truly scare me to death. The Texans are moving to a 3-4 defense with Wade Phillips and I tell you what Aldon Smith might be a perfect fit there as well. The Lions have been rumored to like Aldon as a 4-3 defensive end. The pairing of Aldon Smith and Suh would give Detroit one of the best young defensive lines in the game of football. The Rams are rumored to love Aldon as well. Then if he falls to the Chiefs that's where he will go. The Chiefs love this kid and Tamba Hali needs a pass rush partner in crime. He is a local product as well I think he is like 20 minutes from the stadium. Whoever gets Aldon will get a amazing young defensive prospect for their team.
Da'Quan Bowers
I want to rank this guy higher but the knee rumor is a serious issue. Bowers could fall deep in this draft and I do not know how this is really going to shake out right now. I think Bowers is immensely talented but you have to question the status of his knee. Will he need surgery in the future to fix the knee again? Will this be a career lingering injury? He is a very talented pass rusher with a major medical concern, for his stock I hope everything works out and he has a great career. I really like Bowers as a football player, I like his fiery style. I hope Bowers is a force in the NFL for a long time. Da'Quan Chia is rooting for you big fella. He has the talent to be in the argument for the #1 pick, but that will not happen now with the knee concerns. It will be very interesting to see where Bowers falls tomorrow night.
Justin Houston smokes the pot
I think Justin Houston is one of the best pass rushers in the draft. He played in a 3-4 defense at Georgia so that gives him a edge in translating to a 3-4 team. He failed the combine drug test, not a good look man. Percy Harvin failed his too and still landed in the first round. If somehow he falls to the 2nd round I would pounce on this kid. I had Houston as high as 10th overall on my big board, thats how much I feel about this kid. Hopefully he gets his act together and becomes the beast I saw in college in the NFL.
Marcus Cannon
Awful news the other day to find out he has to undergo chemo therapy. I had Cannon ranked in the 30's as one of the best guard prospects in the draft. He now falls from the early second round to possibly a late round pick. I am rooting for this guy to recover and make a career in the NFL. My prayers are with you big fella, best of luck.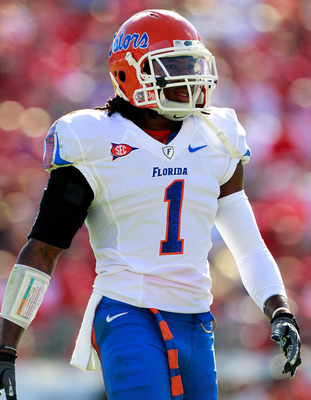 Janoris Jenkins also smokes the pot
I found this to be shocking news the other day. Janoris Jenkins decided to go back to Florida and not enter the 2011 NFL Draft, big mistake on his part. Jenkins was kicked off the Florida football team after his third marijuana incident. If he was in the draft, I would have him in my top 15-20 because the kid is a great cornerback. Now he has to enter the supplemental draft or go to a smaller school to boost his draft stock for the 2012 NFL Draft. He will get scooped up in the supplemental draft and I know I would risk a 4th round pick on him.
Well that's my last big board update folks. After months and months of doing the homework on all these prospects the big night finally is here tomorrow night at 8 PM eastern standard time. I have no clue how our draft is going to play out, and honestly I have no idea how the first round is going to play out either. This is why I do not even attempt a mock draft of the first round, its way too hard. It is a trying task to rank the top 50 players for me. Guys like Ras I Dowling and Jon Baldwin get left out and I have to leave them out for players I am not in love with, but have top 50 NFL talent. Personally I am drafted out, I am so worn out from doing all this draft homework on prospects that I am thrilled to see the real thing happen tomorrow night. I hope everyone enjoyed my pre-draft process. I attempt to give you my big board and do the best I can on player profiles so we all have a better understanding of the prospects in the draft.
Chia's final Big Board 2011
Current
Rank
Previous
Rank
Player
Position
College
Change
1
1
Patrick Peterson
CB
LSU
2
2
Von Miller
OLB
Texas A&M
3
4
Prince Amukamara
CB
Nebraska
4
5
Marcell Dareus
DT
Alabama
5
3
Tyron Smith
OT
USC
6
7
Nick Fairley
DT
Auburn
7
8
Julio Jones
WR
Alabama
8
10
AJ Green
WR
Georgia
9
6
JJ Watt
DE
Wisconsin
10
28
Aldon Smith
DE
Missouri
11
16
Mark Ingram
RB
Alabama
12
47
Jake Locker
QB
Washington
13
12
Cameron Jordan
DE
Cal
14
15
Mike Pouncey
G
Florida
15
9
Gabe Carimi
OT
Wisconsin
16
17
Robert Quinn
DE
UNC
17
31
Blaine Gabbert
QB
Missouri
18
14
Da'Quan Bowers
DE
Clemson
19
18
Anthony Castonzo
OT
Boston College
20
37
Cam Newton
QB
Auburn
21
20
Jimmy Smith
CB
Colorado
22
13
Brandon Harris
CB
Miami
23
22
Martez Wilson
LB
Illinois
24
21
Aaron Williams
CB
Texas
25
24
Mikel Leshoure
RB
Illinois
26
19
Phil Taylor
DT
Baylor
27
30
Derek Sherrod
OT
Mississippi State
28
23
Nate Solder
OT
Colorado
29
11
Justin Houston
OLB
Georgia
30
27
Muhammad Wilkerson
DT
Temple
31
32
Marvin Austin
DT
UNC
32
25
Akeem Ayers
LB
UCLA
33
34
Corey Liuget
DT
Illinois
34
33
Danny Watkins
OG
Baylor
35
36
Stefan Wisniewski
C
Penn State
36
29
Stephen Paea
DT
Oregon State
37
40
Mason Foster
LB
Washington
38
39
Benjamin Ijalana
OT
Villanova
39
41
Cameron Heyward
DE
Ohio State
40
43
Ryan Kerrigan
DE
Purdue
41
38
Kyle Rudolph
TE
Notre Dame
42
45
Kenrick Ellis
DT
Hampton
43
- -
Brooks Reed
DE
Arizona
44
- -
Kendall Hunter
RB
Oklahoma State
45
25
Rahim Moore
S
UCLA
46
49
Ryan Williams
RB
Virginia Tech
47
42
Adrian Clayborn
DE
Iowa
48
- -
Rashad Carmichael
CB
Virginia Tech
49
44
Titus Young
WR
Boise State
50
- -
Randall Cobb
WR
Kentucky
Positional Rankings
Offense
QB
WR
TE
RB
OT
C/G
Jake Locker
Julio Jones
Kyle Rudolph
Mark Ingram
Tyron Smith
Mike Pouncey
Blaine Gabbert
AJ Green
 
Mikel Leshoure
Gabe Carimi
Danny Watkins
 Cam Newton
Titus Young

 
Kendall Hunter

Anthony Castonzo
Stefan Wisniewski
 
Randall Cobb

 
Ryan Williams

Derek Sherrod
 
 
 
 
 
Nate Solder
 
 
 
 
 
Benjamin Ijalana
Defense
DT
DE
OLB
ILB
CB
S
Marcell Dareus
JJ Watt
Von Miller
Martez Wilson
Patrick Peterson
Rahim Moore
Nick Fairley
Aldon Smith
Justin Houston
Akeem Ayers
Prince Amukamara
Phil Taylor
Cameron Jordan
Mason Foster
Jimmy Smith
Muhammad Wilkerson
Robert Quinn
 
Brandon Harris
Marvin Austin
Da'Quan Bowers
 
Aaron Williams
 
Corey Liuget
Cameron Heyward
 
 
Rashad Carmichael

 
Stephen Paea
Ryan Kerrigan
 
 


 
 Kenrick Ellis

Brooks Reed
 
 
 
Adrian Clayborn