Do you know who that is above? Well thats none other than our very own UDFA turned superstar Miles Austin. Cool picture with the black and white, it makes it look very old. Miles worked his way from the very bottom of the roster into one of the best wide receivers in the NFL. Maybe one of these UDFA WR prospects distinguishes themselves apart from the rest and makes the team like Miles did.
Maybe one of these guys will be the next Miles Austin?
Its possible that there may be another Miles Austin here, you never know. Manny Johnson and Jesse Holley have shown me absolutely nothing as far as wide receiving terms. Yes you need the bottom of your roster to be productive teams players, but you should always be looking to upgrade the bottom of your roster. If one or two of these UDFA WR prospects are better than any of are lower tiered wide receivers, than we should churn the roster over and cut the fat. Because you could be holding onto a nobody, and not signing that camp body who turns into the next Miles Austin.
Ricardo Lockette

Honestly I was surprised Lockette went undrafted. He is a guy that can come in right away and be your deep threat in the slot. A team will sign him and he will make some sort of impact in the NFL. I really cannot find anything on why he went undrafted. No injury history and no off the field stuff. His speed is in the 4.3-4.4 range, depending on his high and low times in the 40. I really believe Lockette would be a great tool in our already speed heavy offense. He has some Miles Austin in him, he is just raw at this stage of the game.
Armon Binns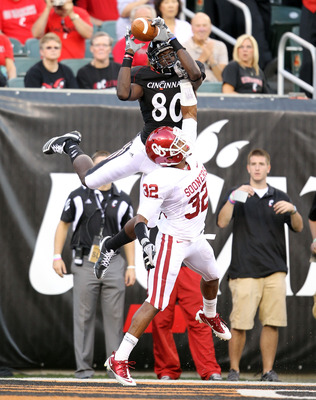 I am not really a fan of Armon Binns but he has possible NFL talent. He is a larger WR that will win in the jump ball scenario. I watched a few games of Cincinnati's and he stood out. Binns would be a good camp body to bring in and give him a shot.
Terrance Tolliver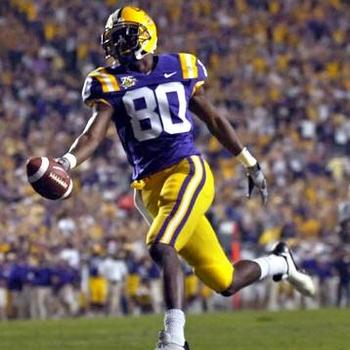 Now the reason I think Tolliver went undrafted is because of his inconsistency. He would look All American one game and come back next week and drop a bunch of passes. He definitely has questionable hands and that is a big reason towards him being a UDFA. But he definitely has the speed and athleticism to be a NFL WR. This may be the one guy who has the most Miles Austin in him. He needs time to develop on a NFL roster and I am not sure thats a good fit for us unless he is willing to contribute on special teams right away.
Lester Jean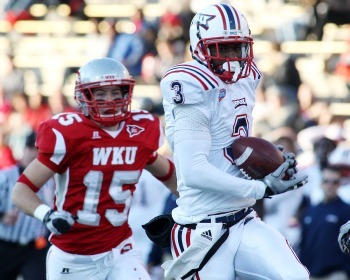 Go put on this guys youtube stuff and you will be blown away. Lester Jean dominated the competition at Florida International. Jean is raw as most UDFA WR's are at this stage, but he has the athleticism and speed to become a good productive WR in the NFL. I am not really shocked he didn't get drafted, but he has athleticism that should carry him into a teams training camp this summer. I wouldn't mind taking a shot on him at all.
DeAndre Brown
Outside of Ricardo Lockette, this is the guy I want us to sign. DeAndre Brown has the skill set that translates to the NFL level the most out of any of these WR prospects. He was dubbed as the next Randy Moss in high school, but off the field issues limited big time schools from offering scholarships. At Southern Miss he at times displayed his immense talent, but was never consistent. What he needs is coaching and we have one of the best in the game with the addition of wide receiver coach Jimmy Robinson. The Cowboys did look at taller wide receivers like Andre Holmes, so that tells me they are looking for a tall WR like DeAndre Brown. If Brown puts it all together he may turn into a really good wide receiver in the NFL. He has some Randy Moss in him, the good and the bad. I hope Jerry Jones and the Cowboys front office payed attention to him during the draft. This is the one guy I would sign ASAP as soon as free agency begins.
Jeff Maehl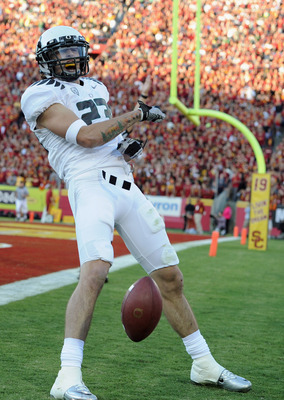 He may be the next Wes Welker. A guy who is too small and too slow. But he has what Welker has, short speed. He is quicker in short spaces and that makes up for his lack of long speed. Maehl runs great routes and would perfect for a team looking for a slot WR. I would take a shot on Maehl, we took a shot on Danny Amendola who happened to be from Texas Tech, Welker's alma mater. We released Ammendola and now he is one of the big targets for Sam Bradford. I say take a chance on Maehl for training camp. He is supposedly a special teams beast, and your #4 and #5 WR needs to be a key player on the teams units. I would be looking to sign Maehl if I was the Cowboys because he is a perfect fit for what Garrett is trying to do here.
Andre Holmes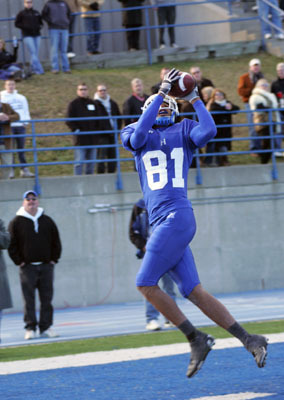 Andre Holmes was a Valley Ranch invite not too long ago. I think this is the WR the Cowboys are looking to sign first due to their high interest in him. He would perfect for the redzone packages Garrett is looking to use now. To me its obvious Garrett is looking for another tall WR to run some of his larger San Diego looking based attacks. Holmes smashed the competition at Hillsdale and he has some 4.5 speed. So remember this name because he may be one of the first free agents signed when the time comes.
Next: OL and TE's
This has been a ChiaCrack Production