Many people know Jerry Jones as this hotshot owner who makes loud moves. Well I hate to tell the haters the truth but in the last three years Jerry has not made any splashes in free agency. Come to think of it, I cannot remember the last big free agent we signed. I guess it would have to be TO and that was a long time ago. The lack of aggression in free agency has its pros and cons. I would say splurging and signing players all the time isn't smart at all. But to not sign players for key areas of need isn't that smart.
I think we all know the holes on our roster, most of us on here are well informed of the Cowboys current needs. When I sit down and think about what we really need a few areas come to mind. One area I ignored was cornerback because really the main target is Nnamdi and I am on the fence if I really want him. Eric Wright from the Browns is a cornerback I have liked since he was in college and I would like to sign him. The Cowboys will be interested in Panthers defensive back Richard Marshall. They liked him during the draft as well a few years ago.
The other area I chose to ignore was offensive guard. David Arkin is about a year away from making his mark and we could use another guard to replace Leonard Davis if his level of play is like 2010 again. I believe we should resign Kyle Kosier. I still do not understand why this guy gets no love, he is one of our best lineman year in year out. I really like Justin Blalock out of all the free agents out there. Davin Joseph is another guy I am high on. Really I think the Cowboys would go after those two out of any of the free agents available. Trai Essex and Robert Gallery shouldn't be ruled out either.
Really I wanted to focus on three areas I think we need the most impact. I can see us getting by with the cornerbacks we have already and I see Kosier and Davis starting another season. Depth may be an issue with guard but we still have Sam Young, David Arkin, Robert Brewster and Phil Costa. One of them should be able to step up and play at a decent level if needed. So the areas I focused on were kicker, defensive end and safety.    
I want to start the conversation off with the kicker position. I actually like David Buehler as a football player. The problem is I hate him as a kicker. He has no accuracy what so ever and I would take a more accurate kicker over the power kicker any day. If he played linebacker or safety this guy would be my dude. But the kicker position isn't about how great of an athlete you are, its about being accurate and clutch. Buehler lacks both of those skills as a kicker.
Sure it is possible that Buehler will improve because he was basically a rookie kicker last season. The problem I have with that is we are a team who can make the playoffs now. If you believe we cannot make the playoffs than I think you should stop reading this article now. This fan post is about adding four players to a very talented team who in my opinion can make a deep run in the playoffs. Pro Bowl quarterback, check. Pro Bowl wide receivers and tight ends, check. Upgraded offensive line, check. Star caliber running backs, check. Premier pass rusher, check. Underachieving pass rusher with ability, check. All Pro nose tackle, check. Pro Bowl cornerbacks, check. This team has enough talent to win now.
Buehler cost us how many games last season? I count at least three games in which he played a major part of the loss. Buehler also won a few games, but the elements of being a great kicker do not seem to be there. He seems overly anxious or nervous in my opinion. I would slip him a xanax in his Gatorade because he needs to chill out. Making 75 percent of his field goals is okay I guess and really he should be a 80 percent kicker moving forward. But that is a big risk moving forward. Are we willing to put Buehler out there with the game on the line? As a fan of this team for 27 years, I have to be honest in saying the guy makes me nervous. 8 missed field goals and 2 missed extra points just get under my skin, I am sorry I just cannot help it. 
So this is why David Akers would be number one on my priority list. The guy has been a great kicker for the Eagles for a long time. He may be expendable after the Eagles spent a 4th round pick on Nebraska wonder boy Alex Henery. Akers is a 81.9 career percentage kicker. He was at 84.2 percent last year with a 50 yard kick as his longest of the season. I really didn't understand why the Eagles drafted a kicker so high. It is not like Akers is on his last leg or anything, the guy has at least 3 solid seasons left. Then again outside of McNabb, DeSean and McCoy, I have no idea what Andy Reid is thinking in the draft room.
I think Akers is a match made in heaven for the Cowboys. The problem is I am not really sure if the Eagles will release him. He was transition tagged by the Eagles, and I have no idea what that means. Personally I just don't see how any NFL team could carry two kickers now. The kickoff is moved up and I think most kickers can get a touchback now. So if the Eagles move on from Akers, I think the Cowboys should swoop in and sign him. Akers would give us the first solid kicker in years. Nick Folk was the last solid guy here and then he had hip surgery. After that the guy was never the same. With Akers we should feel confident with the game on the line, the guy is a great kicker.
Also on the market: Adam Vinatieri Ryan Longwell Matt Bryant Mason Crosby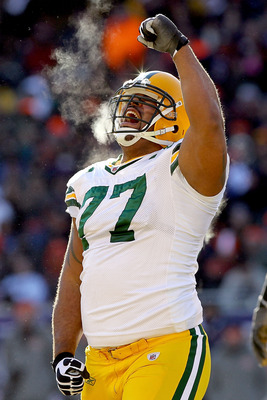 The Cowboys decided to pass on drafting a defensive lineman in the draft. Now I like the players we drafted and I don't have a problem there. But your telling me in the 7th round Lawrence Guy isn't good enough? Martin Parker? Something tells me the Cowboys are going to land a defensive end in free agency. Really they don't have a choice. I cannot believe with all the picks spent on the defense in the past few years that we have not drafted more on the defensive line. That really pisses me off. So unless the Cowboys plan on signing Bowen, Hatcher and Spears, watch for the Cowboys to be players in free agency.
I would bring back Bowen and Hatcher. Bowen is a no brainer because he will be a starting defensive end for Rob Ryan. Hatcher is just a body for depth, so if they can find a better player out there than so be it. Spears will most likely leave, I do not see him here next year because he has zero pass rushing ability. Josh Brent can play end but the Cowboys are clearly focusing on using him at the nose, which is smart. Sean Lissemore is a guy I think that deserves some recognition here. Its clear to me that this guy has the talent to start in the NFL. I know it was only one game but he dominated the Jags offensive lineman. He has a bright future here no doubt about that. Great find in the 7th round.
The guy I think we need to sign is Cullen Jenkins. Now this is a bit of a risky move to be honest. The guy is somewhat injury prone and is 30 years old. But its time to start taking some chances again Jerry. I understand Ken Hamlin, Roy Williams, Roy E Williams, and Marion Barber burned you. But you have to spend some money this time to improve this team where we couldn't in the draft. Jenkins is downright dominant when he is healthy. He is the kind of guy we need in our system. He is disruptive and a pass rushing threat, but is decent enough in the run game.
We have lacked that dominant pass rushing defensive end since we let Chris Canty walk out of here back in 2009. Igor had a great 2009 season in replacing Canty. But then in 2010 he showed me why the Chargers didn't sign him. He offers zero pass rush/disruption and plays like a moron at times. If we sign Jenkins I would play him and Bowen on passing downs. They are the disruptive ends Rob Ryan needs for his defense. Jenkins elevates the level of play around him and we saw that in Green Bay. He opened up a lot of plays for his linebackers. I am telling you this guy would be a beast on our defensive line with Ratliff.
Our defensive ends amassed a whopping 2.5 sacks as a unit in 2010. That is downright not acceptable guys. Jenkins had 7 sacks in 11 games. That right there should speak volumes about this guys level of play. I also think he is the RKG that we are looking for now a days. He is passionate and works hard, so that translates to what Garrett is all about. He comes from a 3-4 defense already so its not like he has to really learn a new scheme, he just has to learn how Rob Ryan plays his style of the 3-4. I believe Cullen Jenkins is what we are lacking on the defensive line. Adding him pushes this defense into another level.
Also on the market: Alan Branch Brandon Mebane Barry Cofield Desmond Bryant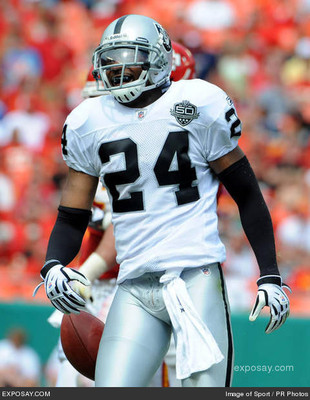 I am sorry to list another well talked about name but I just think this is another perfect fit. Michael Huff wants to play for us. He is from Texas. He is beginning to grow into a good player. His last name doesn't rhyme with Ball or Baugh. The safety position clearly needs an upgrade, or a total makeover. I am in the minority of wanting to destroy and rebuild the position. I would like us to bring in not one, but TWO safeties to upgrade the position. Michael Huff would be a good option for us at the free safety position. Alan Ball was atrocious last season. I have not watched any highlights of last season for about 3 months and I put on the Cardinals game highlights the other day. Let me tell you how bad Alan Ball was, he really made me nauseous.
Ball is that bad folks. He is actually a decent cornerback and he should go back there. At cornerback ball has the size and speed to make plays. At safety what he is truly lacking is knowledge. He may be the dumbest football player on the team and I am serious when I say that. I am not trying to put him on full blast but go watch some highlights from last year. He either did not know the coverage or was just straight beat. I cannot tell you how many times he had his hands in the air yelling about who he had to cover. He just lacks mental awareness and understanding of the position. I understand that hey, its your first year back there. But we never saw improvement from him. Game 1 in the preseason to game 16 he played the same way. There was no growth from him at all.
This is where Huff enters the story. He has played safety since his college days at Texas, so he knows the position. He was a high draft pick that didn't pan out until the last two years. So I think the best football is about to be played from him. There is also the Rob Ryan connection even though that may be a bit overplayed. From my viewpoint, it just looks like a good fit. I wonder if this is why the Cowboys didn't pursue a free safety last year in free agency, maybe they were waiting for Huff. We didn't draft one this year, but I think that speaks about how high the franchise is on Akwasi. Akwasi still could win a job here, but even if he develops another years that's fine. Come next year I want Akwasi out there. I am really high on him as well.
Huff would solidify the position and we need that this season. We need solid safety play back there, no more confusion and blown plays. I would roll with Akwasi at one of the safety spots this year, but why take that chance when you can get a proven vet? I will be utterly shocked if this team doesn't sign a free agent free safety. I don't know what I will do if we don't sign one. If we don't sign a free safety you will not here from me for at least a month.
Also on the market: Eric Weddle Dashon Goldson Brodney Pool
The strong safety position is a tricky one this off-season. I really like Akwasi and I know the Cowboys think he has a bright future for them at strong safety. Barry Church is another guy I really like too. But its not the time for going with inexperienced guys, its time to go out and get a veteran to solidify the position. Sensabaugh is also a free agent and I would let him test the market. I think he is in for a wakeup call when he does because there are a bunch of safeties out there better than him. It wouldn't shock me to see him come back with his tail tucked looking for an offer from Jerry. Personally I don't want him back. For one he isn't physical. He isn't a ball hawk. He doesn't want to lead. Yeah he had 5 picks last year but I could have came away with those picks, they were easy picks right to him. Ken Hamlin did the same thing in 2007. So I think it is time to let Sensabaugh hit the road.
The guy that I think is a great fit is former Cowboy Abram Elam. He should be a discount in a crowded safety market. He is also only 29 years old and has a lot of football left. I watched a few Browns games, I think 2 or 3 last year and I liked what I saw from him. He isn't the best in run support but he gets the job done. He will throw his body around and make some big hits. He is really good in pass coverage and makes plays in that area.
The thing I like about him most is that the guy is a leader. He will make all the calls and call out the coverage. He is a vocal leader, this is something Sensabugh isn't. I am not making this up either. This was well known and there were a bunch of stories on it the last two years. Sensabugh doesn't want the responsibility in being a leader in the secondary. Elam on the other hand does want the responsibility and that is the RKG we are looking for.
Is Elam better than Sensabaugh? In my opinion yes. I was glad we signed Sensabaugh back in 2009 but once he arrived he never really won me over. I think its time for a fresh start back there, lets clean the whole safety position up. Keep Barry Church and Akwasi, but everyone else can go. Bring in Huff and Elam, that right there is a good combination of safeties. Both can cover and both make plays. Safety is the one area I am tired of seeing ignored. For some reason we didn't go after Atogwe or Rolle. We have not addressed the position in the draft with a high pick either. Akwasi is my dude but other than that we have zero picks invested in the position.
Also on the market: Dawan Landry Daniel Manning Quintin Mikell Donte Whitner
It is time for the Cowboys to become players in free agency again. For the last few years Jerry has sat back and watched teams make splashes in the open market. You know if we actually had a decent draft in 2009 many of our problems would be addressed. But since Jerry had the worst draft in franchise history (maybe all time) we cannot afford not to be players in free agency. There really are not too many holes on this team. Kicker, defensive end and safety. If we can upgrade those three positions through free agency when it starts we will be in great shape. Jerry it is really time to wake up and smell the coffee. If you ignore safety again I will bug out. Seriously do you see other teams safeties? They make ours look really bad and safety is one of the MOST important positions in football.
Now I am not sitting here begging for Nnamdi or some big time name. I am asking for reasonable football decisions. A real kicker for starters, I mean that's not asking for much. A disruptive defensive end isn't asking for much either. At safety you don't have a choice, you need playmakers back there. Those are the positions I want answered.    
This has been a ChiaCrack Production