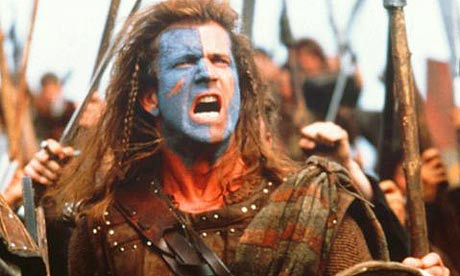 As I am writing this it is 1:15 AM in beautiful upstate New York and I cannot sleep. I watched a great South Park followed by a even funnier Workaholics. So I am sitting here and decided to write another blockbuster movie themed fan post.
I live by a moral code and I believe in living life the right way. I believe in standing up for ones self, I believe that you should treat people the way they treat you. I also believe in honor and respect. Pride may be my biggest fault as a human being. I also believe in standing up for what you believe in. This my friends reminds me of William Wallace from Braveheart.
If you have not seen the movie Braveheart, than you shouldn't consider yourself a man. Braveheart is one of the best movies of all time for many reasons. The acting and writing are top notch. The direction and cinematography are excellent. But what I will always remember that movie for is William Wallace and what he stood for. He was a man of honor and pride. He lived by a code of honor and lived life that way. He is not only a bad ass dude who can fight with the sword, but he also knows that being smart is part of being well balanced.
When his father and brothers are slaughtered by the King of England's army, he is taken in by his uncle Angus Argyle. Angus Argyle is a man of the old way, he speaks Latin. Angus Argyle understands the right way to live ones life and he teaches that to young William Wallace. He teaches him to fight, but not before he can read and write. He is also taught honor and respect. When William Wallace's wife is killed by the same army that took his father and brothers, he rebels. He isn't only rebelling for his loss, but he is rebelling for the entire country of Scotland. He has a pretty good run until he is sold out by his own people. But the moral of William Wallace is the way he lived and what his actions were. He was brave at heart and stood up for what he believed in.
See this is exactly what we lacked with Wade Phillips and well basically every other coach we have had since Jimmy Johnson. Wade was a soft man and wasn't what I would call a brave heart. He never developed a culture to live and play by. Wade never had a central concept of what it was to be a Dallas Cowboy. Wade never really paid homage to the old Cowboy way in the locker room or rooms in Valley Ranch.    
Wade Phillips, Not A Braveheart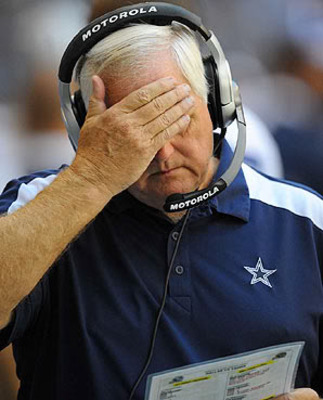 Wade just isn't a leader of men, I am sorry but that is the truth. Wade will and always will be a good defensive coordinator. If you give Wade a job like that where he doesn't have to lead a group of men, he will do a damn good job for you. Wade knows the NFL, he has been around it most of his life. What Wade lacked was that passion and fire, like what you saw in the movie Braveheart. Now I am not talking about yelling and screaming at everyone, that's not what I am talking about. Showing passion and fire doesn't exactly have to be loud. It is also the way you carry yourself in body language. Wade is just not what we needed for this team.
Wade is a soft spoken individual who doesn't possess the fire to be motivational. Look not every man is a leader, some are followers. There really isn't anything wrong with that, it is just the way some of us our wired. Now I am a leader, it is just in my DNA. I am not saying I am a NFL caliber head coach, but I am not a follower. I do not like being told to do one thing, one way. But I am good at leading people together during bad times and getting people to come together. I am also good at public speaking. Wade may have been the worst public speaker we have had in the history of the Cowboys franchise. His press conferences were so dull, I remember hearing about reporters falling asleep. Wade also never reached out to the whole team the way he did with "The Wade Guys".
The thing is Wade just couldn't come into Valley Ranch in 2010 as a different coach. There is no way it would have worked out for him trying to be what he isn't. He just never commanded the respect of the locker room. Wade just doesn't have what it takes to be a winning NFL head coach. Wade I am not a big fan of you, but I still respect you. I respect all the hard work you put in here for us. I do want that to be clear, though I did not like Wade Phillips, I will always have some sort of respect for the man even though he could have been serving ice cream and pizza at halftime to the players. I just cannot see players being motivated or fired up to go to war with him. Lets face it, going to war is like playing football. For 60 minutes your putting everything on the line to win. It is a battle and I want leaders out there leading my team into battle.    
Yes, Jason Garrett Is A Braveheart
Let me move onto Jason Garrett now. See I believe Garrett has all the right stuff and will be a great NFL head coach. The man has been through some battles as a backup quarterback here in Dallas. That Thanksgiving game he came in for Aikman and lit up the Packers was one of the best performances I have ever seen by a quarterback. Garrett comes from the Cowboy Way school of Jimmy Johnson. Jason Garrett has been around some of the best players ever to suit up in the history of the NFL. These are a few reasons why I consider him to be a brave heart.
But when you watch Garrett on game day I see a man who is focused and motivated. He always looks pissed off and I like that because to me that shows he is deep into the game. Wade just had that dumb look on his face and that was embarrassing. Garrett always displays the right kind of body language you want your leader to have. He never looks frazzled or nervous. He maintains a positive and reassuring look on his face the whole time. That way he can look confident during the worst situations. Teams feed off their coaches mood, and Garrett know this.
Garrett does display passion and emotion, something Wade ever did. Wade did throw the occasional hissy fit, but it made him look soft as opposed to looking tough. Garrett will not call you out or rip you on the field. He has enough class and smarts to talk to that player off camera. That is smart for a bunch of reasons because first it earns him respect from the players. No player wants to be chewed out on national television, so the comfort level off camera is much better. Garrett is stern and will yell, but he does not scream at players. Yelling and screaming are two totally different levels of verbal exchange.
Like William Wallace Garrett lives by a code, Garrett has a code called the Cowboy Way. The Cowboy Way is all about playing hard and playing smart. Garrett demands hard work and his players battle to the end. This is something we never saw in the Wade Phillips Era. His teams would quit after surrendering the lead and give in. You can already see the fight a Jason Garrett coached team has in a few short games under Garrett. Garrett is also putting up old newspaper articles and pictures of former Cowboys greats throughout Valley Ranch. This installs a sense of pride for the Cowboys organization, this is something Wade never thought of.
In my conclusion of Jason Garrett I find him to be the type of head coach the Cowboys have needed for a long time. He is tough, smart, loyal and determined. I know Garrett is going to put in the extra work in seeing this team become great yet again. I think Jason Garrett is a brave heart, just like William Wallace. People forget that not too long ago Garrett was a hot name for a head coaching job. Garrett reminds me of Sean Payton, Tom Coughlin and Jim Harbaugh combined into one coach. He has all the makings of a great head coach for us. Trust me we needed a guy like Garrett and I wish we hired him sooner because this team would be in even better shape than it is now.  
I Seriously Think Rob Ryan Was An Extra In Braveheart 
Jason Garrett also decided to add another brave heart to take over our defense in Rob Ryan. Rob Ryan actually looks like he is from the movie Braveheart with the gut and long hair, but the guy is a great football coach. I really believe Jason Garrett made a great decision here. Ryan is a little different from Garrett in some ways. Ryan is more of a loud mouth and obnoxious, but the man yields a ton of respect from his players. Ask any player who played for Rob Ryan and I am pretty sure they will say they would love to go to war with him.
Rob Ryan has basically all the same traits Garrett does and possibly more. Ryan is a coach players WANT to play for. Players know that this guy is going to give everything he has in succeeding on game day. I watched a few Browns games last year and this guy leads his defense onto the field, just like William Wallace lead his men onto the field of battle. He has that fire we needed that Wade just did not have. What we are getting with Rob Ryan is another brave heart like Jason Garrett. Rob Ryan is just the whole package we were looking for and we are lucky to have a brave heart take over our defense. 
Players feed off their coaches and I truly believe our defense will more fired up with Rob Ryan leading it. The same goes for the offense, they will feed off of Jason Garrett and his passion for the game. Honestly I cannot remember the last time I was this excited about our coaching changes. I know there are cynical people out there who talk a bunch of crap about Garrett and Ryan. Well I tell you what folks, these were the BEST decisions we could have made at the coaching positions. Not only do we get another creative and smart mind in Rob Ryan, he brought along a bunch of his coaches with him. This entire coaching staff was upgraded in my opinion and it was upgraded with the RIGHT type of person.
Now we could have hired some other head coach and defensive coordinator, but really nobody out there has the intelligence and passion we needed. Jason Garrett and Rob Ryan in my opinion are the perfect fit for the Dallas Cowboys. For too long have we had yes men and laid back personalities. Now we finally have the aggressive approach from two passionate coaches. I really hope Rob Ryan stays with us for a long time, but I have to be realistic here. Hate it or love it, Rob Ryan is a head coach in the making people. He has all the qualities I would look for when hiring a head coach. His brother Rex parlayed a successful defensive coordinator career into the head coaching job of the New York Jets. I see a similar path for Rob Ryan. He is just too good of a coach to not be a head coach in the NFL.
Still I want you to feel confident about what Ryan will do for us, he is going to change the culture and entire defense into a winning defense. When the time comes and he leaves, I guarantee he will have this defense in the top 10 of the league. Remember he also brought in a bunch of his guys to coach, so I truly believe one of them can step up and graduate into a defensive coordinator. The Ryan system can be taught by someone else because Ryan's coaches are similar to him. They are smart and have balls, and that translates into great coaching.
So when Jason Garrett and Rob Ryan exit the tunnel and lead our beloved Cowboys onto the field of battle you should feel extremely confident every game. These two men are brave hearts and have what it takes to turn the Dallas Cowboys back into a storied franchise. I have always felt that we have had the talent to win a Super Bowl, but I have felt we lacked the coaching to win that Super Bowl. Now we have arguably the best offensive coordinator and the best defensive coordinator in the NFL. William Wallace would be proud to enter the field of battle with Jason Garrett and Rob Ryan, I can promise you that.
This has been a ChiaCrack Production