I should be up there, Tyron I got you drafted kid. Jerry, Stephen and Jason, just send me season tickets.........for life
Never fear, for your draft guru has returned. There has been some recent draft talk on the fanpost scene, but I felt the need to return to the scene to keep everyone informed. Yes, it is a tad bit early for next seasons draft talk, but you should always do your homework on prospects. It is never too early to become familiar with who is out there.
I decided that my first draft special should include the secondary position, primarily cornerback. There was a safety post recently (sorry I forgot who wrote it, please take credit in the comment section) and I will touch on the safety class in another post, say some time this fall. I felt that the cornerback position deserves to be the first of many draft related articles. I almost went with the defensive line, primarily 5 technique defensive ends, but cornerback is my favorite position, so I decided to start there.
Now in my opinion, these are the six best cornerbacks in the nation. You can check out other draft sites picks for the best cornerbacks in the nation, but this is my list. I left Janoris Jenkins off my list, even though I think he may be one of the best talents in all of college football. I left him off because I highly doubt the Cowboys take the chance on him next year. I believe he is the RKG when it comes to working hard and practicing hard, but the marijuana charges will be a major red flag, something Garrett will most likely avoid next draft.
This year is a deep cornerback class. Last year was a decent crop too, but this years class is just loaded. Seriously all six of these guys could go in the first round, I doubt it will happen, but each prospect is a first round talent. This is the perfect year for the Cowboys to finally go out and draft a cornerback with their first pick. They ignored the position until the 5th round this year, which I felt was a mistake even though I love Josh Thomas.
Terence Newman is a goner, time to accept that fact. Mike Jenkins needs to play like he did in 2009 for him to be back next year. That leaves only Orlando Scandrick as a clear cut starter next year. Josh Thomas I believe will become the nickel cornerback. Regardless, I think you need 3-4 really good cornerbacks to compete in the NFL at a high level anymore.
Safety and defensive end will be a priority next draft as well, so either of those positions could be addressed in the first round. Personally cornerback is my favorite position in the game. With this type of quality available next draft, they should use their first pick on one of these guys.
Without further delay, lets take a look at my favorite cornerbacks of next years draft class. I will point out that they aren't in any type of order, I just put them in a random order. 
Chase Minnifield CB Virginia
Senior
6'0 185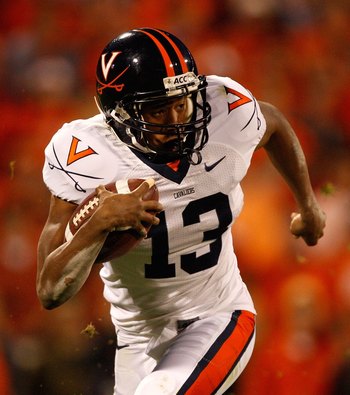 Virginia has actually produced some really good NFL players the past few years. In back to back drafts they have now produced day one cornerbacks in Chris Cook (2009 2nd round Vikings) and Ras I Dowling (2010 2nd round Patriots). 
Chase Minnifield is actually better than both of those players and in my opinion is a sure thing for the first round next April. He is a natural ballhawk (something we need desperately) and had 6 INT's last year. He is more of a zone corner than a press guy unlike Dowling, but he still has his senior year to work at man coverage. He is physical enough to succeed in man coverage, so I don't see a problem there.
What stands out about Minnifield is his willingness to make plays on the football. He takes a lot of chances, so he is going to get burnt every now and then. He is a pretty good tackler and going forward we will be looking at cornerbacks who can tackle. His work ethic is exactly what will draw NFL teams towards him next April. Yes, he is the RKG Garrett is always preaching about, so I definitely feel like Minnifield will be a prospect the Cowboys scout this year.
Also keep in mind Kevin Ogletree and John Phillips came from Virginia and Garrett's brother was a coach there.
I see Minnifield as a first round cornerback, no doubt in my mind. If the Cowboys take a guy like Minnifield, he could be an instant starter for them. He is under the radar currently, but another productive season will put him on the radar. 
Editors Note: Shoutout to Glory Daze for pointing out his father Frank was a Pro Bowl CB for the Browns
Chase Minnifield Highlights (via chasedafuture)
Robert Golden CB/S Arizona
Senior
5'10 200
Robert Golden is honestly my dark horse candidate for our #1 pick next April. I watched him a few times when Arizona played USC and Oregon and this kid really stood out in a big way. My personal favorite draft guru Wes Bunting gave him a big name drop last week on Cowboys Nation when he and Raf were discussing secondary prospects for the Cowboys.
Personally, I think this is the guy we should draft. He is a lockdown cornerback who has the intelligence and physicality to play safety. I know we are tired of projects (Alan Ball, Akwasi Owusu Ansah), but this guy is a beast at either position. Arizona moved him to safety to get him on the field earlier in his career, so whatever position he plays this year will be the one he is more comfortable at and the one he actually likes.
He is a physical press corner who is going to get in your face. He is the type of guy who will frustrate really good wide receivers. I didn't catch the OSU vs Arizona game last year, but I am willing to bet he did a pretty good job on Justin Blackmon because of his physical ability.
At safety he can cover a lot of ground with his speed and make you pay when he hits you. If we drafted Golden, Rob Ryan would get the type of player he covets (T.J. Ward) and could choose where Golden would play in the defense. Regardless the Cowboys have a need at CB and S, so Golden would be a welcome pick in my opinion.
Right now I think Golden is at least a 2nd round pick. If he has another productive season against top Pac 12 competition, he could skyrocket into the first round. I just really like this kid and I think he would be perfect for the Cowboys.
U of A Robert Golden 2010.m4v (via tpaynevideo)
Dre Kirkpatrick CB Alabama
Junior
6'3 192
One of the most sough after high school players in recent college history still hasn't put it all together for that breakout season. Kirkpatrick has wowed Alabama at times, but still has not figured it out. He has not exactly played up to his immense potential, which is pretty scary for any team playing against Alabama this year. Alabama is a NFL defense, lets face it, that team is loaded with 1st round talents on the defensive side of the ball. But the one player everyone will be watching for is Kirkpatrick.
He is still only a junior and could forgo his senior season if he chooses to do so. Personally I think this is the last season you will see him in a Crimson Tide uniform. He just seems like the type of kid who will bolt for the NFL at the first chance he gets. There is nothing wrong with that, I know I would bolt for the NFL at the first chance I got.
Out of all the cornerbacks listed here, he may have the most pure talent. When he wants to, he can take you entirely out of the ball game and lock you down. I have always wanted a taller cornerback to match up with the taller wide receivers in the NFL. If you have noticed, over the years taller wide receivers give us fits. Standing in at 6'3, Kirkpatrick offers NFL teams something that is a rarity in NFL cornerbacks now a days, length and height. No longer do you see the taller cornerbacks like Antonio Cromartie coming into the NFL, you see more of the 5'10 guys.
Alan Ball is the tallest cornerback on the Cowboys roster, none over 6'2. The average Cowboys cornerback is 5'10-5'11 190-200 pounds. If we decided to break that mold, then I would jump all over Kirkpatrick in the first round. Jason Garrett is great friends with Nick Saban and I am willing to bet Saban would get in Garrett's ear about Kirkpatrick and is excellent athletic ability.
If the Cowboys decided to roll with Kirkpatrick I think they would get an A+ for their first round draft grade. Kirkpatrick could end up being the steal of the first round. I wouldn't mind seeing this kid wearing the star on his helmet, not at all.
Dre Kirkpatrick NFL Draft Analysis - 2010 Season (via TMBDraft)
Cliff Harris CB/Punt Return Specialist Oregon
Junior
5'11 165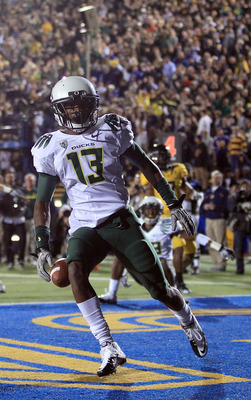 Cliff Harris is also another junior, but again I think he is the type of player who will bolt for the NFL as soon as he can. Before we get into breaking down Cliff Harris let me say this. The RKG doesn't have to be a saint who stays home reading the bible on a Saturday night. The RKG is the type of football player who loves the game and works hard. The RKG is the type of player who grinds everyday in practice and on the field. Harris has had some trouble off the field. He was suspended for driving 118 mph without a license.
I understand that isn't exactly kosher folks, but he is a 20 year old kid. 20 year old college kids make mistakes, get used to it. He isn't out smoking marijuana and gang banging. Driving 118 mph isn't exactly what you want your players to be doing, but it also isn't exactly the end of the world. So lets give the kid a break until he does something extremely awful. I am sure he will learn from his mistakes, I know I did at 20.
On the field he is point blank the Dez Bryant of cornerbacks. He had 6 INT's and 4 punt returns for touchdowns. He is just electrifying on the field and that is the type of player I want in my secondary. Lets face it, we simply don't have that type of cornerback on this roster right now. Frankly, I don't know if we ever will. Wade Phillips drafted a different type of cornerback during his tenure here, maybe Rob Ryan has some input on adding the type of corner we desperately need.
He is a little small, that is my only flaw with Harris. He really needs to eat some cheeseburgers this year and beef up from 165. If he can do that and learn better technique with his hands at the line, he can become a really good press corner. He already excels in zone coverage and makes a ton of plays on the football. He is a decent tackler, but I won't say he is all world when it comes to that area. Harris still has some refining to do with his game, but talent wise he is easily one of the best players in the country.
I don't know if Harris will even be on the Cowboys radar next April, but I know if I ran a scouting department I would be all over this kid. One Cliff Harris was a star in Dallas, why not a second one?
Cliff Harris 2010 Highlights (via madmike1951)
Stephen Gilmore CB South Carolina
Junior
6'1 190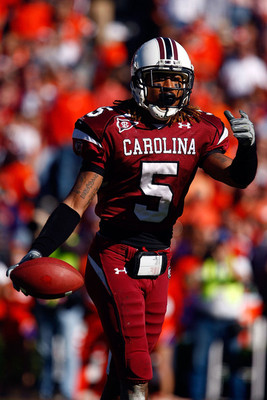 My last junior on the list, Gimore is another cornerback I see entering the draft next April. To put it simple, he is too good not to enter next April. Gilmore is another taller cornerback I think the Cowboys should be in the market for. If I could use one word to describe Gilmore, it would be smooth. He really is just smooth on the field and has really fluid hips. When I watched South Carolina a few times last year, he stood out more than any other player on a bad USC team. #5 was making every play he physically could out there, so I respected that.
South Carolina uses a lot of zone coverage looks and he is a pro in that aspect of the game. Like many college corners making the transition to the NFL he will need to learn press coverage. Because of his size and aggressiveness I really don't think that should be a problem for him.
From what I hear, he is a little raw. Basically right now he is getting by purely on his athletic ability. What that tells me is this. Once he learns better technique and a better understanding of the game, he is going to be scary good. That is why I think he should enter the draft next year. He is just simply too good of an athlete to waste another year on a bad football team when he can learn in the NFL.
South Carolina produced a big time player in Jonathan Joeseph and I think Gilmore is the next big thing out of USC. Gilmore fits the profile I think the Cowboys should be looking for, a taller cornerback who can match up with the larger wide receivers in the NFL. I would definitely use a first round pick on Gilmore. 
Stephen Gilmore vs Alabama (via JPDraftJedi)
Alfonzo Dennard CB Nebraska
Senior
5'10 205
Now we get to the point where I can be controversial. I really liked Prince Amukamara entering the draft last year, but many teams were down on him once the draft started. The reason? Some other cornerback on the Cornhuskers by the name of Alfonzo Dennard. Some scouts said Prince wasn't even the best cornerback on his own team, ouch. I tell you what, this Dennard kid can ball.
Dennard is easily the best press corner that will be in the draft next year. That is something I think scouts didn't see in Prince was his press ability, they did take notice of Dennard's while scouting Prince. This is a reason I think a lot of teams already have a big jump on scouting Dennard. While some scouts were there scouting Amukamara, I think some really scouted out Dennard while they had the opportunity too. This is a big reason why I believe Dennard will be a big name come draft time next spring.
From what I can gather about Dennard, he is a physical cornerback who will make plays on the football. He had 4 picks last year, but some scouts are saying opposing teams stayed away from Dennard and targeted Prince more often, that's interesting. What I like about him besides his physicality and coverage skills are his size. He is a nice sized cornerback at 5'10 205 and has a nice chiseled build.
If Dennard is available when the Cowboys are on the clock, it may have turned out to be a bad season in 2011 or Dennard had a real bad 2011 season himself. I see Dennard as a top 15-20 pick, but if he has a big year at Nebraska he could move up even further.
Alfonzo Dennard NFL Draft Analysis - 2010 Season (via TMBDraft)
Conclusion
This is the year to go out and get a cornerback if we need one, which I think we will. The talent will just be too good to pass on in my opinion. The only other position I would take in the first round is safety or defensive end, but I think the cornerback talent overshadows the safety/defensive end positions in my opinion.
Personally I would like to see the Cowboys grab a larger cornerback because I feel that is one of our Achilles heals on defense. We really don't have that larger type of cornerback to put on big wide receivers. This is why a guy like Vincent Jackson will destroy us every time we play him.
Cornerback is a sexy position and I know Jerry loves the shiny toys in the war room. So we fulfill two needs with drafting a cornerback next year. We get a player we need at a position of need and Jerry satisfies his shiny toy fixation. It's a win win for everybody!
This has been a ChiaCrack Production