As I look back at some of the moves made by our Dear GM, I've begun to wonder something.  Do the Dallas Cowboys know what to do in Prime Time?
Okay I see how you may be wondering how the moves of our Loveable Billionare GM has anything to do with Prime time. Well when I say "Prime Time" in this fanpost, I am neither talking about a Nationally televised game or this.  I'm talking about those few precious years when it begins to all come together for a player and he plays at his highest level.  One thing we are seeing from winning teams is that they are generally able to first recognize when a player is entering and leaving his prime and secondly what to do with said player (trade/release/extend/start/bench) during this period.  The Patriots(Oh how I loathe and respect that franchise) seem to have mastered this art, whether it is the release of Ty Law or Randy Moss they seem to generally have a handle on what to in Prime time.  But this isn't about those "Cheaters", this is about our Cowboys, follow me for a second with just a few examples(I have MANY more).
Kevin Burnett (Yes I know "Throwback") was drafted by Jerry and during his four seasons was able to start a total of 4 games.  Let's then take a look at the next two season and how he was able to perform:
Kevin Burnett:
Career Stats more
Season
Team
Tackles
Interceptions
Fumbles
G
GS
Comb
Total
Ast
Sck
SFTY
PDef
Int
Yds
Avg
Lng
TDs
FF
2010
San Diego Chargers
16
16
95
80
15
6.0
0
5
2
31
15.5
29T
1
2
2009
San Diego Chargers
11
7
66
49
17
2.5
--
1
--
--
0.0
--
--
0
2008
Dallas Cowboys
16
2
38
29
9
2.0
--
3
--
--
0.0
--
--
1
2007
Dallas Cowboys
16
2
53
46
7
0.0
--
2
--
--
0.0
--
--
1
2006
Dallas Cowboys
16
0
38
27
11
1.0
0
1
1
39
39.0
39T
1
2
2005
Dallas Cowboys
13
0
17
13
4
1.0
--
0
--
--
0.0
--
--
0
TOTAL
307
244
63
12.5
0
12
3
70
--
39
2
6
As you can see he obviously had STRONG years ahead of him, but we weren't apparantly able to see this.  Now this was the direction I was going to take in stating why I believe that the bulk of the Cowboys struggles have been with them not being able to recognize when a player is entering or leaving his prime, or how to manage them during this time period.  But I believe that I could paint a clearer picture if I looked at recent signings and releases. 
Our own dear Marion "The Barbarian" Barber:  2008 Signed a 7 year $45M contract.  Three years into that contract he's released.  Apparantly best years behind him.  What do you think we could have gotten for Barber after his 14TD season as our local "Closer".  Now don't get me wrong, I was not one of the ones calling for him to be traded in 2008, but neither was I thinking that he was our "Back of the Future".  Just a "quality" peice that was worth "quality peice" money. Think back, all we'd heard for years from anyone with a microphone was how his running style was going to shorten his Prime Time so why not get the most for him while he is most valuable, instead of just releasing him, and getting nothing for him except a cap hit.
Leonard Davis is another player that comes to mind.  Drafted 2nd overall by the Arizona Cardinals.  Had some good years but for the most part the issue was that Davis was not a tackle but had all the skills to be a superstar guard.  The Cardinals knew he was fit to be a guard but was hoping that he would learn to be their pillar that defends the blind side of their QB.  However what they got was the second most penalized player in the NFL during the time he played this position (first was Alex Barron of course, with Flozell Adams fighting to stay in the top five... ugh).  The issue was that the head coach and GM couldn't justify drafting a guy so high and paying so much money to him if he's going to play guard.  So they continued to push this very square peg into a tiny round hole.  Now once his contract was up the Arizona Cardinals knew he'd be great for guard and the plan was to sign him at "Guard money" to take the role.  His agent told the team that they were willing to do this as they realized that even though he was the 2nd overall pick he was not suited for the role of LT, and therefore wouldn't be paid like one.  That's when the Dallas Cowboys stepped in and did what the Cardinals would not do.  They decided to pay a guard, "Left Tackle" money.  Now Bigg did a good job at guard, however he was NEVER worth his contract.  Furthermore instead of realizing when his Prime Time was ending we continued to hold on until he no longer had any value in the market which led to us not being able to get anything in return for him, except well... a cap hit. 
Terrell Owens:  Big receiver with speed.  Ability to make catches in traffic and thrives on contact.  During his time with Dallas Cowboys he was the first sentence, and NO LONGER the second.  This was easy to see as he was no longer willing to lay out for balls, and would pull up if going for a catch over the middle.  His hands were slowly turning into bricks and he was avoiding contact like the plague("Uh oh here comes a safety, 'Go-Go alligator arms' ").  Not only that but his old "Diva" attitude slowly started to return and his focus on improving his game and proving people wrong seemed to be placed well...umm... elsewhere.  Now his play warranted his first contract, but his 34 Million Dollar contract extension with $13M upfront was NOT.  Naturally he didn't even make it through the next season, we cut him, and got nothing for him except a cap hit.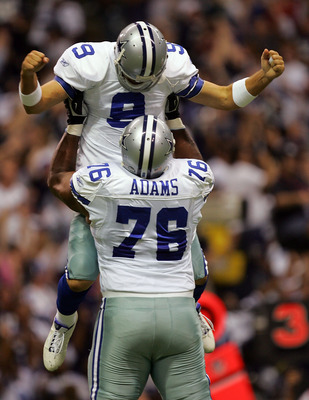 Flozell Adams:  Minus the COUNTLESS penalties, and his overall "not smart-ness" you had to appreciate what this guy did for the Dallas cowboys.  I mean being partially deaf in the right ear makes it sensible that a LT would have trouble hearing the snap count, however the issue is not whether or not he was a good player, the issue was that at 33 years old, our dear GM decided that this would be the time to give him a SIX YEAR (yes, he'd be months away from 40) 43 Million dollar salary, with $15 Million guarranteed and a $13 MILLION DOLLAR SIGNING BONUS.  Of course less than two years later he was released, and we got nothing in return but a cap hit. 
Roy Williams  ... ugh
........................................
Now there are much more examples I've thought about, and am honestly still developing my opinion on this.  But I have been struggling to think of one player that we traded as his Prime Time was ending to maximize value, or one player we traded for as his Prime Time was beginning.  I feel like knowing what to do to get the most out of Prime Time is what separates the good teams from the great teams.  Ladies and Gents, I want to be GREAT.  This means making hard decisions like trading a guy while he's STILL loved in Dallas because you see that his skills have begun declining, or trading/signing a guy BEFORE other teams and fans realize his potential.  This means drafting positions that aren't glamorous (OL) so that you don't have to overpay someone who's leaving their prime(Flo).  This involves great scouting, incredible insight, and a serious "pair" that allows you to deal with the temporary criticism of not doing what everone else thinks you should.  I wonder whether the cowboys are figuring this out by not signing a 30 year old corner or 30 year old DE to multiple year deals worth TENS OF MILLIONS OF DOLLARS.  Yes they are still in their prime but DEFINITELY on the back end.  Or maybe they've figured it out by not taking a safety with one good year and signing him to a long term contract like they did with Ken Hamlin(only to release him two years in for nothing but... well you get it).  Have we figured out what to do in Prime Time?  I feel so... Let's stop being good cowboys.  Let's be GREAT!
Now tell me... If you had the power, who do you see as someone entering their prime that you would lock up, or someone leaving their prime that you would trade away, and what would you hope to get?