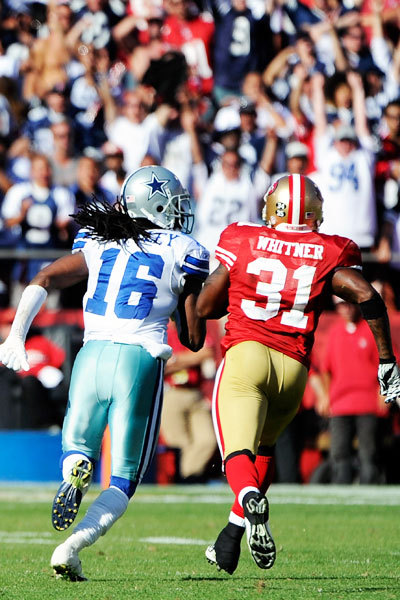 When the Cowboys needed a guy to step up and make a big play for them, they went for reality star Jesse Holley to be the guy. Not the guy you were expecting right? Be honest, if I would have told you yesterday Jesse Holley is going to be hand picked by Tony Romo and he will catch a 77 yard pass that sets up the game winning field goal, you would have thought I was crazy. 
Big players make big plays and maybe Jesse Holley is the next playmaker on the Dallas Cowboys. I know, it's a reach and I admit that this could be the only big performance we will ever see from Jesse Holley the rest of the season. The timing was just great, that game had a Hollywood type feel to it and it ended in Holleywood type fashion.
 (via dcfanaticcom)
Look at how emotional Holley was in the locker room after the game. The guy was acting like he won the Super Bowl and that doesn't bother me at all. His performance was huge yesterday and I am all for a guy being emotional after a game like that. The best part about Holley is how is answering questions the day after the game, he is a very humble person and I like that a lot. Holley isn't the type to get a big head after a game like that and you know he is going to keep working hard.
He hasn't had an easy road to the NFL. He went undrafted after a playing college basketball and football for North Carolina in 2007. He was signed by the Bengals and then released by the Bengals later in training camp. Holley signed onto the practice squad but was later released. Then he began his Canadian football journey that didn't last long either. He was released after one preseason game with the team.
Holley landed a role on Michael Irvin's reality show " 4th and Long" and this is where Holley got his final chance to make it into the NFL. During the time he was selling cell phones and working other jobs to make a living, but he always wanted another chance at the NFL, and he got it. Holley out performed five other wide receivers and six defensive backs to earn an invitation to the 2009 Cowboys training camp. If you watched that show, than you know the hell Irvin put those guys through. For Holley to come out on top after the grueling drills he was put through, that was quite impressive on it's own.
Holley finally had his chance again and he ran with it. During the 2009 preseason Holley made his mark on the special teams unit and that is something Irvin and the other coaches told him that he would have to strive at. He returned a punt 82 yards against the Vikings and that was a heads up play if you caught that game. We eventually released Holley but we kept him on our practice squad for the 2009 season. Holley did play a vital role on the scout team doing impersonations of other teams best wide receivers. Holley was acknowledged for that role when we beat the Eagles and received a game ball for his DeSean Jackson impersonation.
After another solid training camp, Holley was once again cut, but retained to the practice squad. Holley was called up to the active 53 man roster on October 15th 2010. Holley became a big time role player for us on special teams last year and when we decided to no retain Sam Hurd, it was obvious Holley had finally found a role on this team.
The one area I have seen major improvement from Holley is in the wide receiver department. There is just something about Minnesota with this guy because he always performs well there. This preseason Holley caught 3 passes for 51 yards and every catch was a real nice one. I have always called him out and said Holley will never be anything as a wide receiver, but Holley is proving me wrong and I love it!
Holley's 3 catches for 96 yards all came in crunch time, the fourth quarter and overtime. The 77 yard reception Holley had setup the game winning field goal from Dan Bailey. With all of our wide receivers banged up, Tony Romo gingerly approached Holley late into the fourth quarter and the two had some sort of exchange. Whatever was said worked and Holley was money the two late drives that won us the football game. Maybe Romo and Holley have some sort of chemistry we don't know about. This could be the beginning of a great relationship for all we know.
Miles Austin is going to miss some time and we don't know exactly how much time he will be missing. Dez Bryant is still banged up and needs to stay healthy in order for him to be a beast on the field. Kevin Ogletree still has not lived up to his expectations. Dwayne Harris is still just a sixth round rookie that needs time to develop. That leaves Jesse Holley as the man to step up and make plays.
Like I said earlier, it's possible Holley never does anything meaningful as a wide receiver ever again in his career, but I am not writing him off just yet. I know I have been hard on him, but after yesterday I have some faith in him. Holley had a long tough journey to get into the NFL and I am rooting for him. If Holley steps up and becomes another option at wide receiver, this team will be in great shape at the position moving forward.
UDFA WR's with a basketball background tend to workout sometimes, let us see if this one works out for us.