Lately I've been doing a lot of thinking about the off season moves the Cowboys are going to be making and have decided what I feel is the best course of action for the team. The problems we all discuss regarding our the issues the Cowboys have on defense can be fully addressed this off season. Follow me after the jump to see how....


The first part of the solution is realizing that a base 4-3 will help cover up most of our issues.
We have a player in Demarcus Ware who is a perfect fit as a 4-3 DE. His abilities will be key in the implementation of our new defense.
The Anthony Spencer debate rages on still, but I think its a moot point. Whether we have him or some other linebacker who's role in our defense is to set the strong side edge while our weak defensive end play generates zero rush isn't going to get the job done. The sacks and pressure generated from our solb in Rob Ryan's 3-4 don't leave any balance in our pass rush and makes our defense easier to attack.
While upgrading our defensive ends may be a cure for the balance of our defense and help our secondary out a bit, I think the best option is to switch to a 4-3 and sign Mario Williams.
For a moment just think about this defensive line:
Ware-Ratliff-Lissy/Hatcher-Williams
That would be beastly. Maybe better than Osi/Tuck/JPP and definitely superior to Cole/Babin/Jenkins. Our defense is falling off pace for the style of play in our conference, and we can't begin to have success in the league until we can punish the teams who tuned us up with a 2-4 record in 2011. I believe the Redskins aren't to far away yet either, so status quo isn't good enough for me.
In terms of salary cap, I think we could swing this and still have enough left over to start working on some of our other issues. Correct me if I'm wrong, but won't the Cowboys clear a lot of dead money from the contracts for Barber, R. Williams, Davis, etc. after 2012? And isn't there a likely expansion of the salary cap once the new TV deal gets negotiated? If we make moves now we will set ourselves up to be competitive in the long run.
First start with our remaining $20 million and sign Super Mario to a 5yr$60 mil type deal that's back loaded with a fat signing bonus in order to keep us in okay cap space with a hit of $7 million or so, and here's how I would like to see the rest of the off season play out. By signing him we not only bolster our pass rush but add a young, dynamic pass rusher to replace Ware as his abilities deteriorate with age.
Free Agency:
Not enough left to go for any big more time names, but I think we do need to get a veteran center. If possible Myers or Wells with a similar deal to Williams that lets us take a bigger hit next year. Otherwise slow play it and pick up a value player once the frenzy ends. (Like Coleman or Elam last year). Call it a $4 million hit this year. $9 million left.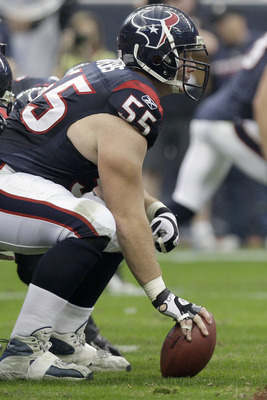 Laurent Robinson should be a priority, too. I don't mind paying a little more for him than an average third receiver because he was way above average when Dez and Miles were out. I like our chances on getting a decent deal worked out because of the WR saturation of FA this year and because his chemistry with Romo is undeniable. He could take a three year deal and still only be 29 when it ends, so letting Romo make him look awesome would still get him paid in the end. I believe they could get his 2012 figure as low as $3 million, so I've got $6 million left.
Gotta have another G too, in case the Yuglies don't start panning out. I'll take Montrae Holland for a $1.5 hit this year. If he comes to work like he did when he got resigned, we may re-up his contract at the end of the season.
The last thing I'd go for in FA is a CB. Give me a Terrell Thomas, Tracy Porter or Aaron Ross type player with a cap hit of $4 million or so. Down to $0.5 million. Yikes! How can I sign all my draft picks now?
Easy. Cut Buehler...Cut Coleman...maybe even restructure a deal or two. Don't care, just get it done.
These moves not only make us a stronger defense, but allow us to take a straight up BPA approach to the draft.
Now my draft is going to be focused on three things: LB to play the third backer spot in my new 4-3, G, S and CB. With that said here are my picks:
1. Luke Kuechley - imagine the linebacking core of Carter-Lee-Kuechley playing behind my dline.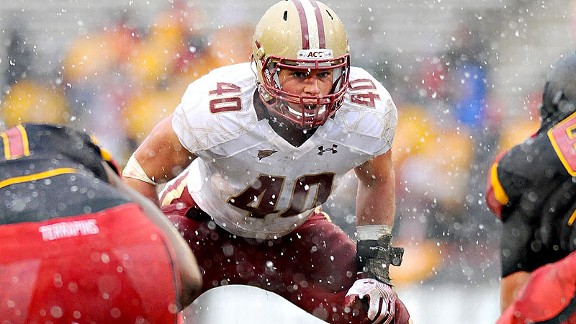 2. Markelle Martin - I hope he can finally be that ballhawking FS we need. Besides we can't pass on every safetly prospect every year, can we?
3. Trumaine Johnson - Big CB, hopefully he's still here when we pick. In my head I actually have us trading our compensatory pick for Bowen to move up and lock him up.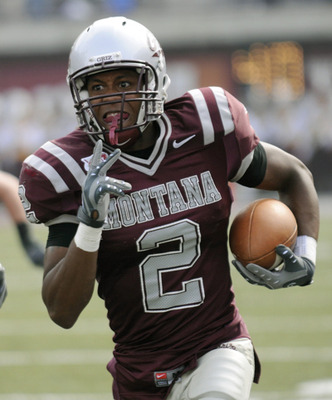 4. Best OL available to keep our core motivated.
5-7 Developmental picks, maybe a DT, CB, TE or QB?
Now lets let the moves I want to make soak in, and take a look out how this will effect the team in 2012 and beyond.
Our defense is now completely overhauled. The pass rush should be dirty, we have three stud young linebackers who will make us wonder why we ever had Brooking/James on the field last year. The secondary remains iffy, but if Martin/Johnson and our FA CB can play we will definitely be looking better than last year.
On offense, the line will have a strong cornerstone with a more able C. If teams can't push the pocket so deep than I think Romo will have a spectacular season. Skill positions are solid, hoping that John Phillips pass catching ability is enough to compensate for his decrease in blocking ability relative to Marty B.
All in all this is how the team needs to be. The Cowboys, more than anything else, need variety in their looks. The team has been far to predictable for far to long and I think a scheme change will do wonders for the team.
What do you think? Tell me likes, dislikes, and anything in between. I know I haven't considered something, but what is it?