Bored, sick, not much explanation needed. Personal scouting reports of these potential future Dallas Cowboys.
Janoris Jenkins CB Northern Alabama
Strengths:
Great cover corner with elite quickness. He has good speed and is also extremely aggressive in the pass game. His quickness helps cover up his physical limitations and has a great beat on the ball. Their were obvious questions about the level of competition Jenkins has been facing in Division II but he answered those questions during the Seniors Bowl week. He faced off against the most impressive wide receivers in the country and showed that he still can play against top competition.
Weaknesses:
The main question mark with Jenkins is his off the field issues. He has been an upstanding citizen ever since joining Northern Alabama but those questions about his character at Florida will be there until draft day. In addition to the character questions, Jenkins has also been known to get beaten deep more then he should. He is overly aggressive at times leading to him getting beaten by double moves or pump fakes. He is also only 5'10 which would make it tough for him to cover the bigger, more physical receivers.
Upside: A more physical Asante Samuel in his prime, absolute ball hawk, could lead the league in interceptions. Downside: DeAngelo Hall, will get you a good amount of interceptions but will also frustrate the hell out of you with his over aggressiveness.
Odds he is drafted by the Cowboys: 7-1
David DeCastro G Stanford
Strengths:
DeCastro is an extremely popular player among Cowboys fans nowadays and for good reason. DeCastro is probably the second most sure thing prospect in this years draft behind Andrew Luck. He has excellent footwork which might be the most desirable trait in an NFL guard. He also has an ideal frame at 6'5 310 and is strong enough to hold up defenders. In addition to his strength, he is also quick enough to pull on running plays and would fit in nicely with our young and mobile line. He holds his own in pass rushing and should help eliminate the interior pressure on Tony Romo. He has a mean streak which is very important in offensive lineman but has never been considered dirty. He would be the safest pick for the Cowboys.
Weaknesses:
DeCastro is not considered an elite athlete for his position. Besides his athletic limitations the only real question about picking him at 14 is if it is too early to pick a guard. I'm sure 95% of Cowboys fans would have no problem taking a guard this high if he was this highly touted. DeCastro should be their when we pick at 14 so it will come down to if Jerry feels comfortable taking an offensive lineman in the first round two years straight.
Upside: Brian Waters like career, long illustrious career that ends in Canton. Downside: Chris Snee like career, good not great, multiple Pro Bowls, starts on our line for a long time.
Odds he is drafted by the Cowboys: 10-1
Melvin Ingram OLB South Carolina
Strengths:
One of the most versatile players in the draft. His 6'2 278lb frame will allow him to play inside at 3-4 end or slide outside and play on the edge as well. He has extremely strong and active hands that allows him to disengage blockers well. He is also very athletic with quick feet and can drop into coverage. He plays with a high motor and has one of the highest ceilings in this draft.
Weaknesses:
He has often been criticized for his short arms and some scouts do think that that could become a problem at the next level. He needs some work in the run game and has trouble sticking with running backs in the flat. He is often turned around by bigger stronger blockers but that is something that can be fixed with the right coaching. He has had some injury problems in the past but nothing that should alter how the Cowboys will look at him.
Upside: Lamar Woodley, him and Ware could pass Harrison and Woodley as the best OLB duo in the league. Downside: Shaun Phillips, pretty good pass rusher, maybe has a couple pro bowl level years but never anywhere close to elite
Odds he is drafted by Cowboys: 15-1
Dre Kirkpatrick CB Alabama

Strengths:
Kirkpatrick stands at 6'2 which would be a huge plus for our defense. He is physical and good at jamming receivers at the line of scrimmage. Excellent in run support and an elite tackler for a corner. He really excels in zone coverage over man coverage.He has great instincts that really show in zone coverage. His ability to close on the ball and his long arms help him break up a lot of passes. Known for his great work ethic and his confidence on the field, nicknamed "Swag" by his teammates
Weaknesses:
Not an elite athlete, some consider him to be lanky. He does struggle in man coverage at times especially against quicker receivers. Also their are obvious questions about his character after his marijuana arrest. The charges have been dropped but the fact that he was still arrested is still a question mark. He might not have the upside that Jenkins has but he could be a safer pick.
Upside: Charles Tillman, good cornerback, tall and physical with a knack for the ball.Pro Bowl level during his prime Downside: less athletic Antonio Cromartie, big overrated corner who will excite you with big plays but struggles in coverage.
Odds he is drafted by the Cowboys: 18-1
Michael Brockers DT LSU
Strengths:
Brockers is both a talented pass rusher and run defender. He generates a good bull rush in the pass game and is also quick enough to rush off the edge. He is an excellent tackler using his length and strength to bring down ball carriers once he gets a hand on them. He was consistently productive throughout this year in the run game even while being double teamed most of the plays. He is extremely light on his feet for his size and changes direction with ease. He is only a redshirt sophomore but he has one of the highest ceilings out of any player in this draft.
Weaknesses:
Brockers is young and somewhat inexperienced having only started one year at the collegiate level. Might not contribute his rookie year as much as other prospects but has extremely high long term potential. He still needs to fill out his 6'6 frame and he also struggled with his technique some. He struggled some in the BCS national championship game against Alabama.
Upside: Richard Seymour, huge disruptive force that could get to the passer and eat up double teams allowing Rat to finally be unleashed. Downside: Glenn Dorsey, their is real bust potential here since he may be rushing into the draft.
Odds he is drafted by the Cowboys: 20-1
Quinton Coples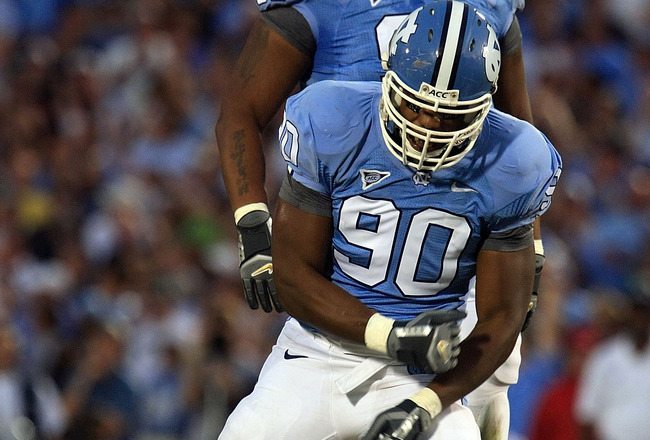 Strengths:
Coples is an absolute freak of nature, everyone knows that. He is 6'6 285lbs and strong as a bull. He is extremely versatile and can fit into any scheme, including ours at 3-4 end or OLB. His biggest strength is his block shedding, he regularly sheds double teams using his strong rip move and also effective swim move. He also uses the bull rush to push lineman back into the quarterback. His long arms and strong hands make him a solid tackler. Very powerful and very quick feet.
Weaknesses:
Coples biggest question mark has to be his motor. He was often caught giving up on plays during his senior season. His awareness and lack of ability to bat down balls is also a problem. The biggest problem will probably be that he wont be available at 14 though.
Upside: Justin Smith, ideal 3-4 end, extremely disruptive and instantly makes the entire defense better Downside: 2011 Adam Carriker, their is bust potential there due to his lack of motor
Odds he is drafted by the Cowboys: 25-1
Courtney Upshaw
Strengths:
If Jerry wants to find a pass rusher in this draft, he should look no further then Courtney Upshaw. He is extremely powerful and uses the rip move as his go to move. Also uses a bull rush to close the pocket. He has a good burst and a great motor. Fundamentally sound tackler who never stops moving on the field. Extremely strong throughout his body but especially in his legs. He really shined on the biggest stage, the national championship game bringing home defensive MVP honors. He holds up well against the run and could be a key contributor on special teams but his obvious strength is in the pass rush.
Weaknesses:
Upshaw's biggest weakness is coverage, mainly because he rarely dropped back into coverage in Alabama's scheme. If he is asked to cover tight ends or running backs in the NFL he could struggle. Upshaw was arrested in 2009 but the charges were dropped. Also probably will not be available when the Cowboys pick at 14.
Upside: Tamba Hali, an elite pass rusher to put across from DeMarcus Ware Downside: VIctor Butler, situational pass rusher who also stars on special teams but struggles in the run game and in coverage.
Odds he is drafted by the Cowboys: 30-1