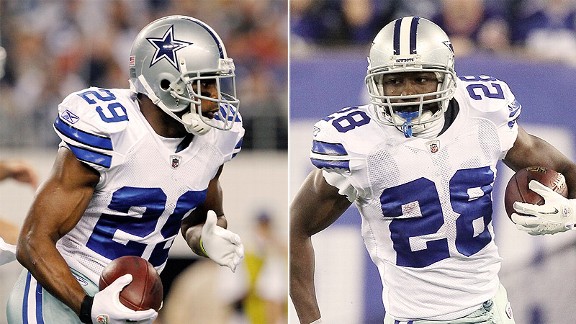 I'm assuming you read the title. By "big plays" I'm referring to runs of 20+ yards. The Cowboys were pretty average in that category last year and ended up ranked 15th in the NFL with 11. To give you a frame of reference, the Panthers led the league with 24 and the Giants finished 32nd with a grand total of 4. The highest ranked team that had a non-scrambling quarterback was the Raiders with 21.
Of course, the Cowboys run game really picked up steam after the first third of the season thanks to the emergence of Demarco Murray, the improved run blocking and the emergence of Tony Fiametta as a more than solid lead blocker.
So, what I want to do is look at all 11 plays, both individually and collectively, to get a better understanding of how the Cowboys come across the big play on the ground. It might get a bit lengthy but I decided to include a video for all 11 runs in case you lose interest.
A LOT more after the jump...
Traditionally, a writer would present the information and then draw conclusions but I've already seen these plays and I want you to know what to look at for so I'll put that part at the beginning. Just a few things I noticed:
Demarco Murray and Felix Jones were the only two Cowboys with a run of 20+ yards, leaving out Phillip Tanner, Sammy Morris, and Tashard Choice.
Only one 20+ run was from the gun, it was a draw. Ironically it was in the same game when Lesean McCoy was thrashing the Cowboys with that exact play.
Say what you will about Marty B as a receiver but he's a good blocker. Overall, Martellus Bennett played just over 39% of the snaps in 2011 but he played close to 64% of the 20+ snaps and just about everyone was run on his side.
There was a lead blocker on almost every single one of these runs, whether it be Fiametta from the fullback position or a lineman pulling.
The amount of runs that started on the right of the center far outweighed those to the left.
Blocking was phenomenal. The blocking only broke down on one play, which would lead to the conclusion that Felix Jones and Demarco Murray aren't very good at making something out of nothing.
Felix Jones does well on counters and misdirection plays.
Demarco Murray is more of a hit the hole right now guy.
If you watch all the plays, you'll see the value of a really good fullback like Lawrence Vickers who blocked for a rushing attack that racked up a staggering 2,448 yards and 18 touchdowns in Houston.
Before we get to the individual plays, I've illustrated every formation that the Cowboys used to get the big play on the ground. Take note of the number because I'll refer back to those.
Formation 1 was used on four of the 11 plays. The formation featured Marty B as a blocker. Is there a tight end on the roster who can fill that role on one of the team's best running formations?
Formation 7 was used on two big run plays.
Formation 1&7 accounted for 6 of the 11 big plays and both featured a fullback and Marty B.
Formations 2-6 accounted for one big play each.
Formation 5 is the only one with no tight end and it also accounted for Demarco Murray's 91 yard touchdown.
I'll put these in chronological order based on week.
Felix Jones, Week 2, 29 Yards, Formation 1
Borderline perfect blocking on the counter. Every backside blocker is dominating his man, Marty B is handling his man, and Tony Fiametta pops Ryan Kerrigan and Felix just has to worry about the safety 10 yards away. I promise you that any NFL back gets at least 10 on this play.
Felix Jones, Week 2, 40 Yards, Formation 1
This is the exact same play as the last one, just with the formation and direction flipped. Again, terrific backside blocking, Fiametta takes out two guys on the lead block and if you pay attention to Marty B, his block gets Felix an extra 30 yards.
Demarco Murray, Week 7, 91 Yards, Formation 5
Again, Hall of Fame type blocking. Everyone blocks there man and the Fiametta lead block on I think linebacker James Laurinaitis sprung him. Doug Free had such a good block on the back side end that I highlighted a second hole that would have got Murray at least 20 yards.
Demarco Murray, Week 7, 43 Yards, Formation 2
This is the first one that didn't have phenomenal blocking. Fiametta, the lead blocker, went outside left, and that's where the play was designed to go. Demarco Murray, however, saw the biggest cutback lane he'd seen in a while and used his instinct to pick up 43 yards. Absolutely great vision.
Demarco Murray, Week 8, 26 Yards, Formation 7
I can hear Vince Lombardi, "You get a seal here and a seal hear and you run through the alley." Tyron Smith and Tony Fiametta made Murray's job way too easy. The alley in the second picture is ridiculous. He wasn't breathed on until he was 20 yards down field.
Demarco Murray, Week 8, 20 Yards, Formation 6
I'll beg that you forgive my sloppy artwork on the picture. The squiggly line going over Tony Romo's face is the line that illustrates Montre Holland pulling from his left guard spot to where he has a lineman on the ground. That block, Phil Costa's block and Tyron and Kyle Kosier getting to the second level almost instantly allowed the big gain.
Demarco Murray, Week 9, 22 yards, Formation 2
I made a mistake on the picture. If you look, Phil Costa is holding steady with a lane on either side of him. In the picture I had Murray choosing the left lane since 6'4" 230 pound Cam Chancellor was sitting in the other lane. In actuality, Murray puts his foot in the ground and goes down the road less traveled, shakes off Chancellor's tackle attempt and ends up with a big gain.
Demarco Murray, Week 9, 32 Yards, Formation 7
Montre Holland pulling and Tony Fiametta on the lead block clear out space and make Murray's job easy. I'm not trying to be a Marty B fan or anything but you should watch the play again and watch Marty who is next to Tyron Smith. For a tight end this guy holds his ground really well. I can't believe I'm saying this but the guy is going to be hard to replace.
Demarco Murray, Week 10, 26 Yards, Formation 1
No picture because it was a broken play. Good effort. Watch it again and watch Marty B's backside block on the will backer. I took Marty B for granted.
Felix Jones, Week 14, 26 yards, Formation 3
Felix's counter step allows Phillips, Costa, and Holland time to pull and everyone gets their man on the ground. At this point in the season Felix had been stripped of his starting role and he was hitting the holes with purpose.
Felix Jones, Week 15, 38 Yards, Formation 4
Just too easy. I don't mean to beat a dead horse but watch Marty B do work on this play. He's lined up to Tyron Smith.
That's the last one. After watching them all again:
Marty B is one of the best blocking tight ends in the NFL.
The pulling Left guard was big. Can Nate Livings live up to that?
They love running to the right. With Tyron on the left and Kosier gone, can they be as effective?
Demarco Murray is a stud.
This took a lot of time and I'm thinking of doing one for the big pass plays in the future, but I don't want to waste my time if no one enjoys it. SO if you liked it, please recommend so that I know.