Now that we have gone through most of the base coverages you'll see on Sundays as well as different ways to attack them we are going to look at an idea that is the basis for the defense that will visit JerryWorld in Week 15, the Pittsburg Steelers.
The zone blitz, (more appropriately the Zone Dog or Fire Zone), is the bread and butter for Steelers DC Dick Lebeau as well as Green Bay DC Dom Capers, but these types of pressure packages are major players in most every NFL defense, including Rob Ryans unit in Dallas.
The basis for a Fire Zone, is playing 3 Deep, 3 Under zone coverage, similar to Cover 3, and sending 5 guys in pressure. The great thing about using the 3 deep, 3 under zone is its a sound coverage scheme that can stop big plays, but because it is so balanced and symetrical almost any player on the defense can rush the passer and almost any player can drop into virtually any one of the 6 zones.
I'm going very X's and O's heavy and alot less teaching in this post, so after the jump you will see several draw ups. These don't come out of any play books or anything like that, these are straight out of my twisted football mind, thinking how I might use different Cowboys personnel groups in Zone blitz packages.
X's and O's after the jump...
These are in all different personnel packages and several different alignments. The first few start in 2 deep looks which rotate just before the snap into a single high look.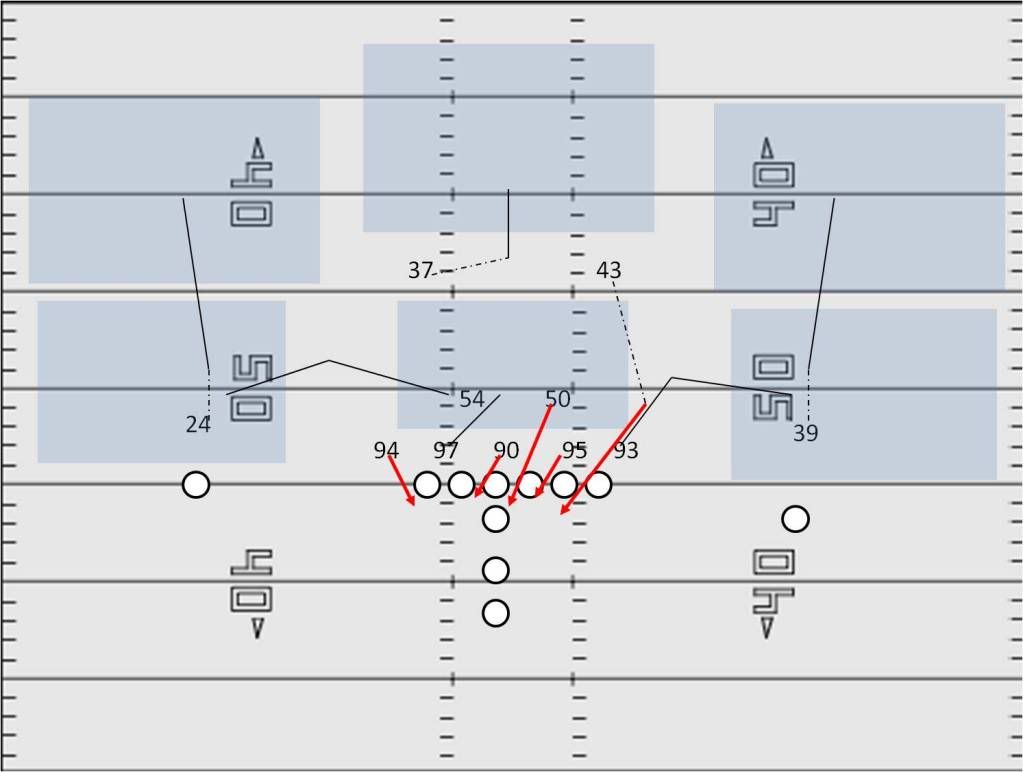 Overload the line to the side away from #94. You have to believe that the offense will tend to slide their protection towards him, so we bring 4 guys against possibly as few as 2 Olinemen on that side. If we guess wrong and they do roll the protection away from 94, you've got your best rusher in a 1 on 1 situation with extra push coming up the middle.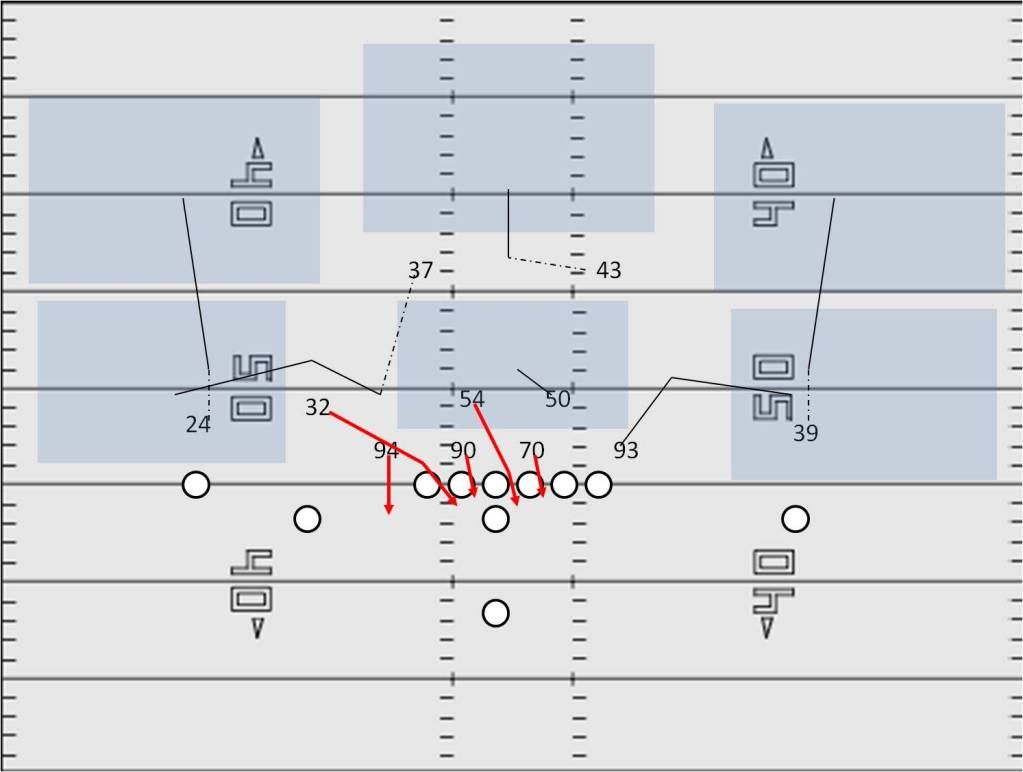 Scandrick has been one of the better slot blitzers out there for a while, let him come in underneath 94 after the LT has chased him upfield, and the OG has turned inside to follow Ratliff. Make each interior lineman account for their gap so Scandrick should get a run at the QB.
Here we are in the Church (#42) nickel, and we are hoping to use the combined speed of Church, Matt Johnson, and 94 to cause problems for the OLine.
Here we "sugar" the A-Gaps (cover each A gap with an ILB) showing a 6 man defensive front giving the QB no idae who is coming and who is dropping. The scheme is basic, but the pre-snap alignment gives the QB and O-Line some confusion. Also knowing again the OL is likely to slide to 94. We send Lee to the opposit A gap to attract the OG, and send Crawford outside the OT, this combination should let Spencer get a pretty clean run into the back field.
Again the idea is to be intelligent about your personnel, and what your opponent knows about that personnel. here we are in a 1-5-5 with all 4 CB's on the field. We want to either force the OLine to slide away from 94, giving him a 1v1 shot at the QB, or we want to take advantage of the Oline sliding to him, by sending Butler, and Wilber, 2 good pass rush specialists to the same side with Spencer, while Ratliff goes through the other A gap.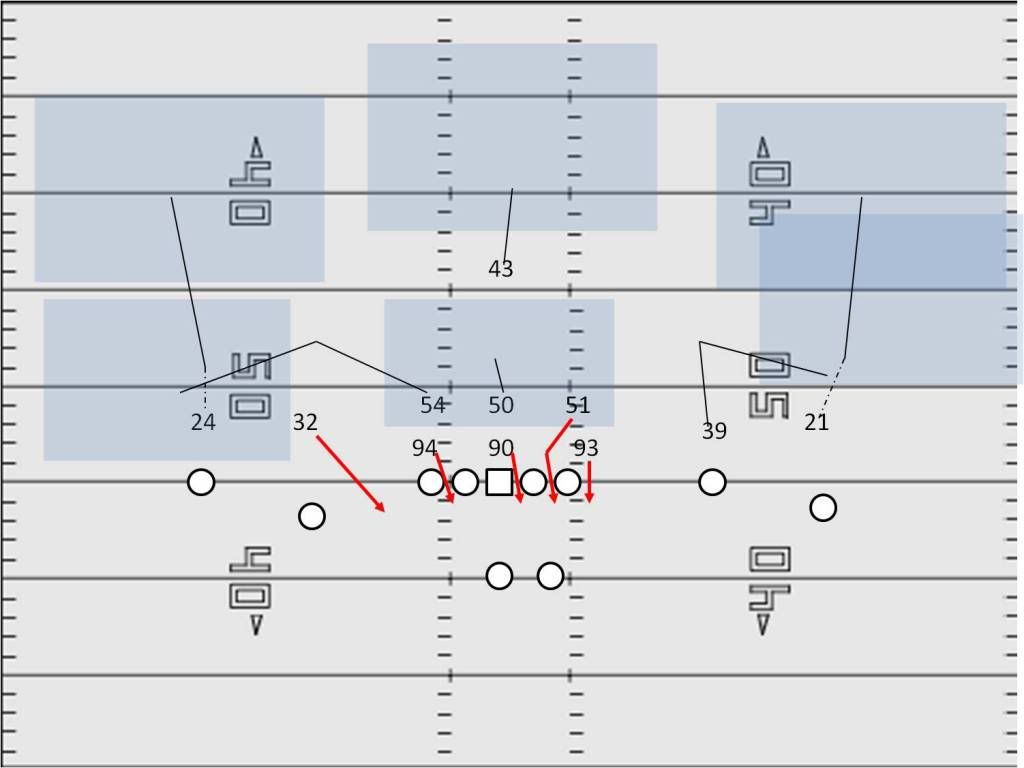 Here we are in a 3-3-5 stack defense with 94 and 93 playing DE. With so much focus on 94, Scandrick should be able to get past the OT before he can adjust, and I like the odds of Ratliff, Wilber or Spencer winning a 1v1 match up on the otherside.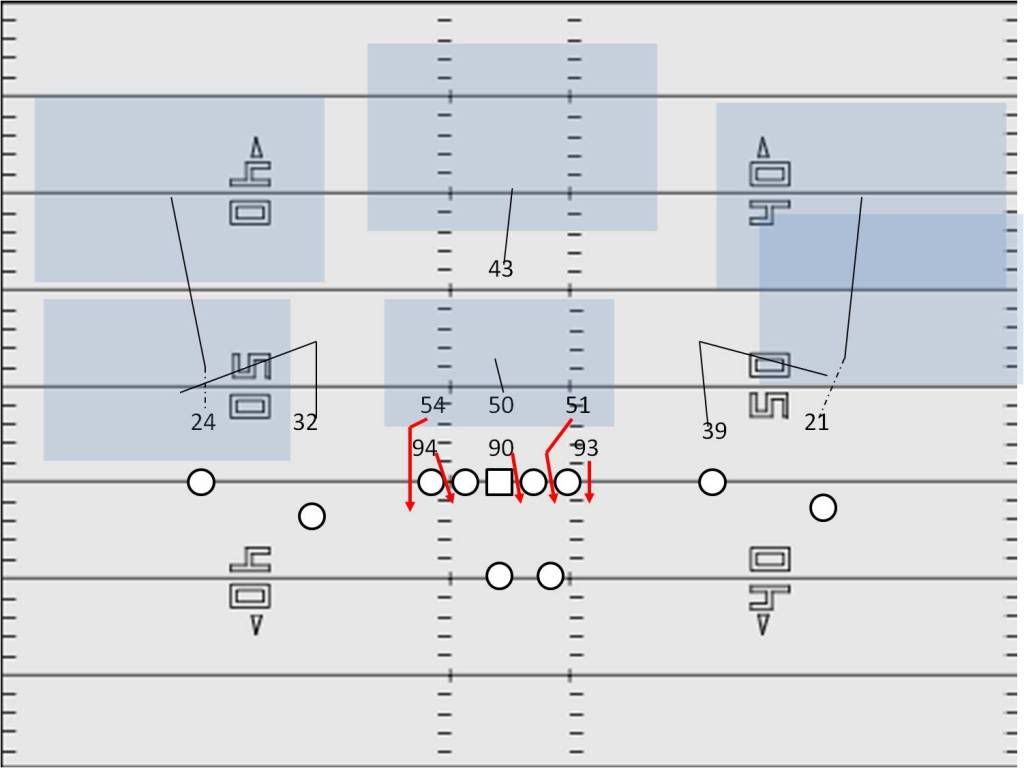 Same 3-3-5 stack here, with the same idea of sending 94 across the LT's face and letting a guy use his speed to get around the edge. Opposite side is the same idea.
Conclusion:
The great thing about using a fire zone concept is that it allows you to be creative with your pressure packages, while also being sound on the back end to prevent the big play. The 3-4 defensive personnel is great for this package because it allows you to bring 2 rushers from different places with out dropping a D-Linemen into coverage (which I did do in my first 2 examples). Thus allowing you to get lots of speed involved in the pass rush and still be sound in coverage.
Also notice the variety in the fronts, we have 3, 4, 5 and 6 man defensive fronts, with varying numbers of linebackers and DB's in different spots, and we are still bringing 5 and playing 3 deep 3 under zone coverage. That makes it easy for the players, all they really need to know is A)Rush or Drop B)Which gap or Zone? C) If rush is it a twist?
This lets your guys go out and play fast use their instincts and make plays...
Let me know if there are any ideas out there for future posts.