As we take the next step into our series of more in depth gam eplans for our NFC East opponents, we will look today at a (very much abbreviated) defensive gameplan I would take to Philadelphia with me in week 10 if I was Rob Ryan.
Before we make the jump and look at Philly's offensive personnel, base schemes, and some ways I would look to defend them. I want to try to explain the way I view the differences between game planning as an Offense, and gameplanning as a Defense. To me, planning as a defense is more about gaining a very extensive understanding about who your opponent is personnel wise, what their main philosophy on offense is, and what their tendencies are for (buzzword alert) situational football (down & distance, 2 minute, 4 minute, redzone, etc).
In order to properly prepare to play a game on Sunday, most teams will usually watch the 4 most recent games their opponent has played and break down every snap in several categories (run/pass, down/distance, 2 minute, 4 minute, red zone, etc). Against division opponents, they may go back and watch the match up from the previous year to see how that opponent tried to manipulate what you did on defense. Luckily for NFL coaching staffs they have video teams who function solely to cut-up the film in these ways. So a coach can go to the film guy and say "Hey, I need every boot action pass that the Eagles ran from a 3 WR set against Nickel defenses" and the film guy could look through the play by play notebooks and pull every play that fits those categories.
Watching these types of situations is what occupies a very large chuck of a coaches time. He must have a very in-depth understanding of his opponents, to know how they will try to attack his defense, and how they will react to certain defensive looks, and personnel packages. This is the type of studying that makes it next to impossible for a regular guy like myself to do a solid gameplan for a defense, there are so many variables you have to prepare for that I simply don't have the time.
Luckily for us fans, Matt Bowen over at National Football Post has opened up some of his old game plan note books on some NFL coaches from his time as a safety for several teams. He has so far posted 4 of these word for word transcriptions, two of which are Andy Reid and Mike Shanahan, guys the Cowboys will play against a total of 4 times this year.
I highly recommend before you take the jump for the rest of my post, that you follow the link to Bowens notes from the Eagles offense in 2005. You may think that a lot can change in 7 years, and that the personnel is completely different, and that would be true, however, a coaches identity, and beliefs rarely change, and the concepts seen in those notes are concepts you will see from the Eagles every Sunday in 2012.
Now that you've read up on what you can expect from Andy Reid on offense scheme wise, lets look at their personnel and a few ideas I would carry into a game against this offense.
Who they are:
The success or failure of the Eagles offense will strongly correlate with the quality of play they get from the QB position and that means Mike Vick. Vick has come a long way as a passer from his time in Atlanta, but when you watch him play, he still seems a little too quick to abandon his progression and rely on his legs. I broke down every one of the 23 sacks from 2011, and several of them were situations where his back foot hit the ground on the top of his drop, his primary read wasn't available, and there was slight pressure on the pocket at all, but his eyes came down to the rush and rather than climbing the pocket to throw down the field to his 2nd or 3rd read, he sprinted towards the LOS and was sacked from the side or behind by a rusher reacting to his move.
At running back the Eagles feature one of the top backs in the NFL, Lesean McCoy, he is an extremely quick and shifty back, who has the ability to break a big one, as Cowboys fans have seen several times. He does run inside, and makes very quick cuts but is extremely explosive when they get him in misdirection, and open field situations.
The top 2 wideouts for the Eagles, continue with the common theme seen from Vick and McCoy, both Desean Jackson, and Jeremy Maclin are very explosive, with the potential to make big plays at any moment, but are both undersized for their position. The Eagles use these guys in one of their base concepts "HiLo Crossers" to get seperation from their man going across the field, and create opportunities to use their run after the catch ability. Jason Avant is the 3rd WR, and he is the one they rely on to make catches to move the chains. While he is not as explosive as Jackson and Maclin, he seems to be the one who makes the catch on 3rd down in the 2 minute situations, or on the drive following your score that helps their offense build momentum to get down the field.
At Tightend I view Brent Celek as one of the more versatile TE's in the League, you see him line up on the LOS, flexed like an H-Back, or split into the slot. He has the ability to get chunk yardage on you if you spend too much time trying to keep Maclin and Jackson from running by your defense, Celek will attack the seams and the middle of your defense for solid yardage.
The Offensive Line suffered a huge loss this offseason when LT Jason Peters tore his achilles, however, OG Evan Mathis had a great 2011 campaign. As I said about Vick, alot of his sacks were instances of him holding the ball an extended amount of time looking for a big play, or giving up on his progression and running himself out of the protection. I did notice alot of 6 man protections with Backs or TE's staying in to block. As far as running the ball, it is difficult to run for 1309 yds and 17 TDs the way McCoy did in 2011 without and adequate performance from the OL.
They spend alot of time in what they call Posse personnel (what our coaches would call 11 personnel). They will also work in some Ace Personnel (1 Back 2 TE 2 WR's) these packages allow them to put alot of speed on the field, they can attack you with crossing routes in the pass game, as well as the Stretch, Outside Zone, and Counter Wham in the run game, the fact that they run alot out of one back sets allows them to work the Play Action Boot game as well. These personnel groups and skill sets put alot of strain on a defense.
How can we stop them:
The key to playing the Eagles well is to match the speed they put on the field. I would put different variations of a Nickel package on the field about 60-65% of the time against Philly. This is where Bruce Carter's role on this defense will be huge. He has the speed to run with McCoy and Celek that Brooking and James didn't in 2011. Playing a 2-4-5 package with Lee and Carter as the ILB should give us flexibility in our pressure schemes and coverages.. Lee and Carter can both run with and cover McCoy or Celek and can prevent the TE from eating us up on the Dig and Shallow Cross routes. As Coty talked about in his initial post, we have to disrupt their WR's on their release. Jackson is a bit of a liability getting off press coverage so if you can get into him and get your hands on him you can keep him from getting started. With the upgrades we made in the secondary we should be able to play Cover 1, and Cover 3, in early down situations allowing us to walk a safety into the box to be able to stop the run.
I really think that this type of team is the perfect opponent for a Rob Ryan defense, but I don't think Ryan had the horses last year to make the plays necessary. If we can keep McCoy from getting going, we have the ability to get them in long yardage situations, and force Vick to take a 5 or 7 step drop, we can create confusion with zone pressures, and combo-man coverages, to make him hesitate at the top of the drop and take his eyes off the primary read. We can also drop into Tampa 2, and force a throw underneath, rally and make a tackle to get off the field. This also allows the LB's to get their eyes back on Vick and rally against a scramble.
Last year different teams (including Dallas) had success bringing DB's into the pressure scheme and getting to Vick. This doesn't necessarily always result in a sack by a DB, but can cause Vick to panic a bit in the pocket, and again run himself out of the protection.
I will show only one diagram in this post, but it's an idea that was successful for the Bears last year in getting Julius Peppers running unblocked at Mike Vick.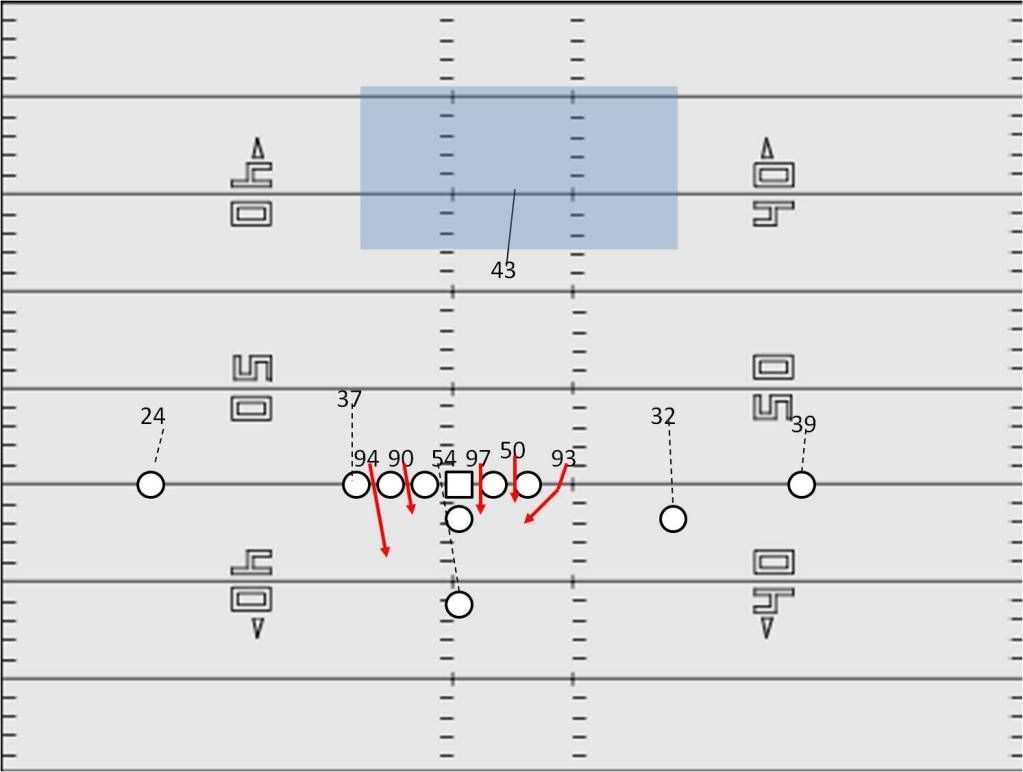 Here we have the Cowboys in what I call Nickel 2 (2 DL 4 LB 5 DB) personnel against the Eagles in their Posse ( 1 RB 1 TE 3 WR) Personnel in a Doubles Left Formation. The key to this pressure is Bruce Carter stepping into the Closed side A gap like he is ready to come on a blitz, this combined with Lee's presence tight in the Open B gap will cause problems for a couple of reasons. A) If the Eagles see both A gaps threatened, as well as potential pressure from Lee on the open side, they will likely slide their protection to Lee's side, this way the LG can slide to block Carter if he comes, the LT blocks down on Ratliff, and the C, RG and RT slide out to block Hatcher, Lee and Spencer. With one back in the back field and a full slide protection, they will either be throwing hot, on a 3 step drop, or be using McCoy to step over and block Ware. I'll be honest, I don't care who your RB is, I like my matchup if I can get Ware running at your QB with no one but a RB there to stop him, and if we get one other player who wins his 1v1 matchup with an OLineman, it will look like a Jailbreak. So even with only bringing a 5 man pressure, we can manipulate the protection into allowing us to get quick pressure.
Conclusion:
The Eagles present some unique challenges for a DC and a coaching staff, but if you have the right players, (which I think the Cowboys do) you can put them in good positions to succeed. But against a team as explosive as the Eagles, one mistake by anyone on your defense and they'll take it to the house from anywhere on the field.
Please don't hesitate to ask any questions. As I said before, game planning as a defense on this level is very intricate work, but I hope I atleast got some ideas rolling through your head.