Well the 2012-13 NFL Season is over for the Dallas Cowboys, & as much as it sucks due to the way it ended, the only thing we can do is move on and look forward to the offseason. With that in mind I have no idea what we are going to do in free agency but I'm going to assume that we either, choose not too, or don't have the cap space, to re-sign Anthony Spencer, and move into my first of a few mock drafts at this time, of what I'm hoping the Dallas Cowboys might do in the upcoming 2013 NFL Draft.
With the 18th Pick in the 2013 NFL Draft the Dallas Cowboys select...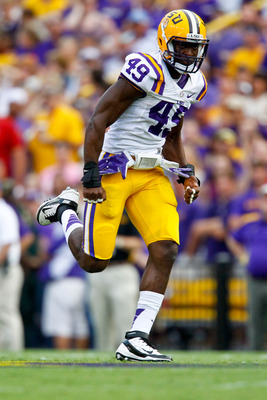 Barkevious Mingo DE/OLB LSU
Mingo becomes a necessity now that Anthony Spencer is gone & he will be tremendous asset to Rob Ryan. His pass rushing ability is already better than Spencer's and he will be a force on the outside opposite of a healthy Demarcus Ware with Bruce Carter & Sean Lee inside. Now if we can get some pass rush from the D-Line we can form a Nightmare of a defense for opposing offenses.
Now with the 47th pick (as of right now anyway) the Dallas Cowboys select...
Kenny Vacarro FS University of Texas
A tremendous ball hawking safety at the University of Texas, Vacarro is a playmaker of which the likes Dallas hasn't seen at the position since the days of Darren Woodsen. Poor safety play was the reason that the Cowboys gave up the deep ball plays FAR too much this season. Having Vacarro back there will not only solve that problem and make the back end much more formidable, but pairing him with the 2 other playmakers at CB, Carr and Claiborne, will result in more TO's for this defense as well, which has also been an ongoing problem since Woodsen left.
Now, with the 80th pick of the 2013 NFL Draft the Dallas Cowboys select...
William Gholston DE Michigan State
Getting Gholston in the 3rd Round is an absolute steal, He falls this far due to character concerns but he is well worth the risk. at 6'7 and 278 lbs Gholston is a monster, to play the 3-4 DE spot he will need to add on a little more weight much like Crawford did last season but that shouldn't be a problem. After Crawford reaches his potential pairing him with this guy and Sean Lissemore will make for a pretty good line tandem for years to come. Anyway, Gholston could end up being the steal of this entire draft if we get him here, he will provide a tremendous pass rush off the edge and we could turn into a 2011 like NY Giants type defense with a better back end.
With the 111th Overall Pick in the 2013 NFL Draft the Dallas Cowboys select...
Kenjon Barner RB Oregon
Kenjon Barner is a playmaker plain and simple... Rushing for almost 1,000 yds as a backup last season and well over 1600 this season while splitting carries with another dynamic running back, he is exactly what Dallas has been needing in this offense. A home run threat. He could turn into what Felix Jones was supposed to be and with him leaving town we will be needing a replacement, insert Kenjon Barner. Also he is a dynamic kick returner and could help Dwayne Harris out in the KR game. Not bad for a 4th round pick.
With the 144th Overall Pick in the 2013 NFL Draft the Dallas Cowboys select...
Michael Williams TE Alabama
James Hanna will probably be the 2nd TE behind Witten but we will now need depth behind him since John Phillips is a free agent and IMO he will not be back.Michael Williams is the starting TE on a proven winner in Alabama and in the 5th round those are the kind of things you look for in the draft. He has played for a great college coach in Nick Saban, who happens to be a personal friend of JG, so this pick just makes too much sense if you ask me.
And with the 175th and final pick of their 2013 NFL Draft (for now) the Dallas Cowboys select...
Colin Klein QB Kansas State
Tony Romo can't play forever and eventually we'll have to start grooming a replacement for him. Colin Klein fits the bill perfectly,Klein has tremendous upside due to incredible athleticism, he is somewhat of a cross between Tim Tebow and Ryan Tannehill. Tebow's athleticism, leadership, and running ability, mixed with Tannehill's size, pocket presence and accuracy. He only falls this far because he is not as NFL ready right now as those guys were coming out of college and will take a few years to develop. But, if coached properly, Klein has the tools to become a Franchise QB in the NFL eventually, look what he did for Kansas State in his senior season, no one would ever have expected him to be a Heisman Candidate before this season started.
Well there you have it Cowboys fans, my first mock draft. I know I didn't take any O-Line players and I'm not stupid enough to not know that this is the biggest area of concern on our football team. I just fully expect that the Cowboys will fix this problem through free agency instead of addressing it in the draft. Hopefully, we will cut Doug Free and sign Sebastian Vollmer or Jermon Bushrod to play RT and Andy Levitre to play the OG position, while shifting Mackenzie Bernadeau to C and let Nate Livings battle Ronald Leary and David Arkin for the other starting spot. But anyway, it's just a thought. Feel free to voice your opinions & tell me what you think, I'll be waiting.