I originally was gonna wait until after free agency to know where the Dallas Cowboys stand before doing another Mock Draft, but I decided to do one more pre free agency Mock Draft since we switched to the 4-3 defense. In this Mock I will be going under the suspicion again that we DO NOT resign Anthony Spencer. I'm hoping this is the case because Spencer has been nothing but a decent player his whole career in Dallas and 1st round draft picks are supposed to be at least good if not great. I think Spencer only had a good season this year because of Demarcus Ware playing injured. Most of his sacks took place later in the year after Ware was injured. Ware had ten sacks before he got injured and only had 1.5 over the last 7 games. If Ware had been healthy he would have at least took 5 sacks away from Spencer and he would have had 5 or 6 again instead of 11. In this Mock I will also provide options for each pick as well.With that being said let's get this Mock Draft Started.....
With the 18th pick in the 2013 NFL Draft the Dallas Cowboys select....
Sam Montgomery DE-LSU or....
Alex Okafor DE/Texas....
I prefer Montgomery over Okafor but either would be a tremendous edition to the Dallas Cowboys D-Line opposite of Demarcus Ware. Montgomery may be off the board but he may not. He is ranked #17 overall and Okafor is #22 according to CBS Sports, but who knows what's going to happen in the draft and a lot of teams usually reach to fill a position of need, especially the skill positions so it may very well end up being that both are on the board. In this case, I think we will have to replace Anthony Spencer first and foremost and both of these guys are capable of taking over a game. I feel like we will probably be replacing Ratliff as well so our D-Line will probably be Ware/Hatcher/Lissemore or Crawford/Montgomery or Okafor... Pretty good looking D-Line for the Full Monte if you ask me... we may also go DT it just depends on free agency and the Ratliff decision...
Now onto the 47th pick... Dallas Cowboys select...
Larry Warford OG-Kentucky or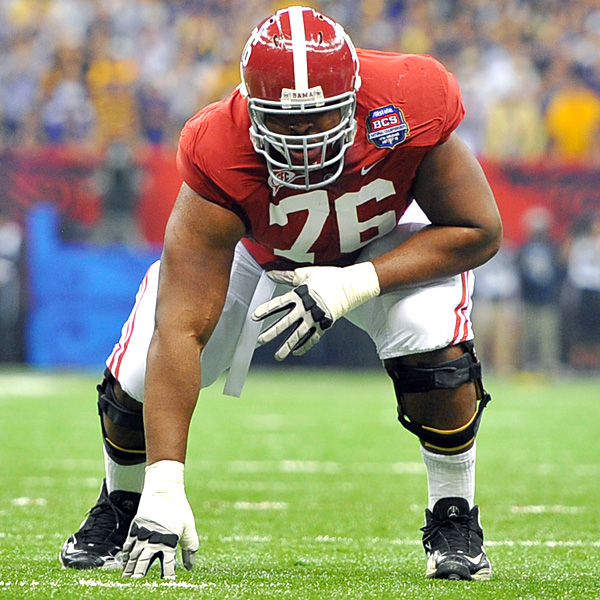 DJ Fluker OG-OT Alabama...
We need O-Line help tremendously... either one of these guys has the ability to come in and start on day one... I think that we should release Livings and move Berny to C where he played quite well last season... start either one of these guys in one G spot and either Arkin/Leary in the other one... after cutting Free we will need a RT in Free Agency but I think that's whats gonna happen. If it does our O-Line and D-Line (by far our biggest area's of concern) will both look significantly better and improved.
With the third round 80th pick of the NFL Draft the Dallas Cowboys select...
TJ McDonald S-USC or
Landry Jones QB-Oklahoma...
I have to believe that TJ McDonald is the pick here if he's available just because of his familiarity with Monte Kiffin's system... This guy was a Superstar in that scheme 2 season's ago when they actually had decent players on defense. Cowboys have lots of star players especially the DB's and McDonald has a chance to excel at the pro level because of them. Not bad for a 3rd Round Pick... If he's gone then we have to start building for the future at some point and Landry Jones is the best choice if he's still around because Tyler Wilson will be long gone. and Jerry loves Oklahoma players.
With the 111th overall pick Dallas Cowboys select...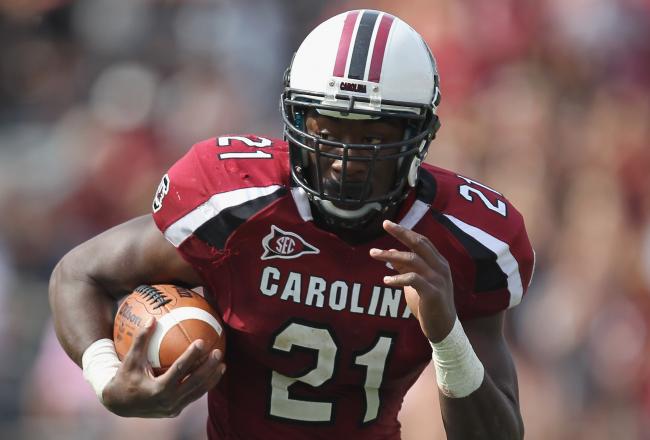 Marcus Lattimore RB-South Carolina or
Kenjon Barner RB-Oregon...
Marcus Lattimore was the #2 prospect in this ENTIRE class before last season started, and he is so good that even after tearing 3 of the 4 ligaments in his knee he may not even be available here. If he is we should definitely take a chance on him. I know Murray is injury prone but I still don't believe that will always be the case and even though Lattimore was overused in college his carries on this team will be limited and his re-injury risk will be lower and he will be a perfect compliment to Murray. If he is gone or the coaching staff doesn't wanna take the risk then we should get Kenjon Barner. He is a tremendous playmaker that Dallas has never really had and if used properly he could be the next Darren Sproles and even better.
with the 144th Overall Pick the Dallas Cowboys select...
Tyrann "Honey Badger" Mathieu CB/S-LSU... or
Colby Cameron QB-Louisiana Tech...
Depending on what happens in the 3rd round kinda dictates what may happen here. We may still select Tyrann even if we get TJ McDonald in the 3rd just for CB depth... If the coaching staff decides to take the risk Tyrann would be an excellent pick up to play at Corner or transition to S.... Simply put, he is a PLAYMAKER and the definition of the term Ball Hawk... We can never have enough of those on this roster and they may not be considering a replacement for Tony Romo just yet... maybe they want to wait til next season if they don't get Landry and use a higher draft pick on one... BUT... if they are AND they don't get Landry in the 3rd I think they should take a flyer on Colby Cameron here in the 5th round...Cameron only falls this far due to his height (6'1) and questionable arm strength (So he doesn't have a cannon) he has proved to be an excellent decision maker throwing only 5 int's to 31 TD's last season... Also setting a record for most completed passes consecutively without an int (444)
Now with there final pick as of right now... the 175th overall... Cowboys select...
Quanterus Smith DE-Western Kentucky or...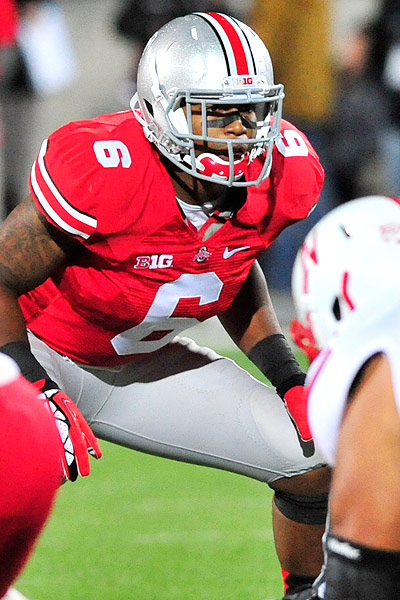 Etienne Sabino LB-Ohio State...
In the 6th Round it's the time to take chances on players that may or may not become special players... Quanterus Smith is a small school STUD who led the Nation in sacks with 12.5 in only 10 games last season. He falls this far because there are questions about his health due to a torn ACL that required surgery and because he played in the Sun Belt Conference. However he has played against powerhouse programs like Alabama and LSU and fared pretty well despite being double teamed a lot. Sabino was a complete underachiever at The Ohio State University quite honestly, maybe it was because of character or poor scheme fit but who knows? All I know was this guy was the #1 prospect in the country coming out of high school for a reason... If he can get motivated and Coached Up properly he may have some serious untapped potential.
Well there you have it Cowboys fans... a NEW 4-3 Defense Mock Draft and I'll be doing another after free agency so we'll have a better idea of exactly what we need. In the meantime what do you all think about this draft as things stand right now? I can't wait to hear opinions.... Also I got all of these draft positions and rankings from cbssports.com if anyone would like to check them out...