Hello blogging the boys.I wanna fast forward a couple of months to draft day.Theres alot of speculation to be had between now and then,alot of climbers and fallers on depth charts,i mean i wanted Derek Wolfe last year with our 3rd or 4th rounder-i remember being told a 3rds was a reach for him,but then come draft day the broncos take him with a 2nd round pick.Already players like Margus hunt,Lane Johnson and Kawann Short are moving from being projected 2nd or 3rd round picks to middle of the 1st round.
Now the general conscensus with this draft is that its deep and i keep hearing quotes such as 'theres not much difference between the top 5 picks and the 40th pick' and 'its a deep draft for guards and dline'.Along with this there are a few names at safety being branded around as good picks in the middle rounds.Al 3 of these positions would fill a position of need on our roster either filling a hole or providing an upgrade in there given postion.
Allthat being said,and given Jerry jones tendancy to move around in the draft ive worked long and hard to work on my my mock draft.Initially we start of with picks at 18/47/80/111/144/175.
Pick 18
I want to trade here and acquire more picks.
Initially i was looking to trade with the Bengals
18(900) for 37(530)+ 52(380)=910
i also liked a trade scarlett0 brought to my attention
18(900) to the colts for 24(740)+86(160)=900
But as we come on the clock the phone rings.
Its the falcons
18(900) for 30(620)+60 (300)=920
I take the trade with falcons!Now im left with picks at 30/47/60/80/111/144/175
So im sat here bideing my time for my go on the clock.29 is on the clock.Ive got lots of options
Jesse williams,Eric reid,Alex okafor,Barret jones,D.J fluker are all sat there,i like them all.
PHONE
Its Miami
30(620) for 42(480)+82(180)=660
I take the deal.I mean-theres got to be options at 42 right?With so many qb needy teams to pick early in the 2nd round.
So that night,i check blogging the boys.Its uproar.The talk of 2009 wont go away.But day 2 is nearly upon us and ive got picks at 42/47/60/80/82/111/144/175
And so 42 come on the clock
I select
Alex Okafor-de-Texas
Analysis
Strengths
Already possesses NFL size and length, and has room on his frame for growth. Powerful punch and arm extension takes linemen into the backfield and allow him to hold up and split double-teams. Gets off the ball quite well, will challenge the upside shoulder of right tackles and can step inside to get into the B-gap as a counter move. Flashes quick hands to move past tackles on his way to the quarterback or disengage to chase plays to his side. Can get low to swallow running backs coming into his area and stop quickly to rein in quarterbacks before they step out of the pocket. Feels the cut block an defeats it with his hands. Good hustle to the sideline and downfield to chase ballcarriers.
Weaknesses
Best as a strong-side 4-3 end providing strength against the run and some pass rush, lacks short-area quickness to play standing up in the NFL. Runs high and stiff when dropping into coverage or trying to change directions quickly in the open field. Gets stuck on some man-up blocks, allowing running backs to run around him instead shedding to make a play.
NFL Comparison
Bottom Line
Okafor offers a different skill set than what many of his 2013 peers put forward, powerful hands and length to press and attack. He dealt with an ankle injury in 2012 and was forced to miss his first start in 33 consecutive games, but Okafor certainly finished the season on a high with 4.5 sacks in the school's bowl game against Oregon State. He projects as a true left defensive end in the NFL.
47-Im on the clock again
Jesse Williams-dt-Alabama
Analysis
Strengths
Brute nose tackle (though he plays some five-technique) with a very good motor. Solid two-gap player who keeps his eyes in the backfield to find the ball. Plays with leverage, gets under the pads of his man to hold the line or push him into the backfield. Has enough quickness and power off the snap to pop off his blocker and grab backs heading outside or coming through the middle. Uses quick hands to swipe aside lunging blockers to penetrate into the backfield. Stays upright against cut blocks and gives second effort to get up when on the ground. Gets low with power in short-yardage situations. Also hustles to the sideline to chase scrambling quarterbacks and stretch plays when fresh. Pushes the pocket a bit as a pass rusher, and will work past lesser blockers' shoulders into the backfield. Cleans up piles, sending linebackers flying.
Weaknesses
Not an exceptional athlete, relies on hustle and strength to make plays. Lacks the quickness and agility to be a regular factor in pass rush or corral quicker ballcarriers in space. Thick in the middle and a bit thinner in the legs; plays top-heavy, ends up on the ground too often. Gets caught up on blocks at times inside, lacking hand and foot quickness to disengage to make the play.
NFL Comparison
Bottom Line
This Australia native came through the junior college ranks before starting all 13 games for the 2011 BCS champions at five-technique and another 13 games at nose tackle in 2012. Williams uses his size, consistent motor and supreme toughness to drain his opponents at the point of attack. His best NFL position is likely at nose tackle, but Williams has enough athleticism to play multiple spots for a 3-4 team at the next level.
60
Travis Frederick-c/g-Wisconsin
Analysis
Strengths
Thick-bodied interior lineman with experience at guard and center. Possesses upper body strength to turn his man out of the hole, help one guard in pass pro with one hand. Gets his hands up quickly after the snap, keeps them inside. Also moves his feet well to get angles, combo from tackle to linebacker. Churns his legs as a drive-blocker, gets movement. Anchor is strong, does not get bulled backwards when man-up and late blitzers bounce off his chest. Works hard to sustain and finish one-on-one blocks. Regularly used on the move whether at guard or center, fits on blocks well whether stepping up to the second level or outside the hashes. Shotgun snaps are reliable with good velocity.
Weaknesses
Girth in the middle takes away some quickness behind the line, takes time to get around the tackle and gets tripped up in traffic when on the move. Gets out-quicked by interior blitzers and occasionally stops his feet in pass protection. Can lose his balance when leaning into his man, though he recovers well enough to get back in the play.
NFL Comparison
David Bass
Bottom Line
The Badgers' streak of providing the NFL with top interior line prospects should continue with Frederick because he uses his toughness and thick body, in addition to excellent technique and flashes of foot quickness, to move defenders whether at guard or center –where he played during the 2012 season and probable NFL spot. A top-75 selection is likely
80
Phone
80(190) for 90(140)+122(50)
82
Sean Porter-olb-Texas A+M
Analysis
Strengths
Athletic linebacker with the short-area quickness and football IQ to switch from playing the run to checking a slot receiver to attacking a scrambling quarterback on the same play. Good speed in the open field, and can burst to close in pursuit. Effective pass rusher with a good first step and flexibility to get under a tackle's upfield shoulder, a shimmy inside to get the direct lane, and also a quick spin move helps him get off leaning tackles. Has a nice inside counter for when tackles start overplaying his speed rush outside. Occasionally gets under the pads of taller tackles to bull them into the quarterback. Slippery blitzer who knows how to get skinny through inside lanes. Breaks down in a hurry to wrap up ball carriers, brings a bit of pop despite his average size. Fluid hips changing directions. Really progressed as a senior in coverage of tight ends and slot receivers, gets his hands on them at the line of scrimmage and crossing over the middle, and the click-and-close ability to break on the ball quickly on underneath throws. Takes on fullbacks, goes lows to win leverage and make plays on inside runs.
Weaknesses
Undersized with long legs and short arms, lacking in explosive speed and great length. As a pass rusher, he's more of a blitzer than a true outside edge rusher. Can set the edge against weaker tight ends, but can get engulfed at the point of attack by most tackles and pro-caliber tight ends. Can get lost in no-man's land in coverage. Does not use his hands effectively to beat cut blocks. Very little pop in his hands or his tackles, and he has a tendency to lunge. Good burst filling inside and in pursuit, but can get out of control and doesn't always display a good understanding timing and angles. Will need to be protected by a solid defensive line in the NFL.
NFL Comparison
Bottom Line
Though not quite as big, long, or explosive as former All-American teammate and the 2011 draft's second overall pick, Von Miller, Porter is athletic and productive (17 tackles for loss, 9.5 sacks in 2011) enough to be an early-round selection capable of handling all starting linebacker duties in any defensive scheme. His build and playing style makes him a bit of a tweener, but his athleticism and progression in coverage as a senior suggest he might fare best as a weakside linebacker in a 4-3
90
Alvin Bailey-g-Arkansas
One of the biggest (literally and figuratively) reasons for Arkansas' success on offense has been the stellar play of junior guard Alvin Bailey. Since redshirting in 2009, Bailey has started all 26 games of his career, earning SEC Offensive Lineman of the Week last season against New Mexico and earning second team honors from the conference coaches for the season, overall.
While Bailey typically lines up at right guard, Arkansas frequently switches its linemen for strong-side and weak-side responsibilities, so Bailey has experience on the left side, as well.
Analysis
A naturally massive man, Bailey shows impressive quickness off the snap and can knock defenders off the ball in the running game. He's athletic enough to handle blocking on the move - a requirement in an Arkansas scheme that often requires the guards to pull and block at the second level.
While quick enough to get out in space, Bailey struggles to re-direct if the defenders sees him coming and often is forced to lunge at his opponent, resulting in some impressive knock-down blocks but also an occasional miss. The talent and poise of skill position players around him has helped Bailey in pass protection as he has a tendency to stop moving his feet and attempt to control his opponent with just his size and strength.
For a big man, however, Bailey shows the ability to block low enough to anchor. He still needs to refine his game but could earn top 100 consideration in either the 2013 or 2014 draft should he continue to develop.
111
D.J Swearinger-s-South Carolina
Captain of the South Carolina defense and a four year starter, few college safeties hit as hard as Swearinger. Even though he played offense and defense in high school, there was never any doubt about where he fit at the college level – though there was some doubt about where he was going to play. Swearinger originally committed to Tennessee, but the resignation of then-head coach Phillip Fulmer caused a switch to South Carolina, where Steve Spurrier was more than happy to see him. An enforcer in the middle of the field, Swearinger is an incredibly productive and physical defender who has played every position in the secondary for South Carolina.
Swearinger played in all 13 games of his true freshman year for the Gamecocks (19 tackles), and then saw more time on defense as a sophomore, starting eight games while moving between free and strong safety (66 tackles, interception, five pass break-ups). He took more of a leadership role as a junior, starting every game, moving from strong safety to free safety in the third week of the year (80 tackles, three interceptions, three pass break-ups). In his senior season he was as productive as ever (80 tackles, two interceptions, seven pass break-ups) and saw his role grow even further, notching a significant amount of snaps at cornerback when injuries decimated the position for South Carolina.
Analysis
Strengths
High-motor, downhill run and pass defender who throws his body around, but with some control. Big hitter over the middle on receivers and pounding running backs, especially in tight quarters and as a backside pursuit defender. Good lateral movement to flow with runs from the back half, yet fly into the hole to prevent big runs. Feisty in-the-box defender who out-quicks or swims over lead blocks and fights through the whistle. Has experience at a variety of positions, and lines up against receivers regularly, using his physicality, agility, and knowledge of routes to stay with them across or down the field. Has the range to split the field in half in two-deep coverage. Effective blitzer off the edge, brings force into fullback blocks and quarterback hits. Competes for the ball while the receiver is making the catch, as he does in every other part of his game. Makes the easy interception on poor throws, but also snatches and dives for tougher picks.
Weaknesses
Average height for the position, though he has good thickness in his lower body. Best in a two-deep look, might not have the range to make plays and length to take on deep routes in single-high, although South Carolina often asks him to fulfill this role. More of an enforcer against receivers than backs. Prone to leaving his feet and goes low on tackles (especially in space), pro backs might avoid them more easily in the open field. NFL quarterbacks might take advantage of his aggressive nature, as he will jump underneath routes. Gets overly physical with receivers, sometimes crossing the pass interference line because he lacks the pure speed to keep up. Straddles the line with trash talk and hits through the whistle. Will likely get flagged and fined for overly-aggressive play.
NFL Comparison
Bottom Line
This tenacious hitter originally planned on going to Tennessee, but the resignation of Phillip Fulmer sent him into the arms of Steve Spurrier at South Carolina. He's played in every game since he arrived on campus, except for the 2012 matchup against Missouri, for which he was suspended after a hit on a defenseless receiver. He has played both free and strong safety, and his good performances as a spot duty at corner against big receivers suggests he has the potential to cover NFL tight ends in coverage well. He projects to be a day two pick.
122
Speancer Nealy-dt/de-Texas A+M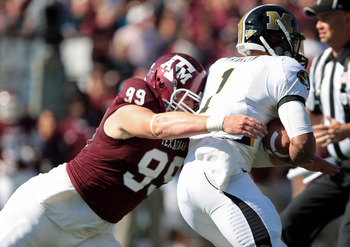 Spencer Nealy, DT, 6-5, 277, Sr. -- For a defensive end to be successful rushing the passer, he's got to have some help from the inside, and Nealy has provided a constant presence up the middle for Texas A&M this season. A little light compared to most defensive tackles, Nealy has a quick first step that has allowed him to get 2.0 sacks and 2.5 tackles-for-loss.
144
Joe Kruger-de
UTAH: Second-year starter has moved from left to right end ... 6-7, 275-pounder has 4.78 40 speed ... has played in all 26 games since his true freshman season.
2011-Played in all 13 games with seven starts at left end ... 35 tackles includes 5.0 TFL and three sacks ... six tackles (one TFL) against USC ... five tackles against Arizona ... four tackles and a sack with a pass breakup against Cal ... four tackles with 1.5 TFL (one sack) against UCLA ... 7-yard sack and a forced fumble against Pittsburgh.
2010-Played as a true freshman in all 13 games, mostly on special teams ... four total tackles ... two tackles against UNLV ... tackle for loss against San Jose State ... pass breakup vs. New Mexico ... Academic all-MWC.
HIGH SCHOOL: First-team all-state and all-conference as a senior in 2009 ... ranked in the nation's top 25 defensive ends by Rivals.com ... led the state in sacks (15) and had 51 tackles his senior season ... lettered four years in football and basketball
PERSONAL: Son of Paul and Jennifer Kruger ... father played football for Oregon State ... three brothers and two sisters ... brother Paul, an all-conference defensive end for Utah in 2008, was a second-round draft pick of the Baltimore Ravens where he is now in his fourth season ... brother Dave is a Ute senior defensive tackle ... brother-in-law Tony Bergstrom, an all-Pac-12 offensive lineman for the Utes in 2011, was a third-round draft pick of the Oakland Raiders ... enjoys snowboarding, wakeboarding, hunting and fishing ... economics major ... full name is Jonathan Wells Kruger ... born June 4, 1992.
| Defense | G | Solo | Asst. | Total | Sacks/Yds | TFL/Yards | FF | FR | P Def | Int/Yds |
| --- | --- | --- | --- | --- | --- | --- | --- | --- | --- | --- |
| 2010 | 13 | 3 | 1 | 4 | -- | 1 / 1 | -- | -- | 1 | -- |
| 2011 | 13 | 17 | 18 | 35 | 3 / 19 | 5 / 26 | 1 | -- | 1 | -- |
| 2012 | 11 | 19 | 11 | 30 | 6 / 35 | 8 / 37 | 2 | -- | 1 | 1 / 24 |
| TOTAL | 37 | 39 | 30 | 69 | 9 / 54 | 14 / 64 | 3 | -- | 3 | 1 / 24 |
-Utah
175
Kapron Lewis-Moore-dt-Notre Dame
Overview
After watching Lewis-Moore stand toe-to-toe with 2012 top five pick Matt Kalil during the traditional Notre Dame-USC rivalry game, it was hard to imagine that he had detached the MCL from his right knee during the contest. The injury cost him the last half of his junior season, but the performance against Kalil and the rest of the Trojans' offensive line earned the respect of coaches and scouts alike.
The Texas high school product had started all seven games to that point in the 2011 season, earning 32 tackles, four for loss, and 1.5 sacks. It was his third season as a starter, as he opened up all 13 games as a sophomore and nine (while playing in all 12) as a redshirt freshman. He had led Irish defensive linemen in tackles in each of those two seasons, as well, with 62 (2.5 for loss, two sacks) in 2009 and 46 (seven for loss, 2.5 sacks) in 2009.
Analysis
Strengths
Plays the three and five-technique positions well utilizing his tall, thick build. Possesses a nice combination of strength (he can push single blocks backwards and stand up to double teams) and looks like a 270-pound end with the short-area agility to play head-up or shading the left tackle. When fresh, he's constantly using his hands to direct his blocker or shed to make plays against the run.
Weaknesses
Not an elite pass rusher because of a lack of explosiveness off the snap and closing speed, but quarterbacks certainly feel his presence once breaking through the line. Good hustle to chase down running backs trying to get the edge on stretch plays. Tends to be on the ground more often than scouts prefer, either failing to defeat cut blocks with his hands or losing his balance after contact.
NFL Comparison
Bottom Line
Despite average production and a right knee injury that ended his junior season prematurely, Lewis-Moore has shown the combination of size and athleticism to become either a starting five-technique or three-technique defensive tackle at the next level; a healthy 2012 could cement a spot in the top half of the 2013 draft.
Thats my draft,only took me a month to compile the various trade scenarios,look into different players and gather the info. Well alittle under 3months to go,wonder how many times it will change but upto now ive managed to recruit
Alex Okafor-starting de
Jesse Williams-starting dt
Travis Frederick-Starting centre or Guard
Sean Porter-Starting linebacker
Alvin Bailey-Starting Guard
D.J Swearinger-Starting safety
Spencer Nealy-Back up Dt or De
Joe Kruger-back up de
So the trenches have been well and truely reinforced