I think most of us would agree that this game was one of them most exciting games we've seen in a while. As I watched the game I was pleasantly surprised with how well our offense played. Conversely, I was frustrated with how we played defensively. I re-watched the game this morning in hopes I could gain an understanding of why things were the way there were. Here is what I found:
#1 – We are an outstanding passing team
There has been so much talk about the importance of balance. Phooey on that. This team has to play to its strengths and if Sunday showed us anything it's that Romo and his weapons can be very damaging to defenses. Terrence Williams is really starting to show some of that great Baylor talent as he seems to be coming into his own. People were so hard on him for making a couple crucial mistakes, but the kid is still a rookie. But as he just proved, he's extremely talented and a great fit as a deep threat in the passing game.
Cole Beasley
keeps catching everything thrown to him and has been very productive. He got himself four catches and continues to show his value. Keep giving him targets.
Romo was 25 for 35 with 506 yards (14.1 yards per reception I might add) and 5 TDs. It was clearly one of the most incredible performances I've seen from him. His ability to escape and make defenders repeatedly miss was a sight for sore eyes. The gun slinging playmaker that seemed to be missing the first four games had suddenly reappeared. Somebody just had to put out the bat signal and I guess it came in the form of facing that high scoring offense known as the Golden Nugget Express. Make no mistakes about it – he answered the call in a big way.
But some people aren't satisfied. They look at the game result and question why we abandoned the run again. I grow tired of the "we're undefeated when DeMarco Murray gets 20+ carries" being thrown up every time we lose and he doesn't get enough touches. People need to let that go. Correlation doesn't equal causation. Yes, when we are in games where we have taken control Murray gets more carries. But we're not winning because we're running more. We're running more because we're winning. Murray had 12 carries for 43 yards with an unimpressive 3.6 yards/carry. It gets even more unimpressive when you take out his only two good runs of 9 and 13 yards (2.1 yards/carry). It should be no surprise that those runs came after we had the defense on their heels from continuously burning them with our passing game.
Here is how our first drive started out:
1st down – Murray for 4 yards. 2nd down – Romo to TWilly for 25 yards.
1st down – Murray for 2 yards. 2nd down – Romo to Witten for 14 yards.
1st down – Murray for -3 yards. 2nd down – Romo to Harris for 13 yards.
1st down – Murray for 2 yards. 2nd down – Romo to Beasley for 10 yards.
Had we committed more to the run, we wouldn't have been able to hang with them. And I'm not blaming Murray for the running game. He actually ran hard and with a purpose. It's just that we aren't nearly as good in run blocking as we are in pass blocking. Doug Free, Brian Waters, and company did an outstanding job in pass protection. Why would we think of doing anything else when we were doing such an outstanding job in the passing game?
I understand the importance of balance and sustaining the presence of a running game. I'm not suggesting we abandon the run, but what I am saying is that the play calling was outstanding on Sunday despite only giving Murray 12 carries. Dallas is holding true to the idea of taking what the defenses give them and they had their foot on the gas against the Broncos. It was the right move.
#2 – The defense wasn't as bad as I thought
It's hard to look at the 51 points Denver put up and try to say something positive about our defense, but I'm gonna give it a shot. First off, looking through the game film it was evident that the Broncos offense was executing extremely well. Dallas was so concerned with covering DeMaryus Thomas,
Wes Welker
, and
Eric Decker
that they left too much space over the middle. Of Peyton Manning's 33 completions, only 15 of them were to wide receivers (5 each for Thomas, Welker, and Decker). What hurt us was the dump offs to Knowshawn Moreno,
Ronnie Hillman
, and short passes to tight end Julius Thomas. I've heard a lot of criticism about how our corners were abused and they certainly got beat, but the coverage was better than I realized. Manning was just putting the ball in the perfect spot. Here is snapshot on that back shoulder pass to Decker for the Broncos second TD. Looks like Mo has pretty good coverage. Sometimes you just gotta tip your cap to them.

There were several plays where their receivers just made great catches. The most notable concern for me was that our coverage on Julius Thomas and the Broncos RBs wasn't good. Barry Church, who I initially thought played real well, got beat by Moreno on an over the shoulder pass (albeit, great execution) and he missed a tackle allowing Julius to lunge in the end zone. It wasn't just Church. Everyone struggled with Julius Thomas. Sean Lee got called for pass interference and Bruce Carter was seen throwing his hands up in frustration after he blew a coverage resulting in a converted third down play.
But it wasn't all for naught. Our defense did some things well. They were smashing ball carriers forcing fumbles. The pass rush was decent; Manning just got rid of the ball quickly. And Mo did have a pick on a lame duck pass Peyton threw. And we were providing stops in the second half that opened up the window for us to get back in the game (4 TDs in the first half, only 2 in the second).
#3 – Caught some bad breaks
In a game where we need most of the stars to align to pull out the win, we came up a few stars short. There were a handful of little things that could've gone a little different and could've made a big impact on the outcome. Manning should've been called for an intentional grounding penalty which may have actually forced their first punt. Of course, the Romo interception in the final two minutes might've never have been had he not been tripped up by his own lineman. Joey Ickes has clearly explained that one and it's definitely worth checking out if you haven't already. But even after all that, we still had a chance in the game. After the pick, DeMaryus Thomas caught a first down pass at the 10 yard line, but they spotted the ball at the 11. This allowed the Broncos to get a first down, run the clock down, and kick the game winning field goal.
Here's the first down mark….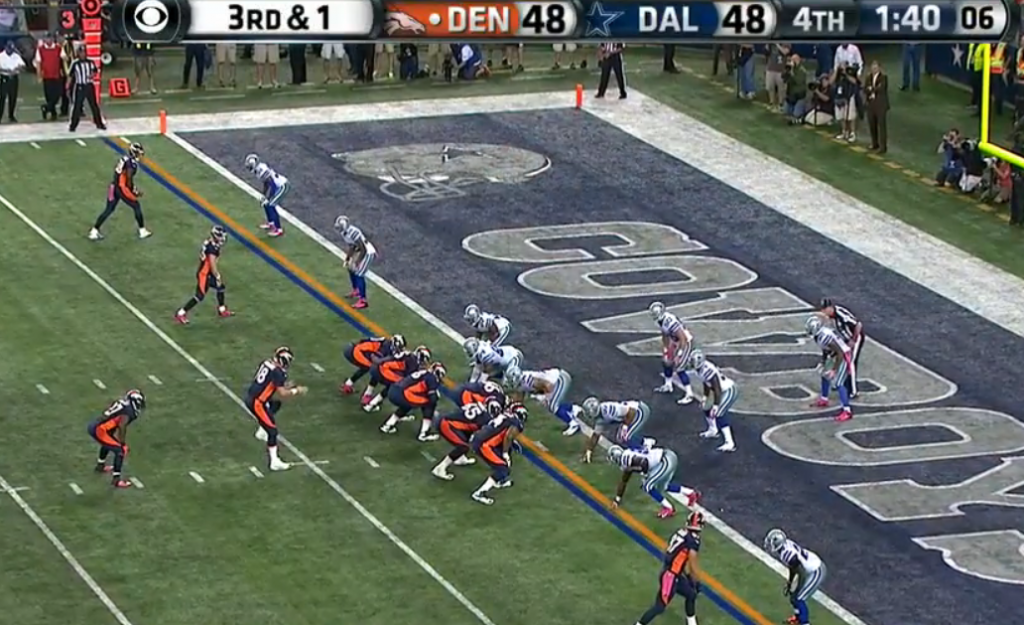 And here's where he actually came down…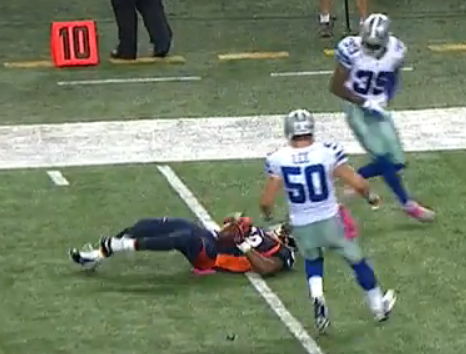 It should've been first and goal after the Thomas catch, not first and ten.
Usually, games where we come up just short leave a bitter taste in my mouth. For me, this game had the reverse effect. Sure, I would've loved to come out victorious, but I think we made a big discovery on offense. As Brian Waters gains more reps with our line and our young receivers gain more experience I think our offense is molding into something that is going to be hard to stop. And although our defense has been mostly Hyde, we've splashed in some Jeckyl and I think it can develop into a unit that can keep our opponents to fewer points than what our offense gives us. I mean, we won't be facing the Broncos offense every week. Considering how many reserves have been thrown into starting roles (Hayden, Selvie, Wilcox, Scandrick, and now Sims) we are still trying to get things figured out. New coordinators, new system, and new players – that's a lot of moving parts needing to come together.
I like the energy this team is playing with and feel very anxious to see if this offensive output is an anomaly or if this is something we should expect more of as the season progresses. If it's the latter, it's going to be a fun ride.