Sunday Night's game against the New York Giants was a long time coming. It had been 252 days since Cowboys' football brought this loyal fan the exhilarating ride that accompanied almost every games of the 2012 season. That's a long time. That's practically a Kardashian marriage. My blood started pumping when Carrie Underwood reminded me that I had been waiting all day for Sunday Night. I even found myself excited to hear Chris Collinsworth's voice as he was like an old family member you haven't seen in a while – not a great family member, just one that everyone pretends to like. But nonetheless, football was finally here. And now that it has arrived, there is so much more to talk about. Here are ten plays that have stood out the most to me.
Play #1 – Ware Interception
Just as an intercepted screen pass ended our season in 2012, an intercepted screen pass started it in 2013. What a way to start – a
DeMarcus Ware
interception. At that point he was on pace to have 1,043 interceptions for the year which would most definitely challenge the single season record. While sustaining those numbers may be a little unreasonable to expect, one thing was clear - the 2013
Dallas Cowboys
' defense is going to take the ball away from you. Looking at the play,
Jason Hatcher
blows through the Giants' lineman like he wasn't even there and
Bruce Carter
came on a blitz.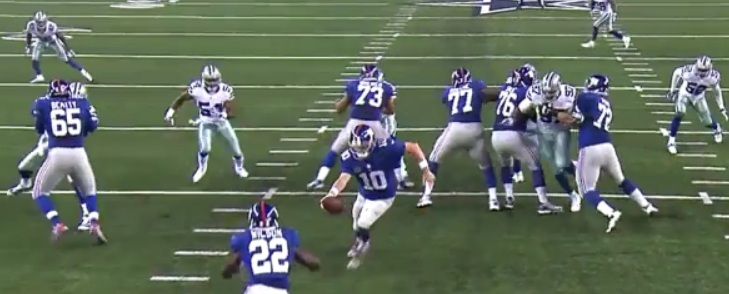 Nick Hayden
(who I love more and more with every play) is able to slide around his blocker and that leaves three Cowboys' defenders in Eli Manning's face. DeMarcus had that screen sniffed out well. Tough luck Eli, I'm sure things would get better.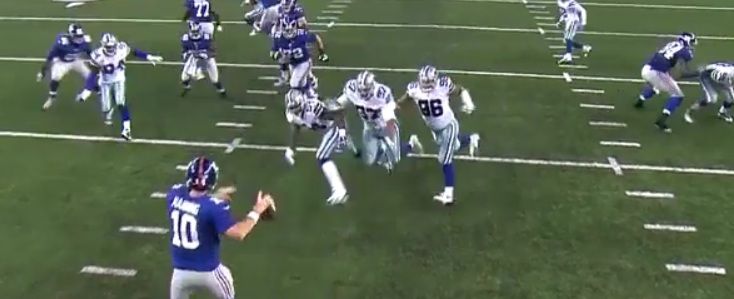 Play #2 – The Goal Line Stand
While there has been a lot of praise thrown at
DeMarco Murray
and
Tony Romo
for not allowing
Ryan Mundy
to get in the endzone on the Romo interception, I am even more impressed with what happened next. Our short yardage defense has been something that many of us have voiced as a concern so when the Giants had a 1st and goal from the one yard line it wasn't looking promising. But then Nick Hayden happened. His strength took on the interior of the Giants' line and opened up the lane for our fast attacking linebackers.
We are able to converge quickly and stop
David Wilson
for a loss.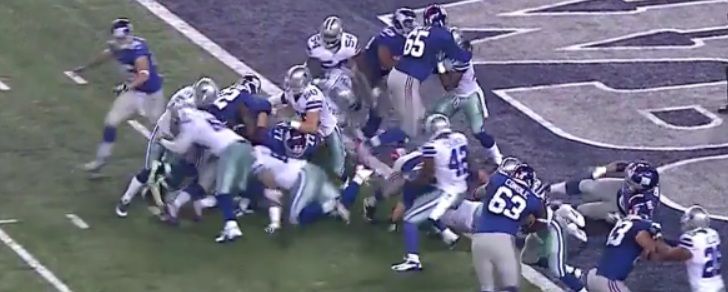 And since that didn't work for the Giants, they decided to pass on 2nd down. Hayden again pummeled through his man and
George Selvie
skated around his blocker causing Eli to go down for the sack. This forced the Giants into a 3rd and long which wasn't converted and they had to settle for a field goal. That was a huge sequence and great stand for our defense. Our interior line may be perceived an area of concern, but they delivered results on this day. Hayden was beating his man like he owed him money.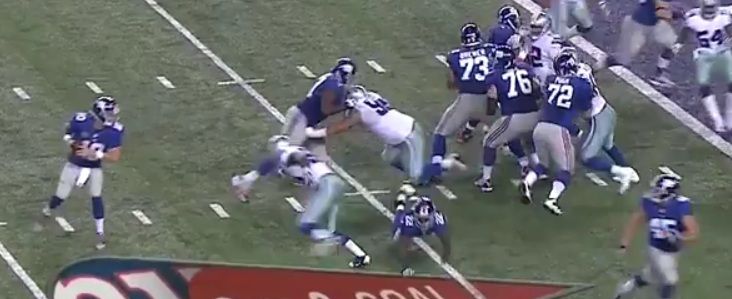 Play #3 – Hayden Strip
I know David Wilson was put in a timeout for his little fumbling problem, but to his defense our guys were coming after that ball. We didn't just get lucky. A close look shows my boy Nick Hayden putting his hands in the right place and using his strength to pull the ball loose.
Play #4 – Holloman Fumble Recovery on Muffed Punt
There is no denying that we caught some breaks when it came to getting six turnovers. But sometimes you make your own luck. Our defense took full advantage of Giants' miscues. In years past the ball would wonder aimlessly on the field before a defender even knew what was going on. Not anymore. And Devonte started making a name for himself in the preseason for always being around the ball. Well, he was around it again on this play.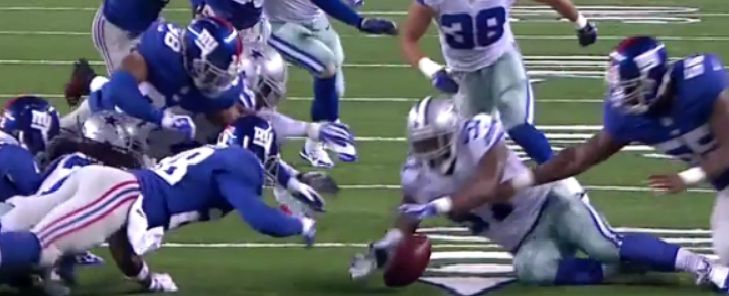 Play #5 – Good Protection from the Offensive Line
Overall, I was pleased with the performance of our line. We did hold a few times, but Tony had plenty of time most of the night. During this particular play Romo is able to survey the field well. He's looking for Dez on the right end of the endzone, but Bryant is covered well.
Tyron Smith
and
Doug Free
do a great job of containing the ends and
Travis Frederick
gives
Mackenzy Bernadeau
some help in the middle. Tony has all day and is able to hit
Jason Witten
for his second touchdown of the evening.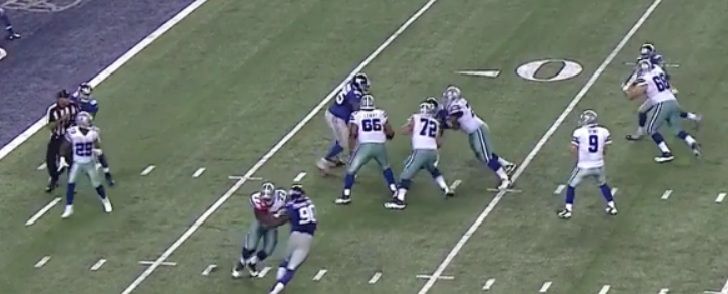 Play #6 – DeMarco Murray 13 Yard Scamper
There weren't a lot of running lanes Sunday night, but Murray was able to scrounge out 86 yards on 20 carries. I thought he did pretty good for what he was given. I am pleased with the progress we are making in this area and feel optimistic that we will be able to run the ball when our execution improves. On this run Tyron Smith, Ron Leary, Jason Witten, and
Gavin Escobar
all do a great job securing their blocks. I'm not sure what Doug Free is doing. Maybe he lost a contact and was trying to get it before someone stepped on it.
Play #7 – Murray Ball Security
I wanted to show this because I think that Jason Garrett's approach is finally starting to resonate with players. DeMarco felt the presence of someone behind him and had the discipline to secure the ball first and then go get the first down. Murray had no intentions of putting himself in a position where that ball could touch carpet. Score one for Jason Garrett.

Play #8 – Confusion
We had our moments where we got caught unprepared, but there seemed to be far less of them than normal. Everyone is hard on Will Allen on the blown coverage play where
Victor Cruz
scored his first touchdown, but Allen is not the only one that is lost. Ware and Hatcher seem to be looking at Lee for direction.
And then there's that play we run sometimes where Romo goes one way with the hand off and Murray goes the other way. That never seems to fool anyone. Romo ends up throwing the ball at Murray's feet and we go three and out.
Play #9 – Big 3rd Down Stop
It may have seemed like the Giants had their way with our defense in the second half, but that wasn't always the case. The Cowboys were able to fend off some momentum by making a key stop on third and short. I was very happy to see our guys get it done in these type of situations.
Landon Cohen
was the DT abusing the Giants' interior line on this play.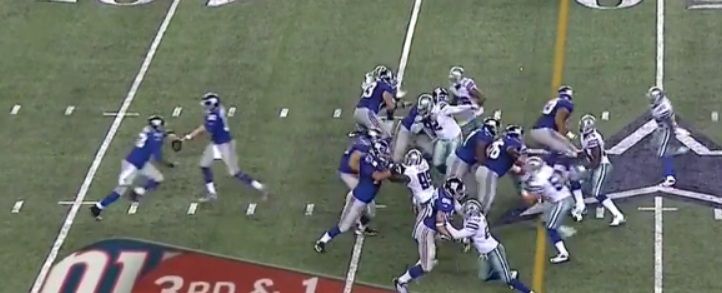 Play #10 – Selvie Comes to the Rescue
We could all breathe easier when
Brandon Carr
ran Eli's last interception back for a touchdown. It was a great moment for our defense. We made a stop when we needed it the most. But what some may not remember is the Giants' previous offensive possession where they went three and out. On first down Selvie exploded from the outside (it was close to being offsides, in fact I thought it was Ware when I first watched the game) and it forced Eli to throw the ball away. On second down he starts to the outside, but then cuts inside and again Manning is forced to make a bad pass.

Third down ended with a Hatcher sack (in which he was also held). The Dallas defense came through not once, but twice. As much criticism as they've received for giving up all those yards, they still stepped up when it mattered the most. While there is plenty we have to work on I certainly feel like we made several big plays. When I took a close look at the game footage, I definitely saw a lot of reasons to feel optimistic about this season. Let's hope we continue doing the good things and find ways to improve the not-so-good things.