Our week 2 contest with the Kansas City Chiefs should provide some interesting matchups. There are plenty of things to be keeping an eye out for as both teams attempt to start the season 2-0. Andy Reid brings a more pass orientated offense to Kansas City where he may be hoping to exploit a Dallas defense that allowed 450 yards to the Giants last week. The Cowboys will try to build off a turnover creating onslaught that saw them take the ball from the Giants six times. Anthony Spencer, Brian Waters, and Lance Dunbar all expect to see some action. So where is this game going to be won? Here are the three biggest on field battles that I think will have the greatest impact.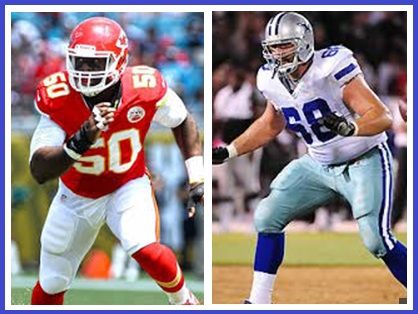 The Chiefs most prominent pass rusher will be lining up across Doug Free. Houston is a Pro Bowl outside linebacker who racked up 3 sacks and 5 tackles last week against Jacksonville. It was good enough to earn him AFC Defensive Player of the Week honors. Doug Free scored the highest of all our linemen according to the Pro Football Focus player grades that OOC posted earlier this week. Free did a good job in pass protection, but he will have his work cut out for him this week. Who prevails?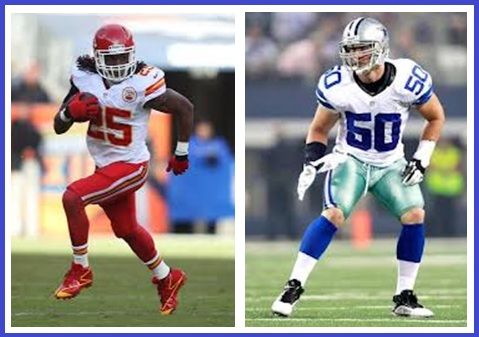 Charles is extremely dangerous in the open field and Lee is one of the quickest linebackers to the line of scrimmage, so it could come down to who gets to their spot first. Jamaal rushed for 77 yards on 18 carries (avg = 4.3) and his longest run was 18 yards. The
Jaguars
, who are not good at anything, managed to keep him in check. The Cowboys did an even better job containing the Giants' rushing attack as they only yielded 50 yards on 14 carries (avg = 3.5). If Charles gets a little room to dance he could be off to the races, but I think Lee will be dialed in on number 25. Who prevails?
Last week Dez caught 4 passes for 22 yards as the Giants made sure Bryant was not going to beat them. I suspect that this will act as the blueprint for taking our star receiver out of the game. The Chiefs have a talented corner in Flowers that should have the primary responsibility of covering Dez. The only question is – how much help will he get? I'm sure Dallas has a good "plan B" should the defense overcommit to stopping Bryant, but something tells me this beast won't stay quiet for much longer. Who prevails?
What matchups do you think will be most critical on Sunday?