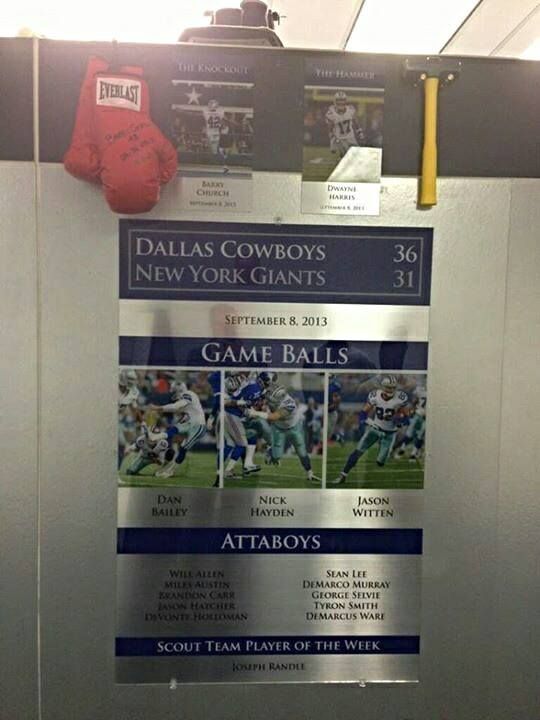 Last year Jason Garrett handed out baseball bats to the top performing players each week. This year it is boxing gloves.
Barry Church
was the week one recipient as he racked up 7 solo tackles, stripped the ball from
David Wilson
, and recovered another Wilson fumble in which he returned for a touchdown. And for that – he gets "The Knockout" title.
And Dwayne Harris received "The Hammer" honor for his outstanding play on special teams.
"Game Balls" were awarded to Dan Bailey, Nick Hayden (my boy Starsky), and Jason Witten.
And then there were a slew of "Atta Boy" recipients that included Will Allen, Miles Austin, Brandon Carr, Jason Hatcher, DeVonte Holloman, Sean Lee, DeMarco Murray, George Selvie, Tyron Smith, and DeMarcus Ware. I think they all received a gift card to Bed, Bath, and Beyond but that cannot be confirmed.
Terrence Williams was reported to have won the "Stinker of the Week" award, but that was reported by me and nobody was around when I said it.
But that was last week. Time to move on to Kansas City. Who will be this week's standout players? Here are my predictions:
The Knockout – Sean Lee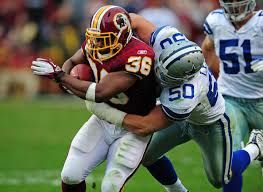 When Jamaal Charles is kept in check it will be because Sean Lee will be a tackling mongrel. I predict a double digit tackles for Mr. Lee on Sunday. I think he could jump one of Alex Smith's many short routes for a game changing interception.
The Hammer – Miles Austin
I'm sure our coaches have watched plenty of tape as they examined how
Dez Bryant
was contained by the
Giants
last week. Now I'm not sure what all that showed them, but I'm pretty sure that Miles Austin was open quite a bit. I fully expect Dallas to finagle a way to get Dez more involved, but I also think they will try to exploit the
Chiefs
' defense should they over commit to covering Bryant. I see at least one big play touchdown from Miles.

Ware may not light up the stat sheet, but his presence will be felt if Alex Smith has to hold the ball longer than expected. I think Ware gets to him for a sack/fumble.
Chasing Charles around will be a collective effort and Carter will have to come up big for us as well.
With Morris Claiborne's shoulder being a concern I expect us to rely on Scandrick a little more than normal. He's good enough to get it done.
That's who I got. Who you got?