It's a little early in the year to be doing this, but I am going to roll out anyway. Everyone is a critic around draft time. Everyone has their favorite pet cat players and everyone has an opinion. I think that's a great thing about the NFL Draft, everyone can develop their opinion about players. There will be the players you fall in love with and the ones you despise. There will be the players you undervalue and the players you overvalue.
Everyone makes some bold predictions around the draft, and usually it's a little closer towards April. Instead of waiting, I decided to come up with a few predictions to write down and look back on when the time is right. Feel free to drop your bold predictions in the comment section, I am looking forward to what you guys are feeling.
Bold Prediction #1
Cam Newton will be the best QB in his class- I have been a fan of his since I watched him this season. Auburn was on every Saturday so it was fairly easy to tune in and take a closer look at Cam Newton. He has a strong and powerful arm, which most "athletic" quarterbacks don't possess. This kid can also scramble and extend plays like Ben Roethlisberger and Tony Romo. Today Newton held a special workout for the media, not the scouts and I came away impressed like I did when I watched him in the regular season. He just has "it" so to speak. If Andrew Luck decided to enter the draft, then I would say Luck would be the better prospect. Luck decided to go back to Stanford for his senior season. Newton is a player people and scouts seem to be divided on, but I am willing to say he will be the best quarterback in his class and will be a great pick for a team looking for their franchise quarterback.
Bold Prediction #2
Phil Taylor will be a first round pick and the next Vince Wilfork- Phil Taylor is one big dude, and a very talented physical specimen. Not many big man his size can move the way he can. This guy is amazing in a five yard radius and will run down players. When you see it for the first time its pretty amazing to witness a guy of his size that athletic. Many BTB fans are praying this guy drops to the second round, but I got bad news for you because he isn't falling that far. Vince Wilfork went in the first round of the 2004 NFL Draft 21st overall to the New England Patriots. I see similar characteristics in the two and I believe Phil Taylor at the LATEST falls to the end of the first round. With the increase of teams moving to the 3-4 defense, and the demand for big space eating nose tackles, Taylor can be the foundation for a team running the 3-4 defense. Guys that are big and athletic like Taylor go in the first round and I will say right now in early February that Taylor goes in the first round and becomes a dominant nose tackle. At 6-4 340 there just isn't too many guys like Phil Taylor with the size and athleticism.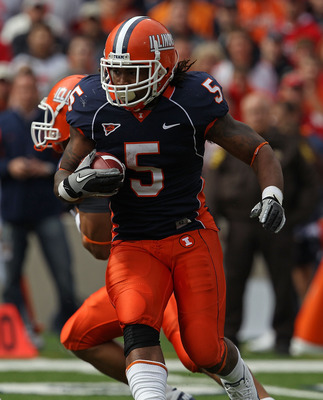 Bold Prediction #3
Mikel Leshoure will be the best running back of the draft- A few years ago another Illinois running back busted onto the draft scene, Rashard Mendenhall. Mendenhall was a draft option for the Cowboys but we had Marion Barber and chose the running back that best complemented him in Felix Jones. I still believe we made the right pick at the time and I am a huge Felix Jones fan. This year the Cowboys will not be selecting a running back in the first round due to other needs and Felix Jones having big play ability. Now Mark Ingram appears to be most draft services number one running back, but I think they are sleeping on Leshoure. Of course Ingram is going to be great, I am not questioning that but what I do question is the rankings after that. Draft services around the internet are starting to get on the Leshoure bandwagon. Wes Bunting wrote an article the other day about how underrated Leshoure is. This guy is jacked up at 6-0 230 and runs with authority. He is a very physical running back, but at the same time possesses the speed and burst necessary to make big plays. When I watched him he kind of reminded me of Marion Barber in 2006-2007, this physical specimen at running back with the dreads flying around. Leshoure is a mid to late round first round pick, but I am willing to go on record that Leshoure will be the best running back of his class.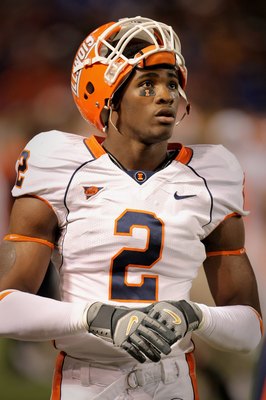 Bold Prediction #4
Martez Wilson will be better than Akeem Ayers- Akeem Ayers is the guy that's getting top 15 draft status, but the real deal is Martez Wilson. Now I think Ayers is a great prospect and I believe he should go in the first round, but if Ayers is going that high than so should Martez Wilson. In my opinion Wilson is just as good as Ayers, and is more physically developed. Martez Wilson is the classic example of a college player having a mediocre career and ending up being a better NFL player. He kind of reminds me of Clay Matthews in that both were late bloomers and both were extremely talented physical specimens. When Wilson is at the combine he will blow away the scouts in every drill. At 6-4 250, this is one guy who will be king at the Underwear Olympics in Indy later this month. He is jacked up and runs like a deer. He is physical and will light you up. He reminds of Patrick Willis, being that he can play ILB. He also reminds me of Clay Matthews, being he can play OLB. That's the one area where I think teams will have to make a decision, is he a ILB or a OLB? Personally I believe he is good enough to succeed at either position. He has the speed, size, and physicality to be superior at either linebacker position. I believe he will skyrocket into the mid to late first round status after the combine. I just pray a team like the Giants doesn't end up with him. Martez Wilson, remember that name.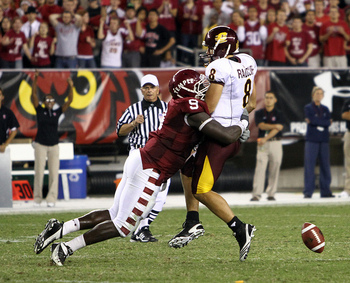 Bold Prediction #5
Muhammad Wilkerson will be one of the best defensive ends in his draft, but will be selected too low- Of course we all know about Marcell Dareus, Da'Quan Bowers, Cameron Jordan, JJ Watt, Ryan Kerrigan and Cameron Heyward, but the player least talked about is Muhammad Wilkerson from Temple. Playing in the MAC I guess gives you less recognition than playing in a big time conference, but don't sleep on Wilkerson. This guy has the size and athleticism to be a beast in the NFL. Some players have good college careers and end up being better NFL players and I believe Wilkerson absolutely torched the college competition and he is just going to get better in the NFL. At 6-5 305, he has the size to play DE in the 3-4. Whether he plays in a 3-4 or a 4-3, this guy is a beast. The other defensive ends will get drafted before Wilkerson, and he will most likely end up in the 2nd round. Whoever takes him in the 2nd will be getting a absolute steal in my book. He will be one of the best defensive ends in a really deep class for defensive end.
Bold Prediction #6
Kendric Burney will be the next Brandon Flowers- Back in the 2008 NFL Draft, Brandon Flowers fell to the second round. That was the most mind boggling situation of that draft in my book. I wanted the Cowboys to take Flowers over Mike Jenkins, and I loved Mike Jenkins but I was just really high on Flowers. I remember the scouts saying Flowers was too small, a stereotype I think people get too hung up on by the way. Flowers also under whelmed in his combine results, running a low 40 yard dash time. So Flowers watched as he went from the 2nd rated CB prospect to a 2nd round pick by the Kansas City Chiefs. Flowers right now is one of the best cornerbacks in the NFL. Kendric Burney will go through a similar situation this April. At 5-9 190, he will be deemed too small by the scouts and will not impress teams with his combine results. When a team selects Burney in either the 2nd or 3rd round, they will get the next Brandon Flowers. I hope the Cowboys are interested in him if he falls to us in the 3rd round.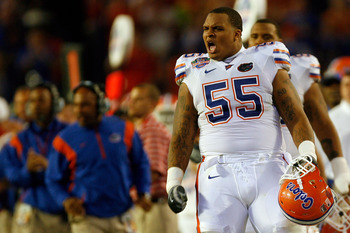 Bold Prediction #7
Mike Pouncey will be selected too late and he could play RT if needed- Now I don't feel Mike Pouncey is a great center like his brother Maurkice, but he is still one heck of a offensive lineman. I think Pouncey is the best guard in the draft, there is some competition but he is hands down one of my favorite players in the draft. He plays the game with passion and is a humble down to earth dude. Maurkice Pouncey was drafted by the Steelers last year and the overall vibe I got from him was that he was a great kid. I believe Mike is the same type of character. I wish I could have a whole offensive line of Mike Pouncey and Maurkice Pouncey. Give me five of them and I guarantee I own you for sixty minutes every game day. I also feel that Pouncey will be selected too low in the draft. I think Pouncey is a top 20 talent, no doubt in my mind about that. See where scouts get mixed up is believing Pouncey is just a center or guard. Personally I think Pouncey will be best at guard, and he could be a Pro Bowl guard in no time in my book. But I came across an idea about Pouncey playing offensive tackle the other day. When I looked at Pouncey being 6-4 310, he could easily transition to RT. If a team needs a right tackle, they could play Pouncey there. But in the end I totally believe he is a guard, and a great guard at that. But he could play some right tackle and be very good there if needed.
Bold Prediction #8
Brandon Harris will be a great cornerback and will be undervalued in the draft- I grew up a Miami Hurricane fan, remember Gino Toretta? I grew up in the 90's loving the brashness of the Hurricanes. I remember when I was really little they came out rocking military fatigues. I thought the U was absolutely the coolest thing since gangster rap at the time. Anyway a big time U prospect is in this years draft, and I am not talking about the disappointing Allen Bailey. Brandon Harris is a big time talent at cornerback in a deep cornerback draft actually. Harris has lockdown capability and the speed, something Prince Amukamara lacks, but we will get to that in a minute. If Brandon Harris stayed in school, he easily would have been the first cornerback selected in the 2012 NFL Draft. He decided to come out and it's a fairly deep class at cornerback. Now Patrick Peterson is the clear cut #1, but then that's where scouts and draft gurus get divided. Some have Jimmy Smith as the #2 rated cornerback, but I don't think he is better than Brandon Harris. I actually would love for the Cowboys to consider taking Harris, and there is a rumor that if Dallas misses out on Amukamara, they would love to get a shot at Brandon Harris. Harris in my opinion has top 5 talent, he just might need some time to grow. He is similar to Joe Haden skill wise and at 5-11 195 he has the physical skills. Harris will run a fast 40 time as well, and I feel Harris will not fall past Houston or Detroit. Teams should value lockdown corners, because Harris will be one. As the draft approaches, my Brandon Harris man crush will grow even more so be prepared.
Bold Prediction #9
Prince Amukamara will take the same career path as Antrel Rolle and Malcom Jenkins- A few years back, the Arizona Cardinals moved star cornerback Antrel Rolle to free safety. With the athleticism and size, the Cardinals felt Rolle would be better off at safety because he lacked the straight line speed to play cornerback. The same situation happened with Malcom Jenkins, Jenkins was a cornerback at Ohio State but was moved to safety by the New Orleans Saints. Jenkins lacked the speed and his 40 yard dash displayed that. With the recent article by Wes Bunting, I really woke up to this idea of moving Prince to safety. I think Prince is similar to Malcom Jenkins actually. I believe the best idea for Prince would be to move to safety if teams ask him to do that. If you don't have the straight line speed, but your still fast and have the quickness to be a great safety then you should make the move. Prince could fall to us 9th overall because of his 40 yard dash, and I would be very happy to see that happen. What will be interesting is, what if Brandon Harris and Prince Amukamara are both on the board? Whoever they take would then show me what player they value more. It could become a interesting draft boys and girls, very interesting. WE GOT A SITUATION AYYYYYYYY!!!!!!
Bold Prediction #10
Tyron Smith will be the best offensive tackle in his class- Now I have been kicking the tires on Tyron Smith ever since I read Wes Bunting comparing this guy to D'Brickashaw Ferguson of the New York Jets. Now both have similarities considering they were both around 300 pounds and people question their size. Now if you have ever seen this guy, he is jacked up. He looks more like a wide receiver on steroids. The thing is, Smith is very strong. If he wasn't strong, than size would be a issue. Tyron Smith has the frame to bulk up and he is only 20 years old, so he is still growing. I love Gabe Carimi, I just love his whole game and I have him as my 2nd rated offensive tackle in the draft. But with Tryon Smith, your getting the next D'Brickashaw Ferguson. This is probably the boldest prediction of the ten because Tyron Smith is a highly questioned prospect. Recently more and more draft services are putting Smith higher up their board. Scouts Inc was the first I believe to have Smith rated as their top offensive tackle. Wes Bunting has been talking about Smith all year and I credit him with putting Smith on the draft map for me. So I am willing to say Smith will be a Pro Bowl player, I am willing to look back and see if I was wrong and if I was then I can admit when I am wrong.
So I gave ten bold predictions to start with. I think once the draft gets closer I will feature a few more bold predictions and I will do one that features just the Cowboys. Please feel free to drop some of your bold predictions in the comment section, I am curious to see what predictions you guys got for the upcoming draft. Thanks for reading and I hoped you enjoyed.