In my second mock draft following the Super Bowl I wanted to stay put at 9th overall. In this mock a similar situation to what occurred last year happens again. Sometimes history repeats itself.
Last year Dez Bryant fell into our laps. Granted, we had to move up to 24th overall to grab him.
This year Robert Quinn does his best Dez Bryant impersonation, a blue chip prospect falling from the top five. Teams are concerned about Quinn not playing football for year and wonder if he will suffer because of it. Missing a year of football takes a toll on the body. When you're not in football shape you can become weaker and susceptible to injuries.
Teams also are concerned about the character questions they have about Robert Quinn. Quinn accepted travel accommodations and up to 5,000 dollars in jewelry, black diamonds to be precise.
Dez Bryant was a top five pick who himself had similar "character" questions, and turned out to be one of the best players in his class like everyone expected him to be. Teams weren't willing to take a chance on Dez Bryant, and almost ten months later I am sure they regret that decision. Just like teams will regret passing on the premier pass rushing talent of the draft in Robert Quinn.
Dallas will do its due diligences and come to a decision on Robert Quinn. Quinn isn't a bad kid, he made bad decisions at a young age while in college. This isn't a kid who was out gangbanging, partying and beating people up.
From the research I have done on this young talented football player, I come across similarities to Dez Bryant. Both have the passion for the game of football, and let me say that not all players in the NFL Draft love the game. A lot play the game for money and fame, but others play for the pure sprit of competition. From what I have read and gathered on Quinn, he appears to be a humble person. I don't get the feeling that he is egotistical or reckless. The Cowboys as always will do their homework on Quinn. They will talk to coaches, who still gave a strong vote of confidence for Quinn after his suspension. The University of North Carolina distanced themselves from other players, but Quinn seemed to be a good enough character that they would put in a good word for him. So basically Quinn falls in this mock, and I take him with pride.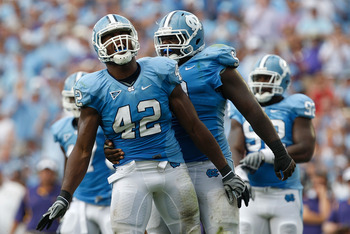 With the ninth pick in the 2011 NFL Draft..........The Dallas Cowboys select...................Robert Quinn Defensive End North Carolina
Really, if Quinn falls to ninth overall it's a no brainer for the war room. Give this kid the #98 jersey and hold the press conference Jerry, it's that easy.
With the 40th pick in the 2011 NFL Draft..............The Dallas Cowboys select...................Benjamin Ijalana Offensive Tackle Villanova
Now I could have gone in another direction with this pick, but I really believe that if we don't select an offensive tackle here that we would have serious problems attempting to draft one after the second round. Ijalana reminds me a lot of Vladimir Ducasse from last year's draft. Both went to similar smaller schools in the northeast and were extremely talented players that dominated the competition.
With Ijalana, I believe we have an instant starter at RT or RG. It depends on where we will need him more and where Ijalana is more comfortable at on the next level. Wherever they decide to play him, I really see Ijalana coming in right away and starting for us. With this pick the whole war room and Cowboys nation will breathe easier knowing we have our right tackle. Now we could have gone in other directions, but there is a steep drop off in talent on offensive lineman after the second round. The rest of the draft we can play around a little, and get tropical.
Now the research I did around the net on various draft sites has our next draft pick falling down their rankings. Before the season he was one of the highest rated players at his position. In my honest opinion, I doubt he falls to the third round. The thing is players fall in the draft for whatever reasons and I have seen this happen before. What happens is players will be highly rated before the season starts and then they will under perform due to injuries. So there is previous history of players of this caliber falling in the draft.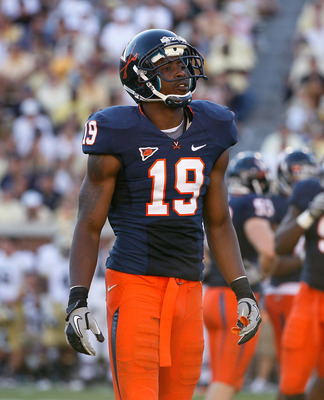 With the 71st pick in the 2011 NFL Draft............The Dallas Cowboys select....................Ras I Dowling Cornerback Virginia
This is a pick I love making because I was really high on Dowling last year. If you remember, the Cowboys heavily scouted Chris Cook. Cook ended up going to the
Vikings
in the second round of last years draft. In my opinion Dowling is a much better prospect than Cook. Dowling is physical, will tackle, has size and the ball skills you want in a cornerback. With this pick I feel we are getting first round talent, but in the third round. Dowling could also be moved to safety if the Cowboys like him there. But when you got Newman starting to decline and him being 32 years old, it would be very smart to get his replacement and add depth to the secondary. Dallas also could have looked at defensive line here or adding a guard to the offensive line, but Dowling is too high on my board to pass up.
Now in the fourth round I am going to address an area I ignored in the earlier rounds. With the need for a right tackle in the second, we ignored safety. In the third round I could have gone in that direction, but I believe we can get a really high quality talent in the fourth round here due to his injury he suffered in his bowl game. Safety is a major area of need that we need to start implementing playmakers at. I really see no argument there no matter what. You can bust out all the stats and eye tests you want, our safety play sucks really bad. That is one area of need that there should be no argument.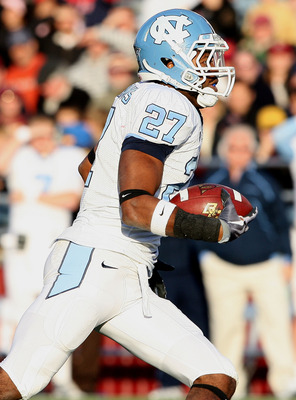 With the 109th pick in the 2011 NFL Draft........The Dallas Cowboys select..............Deunta Williams Safety North Carolina
Deunta Williams is a player I also loved last year and I thought he was a first round talent. The funny thing is I thought we would be picking late in the first round, and I wanted us to take him with our first pick. Even in mock done by Todd McShay last year, he had us taking Deunta Williams. Williams is going to fall because he broke his fibula in his bowl game. Now it's possible he doesn't even fall past the third round, but I am willing to bet teams might be nervous about his leg. There are also some character concerns because he was suspended a few games to start the season. Now I have seen this guy play and he is the real deal.
I had him rated higher than any other safety in the draft. That means I thought he was more of a talent than Rahim Moore. Right now you would have to say Moore is the clear cut number one safety prospect in the draft. But I am willing to venture out and say that if Williams never got hurt, he could be a first round pick. I might be over hyping him, but I really believe he is that talented. Williams will come in and start right away. He is head and shoulders better than any safety on this team. I just hope medically he is cleared for training camp and from what I have read around the draft sites is that it appears he should be good to go. Dallas takes chances on players with injuries, so this should be no different.
Here is where I finally decide to make a move. On draft day Jerry might be a little more into his gambler mode than I am in this mock. The mock I released the other day I did a lot of trading and in this one I wanted to stay put. I took some heat for selecting Casey Matthews in the third round, yeah I probably reached a bit there. So I decide I will take him in the fourth round this time around, because we need an inside linebacker no matter how you look at it.
But you're saying "Chia you already used your fourth round pick!", and you're right. What I am going to do here is trade back into the fourth round. I give Scott Pioli a call over in Kansas City. A disciple from the Bill Bellicheat school, Pioli is willing to bargain to pick up extra picks. So we make a deal in which he gets my fifth round pick 140th overall and my sixth round pick 171st overall for their 4th round pick 117th overall. The trade ends up even with both parties picks adding up to 60 points.
With the 117th pick in the 2011 NFL Draft............The Dallas Cowboys select................Casey Matthews Linebacker Oregon
Ahhhhhhh, we get the long haired Matthews boy finally. Really this is a great pick in my opinion. Some on the BTB website are not fans of the Casey Matthews Experience, well, I am.
So in the fourth round we take our future replacement for Bradie James. With Sean Lee and Casey Matthews, I can feel the energy through my television coming from these two gifted linebackers.
The pairing of Lee and Matthews would be epic, two beastly linebackers that just get it done. Matthews isn't the best athlete in the world, but when you watch him play he has that nonstop motor I look for in a great football player.
Maybe he will be a bust, maybe he will be a star. If all I have to do is give up my fifth and sixth round pick to find out, I am making that gamble.
In the seventh round I am looking at a few positions. Kicker, slot wide receiver, defensive tackle and offensive line. Really the best value is kicker because David Buehler and Kris Brown don't exactly give me the sunshine and rainbows feeling of joy.
With the 209th pick in the 2011 NFL Draft............The Dallas Cowboys.................Kai Forbath Kicker UCLA
Forbath was one of the best kickers in college football. Jerry stop with the projects at kicker, take a real one. I don't care who it is because there are a few quality kickers in the draft, just take a real one.
David Buehler is cool and all, but he cost us too many games last year. From what I hear Forbath has the strong accurate leg we are looking for.
UDFA Aldrick Robinson WR SMU
I only want to sign one UDFA in this mock because it is hard to project them right now. Robinson would be great for us in the slot, but I doubt he isn't drafted.
This mock I decided to stay put and pick in the ninth slot. Robert Quinn is a player that would put this defense on another level, sorry Anthony Spencer. I believe if Rob Ryan gets to work with Ratliff, Ware and Quinn that he would put this defense on another level. With Ijalana we get an instant starter at right tackle. All that leaves open is the Cowboys addressing guard in free agency and I am confident they can do that.
With Dowling the Cowboys have a real option to replace Newman with if he cannot perform this year or easily insert him next year. Williams, regardless of his injury, could be the starting SS or FS on the team. I have seen projections of him at SS because of his size or FS because of his ball hawking abilities. Matthews gives us instant depth at inside linebacker and a replacement for Bradie James when the time comes. Forbath makes the kicker competition a real competition, players will win jobs in the Garrett era, not be handed them.
The only area I did not address was defensive line and I usually do address that area every mock I do. I was trying something new this mock draft. I am also high on Josh Brent, but I would have added another defensive end in the third round if Ras I Dowling was off the board.
Thanks for reading and feel free to discuss in the comment section.