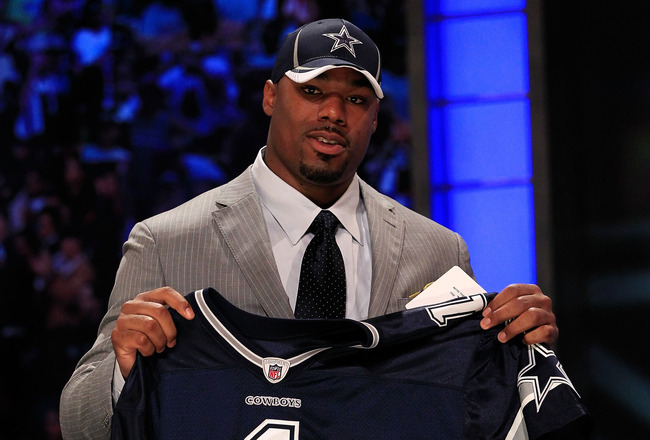 Wow what a crazy weekend that was. This was by far the most unpredictable draft I have ever witnessed. It was also very intriguing the way some players dropped into later rounds and the directions some teams took. From what the comments I have seen posted over the weekend, many fans on here were bashing our picks. Many demanded the Cowboys draft their "pet cat" and when it never came they became angry. Some also questioned the picks we made in the 2nd and 3rd rounds. We will get into that but I want to start out with something here.
As you all I know I put in about 3 months worth of research and homework into the draft. There were plenty of guys I was pulling for on draft day. I ended up with one pet cat in Tyron Smith, who I think is going to be a great athletic piece to our offensive line. But when the time came and my guy was passed on I accepted it. You have to move on from that and embrace the player we drafted. I really wanted Brandon Harris and Rashad Carmichael who both ended up with the Texans. I moved on easily because we got a great cornerback prospect in JT Thomas or Josh Thomas to some of you. So lets try to be humble on our pet cats and embrace our new Dallas Cowboys.
The selection of Tyron Smith ignored the defensive line prospects on the board. As we moved on into the mid rounds the defensive prospects began to dry up. I believe what happened was that the Cowboys board took a major hit when their defensive prospects went earlier than expected. They had to adjust on the fly and this ended up with more offensive prospects than defensive prospects. I think this okay because we still have the free agency period left to add players to the defense.
Rob Ryan did get his guy in the second round in my opinion. I think the Bruce Carter selection was all Rob Ryan here folks. Rob Ryan also got a cornerback who is going to fit his style of defense. Now Ryan did not get any other new toys to play with in the draft so I expect free agency is going to be catered to what Ryan wants. The Cowboys ignored the available safeties for good reason, none of them were that special. Remember we drafted Akwasi Owusu Ansah last year in the fourth round. In my opinion if Akwasi was in this years draft he would have been a 2nd-3rd round pick. So you have one guy there that could be a major player for us. I believe in free agency we are going to go hard for Michael Huff. If we sign Michael Huff than we just upgraded our secondary drastically and makes up for not drafting a safety. We could also look at Eric Weddle, Brodney Pool, Quintin Mikell and Daniel Manning. Many of those players teams added a safety during the draft. So I wouldn't worry about us not having a safety right now, I guarantee Huff or another big time safety will be coming to Dallas.
As for defensive end I will not sugarcoat this. I was shocked that we did not address that during the draft. But I expect this to be addressed in free agency as well. Also don't leave out the undrafted free agents we have yet to sign. Dallas usually signs between 10-13 undrafted free agents every year. Dallas is one of the best in the NFL at this business and always hit on between 1-3 players. I also expect Marcus Spears to be retained now because we didn't draft his replacement. If we sign Spears and Stephen Bowen we have talented players Ryan can work with. Igor Olshansky could be a better player under Ryan. Ryan didn't exactly have the best defensive ends in Cleveland and he made it work. Dallas has some talent at defensive end, but we still lack a true pass rushing threat besides Bowen. So I expect to see us sign a big name in free agency, maybe Cullen Jenkins. But I think the best bet is Dallas hitting on one of the UDFA's we sign.
As for the cornerback position I think Josh Thomas is a perfect fit. It wouldn't shock me to see Dallas make a big push for a big name cornerback on the market. We could also find a gem in the UDFA market as well. Next year in the draft I guarantee we look at a cornerback with our #1 pick, so that is something to look at in the future. Too bad we are a character only team now, because Janoris Jenkins has serious talent. But with the way Garrett is drafting I don't see him as a option. I guarantee we sign a big name safety, a big name defensive end, and maybe another cornerback. But I will say this, I guarantee we hit it big with the UDFA market, we always do.
Tyron Smith
OT
USC
9th overall 1st round
For months I have been pushing this kid on everyone here at on BTB. I just had a feeling for a while that all the smokescreen BS the Cowboys put up was nonsense and Tyron Smith was going to be our guy. I had a chance to watch some of the coaches tape now available on you tube and this kid is perfect for what Garrett is trying to do here. Garrett is basing a offense around speed and opening things up. He now has not one, but TWO athletic offensive tackles to employ in this scheme. We landed a blue chip prospect guys so you should be proud of that. He is 20 years old, to me that is great because if this guy pans out he can play for us for a long time. With all the complaining going on with the other picks, nobody seems to be complaining about Tyron Smith.
I remember the first time I heard about Smith being compared to D'Brickashaw Ferguson on Cowboys Nation. That comparison really made me start looking into Tyron Smith. Cowboys Nation draft coverage with Raf interviewing Wes Bunting led me in the right direction back in October. I think two years running we got some of the best offensive players in the draft. Now we have in my opinion the best pair of offensive tackles in the NFL. I expect great things from Tyron and I expect him to be our starting right tackle this season. Great draft pick to start the Jason Garrett Era for sure. This was a need pick but we also got a great blue chip talent. Nick Fairley or Prince Amukamara were on the board and I love both of those players. I still stand behind that if we took one of them we might have missed on our chance to get a good offensive tackle. Tyron Smith will be a big time player in the league. I love this pick because we finally answered the offensive line in the draft.
Bruce Carter
LB
UNC
40th overall 2nd round
Bruce Carter was a pick that many didn't like that night. Now I didn't have Carter ranked in my top 50 for one reason, his ACL injury on his knee. Had that injury never taken place I would have placed Carter in my top 20-30 players in the draft. That is how good Bruce Carter is, he is a first round talent that we got in the 2nd round. I have been saying for months the Cowboys have a serious need at inside linebacker. Bradie James and Keith Brooking are old and their time to part is coming soon. Now we have to great young players behind them with Bruce Carter and Sean Lee. I will come to know the pairing as "Bruce Lee".
Carter is a extremely talented linebacker who has amazing speed. We need a speedy linebacker who can cover in the nickel package. I also like the fact that Carter is a thumper too and is a great tackler. He comes from a read and react defense coached by Butch Davis at UNC. Now Carter will finally be unleashed and set free under Rob Ryan. This is Rob Ryan's first pick in his first draft with the Dallas Cowboys. Ryan needs versatile fast linebackers and Carter fits that bill. Many will complain about this pick, but the fact is we needed another inside linebacker. If not I guarantee our first round pick in the 2012 NFL Draft would have been spent on this position. Now we can focus that draft pick in another direction.
Bruce Carter is recovering very well from his ACL injury he suffered at the end of the 2010 season. We did our homework on that and made sure he would be ready to go. At the very least this year, Carter is our nickel linebacker who comes along slowly. At the very best this year he is a major contributor that could start with Sean Lee. Looking towards the future with this pick we landed a first round player at pick 40, who will be our starting inside linebacker with Sean Lee. The pairing of Bruce Lee gives us one of the best inside linebackers core in the NFL. I am loving the future of this pick.
After listening to his press conference at Valley Ranch I was very pleased with this young man. I already know he is a beast on the field, but off the field he is a coaches dream. Every player we drafted loves football and wants to be coached. Carter is going to be a great player for the Dallas Cowboys. I always wanted a great linebacker like this and now I got two. I have Sean Lee and Bruce Carter, and I am very excited about the pairing of these two in our defense.
DeMarco Murray
RB
Oklahoma
71st overall 3rd round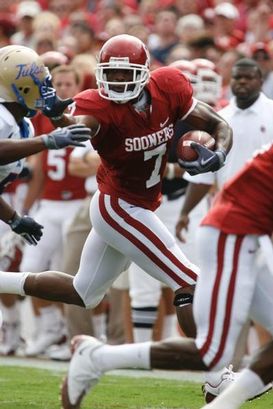 In the third round we could have went in many other directions. I myself thought this is where a cornerback or defensive end would come off the board for us. Instead we drafted a electrifying running back in DeMarco Murray. I actually would have preferred Mikel Leshoure because I thought he would be the bruiser type back we would look to replace Marion Barber with. Now I have seen plenty of Oklahoma games and Murray blew me away when I watched him play. He reminds me of Reggie Bush and Adrian Peterson. He is great running the football and has great speed. The area that he is really impressive in is the passing game. He is basically a wide receiver out there because he is so good at receiving the ball. Now Murray would be my 5th running back on my board, I had a couple other backs ahead of him. This was a deep running back class and I think we got a really good player in the 3rd round. Just because I had Murray as my 5th rated running back doesn't mean I don't like him. I actually love this kid and I think he will be a fan favorite very soon because he is a big play guy who has amazing athleticism.
I like what I am seeing from Jason Garrett, he is trying to install this speed offense. We already have heavy hitters like Dez Bryant, Miles Austin, Jason Witten, Felix Jones, Tashard Choice, John Phillips and now DeMarco Murray. I think Garrett is really emphasizing speed more than ever. He now has two athletic backs that can take a play to the house at any time. Felix and DeMarco are both very good at receiving the football so we will see a lot of swings and screens designed to them. Our offense is really set to go now, we have so many big play threats. When you look at all our weapons and compare it to other NFL teams you will see what I mean.
Many will bash DeMarco Murray early on in his career. I am going to embrace this kid immediately because he was a special player at Oklahoma. He will be a match up nightmare for defensive coordinators around the NFL. He is very Reggie Bush like with his ability to pretty much anything on the field. I also like the way he runs the football. He has good balance and can juke you out of your socks. I think he reminds me a lot of Darren McFadden and I am sure Jerry Jones saw the same thing. There is nothing wrong with grabbing a McFadden type running back in the third round. None of the running backs on this team have taken the job and ran with it. Don't be surprised if Murray comes in here and is electrifying. DeMarco Murray is a name you will be hearing called a lot on Sundays. When Garrett got on the phone you could tell this was a player Garrett loved because of his athletic ability and his character. There is nothing wrong with drafting exciting players, but Garrett is making sure they are coachable players. Character is definitely a big piece of the puzzle now.
It also feels good stealing a player from the Patriots, who were very interested in Murray. Also it would not have shocked me to see the Giants draft Murray if we passed on him in the 3rd.
David Arkin
OG
Missouri State
110th overall 4th round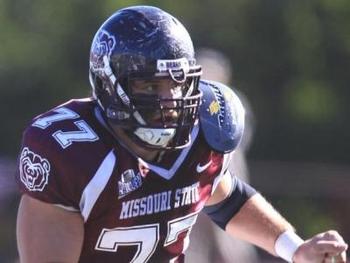 David Arkin was a guy on my radar really late into the draft process. About a week before the draft I started seeing his name getting some buzz on the draft circuit. People complained about this pick too, but it answers another big need on our offensive line. We needed to draft a guard this year. I tell you what Arkin is no scrub, this guy has all the skills to be a good starting offensive guard in the NFL. I really believe Arkin could be starting for us in 2012 and if he had to yeah I think he could start this year. I think Arkin is going to be a backup this season and be a starter in 2012 though. I think for once, we finally hit on a offensive lineman later in the draft. We were drafting straight scrubs like Robert Brewster and so forth before. Arkin has the athletic ability and size to be a really good guard in this league.
Todd McShay said David Arkin was one of his sleeper offensive lineman in the draft. He also said Arkin will be a big time player in the NFL for a long time. Mike Mayock compared Arkin to Jahri Evans, who had to make the same change from tackle to guard in the NFL coming from a small school. I like that Arkin is athletic and can get into space well. As a guard in Garrett's system you need to be athletic. You also have to love that Arkin is a physical player who has a mean streak. I mean everything you read about this guy seems like a perfect fit for the Cowboys and what Garrett is trying to accomplish. I really like this pick and I think we got ourselves a starting guard very soon. David Arkin also has the character Garrett is looking for, which seems to be a theme of the 2011 Cowboys draft class. Listen to the phone interview, Arkin was stoked to become a Cowboy. I love hearing that a guy is excited to play here. David Arkin will become a starting guard for the Dallas Cowboys, I guarantee it.
Josh "JT" Thomas
CB
Buffalo
143rd overall 5th round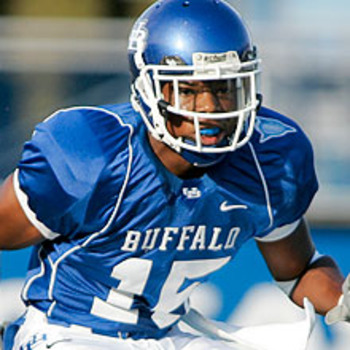 Now I know there was some confusion when this picked was made. Josh Thomas is a cornerback from Buffalo, but he also goes by "JT Thomas". So when the card was sent in the league assumed it was JT Thomas linebacker from West Virginia. I immediately began to pull my hair out because JT Thomas is a nice linebacker and all but come on guys. Then ESPN and the NFL Network got it right and changed it to Josh Thomas cornerback Buffalo. This made me very pleased. I am from New York so I am familiar with many prospects in my area and Josh Thomas is going to be a great draft pick for us. I was hoping we would land Brandon Burton or my guy Davon House but I will gladly take this kid.
Josh Thomas is a physical cornerback who has the speed to be a good cover cornerback. This has Rob Ryan written all over it, remember when he first came to Dallas and mentioned that there would be no cowards in the secondary? Josh Thomas is no coward folks, this kid is really physical. He does remind me of Orlando Scandrick, but I think Thomas is a little more developed than Scandrick was as a rookie. Thomas is going to be a big part of the rotation this year in my opinion because he can tackle and keep up with the speedy wide receivers in the NFL. This guy was a 2nd-3rd round pick by many draft services so we got ourselves a real bargain in the 5th round. I would have loved for us to address cornerback earlier but I love this Josh Thomas kid.
He has the swagger I want my cornerbacks to have and he does have pretty good coverage skills. I really love that he is physical and loves to hit people. I really see him being a player a lot of us will end up loving because of his aggressive spirit on the football field. It is also very cool that he is a Texas native so you know he has to be proud playing for his home states team. Rob Ryan is going to love this kid I guarantee it. I think this was a great bargain, we definitely got a steal here folks. Mike Jenkins, Terence Newman, Orlando Scandrick, Bryan McCann and Josh Thomas. Now that's a pretty good stable of cornerbacks especially if we add another outside cornerback in free agency. We waited for a cornerback, which kind of pissed me off, but I love the player we got in JT Thomas. You can also call him "Peanut" because his head is a little oddly shaped. I am sure that pushed him down some teams boards considering they dropped Andy Dalton for having ginger hair, so if you have a peanut head it drops you too I bet.
Dwayne Harris
WR
ECU
176th overall 6th round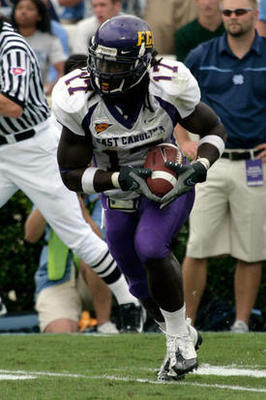 I have been promoting the idea of drafting a slot wide receiver for the past few years. I really thought we were going to go for a speed guy like Edmund Gates. I also wanted Cecil Shorts but I think Dwayne Harris is just as fast him. I was actually going to write about Dwayne Harris in a draft profile about a week before the draft, I just never got around to writing that article. I really like Dwayne Harris for the Cowboys. He was very productive at ECU and he had a awful quarterback. Harris is also great in the bubble screen, a play we are very good at running. I think Harris is a nice value in the 6th round, I thought he would be drafted earlier than the 6th. Harris isn't some scrub drafted to fill out the roster and not make the team come training camp. He has the skills to be a good wide receiver in the NFL.
I really think he is going to be our next Patrick Crayton, but without the mouth and better speed. I really wanted Jeremy Kerley, but I like Dwayne Harris. I have watched him a couple times and he is a big time player. He makes a lot of big plays and can juke people in the open field. Harris is also a big time contributor on special teams, and that's where we will need him to produce for us as well. He also has the ability to return kicks and punts. I guarantee Dwayne Harris makes the team, the dude isn't some scrub that gets drafted to fill out the roster.
I still think we need that speed element, so I will have to wait another draft for that. I guarantee the Cowboys draft a speed slot wide receiver next year. This is the one thing I was really disappointed with this draft. Like I said I love Dwayne Harris and I think he is going to be a nice target for Tony Romo. But at some point, we need a real speed guy to spread the field.
Shaun Chapas
FB
Georgia
220th overall 7th round
Now this was the funniest moment of the draft for me when I wasn't at my friends house watching the draft. I was at home on the draft thread hearing all the Henry Hynoski talk and it was actually amusing.
I am sure Hynoski is a good player, but Chapas isn't a scrub. This guy was a lead blocker on a SEC team. Chapas is exactly what Garrett wanted, a true fullback for his offense. So now we finally have a lead blocker that can level people. I am sorry but Chris Gronkowski is not a fullback. That guy is a H-Back/TE and will never be a true thumper at fullback. Gronkowski got my quarterback killed so he died to me that day. I don't care what he graded out in at PFF, I rather have Chapas as my lead blocker.
Not much to analyze about this pick, fullback is a boring draft selection. It was a necessary pick though. When I did some reading up on Chapas everyone had good stuff to say about him. It was also encouraging to read that he has some pass catching ability like the Moose.
I think this is a solid draft pick, too bad his name wasn't Chap-as. Seriously that kind of bothers me. But a thumper lead blocking fullback is fine with me in the 7th round.
Bill Naggy
C
Wisconsin
252 overall 7th round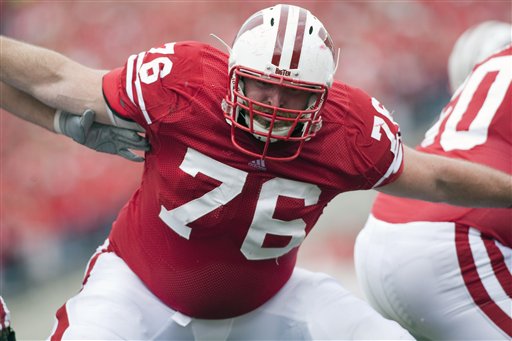 Well I would have taken David Mims or Deunta Williams here but I cannot argue with Garrett taking a Wisconsin offensive lineman in the 7th round. I doubt this guy makes the team, just my opinion but I bet the UDFA offensive lineman we sign makes the team over him. Regardless Garrett has great connections to the Wisconsin program. The head coach of Wisconsin had nothing but great things to say about him on the NFL Network. He was the starting center but got hurt during the 2009 season and lost his starting job in 2010. He was used as a reserve and also played some blocking tight end for them last year.
Naggy reminds me of Jeff Saturday, with the beard and all. Maybe he can be the next Jeff Saturday, a UDFA who works hard to make the team. There were other players there but I think the Cowboys are going to attempt to sign them once free agency starts with the UDFA pool. It will be tough for Naggy to make the team, but if he does than maybe we got something there. Phil Costa needs to wake up and show us his best football this training camp.
ChiaCrack's Draft Grade: B
If we drafted a true speed slot wide receiver I would have given this draft a B+ or A-. For me that is the one area I hope they address in the UDFA area. Same thing for defensive end. I think the Cowboys are going to look at that in free agency and UDFA. Tyron Smith was a homerun pick for us, especially considering what Garrett is trying to do with his offense now. Bruce Carter is a first round pick with amazing athletic ability, definitely a future starter on this team with Sean Lee. I love the DeMarco Murray pick because we got ourselves a Reggie Bush/Darren McFadden type running back in the 3rd round. I think David Arkin is going to be a starting guard on this team very soon. I love the Josh Thomas pick because I love fast and physical cornerbacks. Dwayne Harris is going to be a nice addition to the wide receiver core. Shaun Chapas will be our starting thumper at fullback.
Jason Garrett drafted athletic players with strong character. Speed is a very important element in the NFL and Garrett is obviously keen to that fact by adding guys that are athletic and fast. Personally I would make some different decisions but I still like the way this draft turned out. Some say this is just like the 2009 draft, and I don't even think its close. In 2009 we drafted straight scrubs. In 2011 we drafted very talented football players. You really cannot grade a draft this early, but I like our draft. Add in free agency and then the ability to sign UDFA rookies than this will look like a pretty good class.
UDFA players of significance (Not in ranking order, just a random order)
Offense
1.David Mims OT Virginia Union
2.Jake Kirkpatrick C TCU
3.Terrence Tolliver WR LSU
4.Pat Devlin QB Delaware
5.Kris O'Dowd C USC
6.Jarriel King OT South Carolina
7.Darren Evans RB Virginia Tech
8.Graig Cooper RB Miami
9.DeAndre Brown WR Southern Miss
10.Tim Barnes C Missouri
11.Henry Hynoski FB Pittsburgh
12.Jeff Maehl WR Oregon
13.Noel Devin RB West Virginia
14.Ricardo Lockette WR Fort Valley State
15.Donald Buckram RB UTEP
16.Adam Grant OT Arizona
17.Alex Linnenkohl C Oregon State
18.Bryant Browning OG Ohio State
19.Zane Taylor C Utah
20.Carl Johnson OG Florida
21.Mario Fanin RB Auburn
22.Kevin Kowalski C Toledo
23.Justin Boren OG Ohio State
24.Zach Hurd OG Connecticut
25.Andre Homes WR Hillsdale
26.Ray Dominguez OT Arkansas
27.Preston Dial TE Alabama
28.Ryan Bartholomew C Syracuse
29.Willie Smith OT ECU
Defense
1.Kendric Burney CB UNC
2.Mark Herzlich LB Boston College
3.Martin Parker DT Richmond
4.Mario Harvey LB Marshall
5.Deunta Williams S UNC
6.Jeron Johnson S Boise State
7.Cedric Thornton DT Southern Arkansas
8.Joe Lefeged S Rutgers
9.Josh Bynes LB Auburn
10.Ryan Jones CB NW Missouri State
11.Scott Lutrus LB Connecticut
12.Davon Morgan S Virginia Tech
13.Brian Lainhart S Kent State
14.Pierre Allen DE Nebraska
15.DeQuin Evans DE Kentucky
16.Ian Williams DT Notre Dame
17.Steven Friday DE Virginia Tech
18.Devon Torrence CB Ohio State
19.Orie Lemon LB Oklahoma State
20.Brandon Bair DE Oregon
21.Jerrard Tarrant S Georgia Tech
22.John Graves DT Virginia Tech
23.Elisha Joseph LB Temple
24.Ugo Chinesa DE Oklahoma State
25.Alex Wujciak LB Maryland
26.Michael Morgan LB USC
27.Lucas Patterson DT Texas A&M
28.Adrian Taylor DT Oklahoma
29.Scooter Berry DT West Virginia
30.Ricky Lumpkin DT Kentucky
31.Mario Butler CB Georgia Tech
32.Ryan Winterswyk DE Boise State
33.Lawrence Marsh DT Florida
34.Jay Valai S Wisconsin
35.Ollie Ogbu DT Penn State
36.Zac Ethridge S Auburn
37.Colby Whitlock DT Texas Tech
38.Kevin Rutland CB Missouri
39.Nate Williams S Washington
40.Sealver Silliga DT Utah
Kickers
1.Kai Forbath K UCLA
2.Josh Jasper K LSU
3.Dan Bailey K Oklahoma State
Big list with a bunch of big names on there. For my money I want my speed slot wide receiver in Ricardo Lockette. If we need a center than we should go for Alex Linnenkohl, Tim Barnes or Jake Kirkpatrick. There are a couple intriguing options at safety too. I would LOVE to see Deunta Williams given a chance in Dallas. I love him and I think he would be a great signing, low risk high reward type of deal right there. Joe Lefeged from Rutgers would be a special teams beast for us. Kendric Burney will have a chip on his shoulder and has the ability to be a starting cornerback in the league. There are plenty of good options out there and I am sure when the Cowboys are legally allowed to contact these guys they will be all over it. We are the best team in the NFL in the UDFA market. Don't be shocked if they bring in two kickers to compete in camp. They always bring in a quarterback for a extra arm but the kid from Delaware might be more than a camp arm, pay attention to where he goes as well.
Dallas always finds some talent in the UDFA pool and I expect no less this year. This may be the deepest UDFA class I have seen in a long time. With Dallas having success the way they do in UDFA, I expect them to find 1-3 talented players that make the team. Add in a big splash in free agency, I see the Cowboys with a younger talented team with the best coaching staff we have had in years.
This has been a ChiaCrack Production