One of my favorite movies of all time was last years blockbuster "Inception". The movie does take a toll on the brain because of the complex plot. But there is one scene that sticks out to me and I try to relate this into my life. Mr. Saito offers Dom Cobb a job that would guarantee him safe passage back to America. Cobb has been wanting this ever since he had to leave his children after his wife set him up to look like he killed her, when in fact Cobb tried to help her. Cobb is basically running between countries that do not extradite criminals back to America for American crimes.
When Mr. Saito offers Cobb the chance to go back home to his children he instantly is interested, but how does he know this is for real? Then Mr. Saito says one of the best lines in the movie in my opinion, "Don't you want to take a leap of faith? Or become an old man, filled with regret, waiting to die alone!" Cobb of course takes the mentioned leap of faith. He had to believe in it, he had no choice. Throughout the movie Cobb is presented with various leaps of faith. These leaps of faith can be fatal, but they can also be gratifying in the end.
So what does all this Inception and leap of faith crap have to do with us, Dallas Cowboys fans of the illustrious site BTB? I think every year when changes are made, players are drafted and players are signed we find ourselves taking a leap of faith like Cobb from the movie Inception does. As a fan you need to believe in the moves made by your franchise. Some fans are too asinine and choose to hate constantly on any decision or change made by the franchise. Right in the very beginning they shoot down the idea as a good one. Those are what I call negative people, which I am not. I am somewhat a positive person and I try to see the best case scenario of the transaction or change being made.
This is where the leap of faith comes in. I will call it a leap of faith, while others are more familiar with the phrase "drinking the cool aid". Now when I take a leap of faith it usually works out. There are the cases where they don't work out and that just sucks but its part of the game. So in my latest edition of Crack Hits I wanted to take a look at some of the leap of faiths that have worked out, the ones that have not worked out, some new leap of faiths I am taking, and the leap of faiths I am revisiting. I will warn you that sometimes you get burned in taking a leap of faith, but when it does work out the rewards are satisfying to the highest power.
So spin your top or whatever your totem might be, and lets take a leap of faith Cowboys fans into our new team, with our new coaches.
Where I must take yet another leap of faith
Mike Jenkins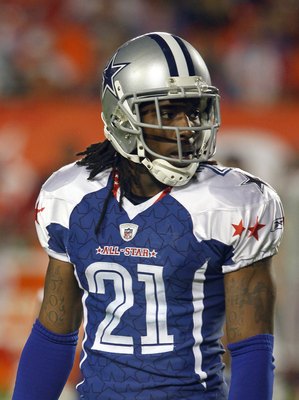 Oh Mike Jenkins, I have been down this road before. I really thought we got a steal in the 2008 draft with this guy. I really wanted DeSean Jackson that draft, but we needed a cornerback badly. I was also head over heals for Brandon Flowers and Kenny Phillips. But that doesn't mean I didn't dislike Mike Jenkins, I actually think Jenkins is a top notch cornerback when his head is screwed on right.
In 2009 I took a leap of faith on my boy Mike Jenkins. I said this is his year, he has the swagger and confidence good cornerbacks have. He proved me right and had a Pro Bowl caliber season. He shut down every opposing wide receiver he played that year. So going into 2010 I think our guy Jenkins here was a little too cocky. Swagger is one thing, arrogance is a whole other ballpark of mentality. Jenkins never went into last season with the appropriate attitude and it showed. By the sixth game or so he was lost for the season. Teams picked on him at will and he just caved in. I saw a hungrier Mike Jenkins when Garrett took over, so I think with the right attitude again he is salvageable.
I am going to take a HUGE leap of faith here. Mike Jenkins you were one of my favorite players. You had the strangest and worst falloffs I have ever seen in a young cornerback from one season to the next. It was very odd to watch. So this is what I need from you this off-season. I need you to throw that arrogant prick attitude out the window because you're a lockdown cornerback but your not Deion kid, you let Wade hype you too much. Come back and work hard. Go back to your 2009 technique. You have the coverage skills, speed, athleticism and swagger to be a top ten cornerback in this league.
I think Mike Jenkins is going to have a great season in 2011. This is purely a leap of faith. If he has another 2010 performance in 2011 we are screwed and Mike Jenkins is officially a bust. That will give us the task of replacing not ONE but TWO cornerbacks next off-season. I think Mike Jenkins can be one of the best cornerbacks in the game with his head screwed on right. He has the cover skills and speed, that's not the issue here. The issue here is mentality. Some player want to be the best, others fold under pressure. Hopefully we see more of the college Mike Jenkins and the 2009 Mike Jenkins. If not than we are going to be in for a long season on that side of the field.
Anthony Spencer
Here we go again with Anthony Spencer. You know when we drafted this guy I was very happy. He looked like that pass rusher we needed to pair with Ware. He had some growing pains along the way but he always flashed his immense potential. Then in 2009 I took a huge leap of faith with Spencer and Spencer proved me right. The kid was balling on an All Pro level that year. Our pass rush was so good it made our defense better all around. I really thought that Spencer had finally cracked the surface and was well on his way to becoming a dominant pass rusher in the NFL.
Then 2010 rolls around and this guy was just not what we expected. Was he decent? Yeah, but when you spend first round picks on pass rushers you expect more than that. It pains me to be revisiting this leap of faith. Spencer should have broken out by now. It is also a contract year for him. If he has a Pro Bowl year we have to resign him. If he sucks again we are looking for a pass rusher in free agency or most likely the first round of the draft. If he is awesome this year, than he is still a question mark because of his previous inconsistency. This is a huge year for Anthony Spencer. If he isn't living up to his potential than Victor Butler needs to get more playing time.
This is one area I was concerned about entering the draft. I was really banking on landing a pass rusher in the mid rounds of the draft. Its ok, I think I can live with Spencer for another season. I really don't have a choice do I? So I am taking another HUGE leap of faith here. Anthony Spencer please bring back the pass rushing ways we saw from you earlier in your career and in 2009. We need you big feller, I don't even think you realize how important you are to this defense. You're the guy getting the one on ones and easier match ups while Ware gets triple teamed. If you can get the consistent pass rush we need out of you, this defense takes it to a whole other level.
Where I must take a new leap of faith
Tyron Smith
Now I am going to discuss our my new leap of faiths. Honestly I really don't need to discuss Tyron (pronounced TIE-RUN) Smith much here. I think everyone knows how I feel about this dinosaur of a offensive tackle. He has so much talent and the kid is only 20 years old. My leap of faith started back in November with this kid. Tyron is going to be a great player in my opinion, I see the next D'Brickashaw Ferguson. It is a pretty big leap of faith but I believe in him already. So lets move onto the next one.
Bruce Carter
I am going to dive in and take a leap of faith with Bruce Carter. Carter is a guy who had first round talent, no doubt about that. I think the Cowboys got a great value with Carter in the 2nd round. If I felt this kid was chopped liver like Jason Williams I wouldn't be so confident in taking this leap of faith. But you know what? Bruce Carter isn't anything like that waste of space Jason Williams. Carter is a real football player. He tracks guys downs and has the speed to go from sideline to sideline. He was one of the best all around athletes in the draft. He went to a big time school that had real talent on it all around the team.
Bruce Carter is going to be a great player for the Cowboys. I am taking a leap of faith here but I feel extremely confident in saying that. I actually feel really confident in every draft pick from this years class. In 2009 I did not feel that way. Instantly I was turned off by just about every decision made that draft. This is different. Bruce Carter was a blue chip first round talent who had a ACL injury cost him the first round. I hope they take their time with this kid, don't mess him up. When he is ready, he will be ready. Do not rush him. A few years from now when I re-look at my leap of faiths, I know I am going to be smiling about Bruce Carter. I just get the feeling that he is the real deal.
Many teams fans around the net were blogging away about Bruce Carter. Lions fans were almost certain he would be theirs. Some Giants and Rams fans really wanted this guy. Some Patriots fans and Chargers fans were pushing for Carter. He was a well sought after prospect because he has the Patrick Willis type attributes you look for. I have seen comparisons to Keith Bulluck, Patrick Willis and Derek Brooks. I just think this guy is going to be a stud for us in the long run. Count me down for a leap of faith here.
DeMarco Murray
The more I look over DeMarco Murray, the more I believe he is going to be a great player for the Cowboys. Mark me down for another leap of faith here. I knew entering the draft the Cowboys would be looking at running backs. I thought they were looking for another bruiser type back to replace Marion Barber. Instead they took the more complete player and I can relate to that. Murray offers you the Reggie Bush type impact in the pass game. At the same time he offers you the Darren McFadden type impact in the run game. He is a perfect fit for what Garrett is trying to do with his offense in the future. He offers us the big play ability and can still pass block. That is very rare now a days in college running backs. They simply don't want to get their hands dirty because it may not look cool, but DeMarco does get down and dirty. I think DeMarco is the complete package.
This was another running back that many teams fans were hyping up around the draft. I looked at the Footballs Future message boards and almost every teams board had a DeMarco Murray post. I am taking a leap of faith with Murray here, but we may not ask too much of him in his rookie year.
Honestly I expect him to be our best running back on the team in 2011 while Felix Jones rides along with him. I see DeMarco and Felix running a very highlight orientated show while Choice does the dirty work. I just cannot help that the more I see him and the more I read about him I just love him more. DeMarco Murray reminds me of so many running backs rolled into one. The running back I think he is going to emulate most this year is LeSean McCoy. They have very similar attributes and style. I expect DeMarco to become a big time star in the Big D.
David Arkin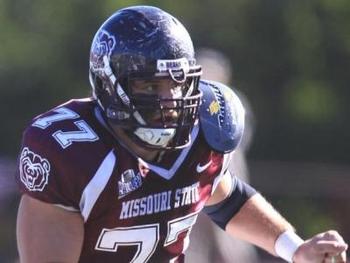 I am going take the leap of faith with David Arkin in becoming a starting offensive guard on this team. This may be a major leap of faith because outside of the Mike Mayock's and Todd McShay's I really have no knowledge of Arkin. But every time I read up on this guy he just fit's the bill. He is big, mean, strong and athletic. He finishes to the whistle, a big plus when scouting offensive lineman. Yes he comes from a small school. Yes he is a bit of a project. But I think by 2012 this is a guy we will be discussing about battling for a starting job on the offensive line. I really think we hit on David Arkin. Its just a gut feeling, I have nothing to back this up as of right now. I am taking the leap with Arkin on becoming a great player for the Dallas Cowboys.
Josh Thomas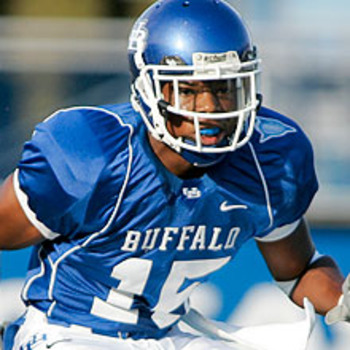 I really wanted the Cowboys to draft Brandon Harris, they burned me there. But they got me a similar cornerback with similar skills. Josh Thomas is a small school cornerback that received a lot of rave reviews before the draft. I am willing to take the leap of faith with this guy too. He is a physical cornerback who is going to get up in your face. He is emotional on the field and I guarantee this is a guy you see involved in scuffles on the field. He is tough, fast and has great athleticism to become a good NFL cornerback. I also like that this is a Texas product. It was his childhood dream to play for the Dallas Cowboys. I think Thomas has the chance to become a big time player for us. That is what the leap of faith is all about. Its about believing in guys like Josh Thomas.
This kid is tough as nails. He is going to get up in opponents faces and I like that kind of stuff. He carries a chip on his shoulder. Thomas has great cover skills and can trail his man all the way down field. He reminds me of Ike Taylor/Antoine Winfield up close and Joe Haden/Prince Amukamara down the field with his cover skills. He has a unique skill set that is going to translate very well here because Rob Ryan likes these type of defensive backs. Ryan drafted Joe Haden last year and I see some Haden in Thomas's coverage skills. I am not saying he is a first round pick like Haden was, but I do see some similarities. Ryan also loves the physical defensive backs and Thomas is exactly that. I am a really big fan of this kid and he has not even made the team yet or played a down.
I just think that Josh Thomas is going to be a baller for us. Yeah its risky to say that considering he comes from Buffalo and is a 5th round pick, but I feel confident in saying Josh Thomas is going to be a good player in the NFL.
Dwayne Harris
The Cowboys finally answered my pleading for a slot wide receiver. I love that we got a established college player who was a big time playmaker. Dwayne Harris will be the slot wide receiver for the Cowboys for the immediate future. My leap of faith here is unquestioned. Harris answers all of my concerns I had about the slot position. Maybe I wanted a guy with more speed, but Harris is quick. He makes his living out of the slot and will be productive there. We missed Patrick Crayton when Dez went down. Now we have a true slot guy to take over whenever we dismiss the failure Roy Williams. Harris can also return kicks and punts, another major plus. I am a big supporter of Dwayne Harris and will take the leap with him.
Rob Ryan Defensive Coordinator
I decided to take my leap of faith with Rob Ryan the moment he was hired. He is everything I want my defensive coordinator to be and more. He comes from a proven system, the aggressive style of the 3-4 defense has yielded results. Rob Ryan is passionate about what he does. He demands the best from his players and usually gets every last ounce of productivity and effort out of them. For too long our defense became stale and predictable. Now enters arguably the most creative and brash defensive coordinator in the business and I could not be happier with that hiring. Jerry took the leap of faith and signed Rob Ryan, when Jerry was probably looking at more yes men like Wade. Fortunately Garrett has his say and we got ourselves a great coach to fix this once good defense. Leap of faith noted, but I would have jumped from a bridge because I am very confident in Rob Ryan and his abilities to fix this defense.
Jason Garrett Head Coach/Offensive Coordinator
My Jason Garrett leap of faith actually took place long before he was ever hired as head coach. It took place when Garrett was running the offense. I think Garrett is going to be the coach who finally brings the Cowboys back to their winning ways. My main issue with the coaching staff had always been Wade Phillips and his soft laid back approach. There was no central authority figure. It was confusing for the players because they really didn't know who was in charge. Now Garrett enters the room and you know this is his team. He is building a culture here, something Wade never bothered to address. Garrett is looking for certain type of personalities, leaders and hard workers to be exact. We will see one of the best offenses in the NFL this season coming out of Dallas.
What I envision here is exactly what Sean Payton did in New Orleans. He brought in the right type of players. He established a culture. He fixed his offensive line and added pass catching running backs. He employed the use of 2-3 tight ends. He had a vertical passing game with a screen game underneath. Then he went out and brought in a defensive mind to fix their defense. I think the 2009 Saints and the 2011 Cowboys will be very similar. So my leap of faith with Garrett is in full effect now, I hope Garrett proves me right because I think Garrett is the next great head coach in the NFL.
Where I have been burned before
The Hiring of Wade Phillips
This my friends is where the sugarcoating goes out the window. I could have simply refrained from even entering this in my fan post, but I want to show you the two sides to taking a leap of faith. Not every leap you will take will be pretty. Not every leap will be an adventure that turns into happiness. Some leaps end badly, and I have my fair share of bad experiences in taking the leap of faith with my beloved Dallas Cowboys.
The one that really sticks out was the hiring of Wade Phillips in 2007. Wade was always labeled as a defensive guru, but I never really saw it recently before his hire. Yes San Diego was a well put together unit, but Wade never really did it for me. He was a soft individual who would put you to sleep during his press conferences. He was never really a leader of men. He really had no success in the playoffs either. Personally I wanted us to hire Norv Turner, who at least runs a great offensive system and was familiar with the Cowboys organization. The guy I truly wanted was Mike Tomlin. He was a young and up and coming coach who had the swagger and balls we needed.
I never bought into Wade Phillips like other fans did. The time I finally take my leap of faith with Wade was during the 2009 season. He coached great that year and I thought maybe Wade would turn himself around. Then in 2010 he ran this team into the ground. It was like watching a car wreck in slow motion. The Wade Era is over, thank god. I took a minor leap with Wade and it burned me big time.
Alan Ball at FS, with no PLAN B
One of my all time leap of faith busts was Alan Ball. I thought Alan Ball was awesome for us in 2009 in replacing injured Ken Hamlin. I was all for releasing Ken Hamlin and going out and signing OJ Atogwe. But that never came, instead we promoted Ball to the FS job without any competition. We also never had a Plan B in case Ball didn't work out. Still at the end of the day I bought everything the Cowboys website was selling me. I thought Alan Ball was going to be a good FS and be a better option than Hamlin. I took the leap of faith all the way. Well you saw the 2010 season better than I did. I got burned extremely hard by Alan Ball and Wade Phillips. Thanks Wade! Thanks for not having a Plan B. Thanks for just handing the job over to Alan Ball. Thanks to all the Cowboys writers on their site who sold me on Alan Ball. Yeah that was some major cool aid they sold me and I drank it, it tasted delicious until the first time I saw Ball play FS. Lets move on shall we.
The ENTIRE 2009 Draft Class minus Victor Butler and John Phillips
This is another leap of faith around the same time frame that really pissed me off. The 2009 NFL Draft we had was the worst in our franchise history. We had around 11 picks and turned them into straight scrubs. I will not even go into the specifics on who we should have drafted anymore, I get too sick to my stomach doing that. But back in 2009 that April I had no choice but to buy in. I believed yeah these guys will turn out ok! This Jason Williams kid is a freak! Brewster will be a starter in no time! Brandon Williams will be a great pass rusher! DeAngelo Smith will become a great safety for us! David Buehler what! He is going to be a great kicker!
So I drank the cool aid and took the leap of faith. To this day only two players remain from that class with any hope. I actually like Victor Butler and John Phillips and I know they will be contributing players for a long time. But the rest of that class is straight garbage. I really have no idea what the entire scouting department, front office and Jerry Jones were doing or thinking that draft. I want to move on already, I wasted enough time on that already. The 2009 Draft Class is one of my all time lows as a Cowboys fan. Major burn there on the leap of faith.
The all time burn in my leap of faith
The trade that brought Roy E. Williams to Dallas
Now the 2009 Draft Class and Roy Williams are the worst leap of faiths I have ever taken. It was tough to decide which was worse. In the end I went with Roy Williams because we sent away the draft pick we should have used on Clay Matthews, Hakeem Nicks, Percy Harvin or Michael Oher. Yes folks right now one of those studs could be on our team. Instead we have 30 catches a year Roy Williams. Back in 2008 I was pumped up about this trade, until I found out what we gave up. I resisted my urge to be negative and instead took the leap of faith on good old Roy Williams. Of course I believed the pairing of Roy and TO was going to be amazing.
It didn't turn out that way. TO was released a few months later and Roy never took off as the number one wide receiver we thought we landed. Thank god for Miles Austin, seriously. Instead of getting a playmaker, we got a scrub. Yes maybe if he was the #3 or #4 WR I would be ok with Roy, but he cost us our prized #1 draft pick. So instead of getting Hakeem Nicks or Percy Harvin this is what you get. A sloppy route runner. A goofy and uncoordinated wide receiver who trips over his own feet. A man with hands of stones. I am really loving the 30 catches a year, damn that Percy Harvin would be nice here. So yeah I took the leap of faith thinking Roy was going to be amazing for us, and I was burned heavily. The day we get rid of Roy and add a real wide receiver will be a great day for me.
I hope I do not get burned on these prior leap of faiths
Akwasi Owusu Ansah has starter potential
Now I would like to show you the leap of faiths I really hope I don't get burned on. Even before we drafted Akwasi Owusu Ansah I was a big fan of his. I saw his you tube stuff and was blown away. I then saw him on First Take and was impressed with how he presented himself. I had a 2nd round grade on him, but he fell to the 4th because of a shoulder injury. Akwasi never really got into a groove last year, he was basically one step behind the whole time. 2011 is a new season and I expect big things from Akwasi. I think there is no reason why he cannot challenge for a safety spot on this team.
Akwasi is very intellectual and will not lack in the smarts department. He is also one heck of an athlete. Where he will have problems is the level of competition in the NFL. If he can smoothly make that transition he has all the skills to become a starter in this league. He is also versatile and you can play him at cornerback if this safety conversion doesn't work out. I have taken my leap of faith with Akwasi. He could end up like Adrian Wilson or he could end up a bust. This is a big year for Akwasi and I am taking the leap.
Victor Butler is a good pass rusher and should get more reps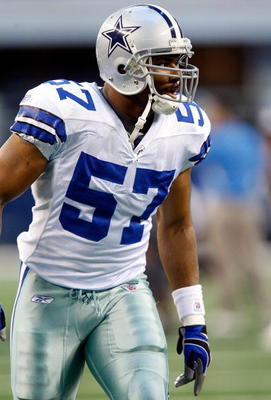 Oh yes Victor Butler is one of our lone saviors from the mess of the 2009 NFL Draft. I took my leap with him a few seasons ago. I think he has great pass rushing ability and should be utilized more in the defense. This is where Rob Ryan steps in. He needs guys like Butler on the field in his creative packages. I really expect a breakout season from Victor Butler in 2011. His skills just fit the scheme Rob Ryan likes to run. This isn't a major leap of faith, but I believe in Victor Butler.
Sean Lee will be a starting linebacker for a long time and a great player
When we drafted Sean Lee I thought we got one hell of a person and football player. The kid is a coaches dream because he eats, sleeps and dumps football. I think Lee again has all the athletic ability and determination to become a great player for us. I took the leap of faith when we drafted him. I wanted a free safety and I still am pleading for one. But I bought into the Sean Lee pick instantly. He was a first round talent if not for his ACL injury. His progress throughout the season was tremendous. You could see him grow throughout the season. His very first preseason game vs. the Chargers he made some huge plays. Throughout the regular season you saw him improve and get healthy. The Colts game was his coming out party. If he can stay healthy he is going to be a force in this defense. Frankly I would be shocked to see him not starting next year.
Josh Brent is the future on the defensive line
When the Cowboys drafted Josh Brent in the Supplemental Draft I was very happy. I knew we got a great player that in my opinion carried a third round grade. It also showed me the scouting department was doing their homework. Right then and there I said Josh Brent will make this team, and he did. I took my leap of faith then and I am not looking back. Brent will be a starting player on this defensive line in the near future. Now I don't know if that's defensive tackle or defensive end, but he will be a part of the defensive line. He is strong and has some pass rushing skills. He is still developing and is only going to get better. Many wanted another nose tackle, but I think Brent is the guy we are looking for. If you put Brent on the Patriots, Steelers or Ravens he would be hyped up by their media and fans. Take a leap of faith on Josh Brent because the kid has the skills to become a very good player on the defensive line.
My all time best leap of faith moment
Dez Bryant
My all time leap of faith moment has to be Dez Bryant. Tony Romo was a close second but I decided to write about my favorite player, I do love me some Dez. I have been following Dez Bryant ever since I saw his videos from high school. He absolutely blew me away with his hands and jump ball ability. I then watched him destroy everyone he faced while at Oklahoma State and I knew he was going to be a top 10 pick. While everyone was talking about Michael Crabtree, I was talking about Dez Bryant. In the real world I never felt drafting Dez would be a real outcome for the Cowboys in the 2010 draft. I just didn't see a player of that quality falling to us that late in the first round.
Then the freefall began with teams passing on him. The moment I took my leap of faith was when the Denver Broncos selected Demarius Thomas. I was floored with emotion because I knew that Jerry would pull the trigger to move up and grab him. When the trade was officially announced and we were on the clock I got on the ground. I prayed for us to take Dez Bryant. In my opinion he has the skills to be one of the best wide receivers in the NFL. I am not just saying this because he is on the Cowboys, he could have went to the Giants and I would still be saying Dez Bryant has the skills to be one of the best in the game. That was easily the best moment I have had as a sports fan since the Cowboys beat the Steelers for their 5th Super Bowl title.
Dez is my favorite player of all time. That is how much stock I put into this kid. Am I worried about him? Yes and I worry because of something called wasted talent. There is nothing worse than wasted talent. Now I don't think Dez is a bad kid. I am 27 years old and at his age I was doing things that would make my mother cringe. He isn't a criminal and he doesn't do drugs. His problem is immaturity and its to be expected from kids his age. He hasn't grown up in the ideal circumstances many of his haters have. He will grow and learn to understand that fine tuning your craft will make him a better player. Last season he was winning off of raw talent alone. When he learns all the routes and hot routes watch out. He has some of the best hands I have ever seen. He is one of the strongest wide receivers I have ever seen. He is fast and quick. He is one of the best jump ball wide receivers I have ever seen. He reminds me of Andre Johnson, just not as tall.
My leap of faith paid off last season. Dez had a tremendous rookie season on the field. The injuries will start to go away with more conditioning, and that is something he got over the course of the off-season. A whole entire year away from the game changed his body, but it did not change his skills. The scary part is that he is going to continue to grow and get better. Andre Johnson really started to settle in by his 2nd and 3rd year in the league. Like I said if Dez lets me down, it will crush me and my leap of faith may be tarnished for life. But I am not looking at the negatives with Dez. He is growing up and will mature into a better player, just like Randy Moss did. The best part about backing Dez 100 percent from the beginning is when he fully reaches his potential, I can be the one who said that's my boy from day one.
Sometimes being a fan of the Dallas Cowboys you have to have faith. At some point your going to have to believe in the players and coaches they bring in. For the most part this franchise actually knows what their doing, but there are times where your left believing in some BS that is so bad but you must have faith. The feeling I get more and more with the Garrett regime is a good feeling. It feels like proper football decisions are being made here as we move along. I have been burned in the past but I have also been rewarded. So when you take your leap of faith, try to stay positive. If it doesn't work out, it doesn't work out. But when it does work out, the rewards are gratifying.
This has been a ChiaCrack Production