The most important cog in the Cowboys' success of last season was their ability to line up and run the football no matter where they were in the game. The NFL media world believes it was on the extremely talented legs of DeMarco Murray, the Dallas Cowboys believes it was on the five road graders up front.
1,848 yards is not what the Cowboys have to replace, catching lightning in a bottle rarely happens twice. Instead, the Cowboys really need to replace the consistency of their rushing attack. So they went out and grabbed a star of yesteryear in Darren McFadden. The oft-injured but electric back is only part of the equation. Dallas is headed back to a running-by-committee formula that they used in Marion Barber's day. Our own Rabble made it clear that RBBC is a tradition in Dallas, and his evidence supported the claim:
"The best of the Jones-Barber years enjoyed higher 5-year and single-season average yards per carry than those of the great eras from the past - and did so the year after the Cowboys released Terrell Owens, and didn't have a dominant receiver until Miles Austin emerged in October.

Given the strength of the Cowboys' current O-line - it is certainly far ahead of the 2009 version - I have every reason to believe that their current stable of running backs can duplicate the success of guys like Felix Jones and Tashard Choice. What they don't have just yet is a hammer like Barber, but I'd bet they will continue to look for one, and will find a suitable candidate before they kick off against the Giants the week after Labor Day.

And when they do, Dallas will return to the way it has run the ball throughout the majority of its history: with three backs all getting less than 50 percent of the carries. Its worked before; when they won Super Bowls in 1971 and 1977 - a run-first era, mind you - the leading rusher had fewer than 37% of the total team carries."
Even with these findings, getting comfortable with the idea is not easy. Not because it can't work, but because my trust level in the running backs on this roster is not very high. Starting with many draft profiles, we looked at running backs the Cowboys might pick, but were unable to execute due to the breaking of the draft. Just recently, candidates to trade for are the hot topic should Bryan Broaddus' intuition hold true. Even the play-maker himself, Michael Irvin, is having reservations and went as far as to pick the Eagles to win the division all based on his affinity for Murray:
"I was trying to find out what team in the NFL is great right now with an NFL running back by committee," said Irvin

"Oh you can put any running back behind that offensive line of the Dallas Cowboys.' I say, 'Oh really? Why they hand the ball to DeMarco Murray 392 times? Why did they stick anybody back there last year?' Because they already knew that's not the case."

"So the whole committee can get their butts out here and bust their butts all offseason and all summer long because they feel like they're fighting for one spot…One guy is getting this spot."
Of course, as an open-minded individual, I can be swayed either way with good reasoning. After reading the comments thread on the aforementioned trade piece, it caused me to go back and do more research. My hypothesis...maybe Joseph Randle is their guy. Using Rabble's above notion, it becomes more clear that this shouldn't scare me that much.
What Randle has more than anything is impeccable vision for the position. He's explosive and he makes extremely decisive cuts. Randle certainly possesses home-run ability but he is so much more than just that. Randle has some power to force his way through the hole and get to the second-level in a flash. Let's first see his big run in jolly-old England, shall we?
First of all, this hole was gaping as most are when you run behind the GWOD II, but Randle found his lane and exploded into it. He never once lost balance and kept his eyes on the prize without losing momentum. A fantastic show of athleticism with the speed and patience to match.
When coaches see something good, they typically have to see it again, and Randle's impact, though limited, was kind of "when it rains, it pours" for opposing defenses. Much like this 17-yard scamper he had in Chicago on Thursday Night Football:
Joe Randle takes a little manhood away when he breaks a run, but they can't all be scores. Watch this image of Randle against Philadelphia in 2013.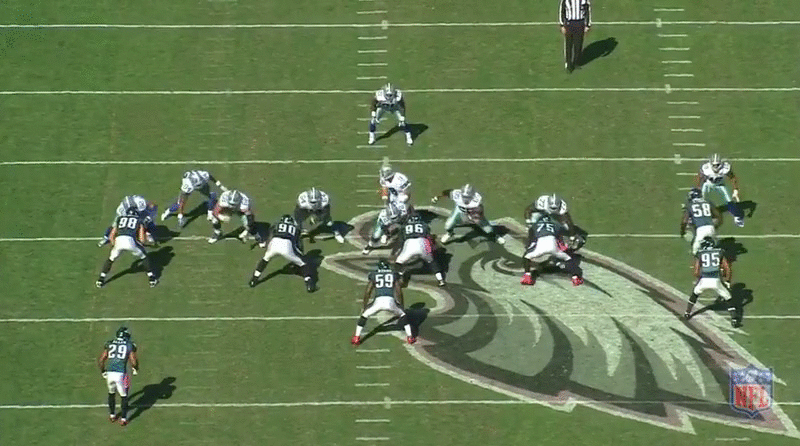 What you see is a back whose lane was penetrated and closed immediately but he was able to bounce outside and pick up a good chunk of yardage. That right there is vision people, when you have that plus good acceleration and speed...it's dangerous.
These images lead me to my conclusive point, the Cowboys want Joseph Randle to win this job. Sure, they have confidence in Darren McFadden and are excited he's part of the equation, but Randle should get every opportunity to lead this committee. Here is what one scouting report from SportsDayDFW said of Randle the day Dallas took him:
"Randle's biggest positive is that he's a decisive, one-cut runner. He gets up the field in a hurry, making the most of his speed. Randle would be a natural fit in a zone-blocking scheme that emphasizes decisiveness over long speed—much like that for Arian Foster in Houston."
In that same report, Randle is criticized as having poor speed, but his NFL production thus far would dictate otherwise. As mentioned earlier, nobody is saying he better be an 1,800 yard runner, except for maybe Steve Dennis. What the Cowboys need is just consistent contribution from whoever lines up behind Tony Romo. If Rabble's theory of "less than 50% of the carries for all" is true,  then make the most of the opportunities.
This offensive line is stronger than most, it's a running backs dream. No discounts to Murray's production, but  maybe Joseph Randle is ready to shine. Determination and will can bring a man more than he ever desired. We will soon see if Randle is willing to go the distance for his opportunity.