A lot has been made about the Dallas Cowboys' running back situation since DeMarco Murray signed with the Philadelphia Eagles in the summer of 2015. In an attempt to improve the position, the Cowboys went out and signed Darren McFadden just a few days after losing Murray. After not picking a running back in the 2015 NFL Draft, it was determined that the Cowboys were going to take the committee approach for the 2015 season.
After just six games, where he underachieved and continued to be a nuisance in the locker room, the Cowboys cut Joseph Randle, then named McFadden to be the starter for the remainder of the 2015 season. The combination of McFadden and Robert Turbin didn't necessarily scare anyone, but the idea that anyone can run behind the Cowboys' offensive line was determined to be true when McFadden turned his career around with his production in 2015.
Since Week 8, when he was declared the starter, McFadden has run for 808 yards on 173 carries, adding 216 yards through the air on 26 receptions. Statistically speaking, McFadden had his second-best season ever, but it was far and away his best season in terms of health. When Week 1 of the 2016 season rolls around, there shouldn't be a question as to who will get the first carry to open the new season. Despite that, running back is a position the Cowboys should look into addressing in this year's draft.
When the 2016 season ends, McFadden's two-year deal will be up and in case you didn't know, the lifespan of a running back in today's NFL isn't long. Even though he was healthy in 2015, McFadden's injury history is just a further reason for the Cowboys to not extend him after the 2016 season, which leads me to my next point.
Finding impact performers in the draft is the key to building and sustaining a successful franchise. The Cowboys have done a great job in recent years in the draft, and with a high draft pick in this year's draft, the Cowboys will be able to continue this recent trend.
There has been some hype about the Cowboys taking either Ezekiel Elliott or Derrick Henry, the two RB prospects with the highest profile. However, while running back is a big need, it's not as pressing a need as quarterback, cornerback, or even wide receiver. That said, the Cowboys should wait until the middle rounds to take their running back of the future, and the guy that makes the most sense is Utah's Devontae Booker.
When I see McFadden, I see a guy that may not have the cutting ability to perform successfully in a zone-blocking scheme. In fact, the Cowboys had to create plays using a man-blocking scheme to get the most out of him, as his slashing trait worked best in that scheme. A guy like Booker fits the zone-blocking scheme to perfection with his ability to find the hole, his field vision and awareness, and with how he can diagnose the blocking in front of him.
Standing at 5-foot-11, 210 pounds, there will be some knocks on Booker for his size, and his speed isn't the best either, given he's been projected to run a 4.56 40-yard dash. Nevertheless, Booker's speed isn't a big deal in between the tackles. He's extremely shifty and because of his smaller frame, his low center of gravity makes it difficult for linebackers and cornerbacks on the second level and beyond to bring him down. Let's take a look at a few clips and see exactly why Booker would make perfect sense in Dallas.
The ability to find space is something only elite running backs excel at. When I watch Booker, it's clear he can read the defense to find out where exactly that running space is.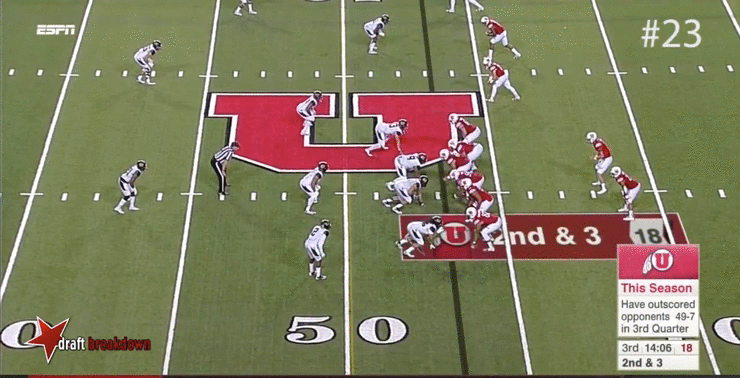 On top of his field vision, Booker is excellent at extending the play and picking up extra yards by making defenders miss.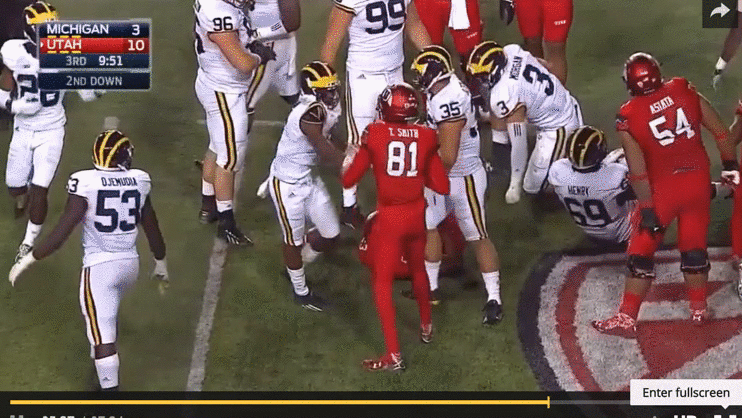 Running backs are always told to keep their feet moving before being brought down. Booker is a natural at this. He uses his combination of power and, of course, his low center of gravity to push the pile and fight for the extra yards.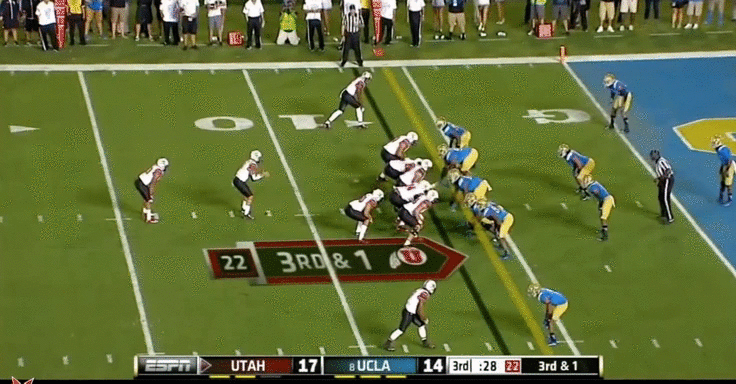 He's also capable of making plays in the receiving game, adding an extra element to a skill set that already makes him such a special player. In this clip, we also see just how dynamic he can be with the football in open space.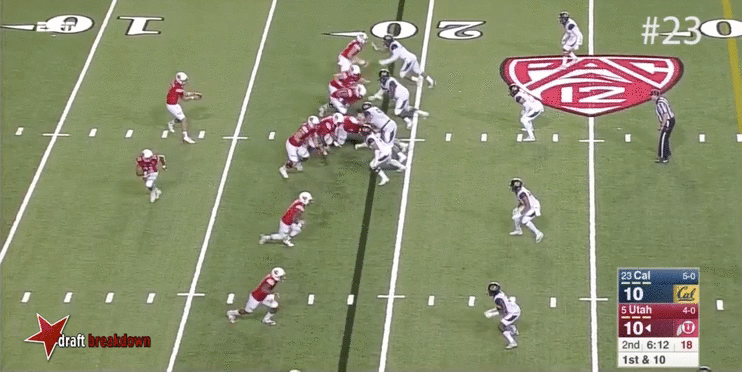 The aspects of his game as outlined above could help him blossom into a perennial Pro Bowler in Dallas, but there are some qualities to Booker that many teams will not like.
In this run, he does an excellent job at balancing off defenders and finding a way to score a TD. But if you look closely, you'll see the ball never leaves his left arm. Booker prefers using his left arm to cover the football and it led to some fumbling concerns in his college career.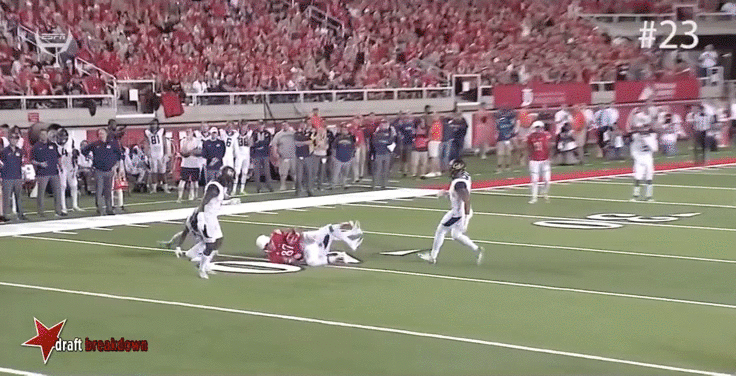 Secondly, I touched upon it earlier, but just so you see what I mean, here's a clip of Booker's straight-line speed, or should I say lack thereof.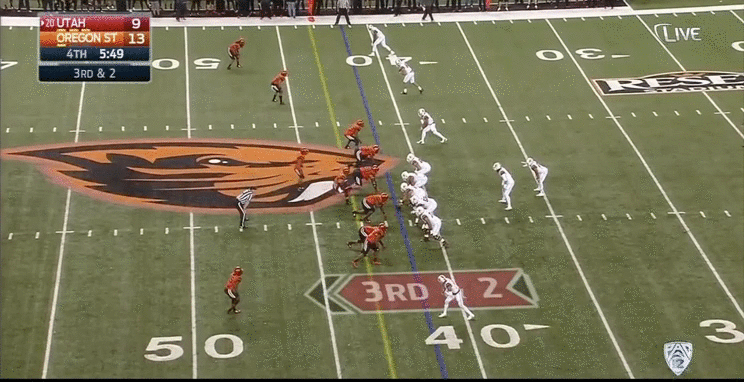 A lot will happen from now until the end of April regarding the draft, my analysis included, but the fact remains that the Cowboys need someone that can fit their zone-blocking scheme. With their vaunted offensive line and a dynamic quarterback like Tony Romo to make defenses respect the passing game, the Cowboys are set up for a dangerous zone scheme, but until they get a guy who can fit the mold, they will have some lapses at times on offense.
Dallas needs to get back to what they did well in 2014, running the football and giving the defense more time on the sideline to rest and get ready for the next sequence. By adding a guy like Booker, the Cowboys can get back to power football, and get the most out of Romo in the last few years of his career in the process.