Draft season is upon us. And that means teams and fans are starving to find out more and more about the top prospects in this year's draft. Because the quarterback is the most important position on a football roster, many teams will look into taking one of the top signal-callers in April's draft, one of those teams being the Dallas Cowboys. California's Jared Goff and Memphis' Paxton Lynch have been tabbed as the first and second quarterback to be taken in the draft. However, the latest buzz is that people are extremely fascinated with North Dakota State's Carson Wentz.
DraftBreakdown's Jeff Risdon reported this interesting little scoop yesterday:
Draft nugget: was just told if Carson Wentz does well at Senior Bowl he's gone before Dallas gets a shot at him at 4 overall.

— Jeff Risdon (@JeffRisdon) January 19, 2016
Before people jump to conclusions about Wentz and his draft stock, it should be said that this is the time of the year where smokescreens start so teams interested in a player bite the bullet and draft their guy higher than maybe they would like. This could be the exact case of what is happening with Wentz. Nevertheless, the reason why I decided to write about him today was quite simple.
The 2016 Reese's Senior Bowl is less than two weeks away. That means there will be a week of practice for coaches to get an idea of what to expect in the game. Because their coaching staff has remained in place and they have a high draft pick, the Cowboys' coaching staff was selected to coach one of the two teams, the team Wentz just so happens to be on. This means that a huge part of the Cowboys' brass will have a week with Wentz to see if he fits the bill to be Tony Romo's successor.
A few weeks ago, I did a little evaluation on Wentz. Let's take a look at some of my notes:
Good, yet inconsistent, touch

Decent anticipation skills

Very good decision-maker

Locks onto targets

Awkward throwing motion, but good footwork

Coming from a system that is professional-style, but playing against lesser competition

Can make all of the throws you need

Hard-working, knowledgable, tough player

Great size for the position
However, with the latest news of Wentz going in the first round, I decided to go back to the tape and further evaluate Wentz. Let's take a look at some clips of Wentz:
Athletic ability is often overlooked when it comes to the quarterback position. However, Wentz is a guy that can make plays with his feet, making him a dynamic weapon outside of using just his right arm.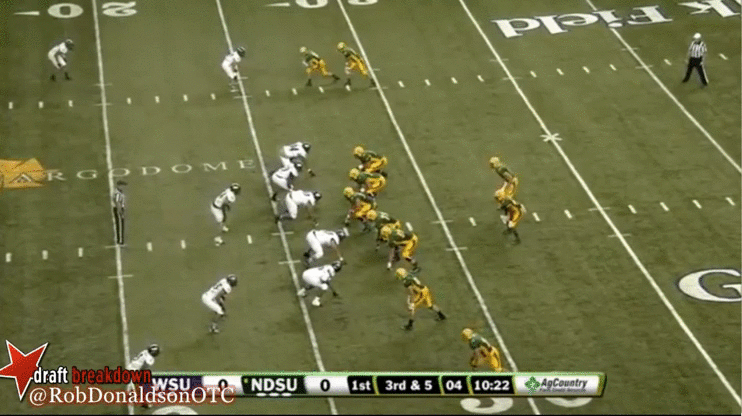 Something that needs to be said is that he's not someone who struggles with recognizing the defense and being baited into throwing interceptions. Here's a clip of Wentz trying to go to his outside receiver. However, after noticing the defensive end dropping back, he decides to stay away from going in that direction to avoid the risk of an interception.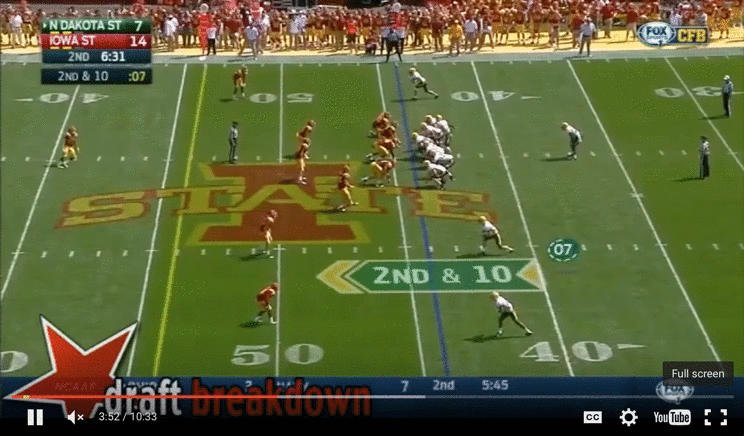 What's a quarterback highlight review without an example of a touch pass? In this clip, Wentz shows off how he can drop in a perfectly-placed ball downfield. This would be a touchdown if his intended receiver had held onto the football.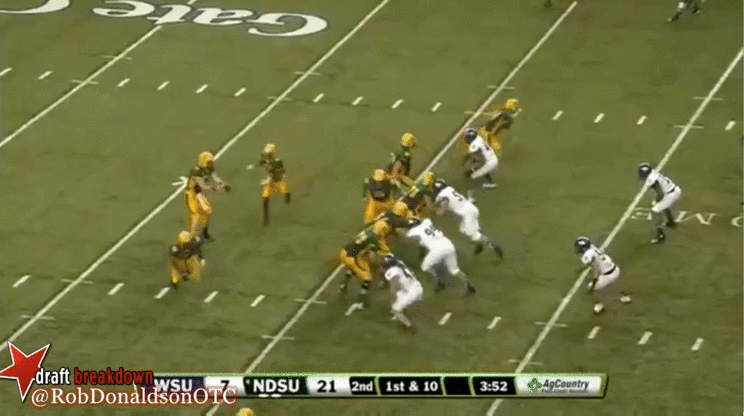 The next throw is an example of Wentz putting the ball in a zone, where multiple defenders are positioned. This a professional-level throw from Wentz.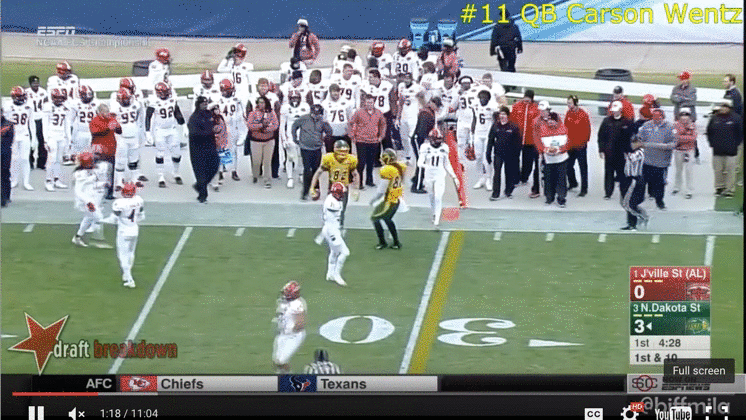 I'd like to see more consistency out of Wentz' deep ball. Ball placement is key in the NFL and he struggles with this aspect of his game at times.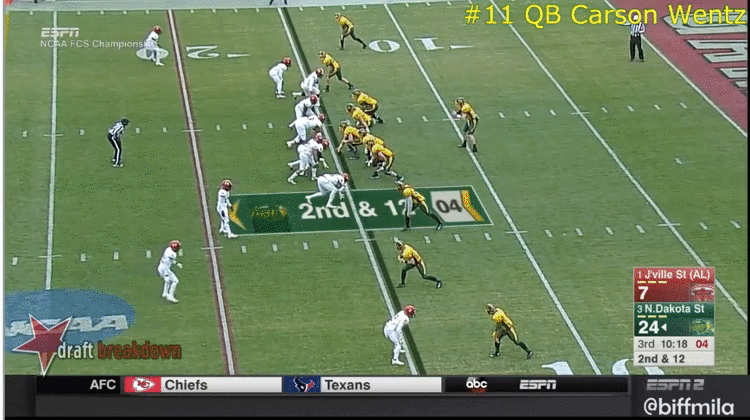 One thing I struggle to understand with Wentz is his throwing motion. Despite standing at 6-foot-6, Wentz brings the football down before releasing it. Edge rushers will be able to get around the offensive tackle and make a play because of this. While I do think Wentz has great footwork in the pocket, his mechanics aren't necessarily bad, but they are definitely unorthodox.
The reasons why people like Wentz a lot are quite clear. He's a good anticipator, meaning he can understand the defense and place the football in tough areas. Going off that, he makes a ton of good reads. In the pocket, even when a rusher is coming, Wentz seems to always take the hit to get that extra second to get the football out to his man. Another thing I find to Wentz's favor is how he's coming from a pro-style offense (downfield offense), rather than a spread-scheme, which colleges tend to use more of nowadays.
Wentz has potential to be a high-level quarterback in the NFL. He may not be ready to come in and immediately make a difference, but some NFL coaching and seasoning will give him the opportunity to perfect some of the blemishes in his game. The reality with Wentz is that the hype is real. That may not mean he goes in the top 5, but there this is definitely a chance that he could be the first quarterback taken in the draft. After all, all it takes is one team. And that one team could be the Cowboys, given that they'll get the most extensive view of him.