If all goes well and their key players stay healthy, the 2016 Dallas Cowboys are going to be much better than the 2015 version of the team. With Tony Romo returning from injury and Dez Bryant getting a full offseason to get in shape, Dallas should be back to its dynamic run-to-set-up-the-passing-game offense in 2016. The offensive line should improve as they'll have more continuity. Knowing that, whoever is in the backfield will be able to run behind the league's best unit, opening up things for Romo and the passing game.
Going back to 2014, the year the Cowboys were most successful in recent memory, the Cowboys got by without much production from the No. 2 receiver position. Terrance Williams burst onto the scene in his rookie campaign, catching 44 passes for 736 yards and five touchdowns, despite playing in the No. 3 receiver. While Williams is coming off his best season as a pro in terms of statistics, the fact is that he fails to win one-on-one matchups opposite of Bryant.
When the running game is clicking, defenses have a tough time stopping the Cowboys' passing offense. Defenses usually put a safety high over Bryant to make someone else besides No. 88 beat them. That's where a guy like Williams comes in. 2016 will be Williams' fourth season and amazingly, he's yet to fully evolve in the Cowboys' offense. He's a guy who struggles with route-running, part of that being because he came from a Baylor offense that doesn't have a traditional route tree. Williams is also a body-catcher, something he needed to improve coming into his his rookie season. On third downs, when the Cowboys need a conversion, it's not Williams they're going to, it's either Bryant, Jason Witten, or Cole Beasley.
Beasley has been a real nice player for the Cowboys in the past few years. His route-running skills as well as his reliable hands make up a perfect weapon in Romo's arsenal. Unfortunately, he doesn't have the size to be capable of playing outside, leaving him really as a option in only sub-packages in the spread. Let's take a look at the type of receivers the Cowboys have on their roster as well as their measurables, Beasley not included.
Dez Bryant: 6'2, 225 pounds, 34-inch arms, 4.52 40-yard dash.

Terrance Williams: 6'2, 208 pounds, 31-inch arms, 4.52 40-yard dash.

Brice Butler: 6'3, 214 pounds, 33-inch arms, 4.37 40-yard dash.

Devin Street: 6'3, 200 pounds, 33-inch arms,  4.55 40-yard dash.
A receiver should be in the cards at some point in the 2016 NFL Draft, and while many guys will see their stock rise and fall because of the combine and other showcase events, one player that fits the mold the Cowboys look for in a receiver is TCU's Josh Doctson.
Let me just start out saying this, if Doctson were to be drafted by the Cowboys, it would most likely happen in the second round. This would mean the Cowboys would select another position of need in the first round, such as quarterback, cornerback, or linebacker.
Each year, the Cowboys host something called Dallas Day, which gives opportunities for prospects coming from collegiate programs in Texas to showcase their talent. One player that will likely attend this event is Doctson. Another thing to follow is that Trevone Boykin, Boykin's quarterback at TCU, will also likely be there, which gives me a ton of reasoning to believe that the two will put on a show together thanks to their progression together at TCU.
Doctson is a player that can do unique things to bring in the football. He's a big, yet lanky target at 6-foot-4, 195 pounds. There's obviously room on his frame to add weight, but the best thing with Doctson is his ability to simply go up and bring down the football. His catch-radius is absolutely huge and he can jump higher than anyone. He's a quality blocker and a smart receiver who showed in college that he can make plays by coming back to the quarterback when the play breaks down.
One knock on Doctson that will be made known over the next few weeks is his age. At age 24, Doctson will face some critics because he's not necessarily a finished product at the age of 24. Nevertheless, the Cowboys don't need him to become the next Jerry Rice. That's why I'm not all too concerned with his age. Let's take a look at some clips of Doctson at TCU.
Here's a play where Doctson shows off his ability to track the football. Knowing where the ball is going to drop, Doctson does an excellent job at adjusting his route to put himself in position to catch the football.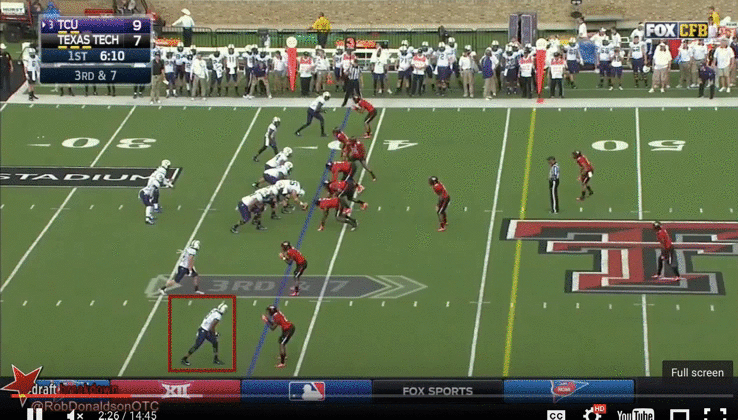 Doctson is such a hard guy to guard downfield because of his catch-radius as well as his tracking ability, a combination that can be quite deadly in the NFL. Here's a clip of Doctson making it look easy downfield.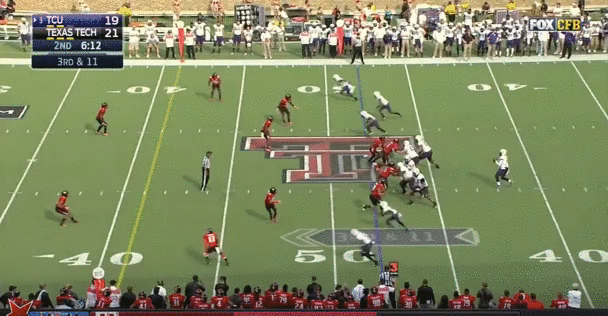 Just to give you an example of Doctson's ability, here's a picture of his catch-point.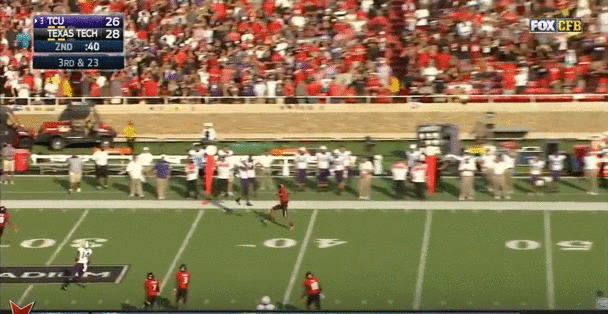 Sometimes, it's hard for bigger receivers to get space across the middle, but here's a clip of Doctson getting inside just enough before corralling a pass using his body so the defender can't make a play on the football.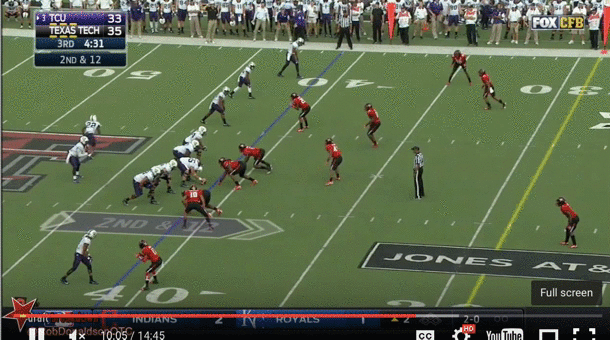 I talked about how the Cowboys can get a ton of use out of Doctson in the red-zone. In this clip, Doctson just beats his man and then makes an excellent play in the back of the endzone, showcasing his soft hands as well as his long arms.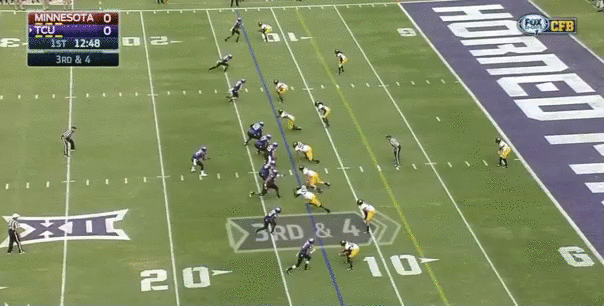 The next clip is the clear seller for Doctson. In this clip, it's easy to see why people rave over his redzone ability, his hands, his tracking ability, and his ball skills. All of those skills are on full display here.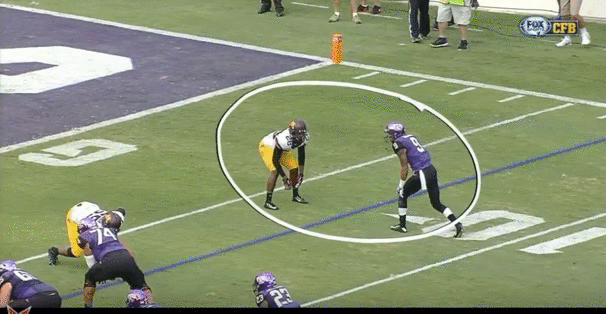 The one thing I will say about Doctson is that he may not have the skills to ever evolve into a true No. 1 receiving threat. The reality is that he'd be a nice target for Romo to have, thanks to frame and how he can go up and bring down the football. The problem is that Doctson lacks top-end speed. However, as the Cowboys' receiver measurables from above tell us, speed isn't necessarily something they look for in their receivers. By drafting Doctson, the Cowboys would get a budding talent. He may need a year or even two to fully get used to a professional offense, but he fits the bill as a true No. 2 receiver, one who can make plays in the red-zone and be relied upon to beat one-on-one matchups when Bryant faces double teams or simply when he isn't having his best day.