The 2016 Senior Bowl boasts a ton of top prospects. Because the Dallas Cowboys have one of the top picks in this year's draft and their staff is still in place, they were chosen to coach the North roster. That being said, the Cowboys will get the opportunity to have an extended amount of time with a bunch of quality prospects. In that group of prospects, the Cowboys will get to coach the likes of Carson Wentz, Adolphus Washington, Austin Johnson, Leonte Carroo, Jason Spriggs, and many other draft hopefuls. All the attention has been on Wentz, but if there's another guy on this roster the coaching staff could fall in love with, it's Louisiana Tech running back Kenneth Dixon.
Each year, there seems to be a player teams fall in love with at the Senior Bowl. Last year it was Clive Walford and Quentin Rollins who saw their stocks rise the most. Thiy year that guy could be Dixon. There are many reasons why a team could fall in love with Dixon. He's one of the more intriguing prospects in this year's class for his field vision as well as his ability to cut and change directions quickly. For the Cowboys' zone-blocking scheme, Dixon makes a ton of sense for exactly those reasons.
At 5-foot-10, 210 pounds, Dixon runs low to ground. He's a bowling ball type of back that can make plays out of the backfield as well. Smaller backs tends to run with more power fue to their low center of gravity and that is the exact case with the Louisiana Tech star. Let's take a look at a few clips of Dixon:
I touched briefly upon it earlier, but here's a clip of Dixon creating space by cutting in and out of the defense. This is a skill that would be of great use in the Cowboys' running offense.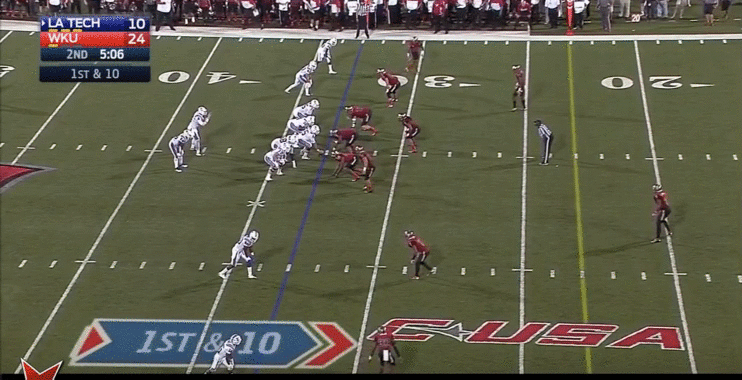 To go with his cutting ability and his field vision, Dixon runs with a ton of power. In this clip, he brings two defenders with him into the endzone.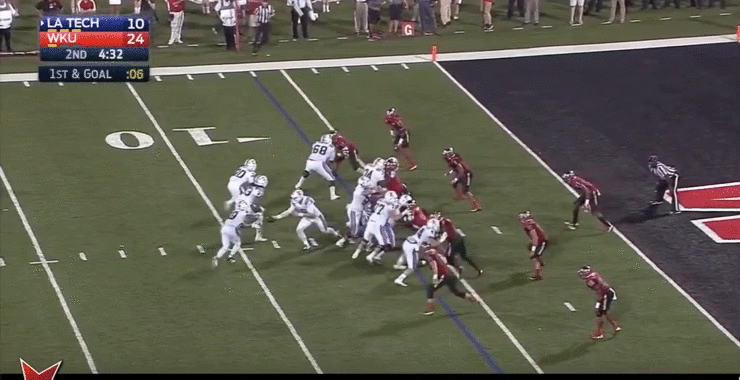 On top of Dixon's power running style, he also has the ability make plays out of the backfield as a receiver. This element makes Dixon a complete running back. Dixon goes on to score on this play.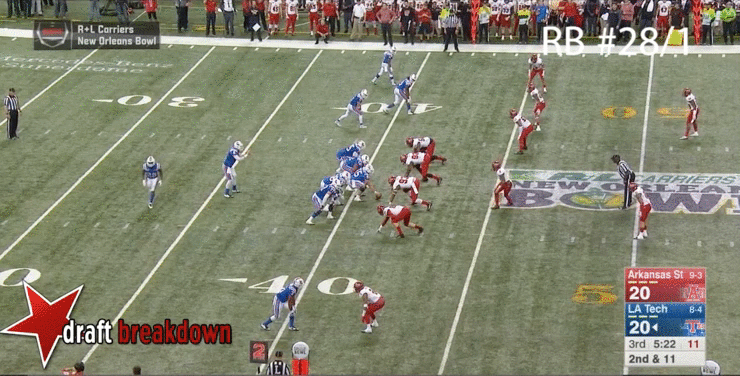 I said earlier how Dixon is a tough guy to tackle. However, he has the ability to make defenders miss with power or athleticism. Here's an example of Dixon making people miss with athleticism: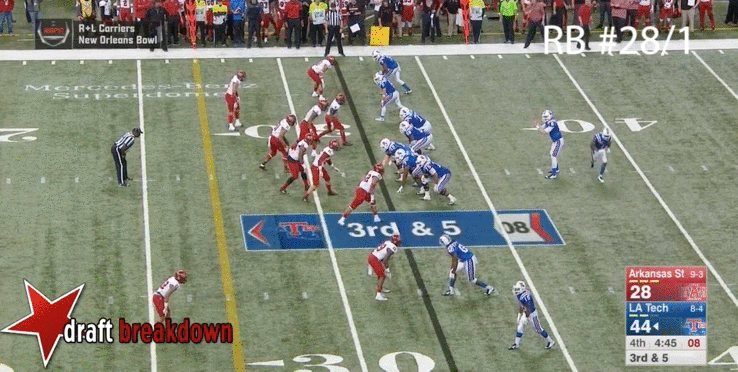 And here's an example of Dixon making people miss with power: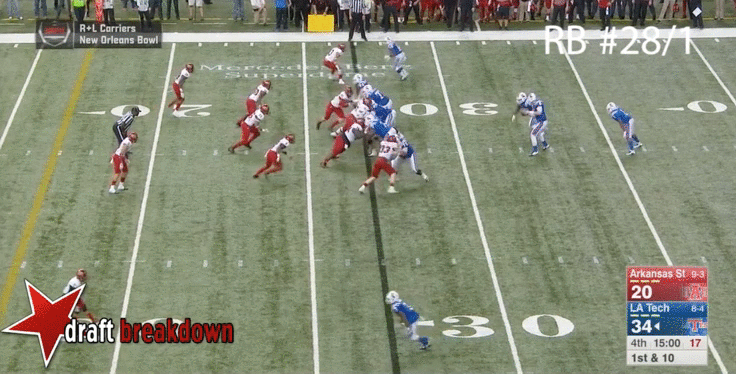 The next clip is an example of how light Dixon can be on his feet. Some key traits for a running back to succeed in the NFL are balance, power, and field vision. Dixon excels in all three categories.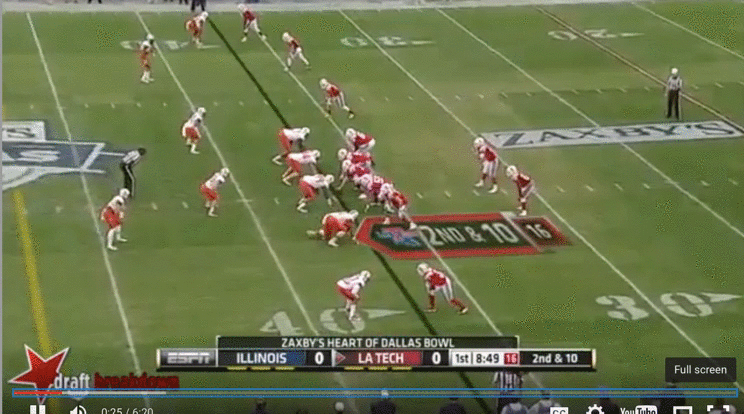 With Dixon being a shifty runner who can succeed inside and outside of the tackles, he's a back that could succeed in Dallas. When people think of the Cowboys' running game, the offensive line is the first thing people think of. Darren McFadden proved in 2015 that anyone could come in and succeed behind an offensive line that consists of three perennial Pro Bowlers. That said, the Cowboys might not view running back as that big of a need, especially with the likes of Leonard Fournette, Christian McCaffrey, and Dalvin Cook likely entering next year's draft.
If the Cowboys really want to complete their zone-blocking attack, they will need to add a back who fits the scheme. Despite his productivity this past season, McFadden is a better fit in man-blocking schemes, as he struggles with running in zone attacks. Dixon is a guy that could split carries with McFadden.
After the 2016 season, McFadden's contract will expire. Running backs don't have a very long lifespan in the NFL, and with McFadden's lengthy injury history, the Cowboys would be wise to let McFadden walk in free agency after the season and go with a younger, fresher alternative to take over the position. The player that would be the perfect stepping stone is Dixon, as he would be able to split carries in his rookie year and then fully take over the starting role in 2017.
It's too early to say where exactly Dixon will be drafted, but the early consensus suggests he could be available at the end of the second round, any may be in reach of the Cowboys 3rd-round pick: CBSSports ranks him 62nd overall, SB Nation has him ranked 66th overall, and Drafttek has him ranked 83rd overall. The Cowboys drafted DeMarco Murray with the seventh pick in the third round in 2011, and if Dixon would still be available at the top of the third this year, the Cowboys might consider that a worthwhile investment for a running back.
Coaching a Senior Bowl roster will give the Cowboys a lot more time for in-depth scouting of all 56 prospects on the North squad, while giving them the opportunity to practice against an additional 54 other prospects on the South squad. While all the attention may be on Carson Wentz, as it should, Dixon is another guy that should, and likely will, intrigue the Cowboys.
If you want to talk about the NFL Draft, feel free to give me a shout on Twitter or leave your questions/comments in the comments section.