What position the Dallas Cowboys will address in the first round of the 2016 NFL Draft will be the hot topic surrounding the team in the coming months. Quarterback, wide receiver, defensive end, and cornerback are positions many have had the team addressing in mock drafts across the Internet. However, the Cowboys could face a potential problem if they decide to let Rolando McClain walk in free agency. If that is the case, UCLA's Myles Jack enters the NFL Draft conversation.
At 6-foot-1, 245 pounds, Jack's size isn't necessarily intimidating, but the way he can glide across the field is special. His versatility allows him to not only play all three linebacker positions, it also allows him to make plays in the run game and cover tight ends and running backs in the passing game. Usually, a defense has a guy who can shut it down against the run and then a guy that specializes in locking up receivers. This is the exact case with the New England Patriots, Dont'a Hightower being the guy in the running game and Jamie Collins being the versatile cover guy who shuts down opposing weapons.
Because of his athleticism as well as his ability to get after the quarterback, Jack really is coming into the NFL at the perfect time, where tweeners are not only encouraged, but wanted. Jack has the talent to step in immediately and make an impact at either the Will linebacker position or the Sam linebacker position. The caveat of putting Jack at the Will spot would mean that Sean Lee would have to move back to inside linebacker. Before the 2015 season, the Cowboys decided to put McClain at the Mike spot and Lee at the Will spot. The idea behind this was to keep Lee away from contact more, giving him less of a chance for injury. But after a year at the spot, Lee still came up and made plays. So the idea of moving him back to Mike really isn't that alarming to me.
Drafting Byron Jones last year was interesting. It filled a need, and it was move to get more athletic on defense. By having more athletic guys on a defense, the Cowboys can cover more ground and guard up with opposing offensive playmakers. Jack's ability to do a bunch of things will intrigue Rod Marinelli and Will McClay. Let's take a look at some of Jack's clips to see why he could look good with a star on his helmet.
In this clip, it's clear how athletic Jack is. He's asked to go to the slot to man up against a taller receiver and despite the task, Jack has no problem in this matchup, sticking with his man every step of the way.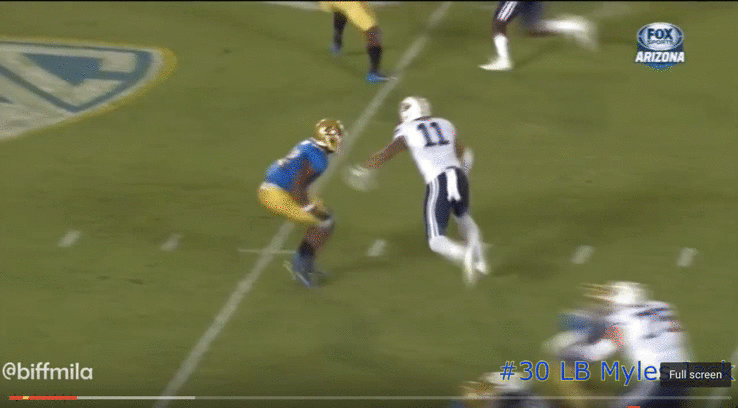 Because of how athletic he is, Jack excels at recognizing the play and how it's being diagnosed, then he makes a play on the football. This is just an example of how special Jack can be in the NFL.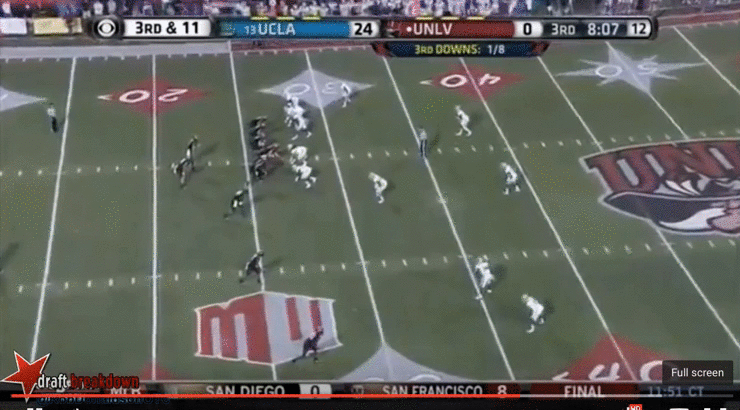 When I watch the film on Jack, there aren't a ton of plays against the run that really impress me, the main reason being he's UCLA's Will linebacker. In this play, Jack gets lined up to blitz and because of how quick he is, he's able to beat the tackle off the football, allowing him to make a big stop in the backfield.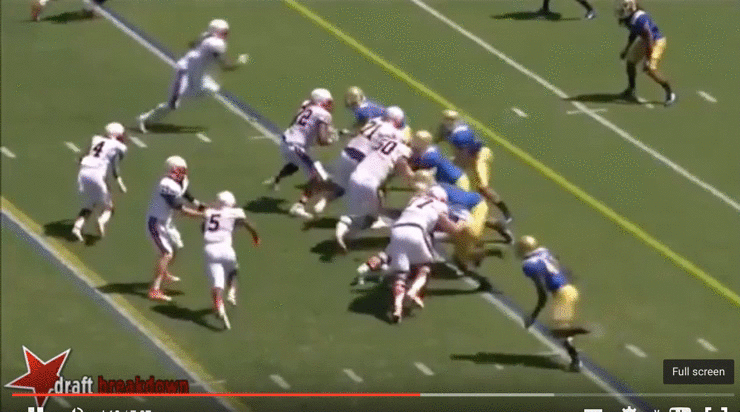 The last clip really just encapsulates what Jack can mean to an NFL team. His ability to guard up against opposing targets makes him extremely valuable to an NFL team. Look at what Jamie Collins has done for the Patriots. If a defense has a guy who can guard a variety of players, defensive coordinators are able to a ton of things with their defense.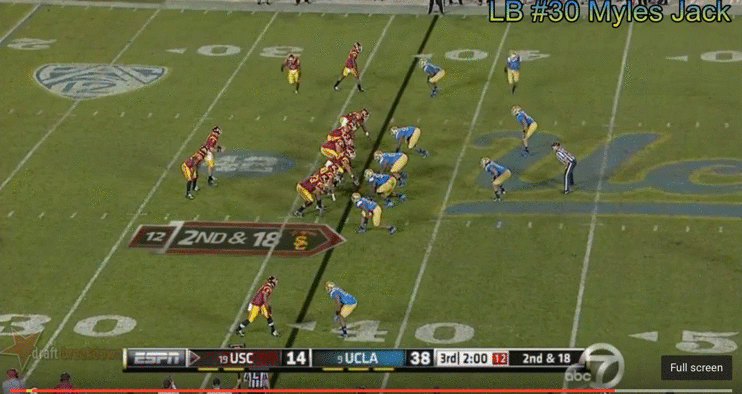 It's hard to fully evaluate Jack. He's a guy that has a ton of talent. That talent is going to be utilized to its fullest potential at the professional level. His ability to stick with opposing receivers and backs out of the backfield is quite remarkable. However, there are some kinks within his game and they go beyond his size. Jack made the transition to outside linebacker from the running back position, so his ability to recognize the play and stick with receivers is understandable. But because of that, Jack is still relatively new to the position, thus giving the impression that he's still raw.
When the fourth pick comes around, if the Cowboys have hopes of making a deep playoff run, this is their chance of getting an immediate-impact type of player, that is if they don't select a quarterback atop the first round. Jack would be a perfect fit for the Cowboys' 4-3 defense, as their Will guy. But the fact is that Jack won't be a target here if McClain does come back. And because McClain won't be that expensive and he has the ability to play like a Pro Bowl level player at times, I have a hard time thinking the Cowboys let him walk in free agency. Nevertheless, there is some hype with Jack's game and how his talent can be translated to the NFL, the problem is that I don't see that hype developing in Dallas.