Ed. Note - GIF heavy post to follow, be patient with page load.
Following all-star events is important for any NFL franchise. Each year, there are players who participate in more than one event, giving that player the ability to showcase his talents against likely-NFL competition. With the East-West Shrine Bowl being last week and the Senior Bowl being this week, wide receiver Tajae Sharpe is no stranger to NFL scouts, coaches, and draft analysts.
Last week during practice for the Shrine Bowl, Sharpe improved his draft stock, yet he was also dinged for his skinny body as well as his hand size. His performance in the Shrine Bowl was underwhelming to say the least, but people shouldn't discredit what he did in practice leading up the game.
Senior Bowl week officially began on Monday. On this day, teams met with players for short interviews. Before I get into this, just because a team met with a player doesn't necessarily mean that they're interested in that player. At this point in time, with three months until the draft, teams are doing preliminary work before getting into the thick of the studying tapes. The Cowboys have been active at the Senior Bowl. Nevertheless Draft Breakdown's Jeff Risdon reported this little tidbit regarding who the Cowboys have had their eye on:
Falcons with Jake Rudock Colts with Joel Stave Argos with Frohnapfel Broncos with Darion Griswold Cowboys with Tajae Sharpe — Jeff Risdon (@JeffRisdon) January 20, 2016
Admittedly, I hadn't heard much about Sharpe before the Shrine Bowl. That said, I went into a little tape study of the 6'1, 195-pound receiver. Here a few clips of Sharpe that impressed me.
The thing that impresses me most with Sharpe is how deceptive he is with his routes. He's a quality route-runner for his size and once he gets into an NFL conditioning program, he'll be able to fill up his frame. This is an example of the route-runner Sharpe can be in the NFL: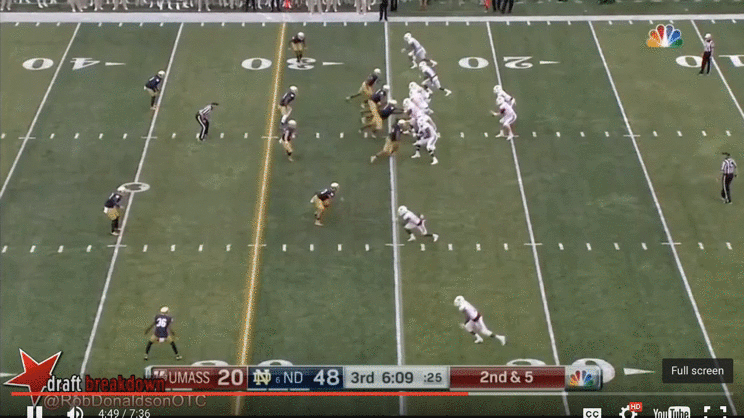 Sharpe's comfortable playing either inside our outside, something the Cowboys can use to their advantage, especially when he can be paired with Cole Beasley inside or speedster Brice Butler on the outside: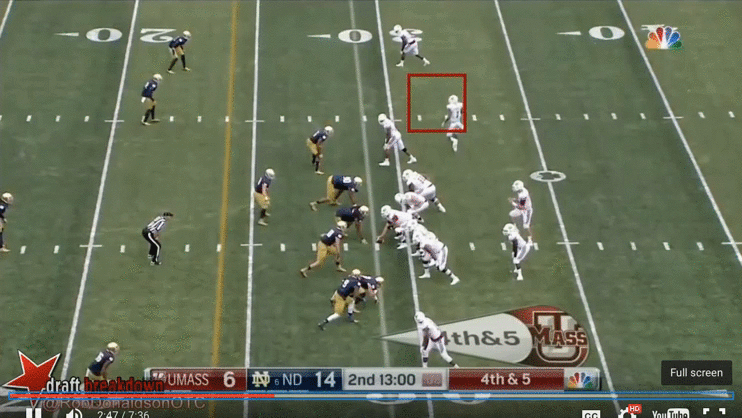 It's clear that Sharpe is the focal point of UMass' offense. Sharpe is consistently being moved around to get favorable matchups. I love how UMass was able to get creative with Sharpe: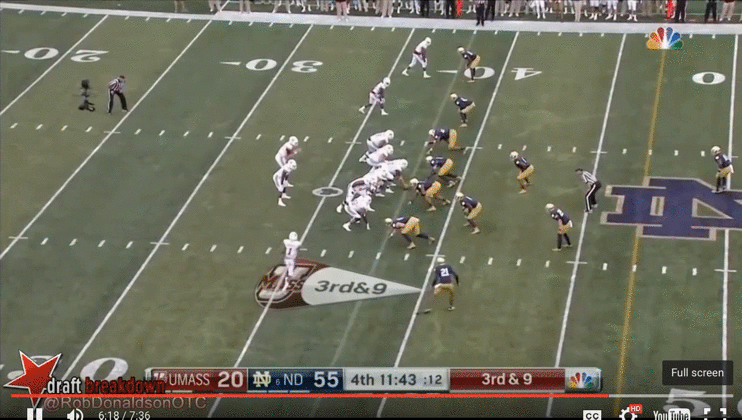 I use the term "slippery" sometimes to describe a receiver's ability after the catch. In the next clip, Sharpe shows how dangerous he can be with the football in his hands: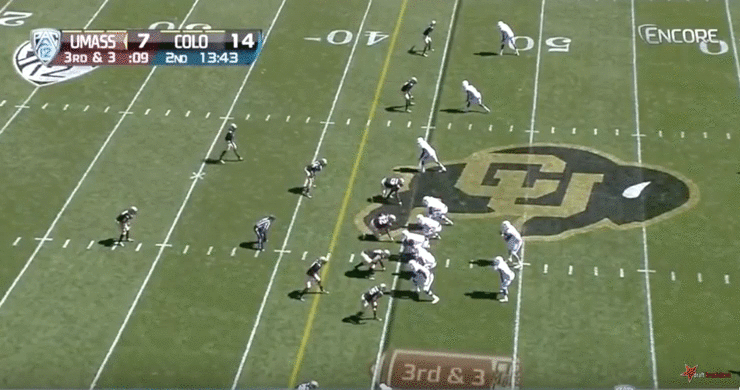 Before the next clip, I wrote in my notes how annoyed I was with UMass quarterback Blake Frohnapfel and his inability to hit Sharpe on the deep ball. He finally hit Sharpe in stride: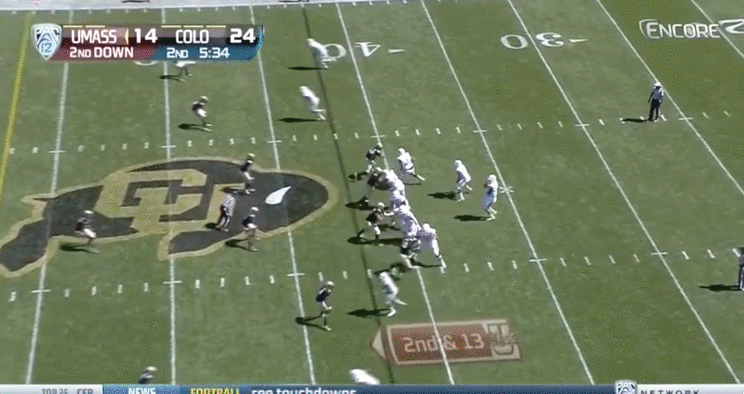 It's not often that a wide receiver uses a swim move, but when he does, it usually leads to big things. Here's a clip of Sharpe burning a cornerback to then diving to catch a pass in the middle of a zone: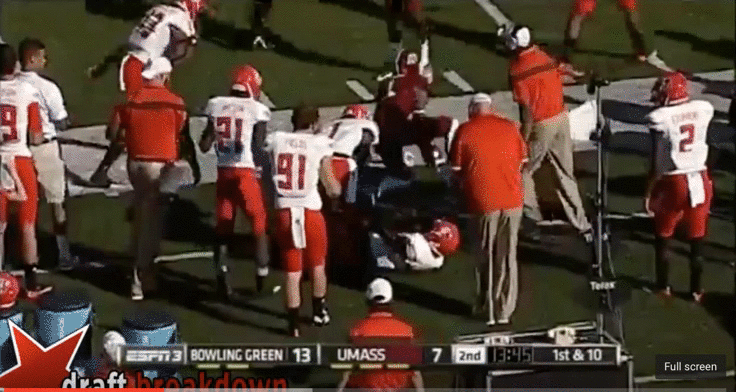 I'm going to keep mentioning this, but I'm really not a fan of Frohnapfel, Sharpe's quarterback. All too often, Sharpe is making Frohnapfel look good. Here's a clip of Frohnapfel throwing a poor football in the endzone. Luckily, because of Sharpe's ball skills and his ability to track the football, he makes a play while also drawing a pass interference flag as well: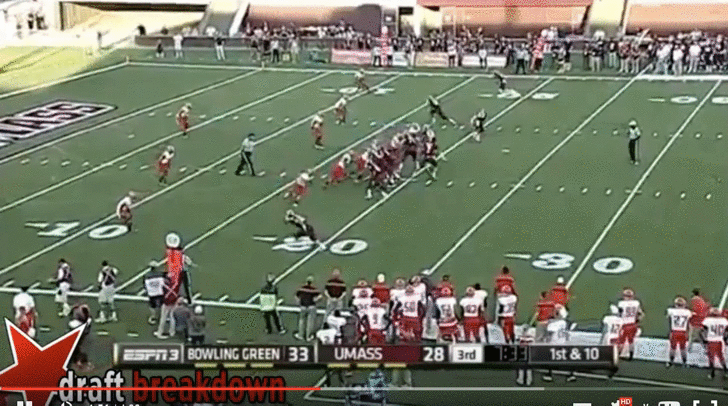 I walked away from the tape extremely impressed with Sharpe and what he can develop into in the NFL. At UMass, Sharpe was such a huge part of their offense. In fact, I'm willing to go as far as saying that if Sharpe didn't play for UMass, the team may not have won a game.
The main knock on Sharpe leading up the draft will be his hand size. It was reported early Tuesday morning that Sharpe had some of the smaller hands at Senior Bowl weigh-in.
Slight change in Tajae Sharpe's hand size. 8″.

— Josh Norris (@JoshNorris) January 26, 2016
However, despite his small hands, I'm not concerned about the flaw. It's not like Sharpe is only a possession guy that needs to make contested catches. He can do that just fine, but he's best used as a burner, bringing an element so many NFL offenses need, that element being the ability to take the top off the defense.
In Dallas, I think Sharpe would fit really well. He shows the ability to play either inside or outside, and when he comes into his body, he's only going to be tougher to defend. Whether his role is in sub-packages with Beasley on the inside or with Butler, the Cowboys could get very creative with Sharpe. Don't rule this guy out in the middle rounds.
UPDATE: Sharpe was injured during Wednesday's practice and will be out for the Senior Bowl.
Disappointing news, WRs Leontee Carroo and Tajae Sharpe were both injured during North practice and they're out of the Senior Bowl

— Steve Palazzolo (@PFF_Steve) January 27, 2016
If you want to talk about the NFL Draft, feel free to give me a shout on Twitter or leave your questions/comments in the comments section.