Ed. Note - Usual warning on heavy GIFs ahead.
The NFL is rapidly evolving. Each year, there seems to be a new scheme or a new philosophy that takes the league by storm. However, the two traits that continue to be taken of advantage of in the NFL are speed and athleticism. In this year's draft, there are a ton of players that thrive off these two things. But the consensus one that comes to mind when thinking of these two traits is Ohio State's Braxton Miller.
Miller is a guy the Cowboys are getting a first-hand look at thanks to the fact that the Ohio State quarterback/wide receiver is on the Cowboys' Senior Bowl roster. At first, I had thought that the Cowboys would never draft Miller. Despite his talent, the Cowboys don't normally draft receivers who are smaller than 6'1 and weigh less than 215 pounds. Regardless, it's no secret that Miller can do a ton of special things with the ball in his hands. In the coming weeks, there will be a lot of Tavon Austin comparisons. Nevertheless, I think Miller has the tools and the skillset to be more than that. Let's take a look at some film and see why so many scouts are raving about him.
Perhaps the best thing about Miller is his ability to get open. It's quite simple, but Miller excels at making quick moves to free himself from his defender, as is this case in this clip. He always makes an excellent diving catch here too: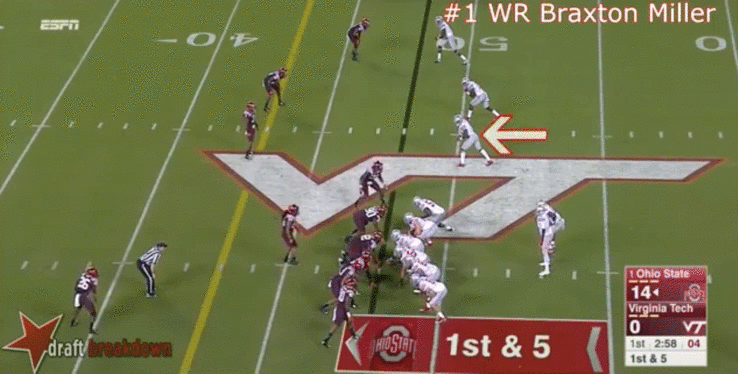 This next clip is really special. By adjusting his route a little bit, Miller makes the defender bite inside, allowing Miller more space for Cardale Jones to put the ball. Miller goes on to score in this special play: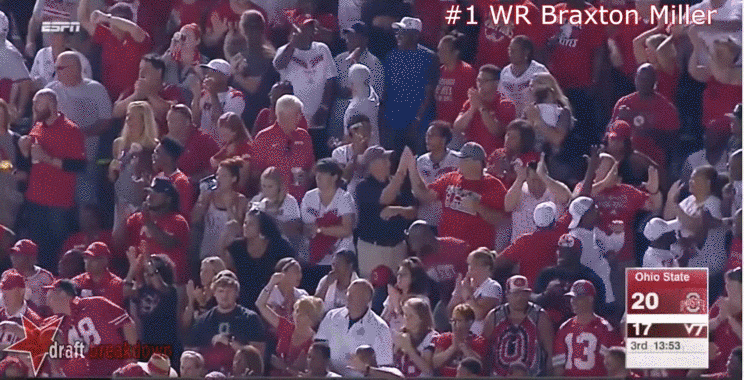 The next clip has been seen everywhere, but it has to be put in here. Miller's ability to create space with his speed is special. That's clear in this GIF here: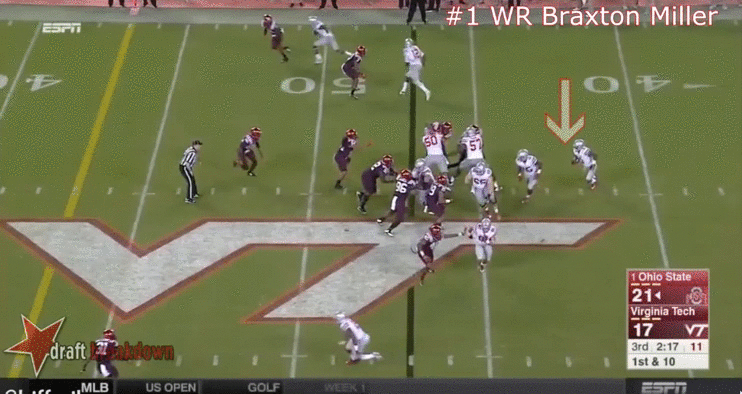 Again, Miller excels in creating space by making his defenders hesitate. Here's another example of Miller doing that as well as making an excellent play on the football, thus showing off his tracking ability: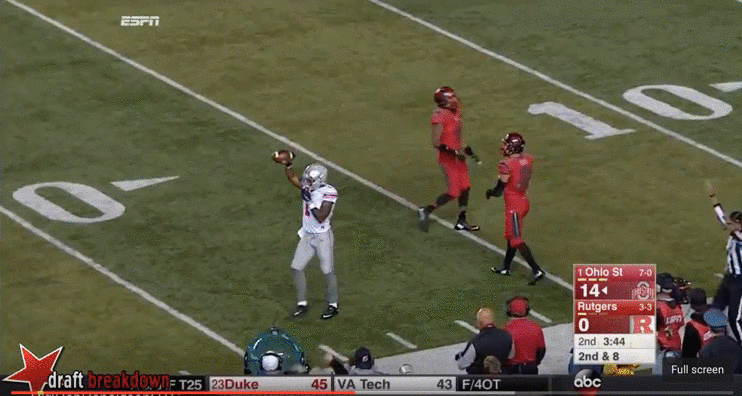 I struggle to think that Miller can ever become a prototypical No. 1 receiver, but I think he can be used similar to how Randall Cobb is used. Basically, Miller is a guy that can be put anywhere on an offense and find success. His athleticism as well as natural route-running skills and football intelligence just make him the ultimate offensive weapon.
In terms of his ceiling, I still think Miller is good enough to catch around 40 passes a year. He might struggle in the NFL against stronger and quicker cornerbacks, but if the NFL team that drafts him gets creative in the way they use him, there's no doubt in my mind that Miller have success at the next level.
If the Cowboys want to add this type of versatility element to their offense, it would likely mean the end of Lucky Whitehead's potential, but if it's too bring in a game-changer like Miller, it may not be the worst of ideas. Miler is risky because of his slender frame and his lack of experience at the position, but there are enough intangibles for him to be a quality starter. However, because of how his stick is soaring, if the Cowboys wanted to draft him, they might be too late with their second-round pick. Let's take a look at what some other draft experts are saying about the quarterback-turned-wide receiver:
Cowboys staff has used Braxton Miller on multiple gadget plays in 11 on 11. Finding a way to get him the ball. #SeniorBowl — Jeff Cavanaugh (@JC1053) January 27, 2016
Braxton Miller/WR/OSU just continues to impress. Looks like he's been playing WR his whole life. Another WOW day for Miller. — Tony Pauline (@TonyPauline) January 27, 2016
Standing next to a GM who gleefully swears while watching Braxton Miller. — Dan Kadar (@MockingTheDraft) January 27, 2016
If you want to talk about the NFL Draft, feel free to give me a shout on Twitter or leave your questions/comments in the comments section.