[Ed. Note: Heavy GIFs on the way, be patient]
A big part of a 4-3 defense's success stems from the amount of pressure the defensive line can get on an opposing quarterback. In 2015, the Dallas Cowboys failed to generate enough pressure on the quarterback. Even with the additions of Greg Hardy and Randy Gregory, the Cowboys weren't able to generate the pressure needed. The result of a defensive line not getting home leads to collapses in the secondary as well as more manageable opportunities to convert for the offense.
Jack Crawford and Jeremy Mincey were good rotational pieces in 2015, but both are free to test the free agency market this year. Regardless of whether the Cowboys bring Hardy back or not, improving the pass rush is something that needs to be done over the offseason. When I look at the interior of the Cowboys' defensive line, Tyrone Crawford is entrenched at the 3-technique defensive tackle position. However, 1-technique defensive tackle Nick Hayden really is nothing more than a rotational piece. In a deep defensive tackle class, the Cowboys should look into improving the position when the draft rolls around.
Because the Cowboys are coaching a team in the Senior Bowl, they will have the opportunity to spend more time with draft hopefuls. One player that intrigues me on their roster is Ohio State's Adolphus Washington, a versatile defensive tackle who has really emerged in the past two years both at the 1-technique position as well as the 3-technique position.
I've followed Washington for a couple of seasons now and I've been impressed for the most part. He came to Ohio State around 230 pounds. He was in the rotation immediately as a defensive end. Injuries cut his sophomore season short, but when the 2014 season came around, Washington moved over to play the 1-technique defensive tackle position, showing off his combination of size and speed. In his senior season, Washington played the 3-technique defensive tackle position. During his time at Ohio State, he was asked to do a bunch of things in Luke Fickell's defensive scheme and he answered the call each time. Let's take a look at some clips that make Washington so special.
In terms of quickness from the interior, Washington does an excellent job at using his arms to evade would-be blockers to free himself and get in space. In this clip, Washington gets by and then uses his athleticism to change directions when quarterback Devin Gardner steps up in the pocket: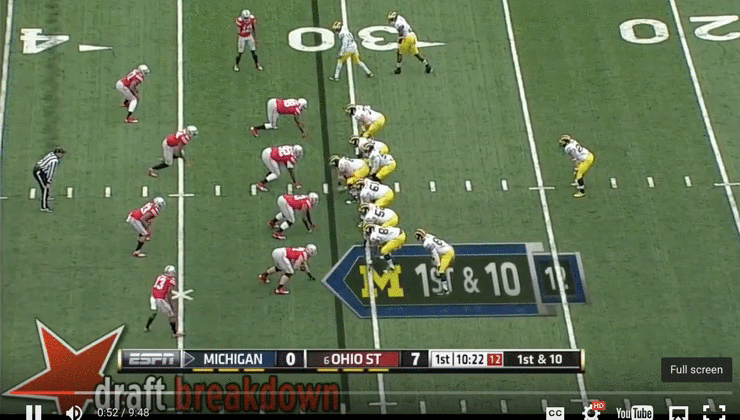 Here's another clip of Washington using his swim move. It's just a testament to how quick he is and how he can be utilized in the interior part of an NFL team's defensive line: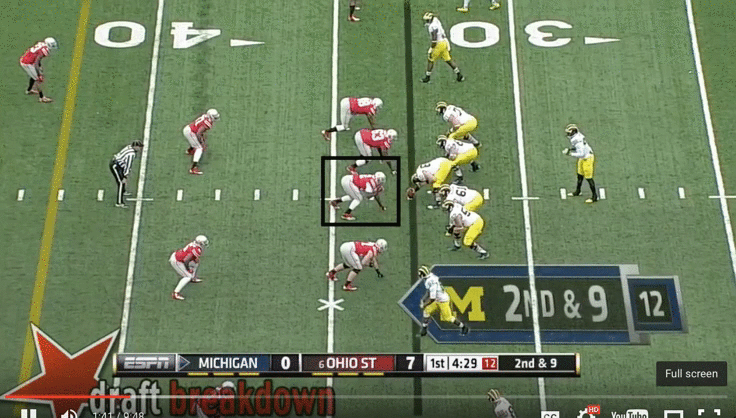 Despite Washington's big frame, he does a good job at getting through small lanes. This is known as "getting skinny". Washington's ability to do this is extremely impressive, especially in the interior: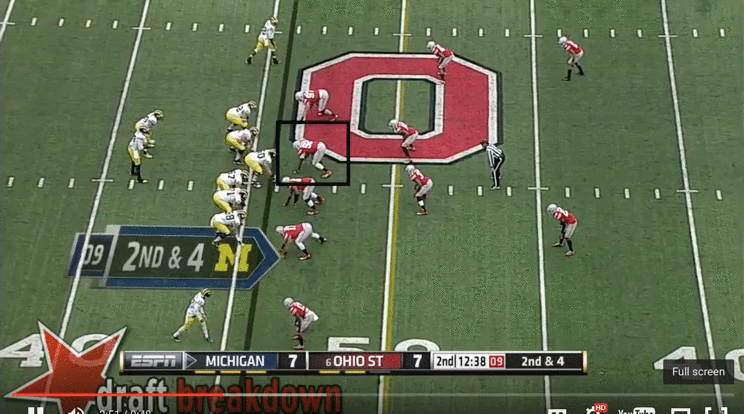 Depending on the angle, there are times where offensive lineman just cannot keep Washington in front of them. His power is too much for opponents, as is the case here: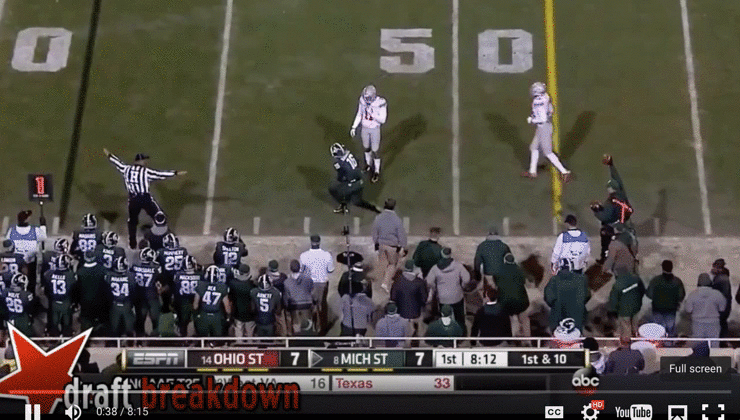 In this clip, Washington shows off tools that will impress coaches at the next level. He shows an excellent jump and push off the snap to then use his raw strength as well as his active hands to push back the offensive lineman. He's also excellent at ripping, by using his arms to get past the line. On this play, Washington disrupts the original hole the running back was supposed to go through: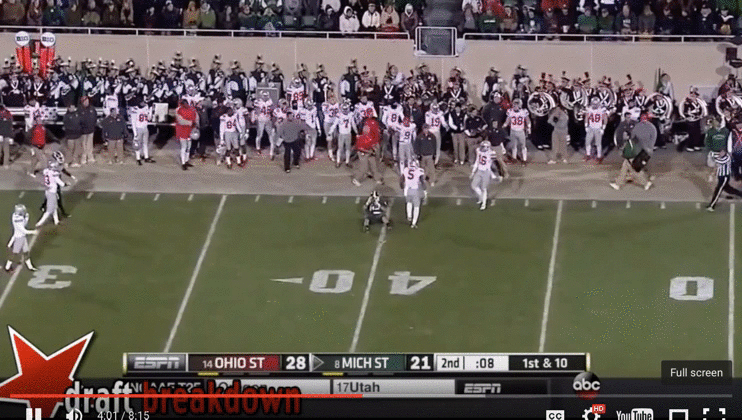 These are just a few clips of Washington, but they show off what Washington can do for an NFL roster. Washington's frame is huge and because his legs are so strong and he has such quick feet, it allows Washington to be capable of playing against the run. When I look at Washington, I see a player who is still a little raw, but when he gets into an NFL training program, there's a guy who could potentially be a real disruptive player.
Washington was suspended for the Fiesta Bowl after getting arrested for soliciting prostitution. However, the Cowboys will have a week to spend with Washington and Rod Marinelli and Leon Lett will be able to determine if he fits what the Cowboys need. The need for an upgrade over Hayden will be something to watch this offseason. The void may be filled in free agency, but in a deep defensive tackle class and Washington having an asterisk next to his name because of the arrest, the Cowboys might get a steal in a guy who has the tools to develop into an elite defensive tackle at the next level.
If you want to talk about the NFL Draft, feel free to give me a shout on Twitter or leave your questions/comments in the comments section.