It's known around the league that Rod Marinelli is one of the better defensive line coaches in football. With the Dallas Cowboys coaching a roster in the 2016 Senior Bowl, teams around the league are focusing on the North defensive line. Because with Marinelli 'coaching 'em up', the best of each defensive linemen is going to come out. This has been the exact case with Illinois' Jihad Ward.
A 6'6, 295-pound specimen from Philadelphia, Pennsylvania, Ward is an intriguing player. As someone who started playing the game of football in 10th grade, Ward is still getting comfortable at the game. The hard part for him is that he is so versatile and that leaves me pondering at which position he'll succeed at best in the NFL. Could he play 5-technique? Is he a defensive end? Can he perform against the run at the NFL level? Those are all questions that must be answered. However, Ward moves so well for a guy his size and it's a big reason why he's souring up draft boards. Let's take a look at some clips of Ward and why he can be a productive player for an NFL roster.
Ward's quickness in the interior part of the defensive line is easily the most important thing about him. He also has enough pure strength to fend off offensive line who lunge at him. Here's a clip of Ward throwing a lineman away to get in the backfield.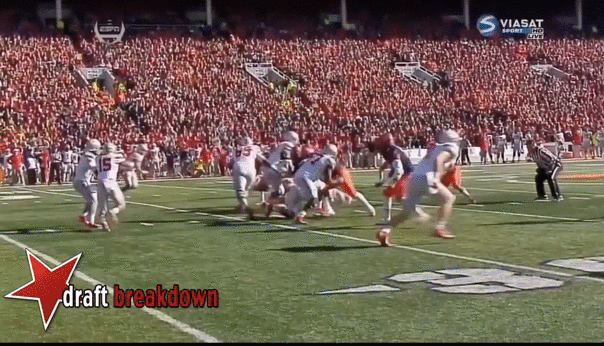 Going back to Ward's athletic ability, he's an example of his body and how he can fully utilize his body in the NFL when he adds on some weight. Ward is terrific when he can create space with is arms, as he does in this clip. However, when Ward lets offensive linemen get in his chest, he doesn't have enough core strength to fully disengage from blockers: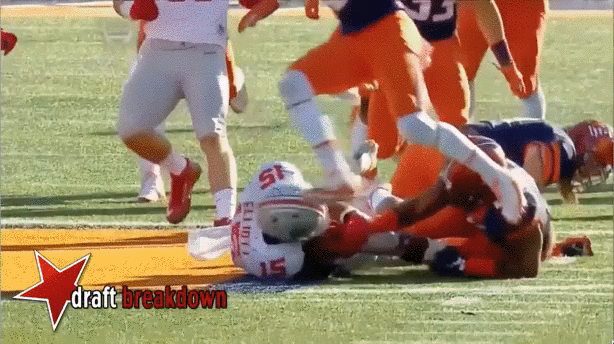 As of now, there's only one full tape of Ward on Draft Breakdown. That said, I went to Twitter to look for some other clips, as I knew that scouts have been buzzing about Ward. CBS Sports' Rob Rang posted this Vine of Ward. Notice how he's lining up at right defensive end and not defensive tackle, like he was at Illinois.
Here's what a few other draft experts are saying about the versatile defensive linemen:
Senior Bowl: Illinois DE Jihad Ward (6-5, 295) has power & athleticism on the edge. He can get home to the QB. — Matt Bowen (@MattBowen41) January 27, 2016
Illinois' Jihad Ward had scouts buzzing. Was disruptive all day long. Athletic and strong at 6-5, 296, he projects well regardless of scheme — Rob Rang (@RobRang) January 27, 2016
Jihad Ward really showing off today. Lean, athletic 295lb monster. — Matt Miller (@nfldraftscout) January 27, 2016
It's funny to me how Ward is starring at the Senior Bowl. I think a large reason for that is because he has a coach like Marinelli doing wonders for him and his draft stock. Because the Cowboys need help on the defensive line, especially in the interior, Marinelli will have a huge say at who he wants in this draft. And if Ward continues to impress in front of him, I wouldn't be surprised if Marinelli asks Jerry Jones and Will McClay to bring him to Dallas.
If you want to talk about the NFL Draft, feel free to give me a shout on Twitter or leave your questions/comments in the comments section.