This year's Super Bowl was a prime example of how an offense can play out of character when the opposition gets pressure on the quarterback. Looking back at the past few Super Bowl winners, each team, besides the 2014 New England Patriots, have had one of the better pass rushing departments in the NFL. In 2015, the Dallas Cowboys finished in the bottom half of the league in terms of sacks, registering just 31 sacks.
Defensive lines and secondaries truly work simultaneously. When a defensive line gets pressure on a quarterback, it gives the secondary less time they have to stay on their man. When secondaries cover their men for longer, it gives the the defensive line more time to "get home". Depending on what the team does in the secondary this offseason, the Cowboys are going to need to improve their pass rush, and one player that was extremely impressive in the limited time he was on the field was David Irving.
Promoted to the active roster following the release of Davon Coleman in late September, Irving made a name for himself when he blocked a field goal against the Seattle Seahawks in Week 8. However, he had been one of the team's most productive defensive linemen, despite playing limited snaps and in limited games, for that matter. As a whole, Irving finished with 16 quarterback hurries, which was good enough for sixth on the roster.
In recent seasons, the Cowboys have really neglected the defensive tackle position. However, this year's class of defensive tackles could change that logic. It's doubtful that the Cowboys would spend the fourth-overall pick on a defensive tackle. But at the 34th selection, there could potentially be a ton of players available for the team. Guys like Austin Johnson, Adolphus Washington, Jihad Ward, and Kenny Clark could all be potential picks. However, a guy like Irving could be a reason to improve positions elsewhere.
At 6'7, 275 pounds, Irving fits exactly what the Cowboys like when it comes to both defensive ends and defensive tackles. Dallas is known to take defensive lineman who are athletic and explosive. The 22-year-old excels in both of those categories. Irving is only 22-years-old and while the talent has always been there, he didn't get much attention coming into the league because of some character concerns he had during his time at Iowa State. In college, Irving missed the entire 2014 season after being dismissed from the team for an incident at an on-campus festival.
While Irving fractured his left wrist in the 2015 season, he'll only cost $525,000 against the cap. Irving is a guy that flashed a ton of ability in limited snaps and if he continues to prove his worth, there is no reason why he shouldn't end up as the primary 1-technique defensive tackle, with Terrell McClain and Nick Hayden mixing in snaps as well. Let's take a look at some of plays Irving made over the course of the 2015 season:
In this play, Irving rushes from the defensive end spot. Using his long arms as well as his speed, he's able to get inside on the right tackle. Irving ends up with a half sack on this play. This clip shows his ability to make plays from the defensive end position: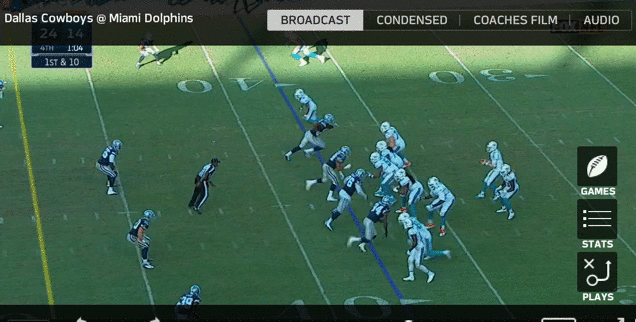 In the next play, Irving uses his quickness to get through the space between the guard and center. His ability to win with quickness in small spaces, despite his height, is truly impressive.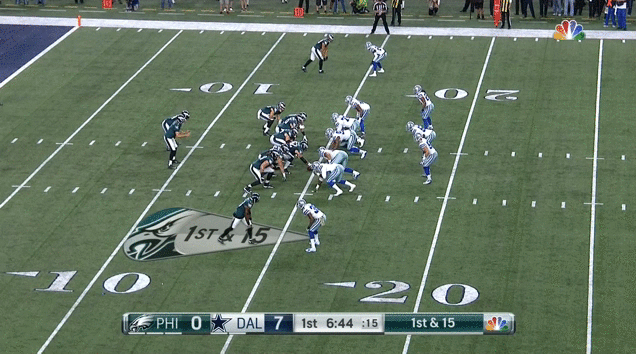 Whenever someone goes up against a guy as big as Irving, it's extremely hard to move him. In the next clip, Irving needs to do a better job of staying down, but his power is on full display by moving his offensive lineman to the original hole to then shedding his guy to bring down the ball-carrier.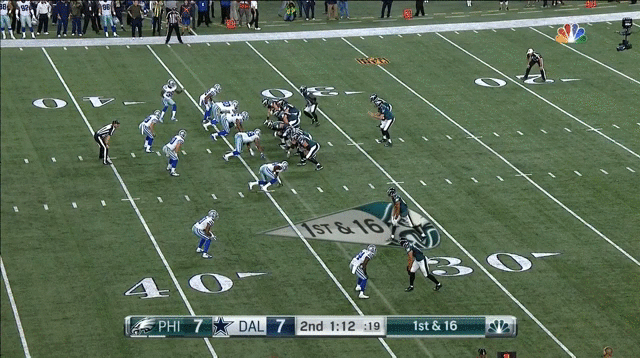 In the next clip, Irving wins in tight space by using his long arms to create space between him and the guy blocking him. Irving then gets around his guy, thanks to his athleticism, and gets ahold of Sam Bradford's arm.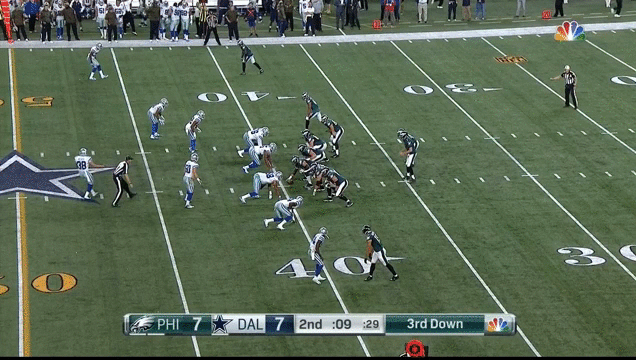 Here's another clip of Irving using his combination of speed and athleticism to get through the defensive line: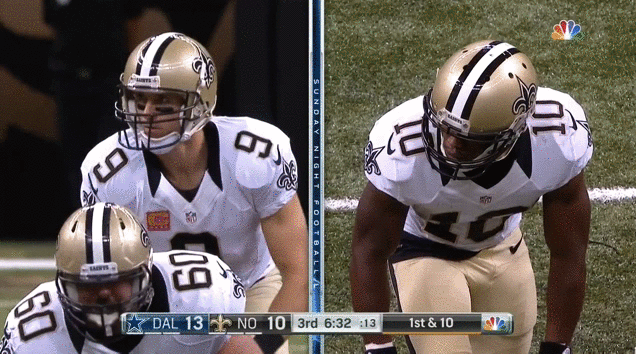 There are parts of Irving's game that will need to be worked on if he is to become the starting 1-technique defensive tackle. There are times where Irving gets blown off the football. I'd like to see him improve his technique. His height keeps him from playing down-low, but he needs to find out how he can use his power. By getting lower to the ground and using his legs, he'll be able to get his power from there.
Rod Marinelli is one of the better defensive coaches in the league. He's gotten the most out of a ton of defensive lineman in his time and if he is developed correctly, there is a real chance that Will McClay and company have found something in Irving. With so many other pressing needs, Dallas could use their middle-round picks on another position, rather than on a defensive tackle. Irving shows enough potential in limited opportunities to be a really unique player. Irving will be a guy to look out for in preseason and training camp. There is some real untapped potential in this kid and, fortunately for the Cowboys, Marinelli is the perfect guy to get out the most of it.