Ed Note - Heavy load of GIFs on the way, be patient...
Pass rush, pass rush, pass rush. That was the main reason why the Denver Broncos were able to defeat the Carolina Panthers in the Super Bowl. Despite one of the worst offensive showings in Super Bowl history, the Broncos dominated the football game from start to finish, thanks to the likes of Von Miller, DeMarcus Ware, Derek Wolfe, and Malik Jackson.
Despite adding Randy Gregory and Greg Hardy in last year's offseason, the Dallas Cowboys generated less pressure than they did in 2014. When a defensive line can get consistent pressure, it makes the quarterback more prone to giving the football away, something the Cowboys will need to improve upon going forward. For the Cowboys to become better at rushing the quarterback, they will need to upgrade.
With a high draft pick in each round, the Cowboys will be able to use that to their benefit. However, just because a team has a high draft pick doesn't exactly equal to success. The team will need to pick the right players. With their fourth-overall pick, many people have pegged Joey Bosa as the prime candidate. And while Bosa would make sense, the Cowboys would benefit better by using the fourth pick on a player from the secondary or even on a player who could immediately make an impact on the offense.
Because of how talented this draft class is with defensive lineman, the Cowboys are going to be in perfect position with their second-round pick to nab a guy that should've gone higher. The Cowboys have drafted defensive ends in each of the past two drafts. That trend could very well continue in the 2016 draft. One player who seems to be getting some recognition is Florida's Jonathan Bullard. Let's dive into the tape and see what kind of a player he could be for Dallas.
The first thing that is very clear to me with Bullard is his ability to get off the line of scrimmage. He's extremely quick off the snap, being the first person to jump out when the ball is snapped each time: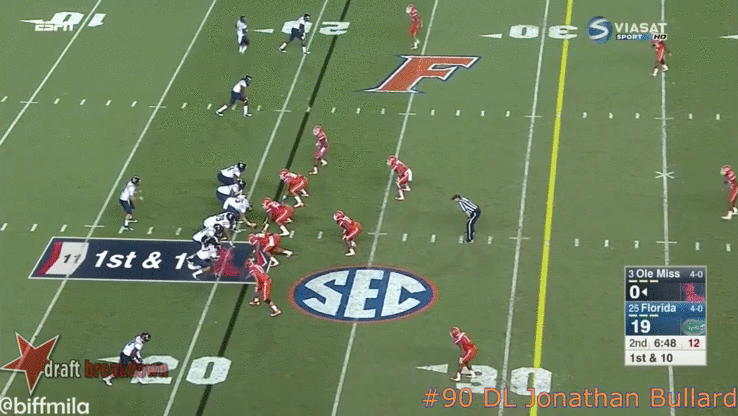 Using his quickness and power, Bullard absolutely destroys this offensive lineman, pushing him back and ultimately throwing him into the ground. This pressure forces Chad Kelly to throw an interception.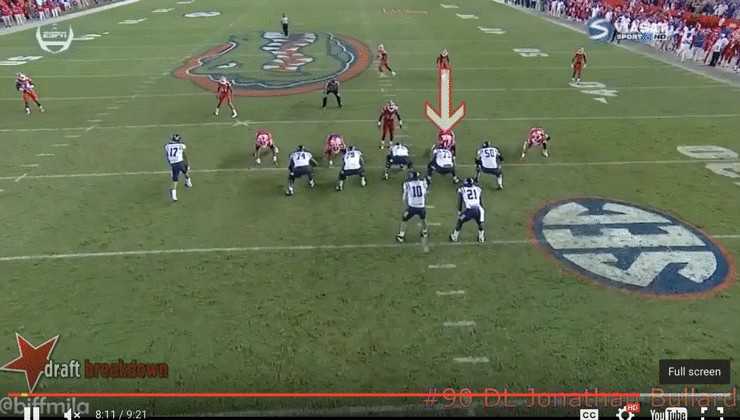 Because of how powerful his lower half is, Bullard has the advantage when it comes to one-on-one blocks. He rarely gets pushed back. When he does lose, it's because he stands up and gives up that power.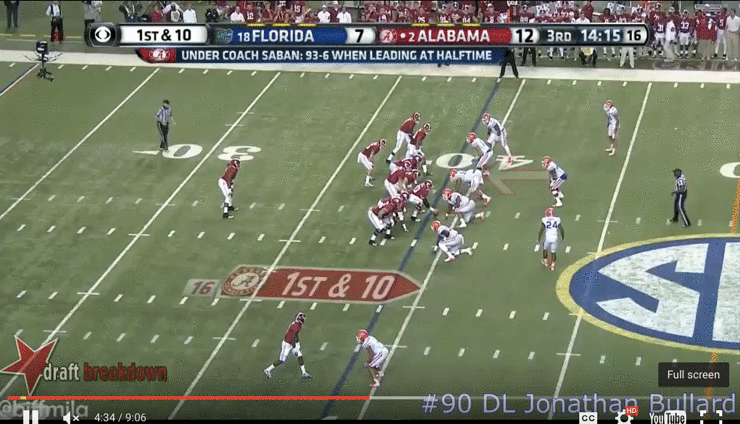 Again, Bullard's ability to fire out of his stance is going to make him so desirable to NFL teams.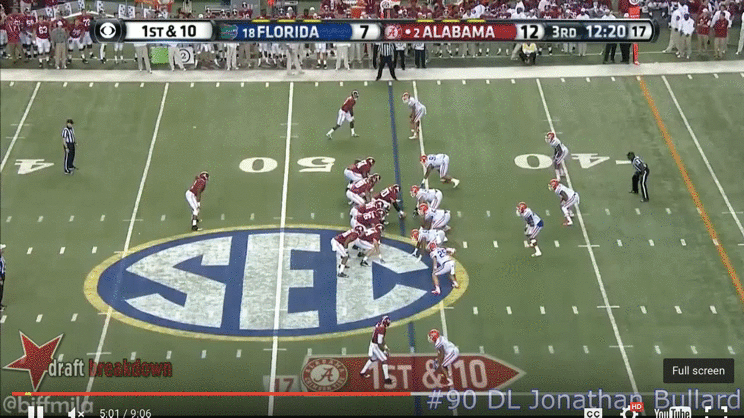 Another awesome thing about Bullard is that he's a table-setter. In this clip, he blows up the play, allowing his defensive counterparts to get in the backfield and make a play. He didn't make the tackle, but Bullard's impact is written all over this play.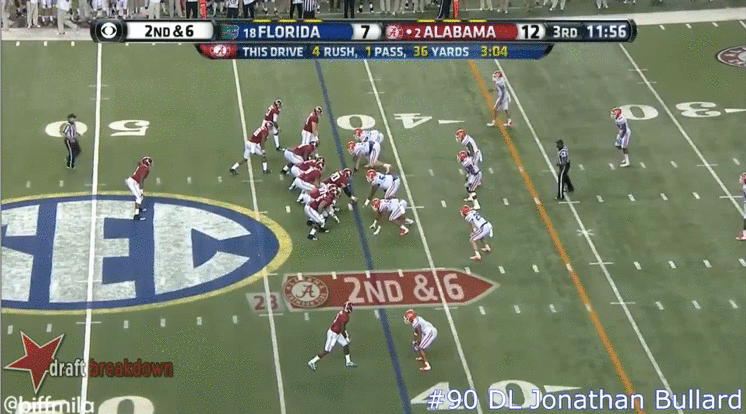 Going back to how he sets the table, Bullard's ability to push this offensive lineman back makes the route more difficult for Calvin Ridley on this reverse.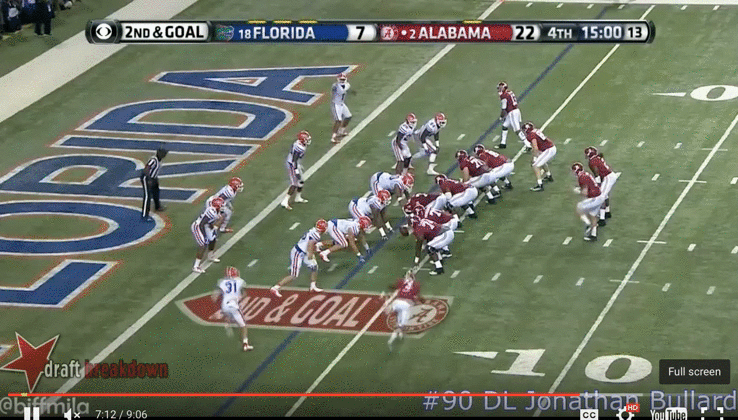 The next clip really just shows how powerful Bullard's jump is off the football. He consistently blows up plays. Just look how he pushes this guard off his blocking path.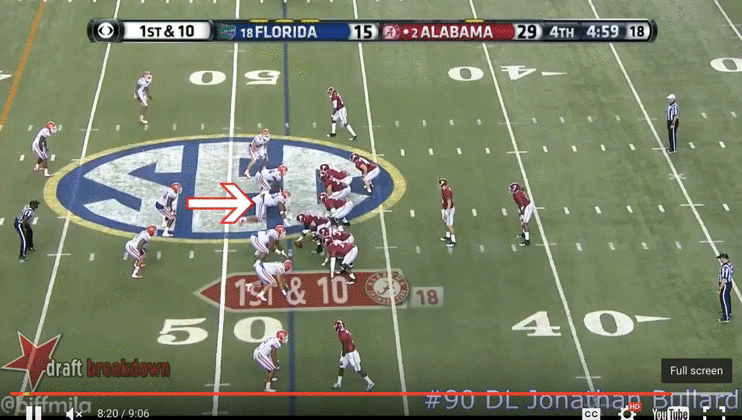 The next clip is another example of his how impactful he can be. Unfortunately, linking my software to the GIF didn't work. To view the GIF, click here.
It's hard to imagine a player as strong as Bullard is ridiculous quick, but that's the exact case with him. What amazes me about him is how well his weight is distributed throughout his body. He has such broad shoulders and powerful legs. It really makes for a dangerous combination when his speed element is added in.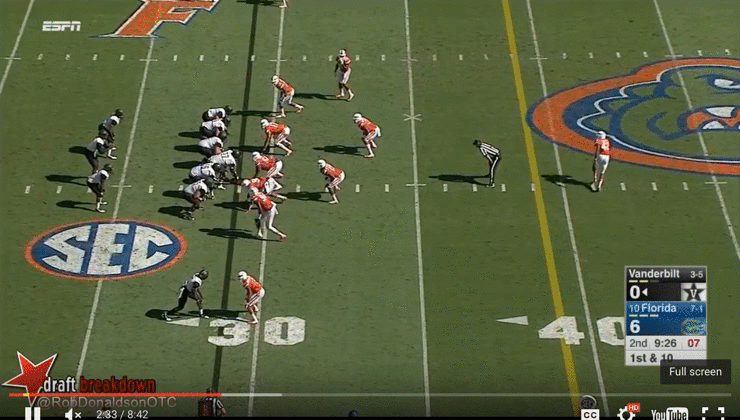 The final clip is of how Bullard uses his arms to create space with the offensive lineman. At the same time, he's using power from his legs to push the lineman back to then bring down the quarterback.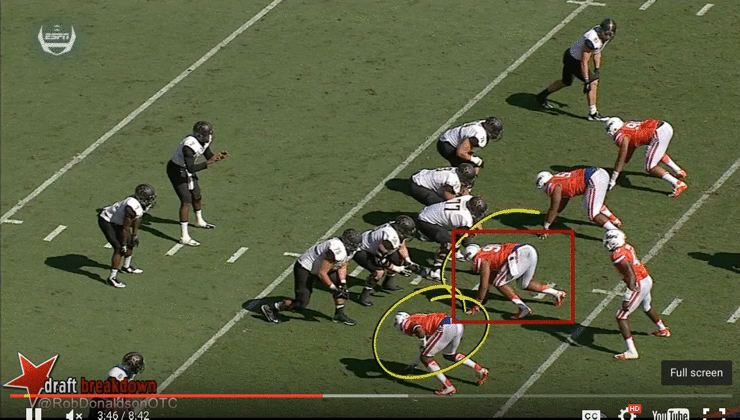 Bullard is a player that would fit really well in Dallas. I'm not entirely sure what his role would be, but he has the ability to play either inside or outside. There are a few parts of his game that need work, but if he performs well at the NFL Scouting Combine in just a few weeks, there is no reason why he shouldn't go in the first round. But if for whatever reason he falls to the second round, this is a guy that might work really well in Dallas. It would basically knock off both a defensive end and a defensive tackle off their draft wishlist.