Despite making upgrades at the cornerback position just a few years ago, the Dallas Cowboys will be looking to make improvements at the cornerback position this offseason. However, the Cowboys will also have some questions regarding their current starters. Brandon Carr refused a pay cut last offseason and because his play didn't drastically improve in 2015, the Cowboys should look into Carr's contract and see if they'd like to pay the remainding $18 million of his contract over the next two seasons. If Dallas decides to designate Carr as a post June 1st cut, they'd save around $9 million in cap space.
The next decision that would need to be made is whether the Cowboys would like to extend Morris Claiborne. This will be an extremely interesting decision, as Claiborne's play improved tremendously in 2015, but it also needs to be said that he was playing in a contract year. Regardless of what happens between Carr and Claiborne, the Cowboys will have to draft one if not two cornerbacks. Jalen Ramsey has been seen as the Cowboys' first-round choice in many mock drafts, but if the Cowboys want to wait until Rounds 2 or 3 to invest in a cornerback in the draft, Miami's Artie Burns is a name to remember. Let's take a look at some clips of the player:
On this play, Burns makes an excellent play on the football. The interception itself was pretty easy, but the impressive thing about this clip is his technique and how he positions himself excellently. At 6'1, 200 pounds, Burns has ideal size and it's on full display here.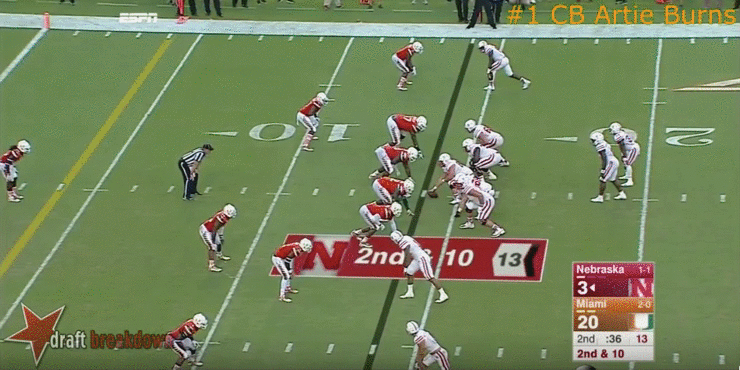 Besides his technique, Burns' ball skills are also quite remarkable. In this next clip, Burns is playing zone coverage. He recognizes the routes in front of him and by reading the quarterback's eyes, Burns jumps the intended receiver's route and picks off the football.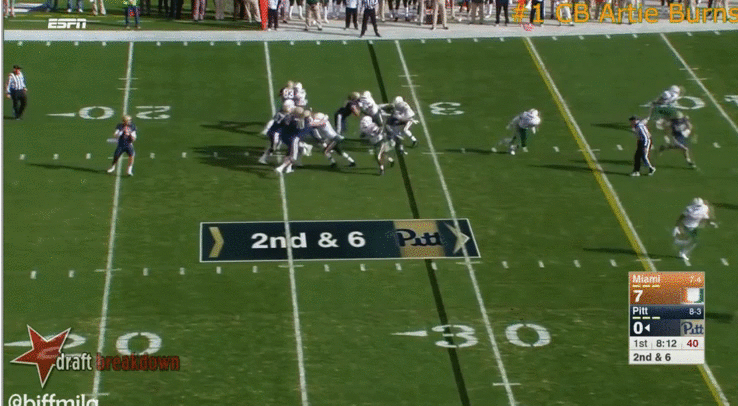 The way Burns reads routes is extremely impressive. In this next clip, recognizes his man breaking down. When that happens, Burns drives off his back foot to come up and make an interception.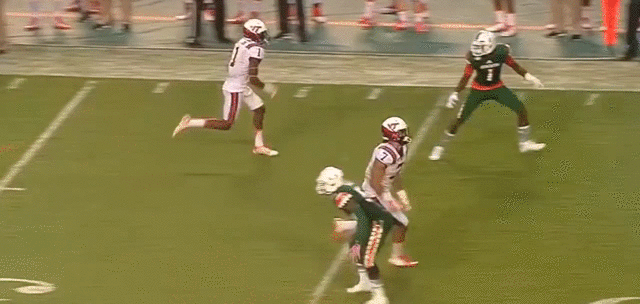 There isn't much available on Burns over at Draft Breakdown, but from watching Burns over the past couple of seasons, it's clear that he has gotten much more comfortable with his role on a defense. Burns has always had the frame to be an impactful cornerback, but he's sharpened his skills from his freshman season.
In his junior year, his ball skills were on full display throughout his junior season as Burns finished with five picks, which was good enough for first in the ACC as well as third in the NCAA. When a team combines his ball-hawking ability to go with his frame as well as his sub 4.4 speed, many teams will be interested in Burns. One of those teams could be Dallas.
Burns has a ton of great intangibles, but there are some things he will need to improve on before becoming a dependable starter at the professional level. One of those problems is how he tackles. Burns is a big hitter, but when it comes to being a technical tackler, there are a ton of times where receivers get through his arm tackles. As most taller defensive backs do, Burns struggles at changing directions. He's stiff and when going up against smaller and quicker receivers, he struggles to keep up.
Dallas used more Cover 1 in 2015 and if they want to continue to deploy this defensive formation, Burns is a guy that would fit extremely well. Because of his inability to stick with quicker receivers, Burns may be designated to the No. 2 cornerback role in the NFL. Nevertheless, Burns is a player that could intrigue the Cowboys if they want to go the route of having bigger and stronger cornerbacks, which has been a trend in recent NFL Draft memory. Burns is a player that will likely see his stock rise after what will likely be a strong performance in the NFL Scouting Combine. Burns will be a name to follow as the 2016 NFL Draft nears.