[Ed. note: Lots of animated gifs in this post, so it might take a while to load, but it'll be worth the wait.]
With Will McClay's bigger influence in the organization, the Dallas Cowboys have drafted much better. In the past five years, Dallas has added a ton of impact performers. Guys like Tyron Smith, Zack Martin, Travis Frederick, Byron Jones, and Randy Gregory all look to have extremely bright futures with the team. While drafting well at the top of the draft is important, it's also important to draft well in the later rounds, especially with how tight the salary cap is in today's NFL.
Regardless of what the Cowboys do with the contracts of both Greg Hardy and Jack Crawford, the team will have to improve their pass rush at some point in the draft. In Rod Marinelli's 4-3 defensive scheme, the Cowboys look for a specific type of defensive end and one guy that may just fit the bill is Appalachian State's Ronald Blair.
At 6'4, 270 pounds, Blair has the size the Cowboys covet for their defensive ends. In comparison, Demarcus Lawrence is 6'3, 270 pounds. Hardy is 6'5, 275 pounds. Randy Gregory bulked up to 6'5, 260 pounds. Heck, even Ryan Russell is 6'5, 270 pounds. Blair's frame is going to attract the Cowboys. However, to go with his frame, Blair displays excellent quickness off the football and when that's paired with a favorable frame, it leads to a real intriguing player. Let's take a look at some clips of Blair:
Speaking of his quickness, here's an example of Blair lining up in the interior part of the defensive line, even though he's listed as an EDGE player. Blair's frame and speed allowed him to wreak havoc at the collegiate level, as is the case in this clip.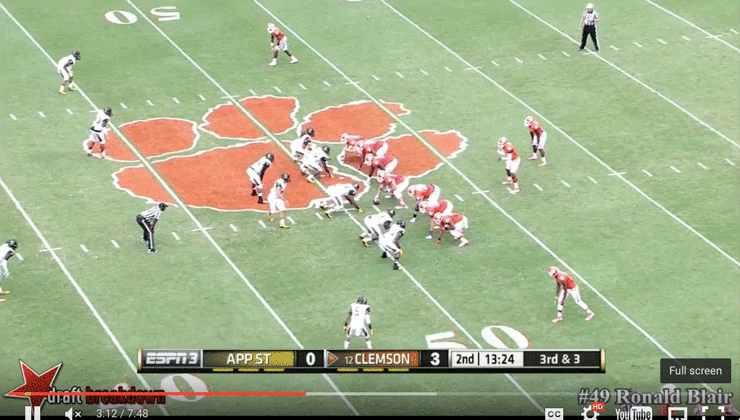 In this next clip, Blair has an easy path to the quarterback. But if he's not quick enough, he won't be able to get through this hole off the stunt. But again, going back to his quickness, Blair is able to get behind the defensive line and get a sack on the quarterback.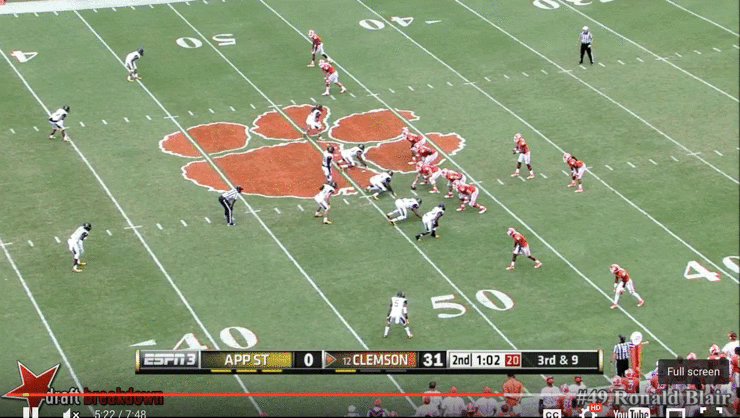 One thing that impressed me with Blair is how well he engages with blockers. Because of his combination of broad shoulders and long arms, Blair rarely gets pushed back. In this clip, he diagnoses the running back's intended running route. He then disengages with his blocker before making a play at the line of scrimmage.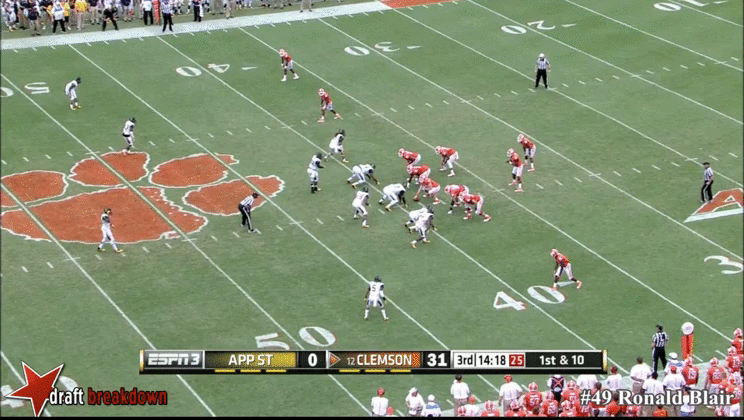 The next clip is extremely impressive. To go with his speed and jump off the football, Blair does an excellent job at dipping his shoulders to get free from the right tackle, allowing him to get in the backfield and make an easy sack on Deshaun Watson.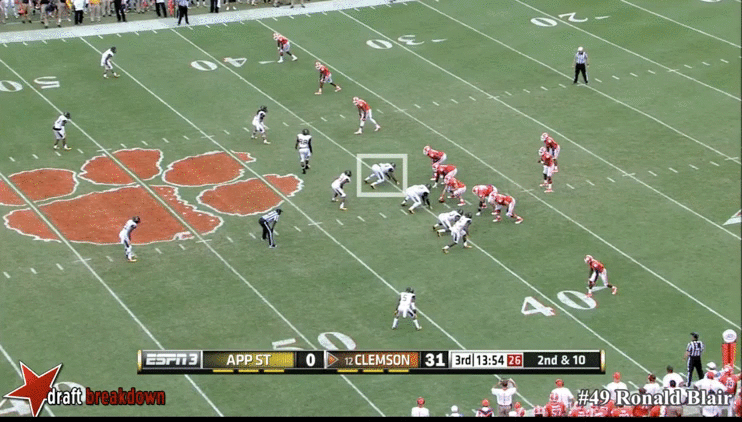 The next clip is a crafty example of how Blair gets to the quarterback. First off, notice the stance he's in. It's a little awkward, but Blair gets off quickly. He then sets up for the offensive lineman to turn his right foot, allowing Blair just a little bit more of space to get free. He then dips by the tackle and gets in the backfield, putting pressure on the quarterback.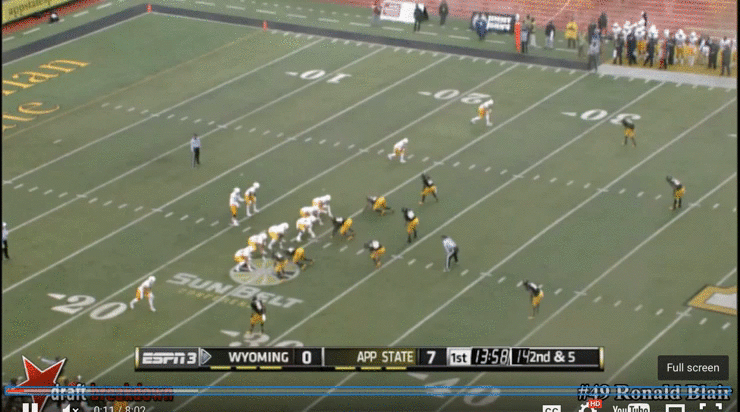 Blair's feet are extremely quick. Because of this and how naturally strong he is, offensive lineman sometimes struggle with getting their hands on him. In this clip, Blair bounces off the guard, allowing him to make a tackler for a loss.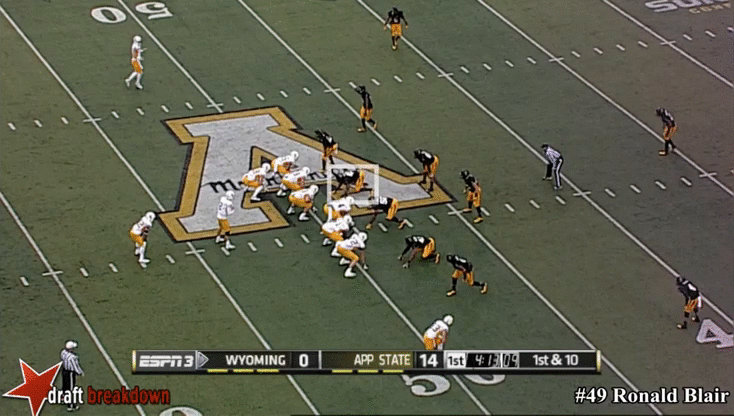 I've put up a ton of spin moves of Blair's quick swim move, but here's just another example of that.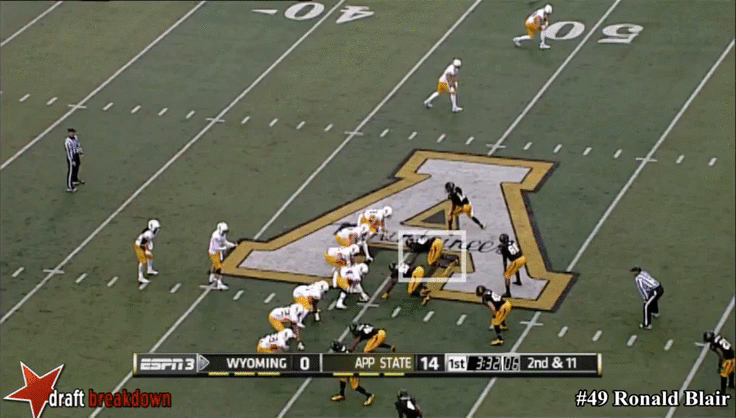 CBS Sports' Dane Brugler believes that the small-school darling could just be a potential second-round pick:
Late night draft thought: #AppState DE Ronald Blair is one of the top-40 talents in this draft class. His tape is the real deal. — Dane Brugler (@dpbrugler) February 12, 2016
And others, such as Jeff Cavanaugh of 105.3 The Fan in Dallas believes he could be drafted even higher:
Screw it. I'll say it. Some guy named Ronald Blair at Appalachian State is a first round player. #DraftStuff — Jeff Cavanaugh (@JC1053) February 12, 2016
No matter what defensive lineman the Cowboys get their hands on, that that player has the potential to be something with coaches like Marinell and Leon Lett there to give him guidance. Dallas steered clear of the small-school route in the last two drafts, but that could change.
Blair displays an impressive combination of size, power, speed, athleticism, skill moves, and pure potential to be a real solid player at the next level. I don't believe he could be a perennial Pro Bowler, but I think he has all the ability in the world to be a productive starter as well as a key cog for the Marinelli's "rushmen". With the NFL Combine just a few days away, Blair's name is one that you may hear a few more times regarding the Cowboys.