[Editor's Note: Heavy GIFs coming, have patience if your page load is slow]
When Joey Bosa was selected by the San Diego Chargers with the third-overall pick in the 2016 draft, the Dallas Cowboys' decision of who their first-round pick would be came down to just two players - Jalen Ramsey and Ezekiel Elliott.. In the end, the Cowboys decided to go with superstar running back Ezekiel Elliott out of Ohio State.
The drafting of Elliott is a telling sign of the Cowboys' stance on how much time is left in the Tony Romo era. By drafting "Zeke", the Cowboys immediately have a guy who's a near-perfect fit in the Cowboys' zone-blocking scheme. By putting Elliott next to Romo, the Cowboys find themselves trying to replicate the success they had in 2014, by running the football and keeping the chains moving. On top of his immediate impact, Elliott is a player that can help take the load off of Romo's successor.
When the Cowboys decided to use their top-five pick on offense rather than defense, it did receive some criticism, mainly from Ramsey supporters. Make no mistake that the next few picks will likely be defensive-based, but the idea of drafting Elliott reminds me of something the Cowboys prided themselves on in 2014. And that is, "Sometimes your best defense is a good offense." By drafting Elliott, there is a higher chance that the Cowboys maintain drives and keep their defense off the field, which in turn keeps them fresh and rejuvenated. There is no question that Elliott is a truly special player. Let's dive into some film and see just how big of an impact Elliott can make from the get-go.
The Cowboys do have some pieces to play with in regards to their backfield, but they're going to face the problem where they are hard-pressed to take Elliott off the gridiron. That's just how complete he is. It's not just how well he finds the hole and carries the football, it's also athletic catches like these that prove he can be a three-down back in the NFL.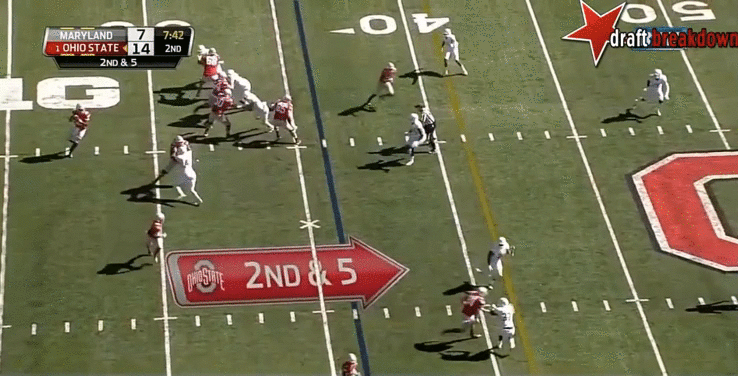 Playing for Ohio State, we continue to see Elliott getting the chances to break past the line and make plays down the field. His ability to analyze the space in front of him provides for so much optimism. Vision is a key asset in the way NFL teams establish the roles of their running backs. Elliott's ability to see what will be in front of him, especially on plays like this where his lead offensive lineman's responsibility is to clear out the linebacker.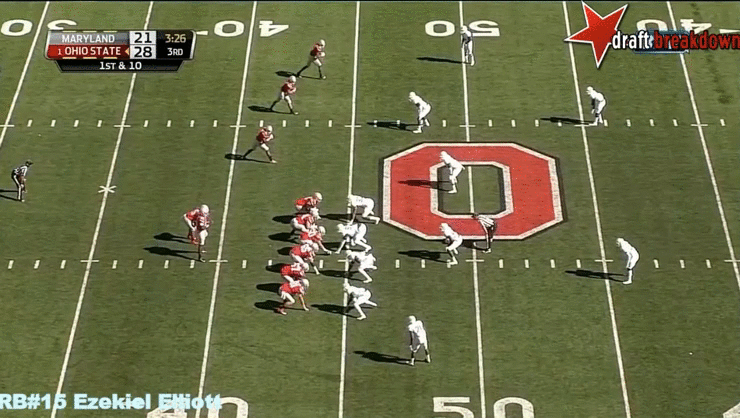 Because of his frame and how well his weight is distributed, it's sometimes hard for defenders to bring down Elliott. He's truly a powerful back that is just as strong as he is quick. Running in and out of tackles, Elliott's quickness and power are a combination that only elite NFL backs have.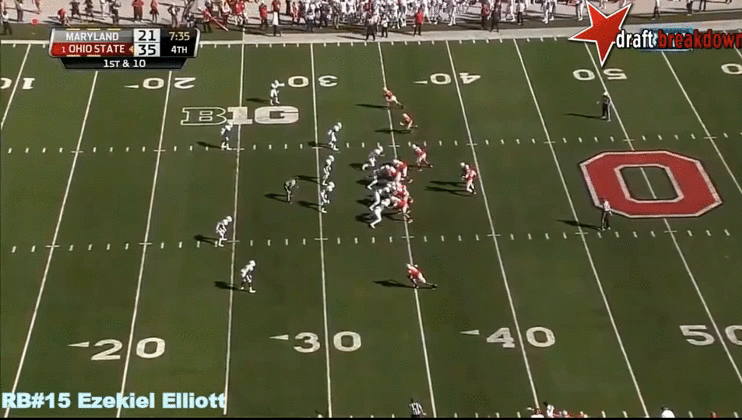 Watching Elliott, I also find a sense of maturity when he's carrying the football. In this play, a loaded backfield could cause inexperienced backs to frantically break off their path. But Elliott finds a small hole and turns this run into a big play. He's a patient back that shows the capability to figure things out himself if needed.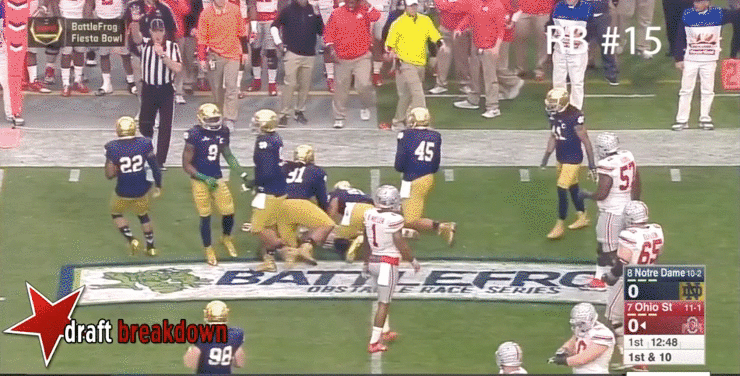 Following the Cowboys, I find that their playbook can sometimes be very vanilla. We continue to see a running back swing pass at least a couple of times each game and here is an example of Zeke doing one. In this play, Elliott takes a simple play and makes something out of it.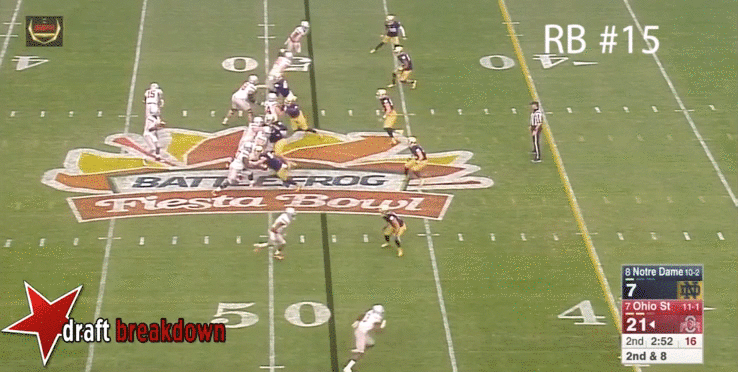 On top of being such a powerful runner in between the tackles, when Elliott sees even the smallest of holes, it's basically a given that he's going to hit it. With all of the zone- and man-scheming the Cowboys use, there are going to be multiple times where Elliott will be freed, giving him free reign to do whatever he wants to do.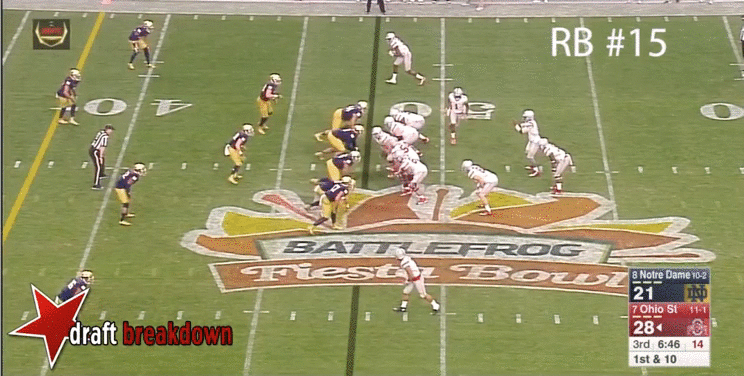 A successful back in a zone-blocking scheme has the ability to make that "one cut" to get up field. (The clip below is not a zone-blocking scheme play, but it shows a great example of the one-cut motion). Because of how fast and how quick he is, Elliott can change direction with ease. It also allows him to break past defenders, as his quickness overmatches defenders as they try to tackle him.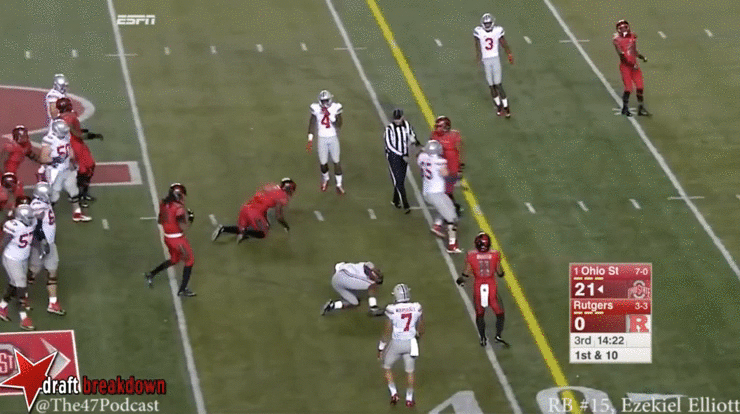 It's rare you find a running back that is the perfect package of calmness, power, strength, quickness, vision, and toughness, but when you add in the element of being a home-run hitting type of back, it really provides for the perfect back and that's exactly what Elliott is.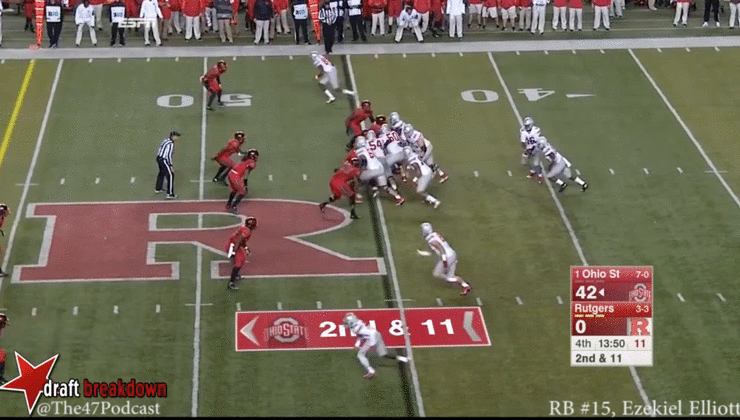 When a running back just needs the smallest gap to get through to the open field, it means that defenses are in trouble. Once Elliott gets space, he's extremely comfortable at just using his athleticism to his advantage to use the entirety of the field to out-run defenders.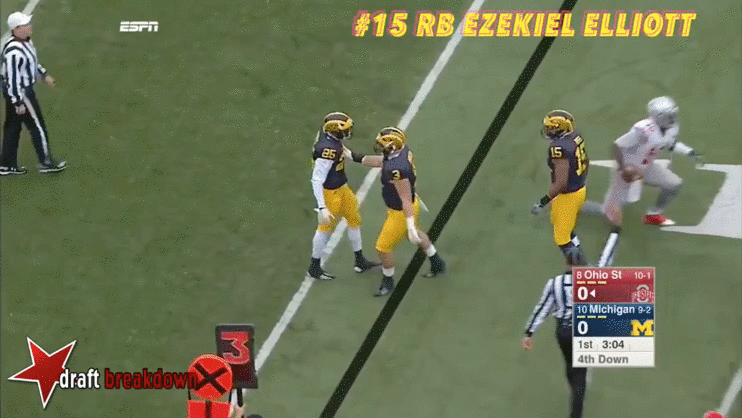 One thing that may go unnoticed with Elliott is how athletic he is and how creative he is at making space near the second level of the defense. His quick feet allow him to weave in and out of linebacking corps looking to tackle him. It's just part of the reason that makes him so dangerous when the football is in his hands.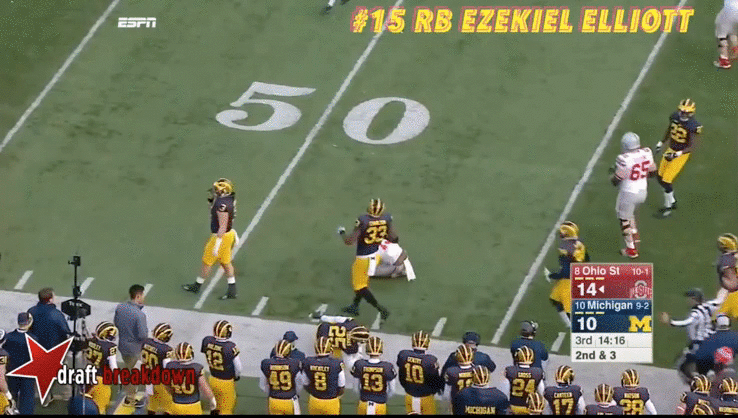 It's not just the aforementioned qualities that make him such an elite runner, he's a creative back who only needs a little bit of space to orchestrate a huge run. Here, we see Elliott taking a run through a hole and then bending out the run to create more space to work with.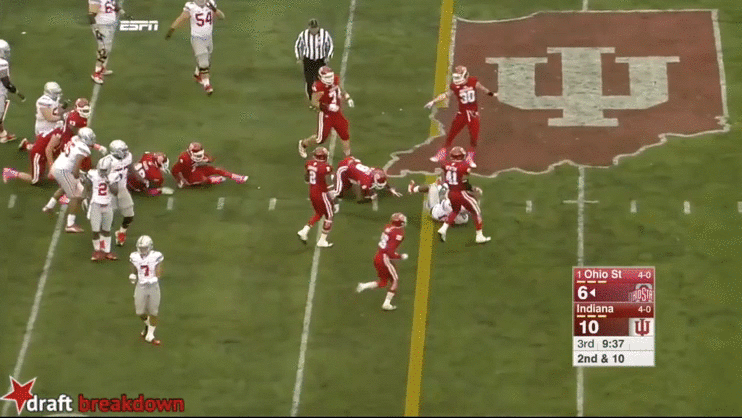 It's not often that a guy as well-built and quick as Elliott is can make these highlight type of runs, where he consistently runs through tackles past the second level of the defense. Once Elliott gets past the defensive line, it's going to be quite hard for cornerbacks and safeties to bring him down.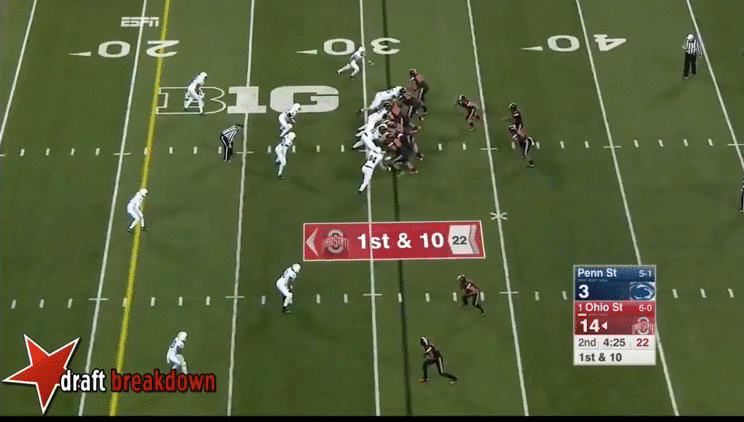 Using the fourth-overall pick on a running back may seem like an expensive, risky decision. However, Elliott is about as elite of a running back prospect I can remember, even more elite than Todd Gurley. He's a transcendent talent that can successfully perform in any scheme or sub-package the Cowboys deploy.
Dallas' offensive line is still improving, yet it is known as the best in all of football. For a while now, the mantra surrounding the Cowboys is that "anyone can run behind this offensive line." Darren McFadden proved that theory to be true in 2015 and the Cowboys are at their best when they are running the football with success. And rather than just put marginal talent behind the offensive line, the rewards could be endless if they put an elite talent in the backfield and that's exactly what they did by drafting Elliott.
I'm of the draft community that believes "if you find a guy, you nab him no matter the consequences." Dallas had the chance to trade down and acquire an extra mid-round pick, but they didn't want to take the risk of losing Elliott to another suitor.
Elliott is a guy that rarely gets taken down in the backfield. He's a bowling ball type of back that will simply tire out teams late in games. By having an elite backfield option next to Romo, the Cowboys will face stacked boxes which in turn will give easier throwing lanes for Romo to get the ball out to Dez Bryant, Jason Witten, and company. Elliott's impact is going to be felt in a variety of ways and it won't just be by him running the football. Elliott is an elite pass-protector, receiving rave reviews from multiple draft experts. He's also an option out of the backfield, which is something the Cowboys haven't consistently had.
The running back corps looks to be a little unsettled, but once Elliott touches the field against the likes of McFadden and Alfred Morris, his skills and talent are simply going to dazzle. Dallas has done an excellent job in recent years at drafting franchise players in the first round. Elliott is the safest opinion and he'll provide the most opportunity for an immediate impact. Elliott is a winner and he's only going to be a star for many years to come in Big D.
Games watched: Maryland, Notre Dame, Rutgers, Michigan, Indiana, and Penn State.